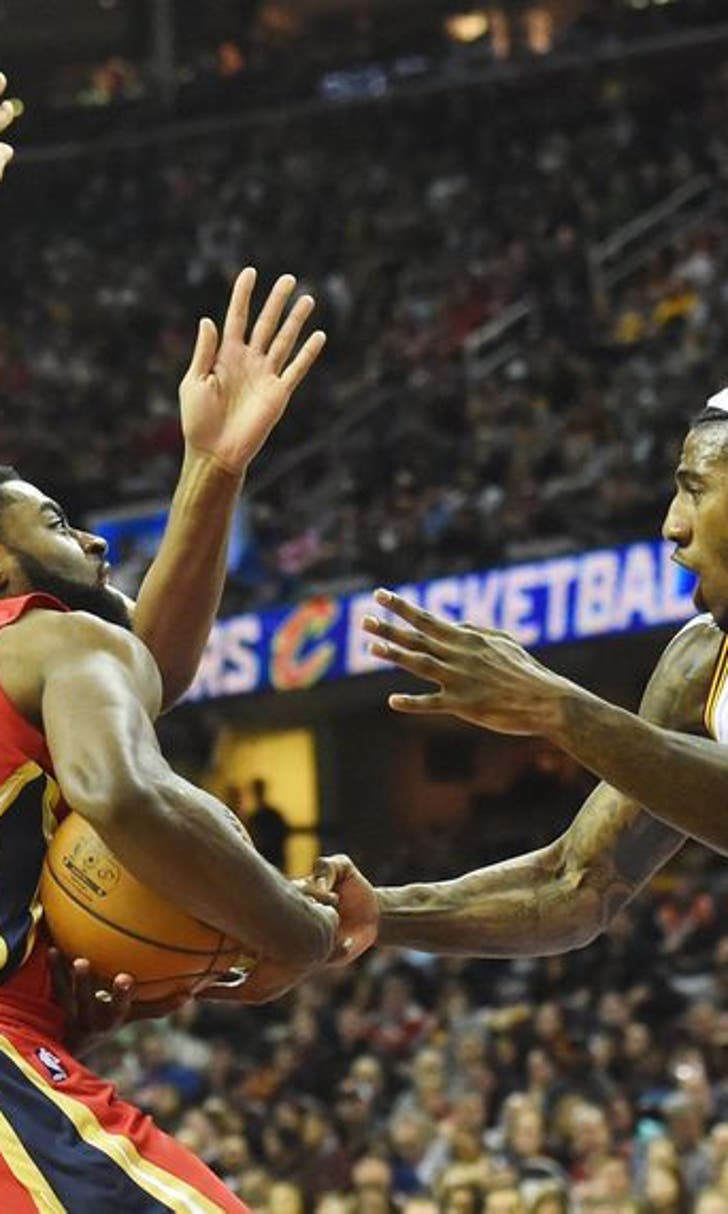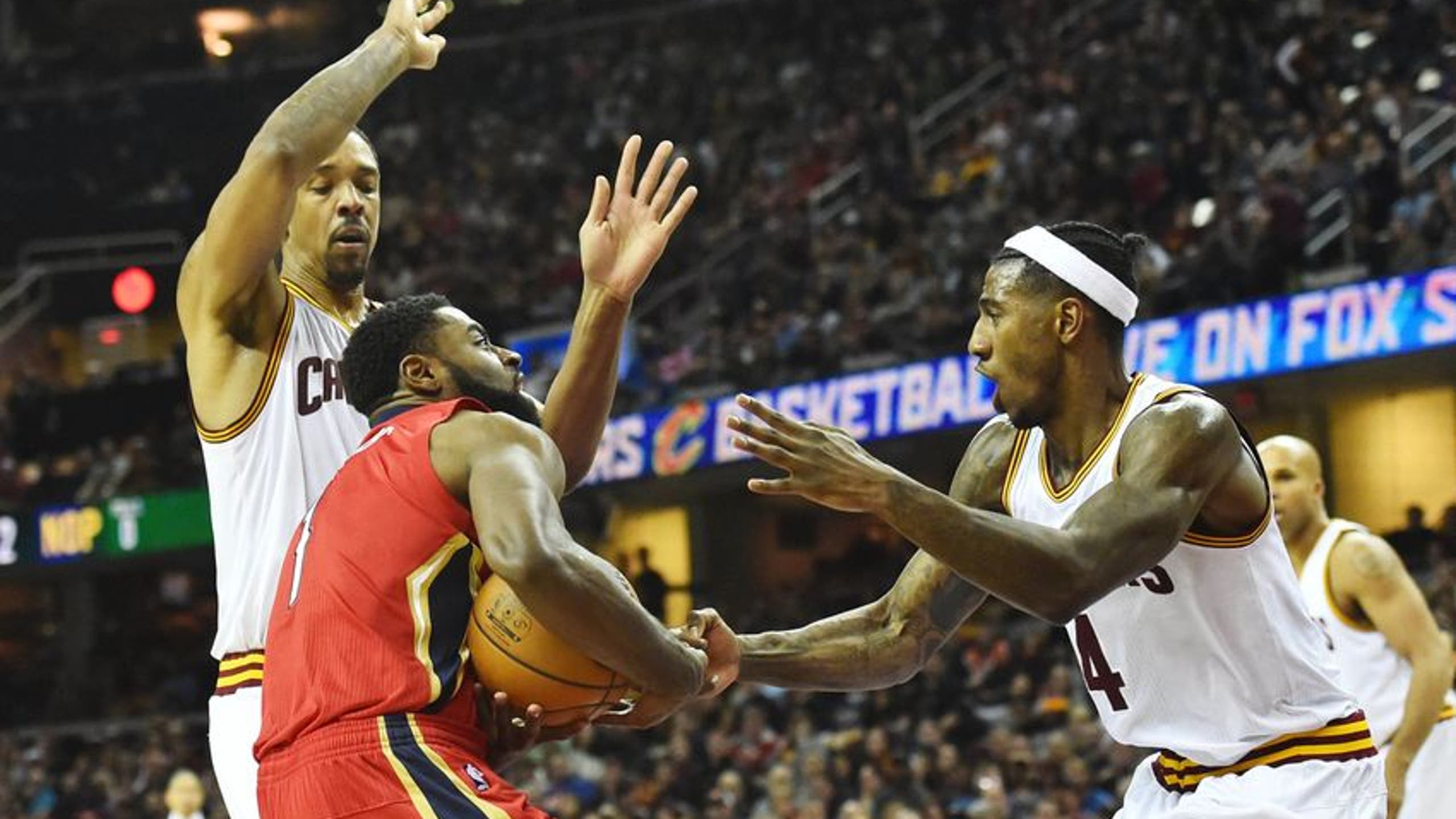 Player Grades: New Orleans Pelicans' Offense Falls Short vs Cleveland Cavaliers
BY Fansided and Rick Stone/FanSided via Pelican Debrief • January 2, 2017
After holding a two-point lead after three quarters, the New Orleans Pelicans offense fell short in the final frame in a loss to the Cleveland Cavaliers.
The New Orleans Pelicans' three-game win streak will not be extended any longer.
New Orleans shot just 36.4% from the field and scored just 82 points in an eight-point loss to the defending champion Cleveland Cavaliers.
The Pelicans were leading after three quarters of play, up 69-67. However, New Orleans scored just 13 points in the final frame could not find enough answers for LeBron James late.
The Pelicans are in the beginning of 11 straight games against Eastern Conference teams. They will play the Cavaliers 21 days from now.
Anthony Davis had struggles all night, shooting 10-27 from the field for 20 points, 17 rebounds and three blocks. No other Pelican on the team had over five rebounds in the game.
Buddy Hield became the star of the show for New Orleans, scoring 20 points on 6-13 shooting and making four of his six three-point attempts.
The Pelicans did a great job slowing down the Cavaliers offense, holding them to 37.8% shooting and 6-31 from behind the arc. Alas, it was not enough to secure their fourth straight victory.
New OrleansPelicans82
ClevelandCavaliers90
Jrue Holiday
PG,
BJrue Holiday did not have a bad performance. His 13 assists helped facilitate the offense strong, especially compared to 16 assists for the entire Cleveland Cavaliers. However, it never seemed like Jrue took full advantage of his matchup, with Kyrie Irving out with an injury. His 4-11 shooting and four turnovers did falter the Pels offense at times. Still, his defense was superb, especially his help defense, which got him three steals. Jrue did a lot to help New Orleans, but there's a wonder if he couldn't taken advantage more.
Buddy Hield
SG,
ATHIS! This is the kind of game fans and the coaching staff want to see out of Buddy. He was gifted an easier matchup, with J.R. Smith out with injury. He went to town, scoring 20 points and attacking the defense. He got four free-throw attempts with his aggression, making all of his attempts. On defense, he played the passing lanes and never backed down from the tough switches that included LeBron James. He even went and grabbed five rebounds. He did it all. There was a lot to be positive about from the rookie.
Solomon Hill
SF,
CThings were looking positive early for Solomon Hill, who hit two of his early three-point attempts. He finished the game 2-7 from deep. He did play some decent defense at times, but he brought very little to the overall game other than that. Tough night, especially with how much he could've done. He did play Kevin Love well at times.
Dante Cunningham
PF/SF,
B+This is one of those games that shows just how key Dante Cunningham can be. The stats sheet will not show how he really played. Six points and five rebounds is not much. However, he was key in the big stretch for New Orleans. He played LeBron James tight as could be and shut down his driving lanes. He boxed out James on the boards, something that's a huge challenge with his size. He even attacked in transition and scored easy buckets. His defense was solid all night. He doesn't bring a ton on offense, so he needs to play like this to justify his starting spot. He did tonight.
Anthony Davis
C/PF,
BWhen AD is off, BOY is he off. He put up 20 points, but it took him 27 shots and looked out of rhythm all night. He did command the glass with 17 rebounds, but that was more due to the Pelicans lacking any other true rebounder. Some highlight blocks helped his cause, but his offensive struggles really put New Orleans in a tough spot. Fans want Davis to get a mass of shots every night. No harm in that. Yet if he's not making them, it puts the offense in full struggle mode.
Tyreke Evans
PG/SG/SF,
CBoy this game was a struggle fest for Reke. He did have five nice assists, but his 2-9 shooting and two turnovers highlighted just how poor the Pelicans' bench scoring was tonight.
Langston Galloway
SG/PG,
CLangston Galloway is on this team to score the basketball and be a marksman from deep. 1-4 from behind the arc won't cut it. He did have a nice block, but his lack of shooting killed the offense. If he's not making them, the Pels have a big problem winning games.
E'Twaun Moore
SG/SF,
BE'Twaun Moore actually played some nice defense and made two three-pointers. His game was pretty nice in general, for what his expectations should be. Add along four rebounds and it's tough to find what else he could've done. Just tough to see in the Pelicans 44-19 deficit in bench scoring at the end of the day.
Terrence Jones
PF/C,
Other Observations:
The New Orleans Pelicans will look to get back on the winning track Thursday night at home, as they host the Atlanta Hawks. Tip-off is scheduled for 7:00 PM CST.
More from Pelican Debrief
This article originally appeared on
---
---