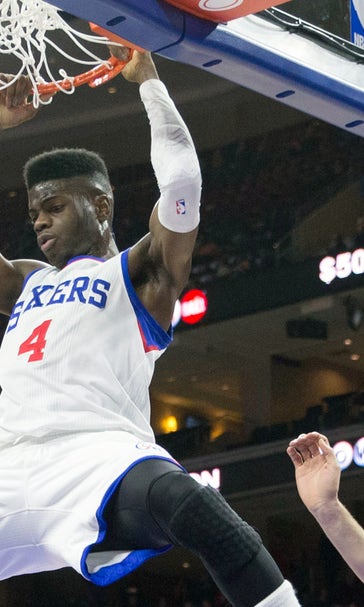 Noel leads lowly 76ers to victory over over lowlier Knicks
BY foxsports • March 20, 2015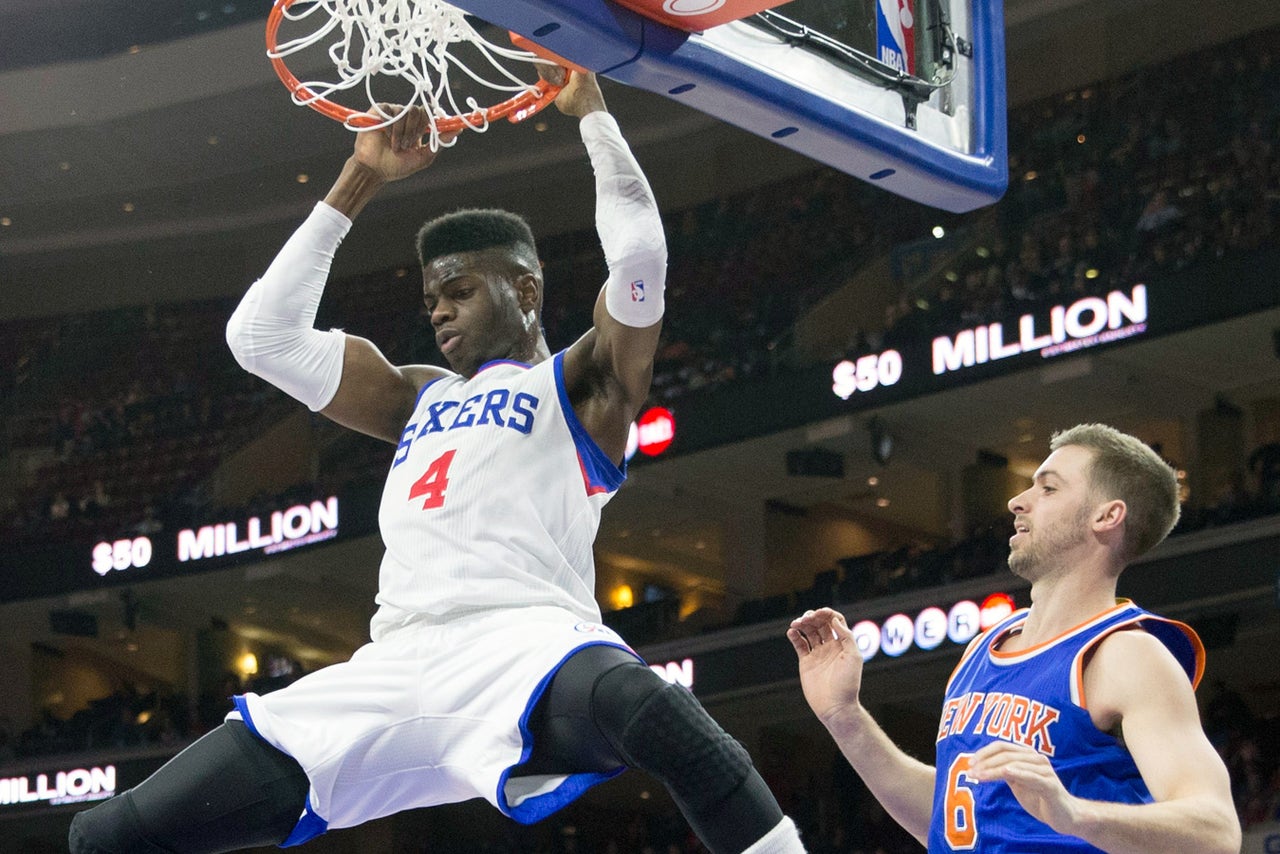 Nerlens Noel keeps making his case for NBA Rookie of the Year, even on a struggling team.
Noel scored a career-high 23 points and grabbed 14 rebounds to lead the Philadelphia 76ers over the New York Knicks 97-81 Friday night in a matchup of the two worst teams in the Eastern Conference.
Minnesota's Andrew Wiggins is the likely choice for the league's top newcomer, but Philadelphia coach Brett Brown thinks Noel should be considered.
"He's had a hell of a year," Brown said. "I'd say you have to pay attention to Nerlens. His defensive presence, his ability to steal and block shots, what he's now doing in regard to finishing ... I think he has to be in the mix of that conversation."
Ish Smith added 15 points for Philadelphia, which has won four of seven.
Alexey Shved made seven 3-pointers and had a career-best 25 points for the Knicks, who lost their fourth in five games. New York dropped to 14-55, the worst record in the NBA and three games behind the 76ers.
Philadelphia (17-52) has the third-worst mark. Minnesota is 15-53 after defeating the Knicks 95-92 in overtime Thursday night.
The team that finishes at the bottom of the overall standings will have the best chance to land the No. 1 pick in the NBA draft lottery. The club with the worst record will have a 25 percent chance of getting the top pick, while the second-worst has odds of just below 20 percent.
Noel has scored 16 or more points in four of the past five games. His offense has emerged since the 76ers traded point guard Michael Carter-Williams to the Bucks last month.
"I think it's just coming along, with my confidence, continuing to wanting to be assertive on this team, you know, be the go-to guy," Noel said. "Continue to just progress and dominate any way possible."
Noel added five steals and three blocks, joining Shaquille O'Neal as the only rookies to post that many points, rebounds, steals and blocks in a game.
"He had a disposition tonight that he wanted the ball, and we got him the ball and he had arguably his best NBA game," Brown said.
The 76ers extended their six-point halftime lead to 80-66 to begin the fourth quarter. They took a 17-point lead early in the final period on Isaiah Canaan's 3-pointer with 10:56 remaining.
"They were quicker to the ball, they were more aggressive, more physical, more athletic," Knicks coach Derek Fisher said.
Philadelphia outscored New York 26-18 in the third quarter. Noel had eight points in the period, including consecutive athletic baskets midway through the quarter. First, he finished an alley-oop dunk after a pass from Smith before an acrobatic layup resulted in a three-point play that put Philadelphia up 72-58 with 6:45 left.
The 76ers' lead in the period grew as big as 80-65 on Canaan's 3-pointer with 1:56 left.
Shved, who played in 17 games with the 76ers earlier this season before being shipped to Houston prior to his trade to the Knicks, continued his strong play since replacing Tim Hardaway Jr. in the starting lineup eight games ago.
Shved scored 16 first-half points on 5-for-6 shooting, including 4 for 4 from behind the arc, but the Knicks trailed 54-48 at the break. He finished 8 for 14 from the field and 7 of 8 from 3-point range.
TOUGH NIGHT
Rookie guard Langston Galloway, who played college ball at nearby Saint Joseph's, finished with two points, his lowest output since joining the Knicks on Jan. 7. He shot 1 for 8.
Galloway followed up a career-high 22 points in Tuesday's 104-100 win over San Antonio with 21 in Thursday's loss to Minnesota.
"Langston is just continuing to understand how difficult it is to sustain good performances in this league," Fisher said. "That's what finding ways to be good is all about, finding ways to push yourself through that physically and mentally."
DIALING LONG DISTANCE
The 76ers finished 11 for 30 from 3-point range, marking the 22nd time they have made 10 or more 3s. Previously, the best Philadelphia had done in a season was 17 games with 10 or more 3-pointers.
TIP-INS
Knicks: Hardaway (right wrist) and Cleanthony Early (left ankle) each missed their third straight game. . Carmelo Anthony, out for the season after knee surgery, had 27 points in the Knicks' 98-91 win on Jan. 21 in Philadelphia.
76ers: For the first time all season, Philadelphia was the betting line favorite. ... Thomas Robinson (ribs) sat out after getting hurt in Wednesday's 94-83 win over Detroit. ... Former 76ers great Allen Iverson was in attendance. ... Philadelphia snapped a four-game skid against the Knicks while beating New York for the fourth time in 16 games.
UP NEXT
Knicks: At Toronto on Sunday.
76ers: At Lakers on Sunday.
---
---