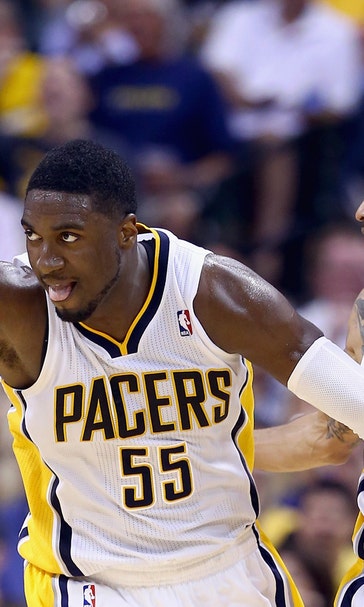 NBA takeaways: Roy roars back -- for 1 game, at least -- as Pacers knot series
BY Sam Gardner • May 8, 2014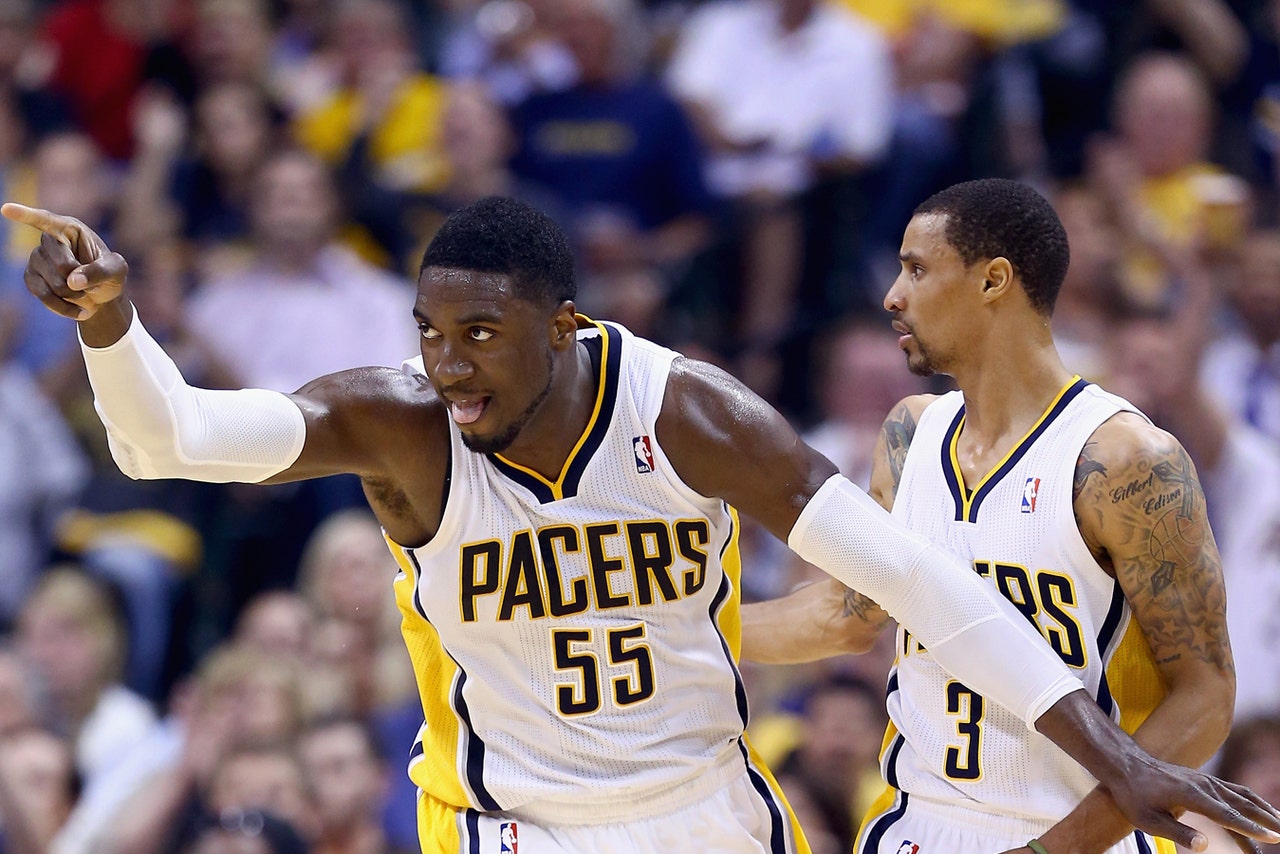 Both the Oklahoma City Thunder and Indiana Pacers got flattened by underdogs in Game 1 of their respective conference semifinals, and neither team could especially afford to drop another contest at home before hitting the road for Game 3. Fortunately for the East's No. 1 seed and West's No. 2, Wednesday's Game 2s marked a return to the level of play their home crowds have come to expect, and now both series are shaping up to be special.
The Pacers have been something of an enigma for the last several weeks, and after Indiana narrowly escaped the upset-minded Hawks in the first round, most discounted the pacers altogether, especially because of how well the Wizards performed against Chicago. But after a few games on the lam, Roy Hibbert finally showed up to play Wednesday, resurrecting his team's chances for at least another game. The Thunder, meanwhile, did just about everything right against the Clippers in a Game 2 drubbing that wasn't nearly as close as the final score indicated.
WEDNESDAY'S RECAPS:
Series: Tied 1-1
Takeaway: The Washington Wizards have taken on the role of Eastern Conference darling right before our eyes over the last couple weeks, whereas the Indiana Pacers have struggled to justify their No. 1 seed in virtually every game they've played since the regular season ended. And after a Game 1 win on the road earlier this week, the Wizards were even being described by some as a sleeper pick to not only eliminate the top-seed Pacers, but also to threaten Miami in the conference finals. But like the Heat and Spurs on Tuesday, the Pacers restored at least a modicum of order the series on Wednesday, pumping the brakes on the runaway Wizards bandwagon in the process. It was by no means a perfect game for Indiana, which still has plenty of questions to answer as the series plays out, and they'll need to return from our nation's capital with at least one win in tow to keep this series from getting ugly fast. But at least now there's hope in Indianapolis, and if nothing else, it's something to build on.
Star Review: No one has had a more forgettable playoffs thus far than Hibbert, but finally on Wednesday, it seemed that the Pacers big man decided enough was enough. For the first time in a long time, Hibbert looked unburdened on the court, a new attitude that manifested itself in the form of 17 first-half points on 5-of-7 shooting and a near-perfect second half that left him with a season-high 28 points and nine rebounds for the game. That's not exactly world-beater stuff, but when you consider that Hibbert had just 37 points — including three goose-eggs — in his first eight postseason games, even incremental progress seems significant. The problem for the Pacers is that Washington's formidable frontcourt of Nene (14 points, five rebounds) and Marcin Gortat (21 points, 11 rebounds and a pair of highlight reel posterizations) essentially matched Hibbert blow-for-blow, and if John Wall (six points on 2-of-13 shooting) was even half as good as he's been in every other game he's played the last couple weeks, the Wizards would be heading home with a 2-0 lead.
Looking Ahead: Game 3: at Washington, Friday, 8 p.m. ET
What To Look For: I want to be happy for the Pacers and believe that they've turned a corner. I really do. But I also felt that way after Game 7 against Atlanta, and we saw how that worked out in Game 1 earlier this week. Even with a win in Game 2, there's a lot more room for improvement for Indiana than there is for Washington. Paul George (11 points, six rebounds, four assists) has been comparatively pedestrian in this series thus far, and Lance Stephenson's shot has been MIA in Games 1 and 2, as well, though he did hit the jumper that iced Indiana's win late in the fourth quarter Wednesday. While Hibbert's resurgence was nice, Pacers fans shouldn't put too much stock in it being the key to advancing to the Eastern Conference finals. Coach Frank Vogel needs George and Stephenson to step up more so than Hibbert, so expect to see an emphasis on that in Game 3. As for the Wizards, there's really not a whole lot to complain about, even despite the loss, and, not unlike Hibbert, there's reason to believe that Wall's Wednesday's showing — including that costly turnover late in the fourth quarter with his team down by three — was a fluke that we shouldn't expect to see repeated.
Series: Tied at 1-1
Takeaway: Moments before halftime Wednesday night in Oklahoma City, the lights turned off in Chesapeake Energy Arena, and shortly after power was restored to the facility, a light seemed to finally flicker on for the Oklahoma City Thunder, who put together a masterful third quarter — paced, perhaps unexpectedly, by Thabo Sefolosha — that was reminiscent of the team that most have long considered to be a legitimate championship contender. True, the Thunder only pulled even with LA in Game 2, and if the Western Conference playoffs have taught us anything thus far, it's that this series should only get crazier from here. But OKC came up huge in a must-win game against a Clippers team playing great basketball now that the weight of the Donald Sterling saga has been lifted, and that can't be overlooked.
Star Review: Just as they did in the Game 1 loss, newly crowned MVP Kevin Durant (32 points, 12 rebounds, nine assists) and his trusty sidekick Russell Westbrook (31 points, 10 rebounds, 10 assists) were exquisite again Wednesday. But this time, Durant and Westbrook also got a little help from their friends, with Sefolosha, Kendrick Perkins and Serge Ibaka combining for 36 points and 16 rebounds. This after Perkins and Sefolosha, particularly, were non-factors in Game 1. Meanwhile, the Thunder defense was able to at least contain Chris Paul (17 points, 11 assists) in Game 2 after Paul ran wild in Monday's rout, while also limiting Blake Griffin to 15 points on 38.5-percent shooting, a steep dropoff from the 51.8 percent Griffin shot from the floor in his first eight games this postseason. J.J. Redick (18 points on 7-of-10 shooting) did his best to fill the scoring void left by Griffin and Paul, but as valuable as Redick is to the Clips' rotation, he's not the guy you want shouldering the load in an important playoff matchup.
Looking Ahead: Game 3: at Los Angeles, Friday, 10:30 p.m. ET
What To Look For: One shouldn't expect the Clippers' stars to lay dormant again once the team returns home for Friday's tilt — and of course, there is no shame in losing in Oklahoma City, where the Thunder went 34-7 in the regular season. But after giving up the most points the team has ever allowed in a non-overtime game on Monday, OKC needed to shore up in a serious way on defense Wednesday, and that's exactly what Scott Brooks' team did. This series has all the makings of a seven-game classic, but it could easily get away from the Thunder if they can't procure a win at Staples Center this weekend, so OKC will need to try to duplicate the more proportional effort it put on display in Game 2 going forward, while doing its best to limit a Clippers offense that, when it's clicking, can seem unstoppable. Don't be surprised to see both teams well into the 100s again on Friday, and may the most balanced team win.
---
---