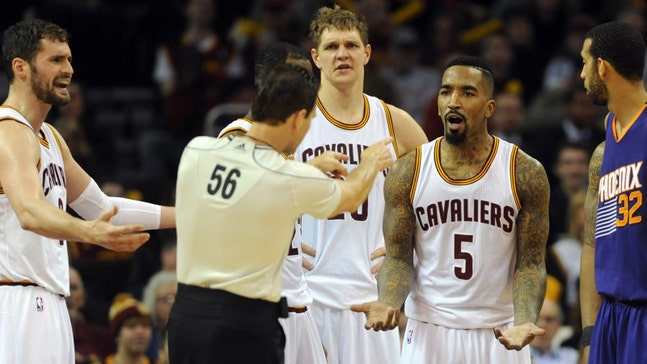 NBA rescinds opening night technical foul on J.R. Smith
Published
Oct. 29, 2015 2:18 p.m. ET

With 4:58 to play in a two-point game, J.R. Smith was whistled for a technical foul during the Cavaliers' opening night loss to the Bulls.
The timing was awful, because after getting called for a questionable foul against Nikola Mirotic, it added another free throw to further widen the margin for the Bulls.
The NBA rescinded it the following day, but that doesn't mean anything to Smith, who said the call affected the outcome of the contest. Chris Haynes of Cleveland.com has the details:
"It doesn't mater now," Smith told cleveland.com of the league's decision to wipe away the tech. "That affected the whole game."

I can't show any emotions," a frustrated Smith told cleveland.com. "I've just got to be conscious of that and try to get better with that every day."

Whenever Smith is accessed a suspect foul, LeBron James steps in and argues with the refs on Smith's behalf. He knows that the officials will allow him to plead his case. He pushes Smith away and fights for him. It doesn't pay dividends at that moment because the call is already made, but it could play a part later in the game in favor of the Cavaliers.

As for Smith, due to his reputation, he just has to stay quiet and keep his emotions in check. It may be unfair, but it's reality.

"It is what it is," Smith said. "I just have to play basketball."

MORE NEWS:

Want stories delivered to you? Sign up for our NBA newsletters.
---
---