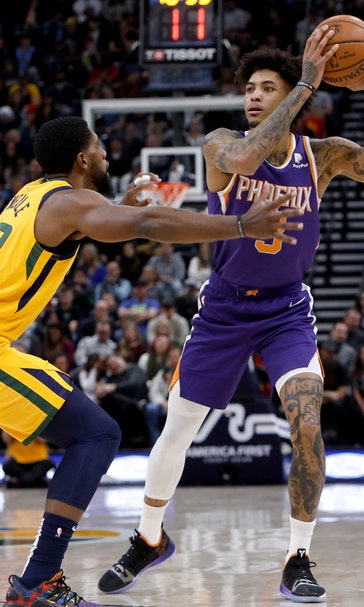 Mitchell, Jazz beat Suns 116-88
February 7, 2019
SALT LAKE CITY (AP) — Donovan Mitchell and the Utah Jazz put away the Phoenix Suns with one impressive finish.
Mitchell scored 21 points and Joe Ingles had a career-high 11 assists, leading the Jazz to a 116-88 victory over the lowly Suns on Wednesday night.
"Our communication picked up a lot in the second half," Mitchell said. "That really propelled us to get out in transition. Obviously, hitting shots helps, but we were really doing well on communicating well defensively."
Rudy Gobert added 16 points and 12 rebounds as Utah won for the fifth time in seven games. Ingles and reserve Royce O'Neale each finished with 15 points.
Phoenix committed 22 turnovers in its 12th straight loss. Josh Jackson matched his season high with 27 points, and DeAndre Ayton had 20 points and nine rebounds.
The Suns closed to 75-71 on a three-point play by Kelly Oubre Jr. with 57.1 seconds left in the third quarter. But the Jazz responded with a 9-0 run.
O'Neale's 3-pointer made it 84-71 with 10:58 left. The Jazz led by as many as 28 points in the fourth.
"It's not a three-quarter game," said Oubre, who finished with 16 points. "It's a 48-minute game. We gotta stick with it."
Injuries and a trade that sent Ryan Anderson to Miami for Tyler Johnson and Wayne Ellington left Phoenix with just 10 available players.
"Fourth quarter we just ran out of gas," Suns coach Igor Kokoskov said. "Didn't find the energy to keep competing."
NOT BAD AT ALL
Ingles drove for a layup and assisted on a pair of baskets by Derrick Favors that fueled Utah's decisive run in the second half.
"He has a feel for the pick and roll and just making good reads," Jazz coach Quin Snyder said. "Obviously, he's patient with the ball. Created a lot of good offense in pick-and-roll."
KOKOSKOV RETURNS
Kokoskov faced Snyder and the Jazz for the first time since taking over in Phoenix. He was an assistant with Utah from 2015 to 2018 and played a key role in helping the Jazz reach the playoffs in each of his final two seasons in Salt Lake City.
"We loved Igor here," Ingles said. "He was an unbelievable assistant coach. He taught all of our guys something at some point."
Kokoskov feels indebted to Snyder for launching his NBA career and credits him with being a visionary coach who influences how he approaches the game.
"He's my life mentor, not just basketball mentor," Kokoskov said.
BLOCK PARTY
Gobert blocked three shots in his 44th double-double of the year. He has registered two or more blocks in 13 straight games, the longest streak in the NBA this season.
FROM DEEP
Phoenix went 3 of 17 from 3-point range. The Suns have made a 3-pointer in an NBA-record 1,196 straight games.
TIP-INS
Suns: G Devin Booker was sidelined by right hamstring tightness. ... Jackson scored at least 25 points for the third consecutive game. This is the first time Jackson has had three straight 25-point games in his NBA career. ... Oubre scored in double digits for a career-high 15th straight game.
Jazz: Raul Neto returned to the lineup after missing 12 games with a left groin strain. He finished with three points and two assists in 10 minutes. ... Ingles registered a double-double in points and assists for the first time this season. ... Utah finished with a 43-36 edge on rebounds.
UP NEXT
Suns: Host the Golden State Warriors on Friday.
Jazz: Host the San Antonio Spurs on Saturday.
---
---