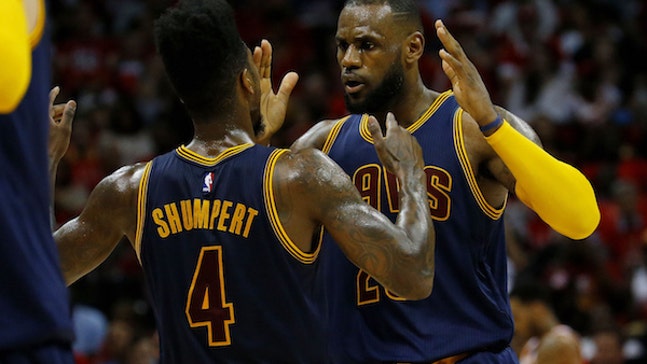 LeBron James' leadership has Cavs on top of the East
Published
May. 23, 2015 1:34 p.m. ET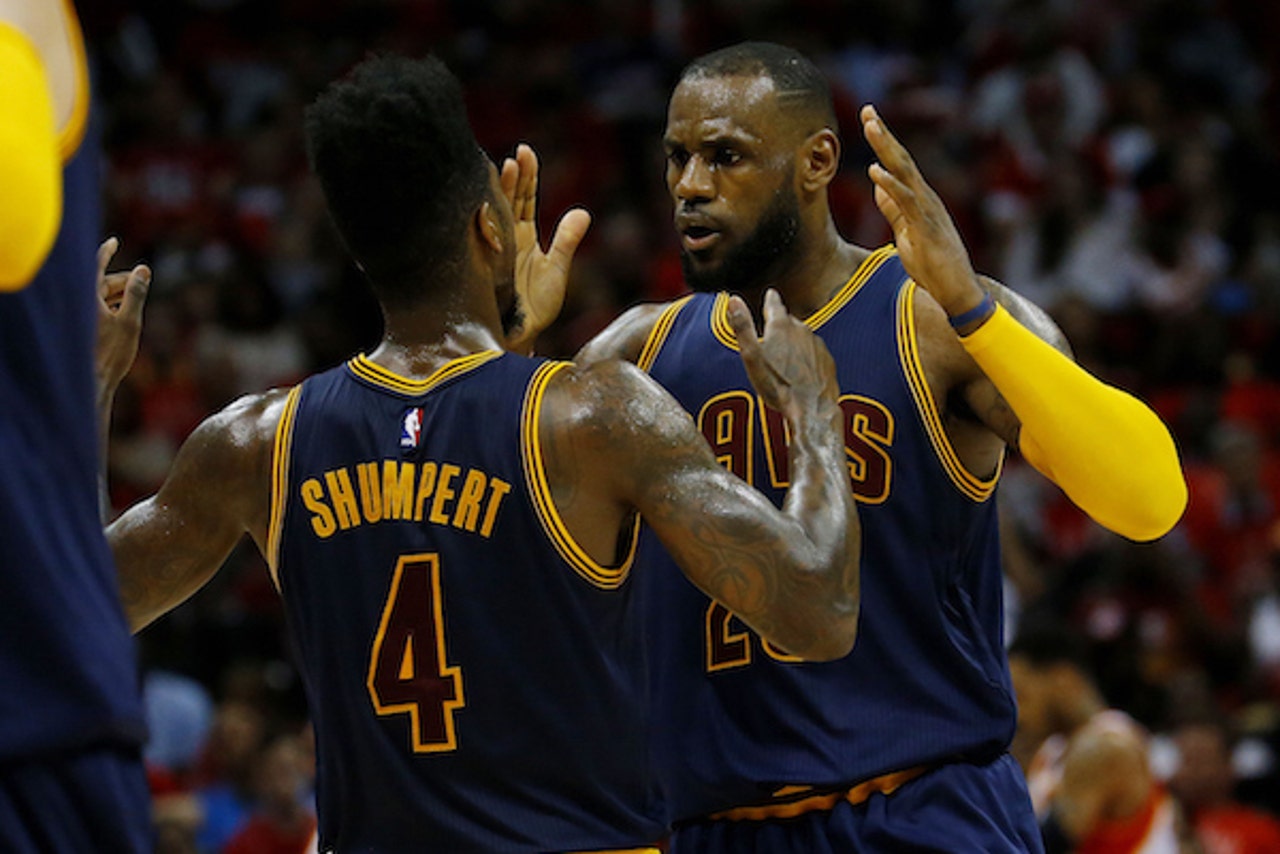 By Matt Zemek 
You can make all the Eastern Conference and David Blatt jokes you want, but if you stop laughing for a second, you can appreciate just how much LeBron James has grown as a leader. This growth - as a person and as a player - has brought the Cleveland Cavaliers to the doorstep of the franchise's second NBA Finals appearance.
Yes, LeBron is still the best basketball player in the world. He showed why Friday night in Game 2 of the Eastern Conference Finals against the Atlanta Hawks. A 30-point, nine-rebound, 11-assist outing got all of his teammates involved. James created ideal floor spacing for the Cavs' various shooters, who carved out enough space to feel comfortable on their jump shots.
Cleveland's shooters have enjoyed a lot more space than Atlanta's shooters in this series, with the exceptions of Hawk guards Jeff Teague and Dennis Schroder, who have been given a buffet-table spread of all the walk-up 3-pointers they want. Teague and Schroder have not been able to hit enough of them to keep the Cavaliers' defense honest, which is why Kyle Korver and DeMarre Carroll have been kept under wraps. You can see that LeBron's skill set is the most central point of differentiation between these two teams. His unique combination of qualities - he's basically a point power forward gifted with considerable wing-shooting prowess - enables him to take over games the way he did on Friday.
However, for all of LeBron's physical skills, it's his leadership which stands out even more as the reason the Cavaliers - a team floundering through the first 40 games of the regular season - are not only going to make the NBA Finals, but stroll to the finish line in the East. The Cavs, once 20-20, are a heavy favorite to win their next two games against the Hawks and go 12-2 in the Eastern Conference playoffs. LeBron's basketball skills remain the biggest outward manifestation of his greatness, but his people skills deserve more recognition than ever before. Those skilles have knitted this Cleveland team together amidst controversy, injury, and an enormous amount of pressure.
It seems like 17 years ago, not 17 weeks ago, that David Blatt looked completely out of his element in Cleveland. He had just thrown Kevin Love under the bus, saying he wasn't a max player. The Cavaliers' roster, as constructed as it was in early January, was not working.
LeBron James had to approve the trades that would change Cleveland from a dysfunctional group into a well-oiled machine. Most centrally, he owned these transactions by saying of J.R. Smith - the Game 1 difference-maker against the Hawks - "Get him here, and I'll take care of it."
LeBron has been good to his word, and then some.
Sure, J.R. had his knucklehead moment of the year against the Boston Celtics in the first round of the playoffs, but past incarnations of Mr. Smith might not have regrouped the way this version has. Smith couldn't elevate his game late in the 2009 Western Conference finals with the Denver Nuggets, and his shooting deteriorated in the 2013 East semis with the New York Knicks against the Indiana Pacers.
Under LeBron's watch, Smith has put his head down after his two-game suspension and provided essential contributions to the Cavs. More specifically, he's come up big in road games against Chicago and now Atlanta. Is it pure coincidence for Smith that LeBron happens to be the superstar accompanying his best postseason ever? One would think not.
This isn't just a point of differentiation between LeBron and Melo on the court, even though LeBron does get teammates involved in a way that hero-ball Melo rarely does. LeBron has needed to lead and teach J.R. off the court, and given the clinical way the Cavaliers have improved on defense - making the ball-sharing Hawks into a stand-around team this series - it's clear that LeBron's communication skills have had their effect. This is true for J.R., but it's also true for fellow New York Knick refugee Iman Shumpert. It's been true for Timofey Mozgov. It's been true for Matthew Dellavedova.
It's been true for the Cavs as a whole.
This brings up a central point about the growth in LeBron's leadership: It has occurred this season in a context markedly different from Miami, where LeBron learned how to be a leader in that tortured and wrenching 2011 NBA Finals loss to the Dallas Mavericks.
Even worse than The Decision, LeBron's press conference following the Miami Heat's Game 6 loss to Dallas marked the low point in his career as a professional athlete. The Decision was an honest expression of hubris, a showy demonstration gone a little too far. The 2011 presser following Miami's elimination was an uglier moment for King James.
Remember these words from LeBron's lips?
"At the end of the day, all the people that were rooting on me to fail, at the end of the day, they have to wake up tomorrow and have the same life that they had before they woke up today. They have the same personal problems they had today."
Perhaps those words weren't vicious, but they certainly didn't need to be said. LeBron was vulnerable and hurt in that moment, but he allowed his pain to spill out in words that seemed uncharitable at best and nasty at worst. LeBron allowed the moment of defeat to get to him, in much the same way that he allowed the pressure of that Finals to get to him on the court.
Yet, as ugly as that moment might have been, it was just one moment. LeBron's career didn't have to be defined by that one awful two-week stretch in June of 2011 - not if he didn't allow it to. LeBron needed to learn from that painful experience, and four years later, it's abundantly clear he has – substantially and powerfully.
The very simple difference between the LeBron of 2009-2011 and the LeBron of today is that his Miami experience has made him aware of the grind an NBA season can be. Each successive season, from 2011 to the present moment, has impressed upon LeBron the reality that NBA seasons are marathons more than sprints. Patiently cultivating role players and working through tough stretches bring out LeBron's best these days instead of making him the exasperated figure he more readily became at the end of his first stay in Cleveland and in that volatile 2011 season in Miami.
Moreover, with the Heat, LeBron was accompanied by Dwyane Wade, a player and person who already knew what it was like to bear the "franchise icon" label and all the pressure it conferred upon a player in the postseason. LeBron had to be led by Wade before the two men were comfortable with having the baton of primary leadership switch to King James. This progression in Miami has given LeBron so much more information, so much more context, and so much more perspective on how to be a leader in full.
This overall process has, in turn, enabled LeBron to be the sole leader of the Cavs - not necessarily in relationship to coach David Blatt, but certainly in terms of taking on the central role of guiding every other player while on the court.
Kyrie Irving is not a Dwyane Wade-level sidekick in terms of seniority, savvy or world-weary awareness. That's not a knock on Kyrie, only a reflection of the fact that he's not the leader Wade was when The Flash welcomed LeBron to South Florida in the summer of 2010. If the Big Three in Cleveland - Bron, Kyrie, and Kevin Love - promised a level of shotmaking and skill that could approximate what James, Wade, and Chris Bosh brought to the table in Miami, their leadership skills couldn't begin to match what Bron had with the Heat.
LeBron had to learn about leadership from Wade, and to an extent, from Pat Riley as well. That was his graduate school of leadership. Now in Cleveland, LeBron is the professor of leadership, and you can see the fruit of his teaching toward the likes of Smith and Matthew Dellavedova. This is why the Cavaliers' outlook has undergone a 180-degree transformation from those early-January days when everything seemed to be falling apart.
LeBron James' skills remain his foremost assets - that much is hard to deny. Yet, LeBron's leadership abilities, which have been so substantially developed and refined over the past four years, are the overlooked assets which have put the city of Cleveland in position to bear witness to a world championship series almost two weeks from now. This point should not get lost in the midst of admiring that 30-9-11 box score; LeBron's value goes so much deeper than that.
More from Crossover Chronicles:
---
---