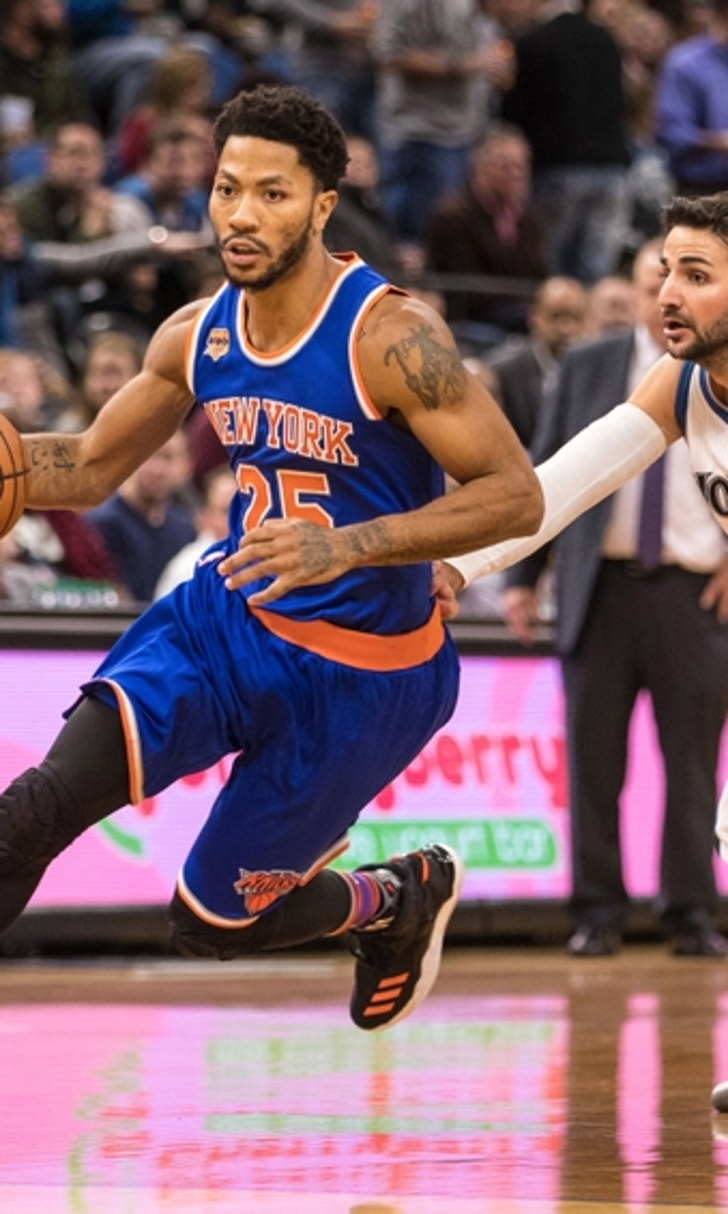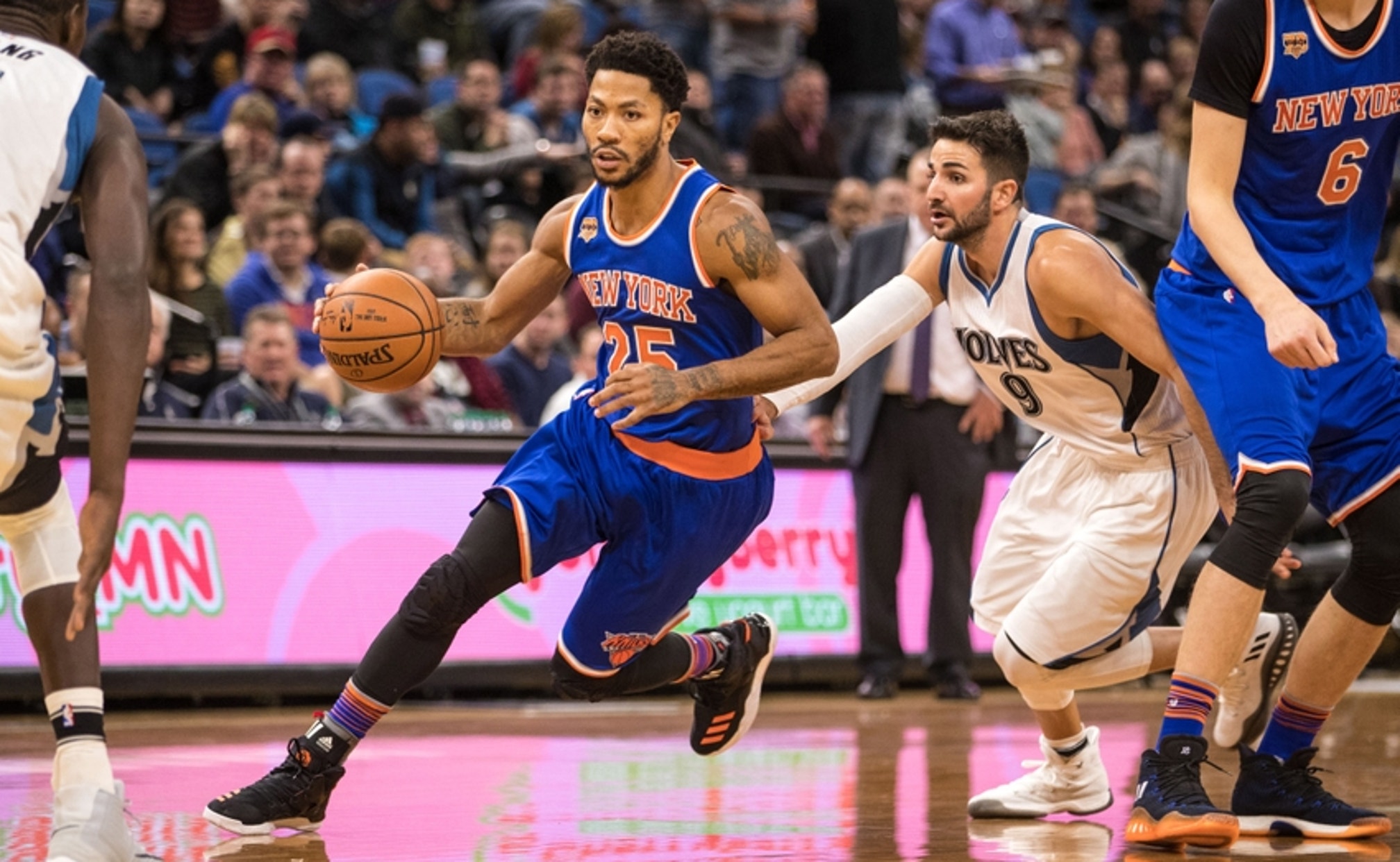 Knicks Trade Rumors: A Cost-Benefit Analysis Of Dealing For Ricky Rubio
BY Fansided and Jack Huntley/FanSided via Daily Knicks • June 30, 2017
The New York Knicks have a long-term hole at point guard. The struggling Minnesota Timberwolves are reportedly open to trading Ricky Rubio. How much should the Knicks be willing to give up for Rubio? And what would they be getting in return?
---
The New York Knicks trading for Ricky Rubio makes a lot of sense, but the exact anatomy of the trade is complicated. The Knicks have limited pieces to trade, such as Derrick Rose's expiring contract, and for the first time in recent memory, first round draft picks.
The draft picks are the contentious issue here. Phil Jackson has admirably and understandably loathed the idea of trading picks, especially first rounders, during his tenure as team president.
The very mention of trading any more first-round draft picks has Knicks fans hyperventilating, dizzy, and developing a nervous twitch.
Fresh in the memory of most fans is maybe the worst trio of terrible trades in NBA history. Antonio McDyess, Stephon Marbury and Eddy Curry; the Bermuda-trade-Triangle that has scarred the collective psyche of Knicks fans everywhere.
I get it. The first-round fear is real, and justified; but it shouldn't be absolute.
Ricky Rubio would be a great fit with this Knicks roster. Simply, primarily, because his best skill, passing the ball, complements the best skills of the Knicks' best players: shooting the ball.
Carmelo Anthony is a once in a generation scorer, and Kristaps Porzingis' combination of size and shooting is borderline unstoppable if he catches the ball in the right spots.
Derrick Rose, as demonstrated by Jared Dubin, does not naturally accentuate the skills of Anthony and Porzingis. Even if you subscribe to the belief that his penetration creates space for his teammates, he neither finishes at the rim, nor finds his team mates consistently enough to justify his gaudy 26.8 percent usage rate.
Rubio is also, for what it's worth—and it's worth a lot to the Knicks—a dynamite defender. He's third in the NBA among point guards in defensive RPM at 1.51, and sixth in the NBA in steals per game at 1.79.
I'm not advocating the Knicks trading Derrick Rose and an unprotected first-round pick for Ricky Rubio. But, I would advocate at least considering a middle ground, involving pick protections and/or pick swaps.
How about Rose and a heavily protected first round pick; say, top 15 protected? The Knicks only lose their pick if Rubio transforms the team and they make the playoffs.
Or, Rose and the right to swap first-rounders? The Knicks are currently 20-26, the Timberwolves are 17-28, and it would take a complete collapse by the Knicks and a U-turn for the Timberwolves for a swap to really hurt the Knicks.
The more likely scenario is that the Knicks gain a starting point guard entering his prime and end up with a slightly worse, but still good first-round pick.
There's risk attached to any deal including draft picks. New York knows that more than most, but there are ways to mitigate, minimize, and put a ceiling on this risk.
If Phil Jackson believes Ricky Rubio is worth the risk, it's not automatically a bad idea to consider trading a conditional first round pick with lots of protective strings attached.
And that's really what it comes down to, is Ricky Rubio a good enough starting point guard to turn a Knicks team led by a declining but still effective Anthony and an emerging Porzingis into an Eastern Conference contender?
He could be.
Let's look into a best-case scenario crystal ball for a second.
Picture Rubio running a pick and roll with fellow Spaniard Willy Hernangomez, who continues to develop into a new-age Marc Gasol. Courtney Lee, Anthony and Porzingis are dotted around the three-point line like snipers waiting for a perfect pass from a point guard with once in a generation, Maravich-ian passing skills.
That sounds like a potent offensive foundation, doesn't it? The type of offense that creates the pick-your-poison decisions defenses dread.
And the defense would be looking pretty good, as well, in this hypothetical Knicks nirvana.
Lee and Rubio would form a stingy defensive back court with size and smarts. Best friends Hernangomez and Porzingis would be manning the paint and protecting the rim, under the defensive tutelage of backup center Joakim Noah, whose contract happens to happily expire in the 2019-20 season—just as Hernangomez is due an extension.
Mindaugas Kuzminskas, Ron Baker, and Justin Holiday form a fun and feisty bench mob. The chemistry is off the charts. Unlikely buddies Anthony and Jackson laugh about the times they repeatedly fueled a pointless power struggle in the press.
Everyone shows up for work.
Too much? Probably, but Rubio is available and the Knicks would be a better team if they got their hands on him.
If the difference between getting a deal done is a conditional first-round pick, Jackson should consider it, rather than letting bad decisions made in the past be the rationale for missing an opportunity to trade for a player who could be a big part of the New York's future.
More from Daily Knicks
This article originally appeared on
---
---