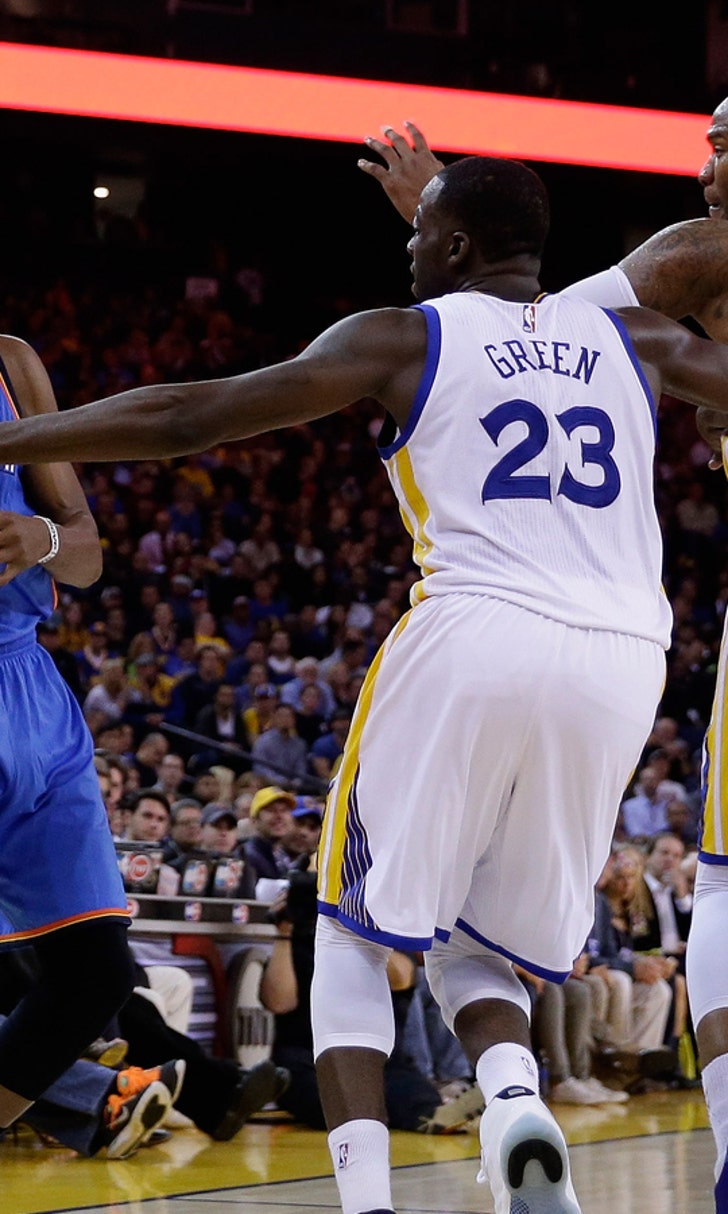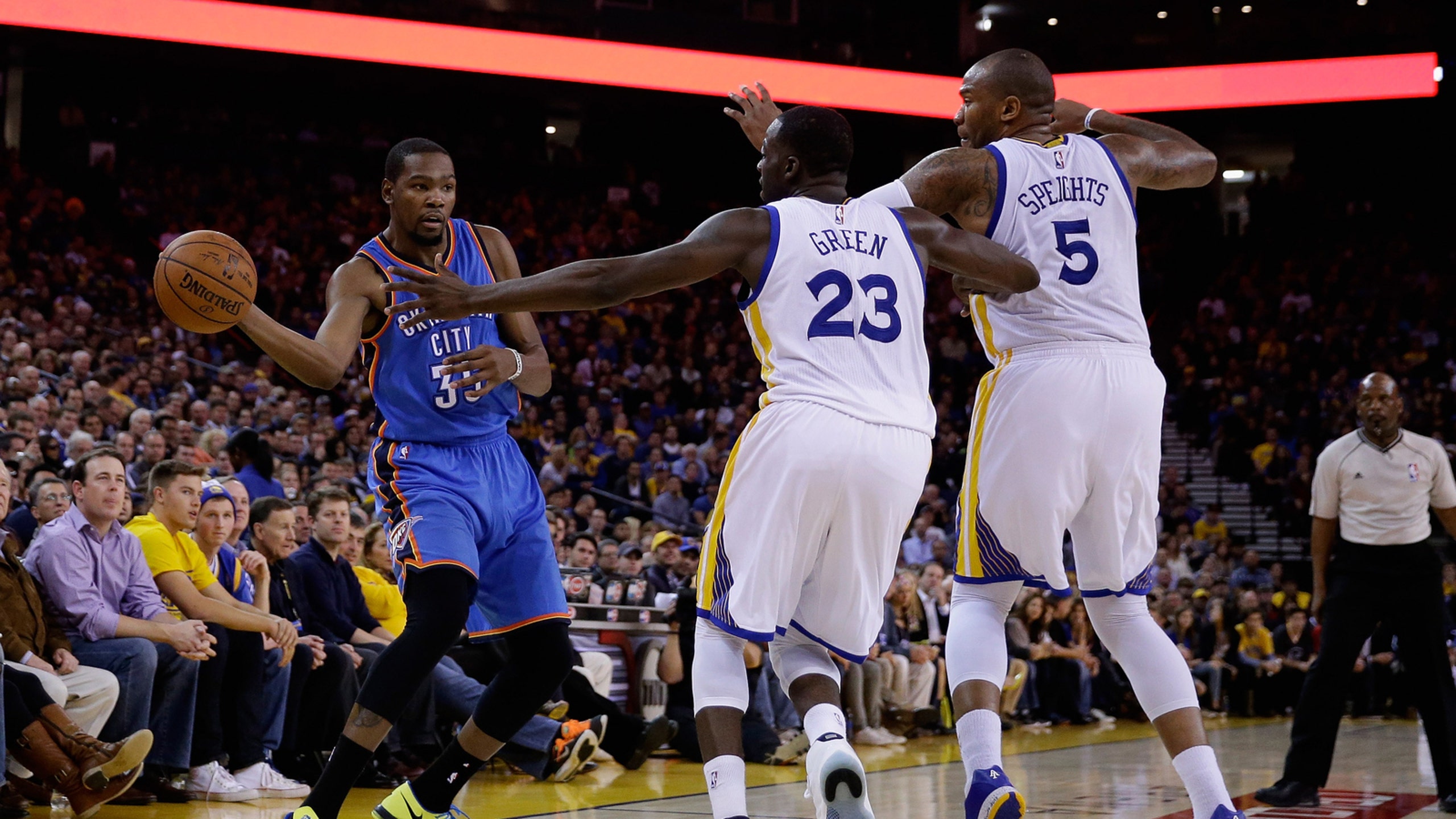 How Warriors can create enough cap space to sign Kevin Durant
BY Jovan Buha • February 2, 2016
The Golden State Warriors are "significant frontrunners" to sign Oklahoma City Thunder star Kevin Durant this summer if he decides to leave the Thunder, according to a report by Adrian Wojnarowski of The Vertical on Tuesday.
Of course, as currently constructed, the Warriors do not have enough cap space to sign Durant, and would have to likely give up Klay Thompson or Draymond Green in a sign-and-trade to make a potential deal work, which is a non-starter for them.
So how is this even possible?
Well, clearing enough cap room to sign Durant is a nine-step process, as laid out by Bobby Marks of The Vertical.
The gist: The Warriors would keep Stephen Curry, Klay Thompson, Draymond Green, Shaun Livingston (they would guarantee his contract), Festus Ezeli (they would re-sign him), and Kevin Looney (their No. 30 overall pick from the 2015 NBA Draft). 
After that, Golden State would have to make some difficult decisions. 
First, the Warriors would need to trade 2015 Finals MVP Andre Iguodala. Then, they would need to either trade starting center Andrew Bogut or use the stretch provision on him (Of note: They could likely keep Bogut over Ezeli if they decided to, but it's unlikely given the age gap). Those are two tough pills to swallow given the veteran leadership, experience and defensive value both have provided over the past few seasons.
The next step is much easier, which entails either trading Jason Thompson (unlikely), or using the stretch provision on him.
The most difficult decision, though, is the penultimate step, which would be choosing to withdraw the qualifying offer and renouncing the rights of Harrison Barnes, their talented fourth-year forward who's dripping with upside:
Step 8: Withdraw the qualifying offer and renounce Harrison Barnes

Out of all the steps, this is the one that is the toughest to swallow. Since being drafted in the first round in 2012, Harrison Barnes has gotten better each year. Finding a team in a sign-and-trade scenario would not benefit Barnes financially or with the length of his contract. Renouncing him would free the Warriors of his $9.6 million cap hold. This is the biggest sacrifice Golden State would have to make.
Finally, they would renounce the cap-holds on all their other free agents (including Leandro Barbosa, Brandon Rush and Marreese Speights among others) and then -- and only then -- would they have created enough room to sign Durant outright. Golden State could re-sign those guys with the remaining cap space, but only for the veteran's minimum or portions of the mid-level exception.
Essentially, they'd be trading Barnes, Igudola and Bogut (plus a few replaceable role players) for Durant. It sounds like a lot, sure, but when factoring in age -- Iguodala is 32 and Bogut is 31 -- and upside -- Barnes has the potential to be a fringe All-Star, but he'll never be close to as good as Durant -- it seems to be an enticing possibility.
Were that to happen, here's how the Warriors lineup would stand after signing Durant:
C: Festus Ezeli
PF: Draymond Green
SF: Kevin Durant
SG: Klay Thompson
PG: Stephen Curry
6th: Shaun Livingston
7th: Kevin Looney
8th: 2016 first-round draft pick (unless they stash him overseas)
9th-13th (up to 15th): A mix of mid-level and veteran's-minimum free agents
Just when you thought the Warriors' starting five couldn't get any more stacked, they'd be replacing Barnes with Durant (a massive upgrade) and Bogut with Ezeli (a long-term upgrade and potentially a short-term one, too).
If the front office fills out the bench with the right pieces -- which they've proven they can do in the past -- this team could have a higher ceiling than the current one as Curry, Durant, Green and Thompson continue to improve, which is saying something given the current outfit's record pace.
The question of whether the Warriors should sign Durant is a whole other issue. There are pros and cons to both sides of the debate. But if the Warriors do indeed pursue him this offseason, they are going to look significantly different next season.
Jovan Buha covers the NBA for FOX Sports. Follow him on Twitter: @jovanbuha.
---
---