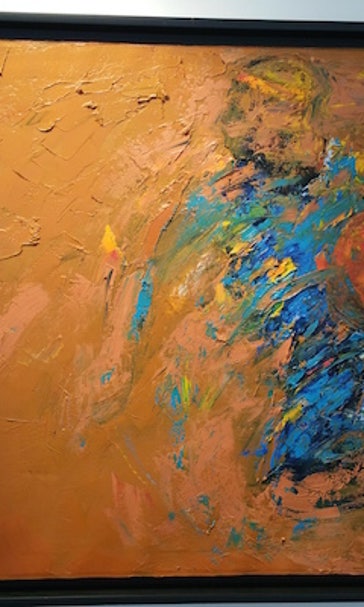 How a basketball-themed art exhibit changed perceptions
BY foxsports • March 26, 2015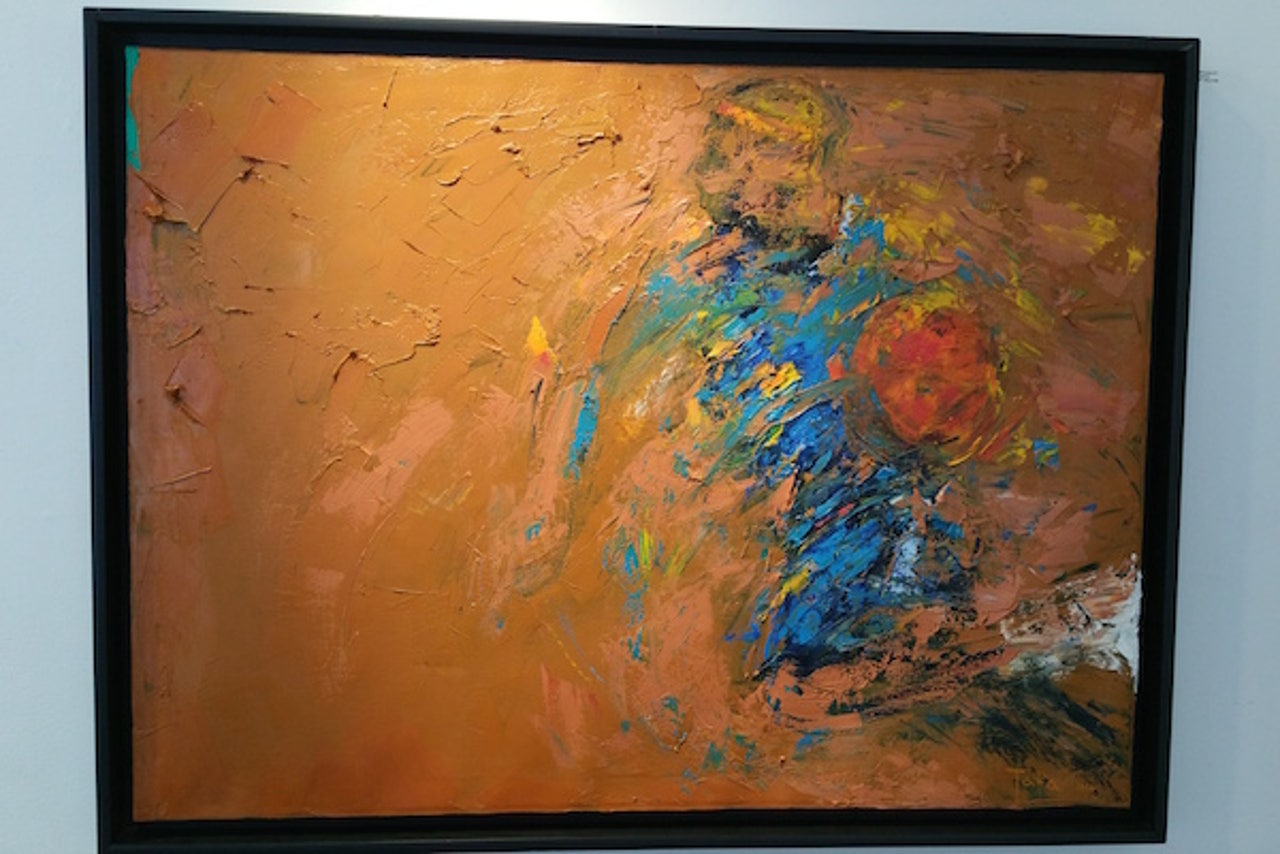 By Jason Clinkscales
Regardless of how much we have learned about athletes over the years, there is still a school of thought that these are performers and performers only. They exist to entertain; not to think, feel or express anything more than the standard post-game interview quotes. Yet, outside of the realm of sport, these are still people who are multidimensional and have unique ways to express themselves outside of the artistry their sports may provide.
Though strictly centered around basketball, a recent exhibit at the LeRoy Neiman Art Center in Harlem called "Changing the Game" hoped to have done just that by changing the typical perception of not only how these sports figures are viewed, but also how fans memorialize their favorite games.
"Changing the Game" was initially displayed for just a short time in February as NBA All-Star Weekend made its way to New York City. However, with the community's response, it was extended through March 20 as a chance to attract more onlookers who would see some of the images through the window. The Art Center's executive director Marline A. Martin worked with artists Rod and Jennifer Ivey to curate the exhibit for a Harlem community that celebrates its past as much as it writes stories on its present.
If the name Ivey sounds familiar to sports fans, it's because their son, Royal, was a prep school star in NYC before playing at University of Texas. (After a decade of pro ball, including nine in the NBA, Royal is an assistant coach for the Oklahoma City Blue, the Thunder's D-League affiliate.)
When explaining the inspiration for "Changing the Game," Ivey talked about a youth performance in Boston that combined the visual representation of basketball with other artistic elements such as dance and orchestra music. "At that moment, I said I'd like to take this to New York, but I didn't know how," replied Ivey. "I had Marline help me out and that was about two years ago. Since I'm a visual artist, I wanted to show people that basketball can inspire as well as tell people who are concerned about the business can see that the players are into different things."
Though short in duration, it couldn't have been staged in a better location than this northern part of Harlem that is as defined by sports history as anywhere else in the city. The neighboring Jackie Robinson Park (formerly Colonial Park, re-named after the iconic Dodger in 1978) sits down the block, and a few blocks north lie the famousRucker Park, the Polo Grounds (the former stadium-turned-public housing development) and the lesser-recalled Manhattan Casino that was home to Black Fives-era basketball.
That very location meant something here for local residents and basketball aficionados as several works from airbrush artist ART-1 would ring a bell. He used a couple of images of Rucker's most famed players in Rafer Alston – the former Orlando Magic and Houston Rockets point guard better known to some as Skip to My Lou – and Oklahoma City Thunder star Kevin Durant, and re-presented them in uniquely colored hues. He also paid homage to both the Ivey family career with a bold portrait of Royal holding a ball with "HOLLIS" in place of "Spaulding" and a nod to the family's "Defending Your Dreams" basketball clinic. Ivey talked about how ART-1's pieces came about. "I met ART-1 in Hollis (Queens) where he has a famous mural of Jam Master J. Someone brought him to me and he did the mural of Royal. Royal was crying when he saw it. I asked him if he had more and he did these in two or three days. They were more than what I thought they would be because it was more than streetball."
One piece that Ivey was most stirred by was "Time-out," which featured a unique look at a youth basketball team huddling during a timeout. Instead of focusing on the players listening to the coach's instructions or their interactions with each other, Ivey's portrait displays the lower half of each player, emphasizing the shorts and sneakers. Where you may think this portrait is incomplete is where the right image is captured; Ivey takes a swipe at apparel companies who don't see the kids as players, but as walking billboards. It was largely inspired by his own experiences as a sports dad as well as what he sees today with aspiring young players. "Just dealing with my son growing up and playing basketball, I got discouraged by the business and the way it was treating players and young men," Ivey reflected. "It's rampant, even with all of these young kids wanting to play basketball. I'm always looking at different ways to connect to them. Once you bring in these younger players with basketball, then you can get them to listen to you."
Thinking of the stark realities for some players, a powerful image to note was the Dean Meminger painting done by local artist Michael J. Singletary. Natives of a certain age remember him as a tough, defensive reserve guard for the 1973 NBA champion Knicks. Born in South Carolina, but came of age in Harlem, the elder Meminger battled drug addiction throughout his life as well as in death, passing away at a nearby hotel in 2013. The portrait is stirring because like his nickname, "The Dream", he's frozen in motion as if the viewer would try to recall him in one of her or his own. "When I was going to college, it was the time Dean was playing. I know his story and it's a bit tragic," Martin recalled. "I know his son (the younger Dean is a long-time reporter for cable news channel NY1). The way it looks reminded me of dreams because of the blue background and not many other things around him. Because of Dean's life, I felt that this piece was a good way to pay respect to him."
Of course, there are also works with direct connections to NBA players such as the three enlarged photos submitted by San Antonio Spurs forward Boris Diaw. The French native showed some skills with the lens with "Diaw, who was very eager and didn't know me from Adam, was the first to respond," recalled Martin when she discussed his impressive work. "It was the first time he exhibited his work professionally. In his travels back and forth from Africa, this is part of his interest, his passion and he had the opportunity to take these photographs."
Next to those photos was actually a work featuring the assistance of one of the league's biggest stars, Miami's Dwyane Wade. From his In the Paint series with the Heat guard, Billi Kid had Wade paint splashes of color onto canvas by literally dribbling in paint.
The late LeRoy Neiman, whose expressionist work regularly featured renowned athletes in motion, would have been plenty impressed with the exhibit as some of the works exhibited shared a similar style. The Wade/Billi Kid collaboration was a strong display of expressionism as deftly using Wade's actual footwork and dribbling as proverbial brush strokes. Yet Arena Riot, which was one of three featured by another local artist, Tafa, had the same elements. It initially evoked memories of one of basketball's darkest hours, the Malice at the Palace, but it also could have been a more striking way of showing the convergence of crowd emotion and on-court action.
If anything, the entire display was a vivid reminder that not only can our favorite sporting moments be frozen in time, but that these athletes are more than what they do. About the community's reception to the exhibit, Martin had a poignant takeaway as it related to Neiman's artistic vision. "I think a lot of people were just excited by the fact that the timing was good for what was happening in the city with the All-Star break," she said. "My greater enthusiasm for it was based on Mr. Neiman and his legacy. A lot of his themes were around sports and these larger-than-life athletes. The (LeRoy Neiman) Foundation itself was excited because this was his passion."
The local connections to the game were strong – the portrait of the Queens-reared Royal Ivey, Rucker's signature moments, a local icon of yesteryear – as were the larger footprints from the NBA and more. Yet, for the curators, "Changing the Game" signified a lot more than art for art's sake. Said Ivey, "one of the reasons why we were doing this is so that people get a realistic view of entertainers and what their lives are really like. Because whatever reason something (or someone) is all over the media, someone's going to pay attention to it. We're sort of want to be the antithesis of what they're saying."
More from The Sports Fan Journal:
---
---