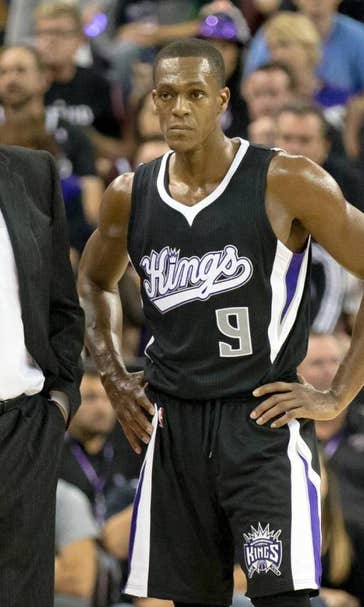 House of Cards: The Kings, Jokers and Chaos in Sacramento
October 29, 2015

By PJ Bensallo
It has been…an interesting time for the Kings. No one knows what the heck is going on (including those inside of the organization!). For a quick recap: 
Last Season: 
The Kings rushed out to lead the Pacific Division, home of the NBA champion Warriors, before the floor fell out from underneath the team. Star center DeMarcus Cousins was diagnosed with viral meningitis and was sidelined for more than a month. The Kings faltered without him, and their record fell to 11-13. And then the Kings' Chernobyl of a season began to crumble when owner Vivek Ranadive fired head coach Mike Malone, who was not only a favorite of the players, but had Sacramento ready to play. Mike Malone was fired after only 24 games, and according to Adrian Wojnarowski, the move created a sense of contempt among Kings players, especially Cousins who loved Malone and his system. The Kings then later fired interim head coach Tyrone Corbin, and hired George Karl to coach the team after the All Star Break. 
This ked to Cousins saying: 
"I ain't pumped up. I've just got a lot on my mind. The crazy thing about it is, I've just got a question for y'all: How you gonna stop God's plan? How you gonna do that? How you gonna do that? That's all I want to know. How you gonna stop God's plan? ... The marathon continues. I'm out." 
Additionally, Cousins' representatives released a statement saying:   
"I wasn't consulted when the decision was made to fire Mike Malone, and I'm not being consulted now. I just hope they make a decision soon and stick with it. George Karl is an experienced, proven coach and if that is who they chose to coach this team, I will support it. I do not like all these discussions in the media while we have a coach in place. It is a distraction and not fair to coach Corbin and this team." 
Needless to say, Mr. Cousins wasn't exactly thrilled with the Kings announced the hiring of Karl. Now that's fine; players and coaches don't always get along, and teams don't always play well despite hot starts. That's normal, but the Kings were anything but. They finished with a 29-53 record including an 11-19 record under Karl (eight losses worse than the record the Kings had under Malone, just for the record). They then entered the offseason as a team with a couple intriguing players, mainly: DeMarcus Cousins, Rudy Gay, Ben McLemore, and Sauce Castillo (Nik Stauskas). 
In theory, those young players could have eventually formed a good nucleus under the tutelage of a good and patient coach in a learning environment. Unfortunately, the Kings have been anything but that. 
Summer 2015: 
The main rumor surrounding the Kings was that head coach George Karl was shopping star center DeMarcus Cousins, behind the back of head of basketball operations Vlade Divac and without the permission of owner Vivek Ranadive. No trade happened, and Karl denied any and all claims that he was actually looking to do so. 
That being said, it looks like DMC thought that it was some media rumor, and definitely did not take it personally. He totally didn't tweet out a snake in grass emoji. He also totally didn't cite "Blueprint 2" by Jay-Z as a means of chirping Karl. And this reference totally wasn't something that other All-Star players, who have been burned by George Karl in the past, have also cited:
This lead Ranadive to consider looking for a way to FIRE the very same coach he had just brought in four months prior! 
As this was going on, former Kings GM Pete D'Alessandro left the Kings to go to the Nuggets where former Kings coach Mike Malone is now the head coach. Ranadive had promoted former Kings legend Vlade Divac to head of basketball operations thereby superseding D'Alessandro's power, frustrating D'Alessandro. As I said when this news broke: 
"The Kings are losing a valuable front office member and forward thinker in D'Alessandro. Known for approaching deals with a combination of advance metrics and scout's eye, D'Alessandro attempted to corner the market of overpaid, but still valuable veterans." 
Little needs to be said about Divac's absence from basketball for over a decade prior to being hired as general manager despite having LITERALLY NO EXPERIENCE IN A FRONT OFFICE.
Divac went and drafted a supremely talented Kentucky big man with noted personality problems: Demarcus Cousins Willie Cauley-Stein. "Trill"is an incredible athletic talent, who is a machine on defense (the best part of that link is how Trill stands over his victim and stares as though he was personally affronted by that one approached the rim), so I can't truly blame Divac for this pick. However, he could have drafted Justise Winslow, who many considered to be the best wing player in the draft and who plays a position that the Kings are particularly weak at. 
Divac's complete deficiency of experience showed when Divac was absolutely fleeced by Sam Hinkie in a cap-clearing deal in which the 76ers received shooting guard Nik Stauskas, veteran big men Carl Landry, and Jason Thompson, Sacramento's 2018 first-round pick, and the right to swap firsts with Sacramento in both 2016 and 2017!!! I am pretty sure Hinkie drunkenly dialed Divac with an intern in the room and said "Watch this," and came out with this deal half shocked that he was able to actually pull it off. That is the kind of trade you get in NBA 2K with force trades on. Sam Hinkie used "pump up player," on NBA 2K16 and Divac agreed like a hypnotized mannequin with no free will. 
But wait, there's more! 
Divac, with the encouragement of Ranadive, then went out and looked to acquire a point guard. His first attempt was to trade the eighth overall pick to the Nuggets for Ty Lawson, who was later acquired by the Houston Rockets, for a bubblegum wrapper found in Daryl Morey's pocket, a ball of lint from Dwight Howard's dryer, and James Harden's stir fry bowl and chopsticks.
After that deal fell through Divac scoured the free agent market, and instead of attempting to sign a talented, young, efficient, point guard like Cory Joseph, or attempting to promote Ray McCallum to the starting point guard from within, Divac went and signed highly-documented head case Rajon Rondo. Thereby adding Rondo into the nitroglycerin-infused pile of personalities that includes: Cousins, Ranadive, Karl, Divac, Cauley-Stein, and former starting point guard Darren Collison.  
In addition to signing Rajon Rondo, Divac went out and attempted to sign about a dozen people who all looked at the Kings situation and said basically 'Um...yeah better not do that, ya know for all of the reasons.' The few players he was able to sign outside of Rondo are bit players who were brought in on exorbitantly expensive deals to make up for the insanity in the front office. The Kings signed Kosta Koufos to a 4 year/ $33 million deal. Yes, $33,000,000 for a backup center. The Kings also signed Marco Belinelli, who is a good, but by no means great player. The Kings had the ability to go out and sign undrafted free agents like Cliff Alexander and Robert Upshaw; highly-talented but flawed prospects and chose not to.  
If the front office was going to push all in on the crazy train they might as well have gone out and signed the best available talent. The Kings went to the offseason poker table and went all in when they had pocket 2s. They then somehow got out of the hand when the Lakers didn't want to complete a deal for Cousins. Then they took half of their chips and bet it on the off chance that Rajon Rondo (who hasn't played defense in years), suddenly starts caring about basketball again. They signed Rondo, even though legendary coach Rick Carlisle couldn't coax a useful performance out of him. The Kings may seem like a complete dumpster fire: however, I will try to dive into the Kings roster and find some positives to maybe be happy about... 
1. The Kings still have DeMarcus Cousins 
DeMarcus Cousins is a stud despite what Mr. Aaron Vetter would have you believe. While he may be inefficient, this was a result of his high usage rate and complete and utter lack of help on this team. The Kings wagered that putting the ball in Cousins' hands as frequently and as often as possible would be the best path for success. While this lead to his 4.3 turnovers per game, it also lead to his 3.6 assists per game, the third highest mark from a center in the league. With Rondo leading the reformed Kings offensive attack, Cousins' assist-to-turnover ratio should plummet in a positive direction. This also isn't counting the fact that Cousins is a stat sheet stuffer who had the third most double-doubles in the league last year, and was tied for sixth in the league in triple doubles. A healthy, motivated Boogie is a very real threat to the rest of the league. 
2. Willie "Trill" Cauley-Stein 
Cauley-Stein is a defensive maven. He orchestrated some of the most incredible and soul-crushing blocks in college basketball last season, and he will greatly help this Kings team by sucking up rebounds and vanquishing the souls of those foolish enough to challenge his authority. "Trill" will be a huge element of the Kings' defense this season, and will hopefully help to bring their defense rating from 27th to something much higher. The Kings allowed 1.1 points per possession which is horrific to say the least, and that needs to become a bigger focus if this team hopes to win.
3. Rajon Rondo……maybe….? 
Rondo's stock throughout the NBA has plummeted after his time in Dallas and Boston when he appeared incredibly disinterested in every facet of the game. In theory, the Kings' signing of Rondo makes sense: a one-year deal on a relatively cheap contract under the idea that maybe Rondo wakes up from his personal two-year long "Lebattical." If Rondo does indeed wake up, the Kings could have signed one of the best deals of free agency. When Rondo was motivated on the Celtics, he was a defensive terror averaging almost two steals per game. More importantly, Rondo helped space out the floor, and averaged a little over 11 assists per game at his peak. A motivated Rajon Rondo is the perfect person to run George Karl's fast paced offense, and the Kings could be an interesting threat in the West. 
4. Rudy Gay is a pretty good three point threat 
Believe it or not, Rudy Gay shot 36% from three. It's crazy, I know. Additionally Marco Belinelli shot 37.4% from three. So with those two on the wings, Rondo could have solid targets to kick out to. 
And in those stats we might find the key to the Kings' offensive schematic. Rondo penetrating the paint to kick out to Rudy Gay and Marco Belinelli, with DeMarcus Cousins and Willie Cauley-Stein on the inside collecting rebounds and generally causing chaos. 
5. No matter what happens this team will be fun to watch 
LONG LIVE THE KINGS.
More from The Sports Quotient:
---
---