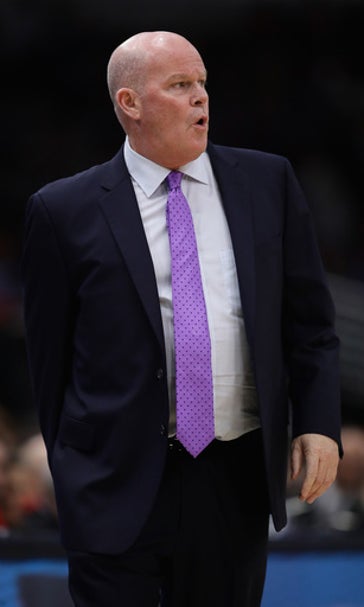 Hornets coach Clifford out indefinitely with 'health issue'
BY AP • December 7, 2017
CHARLOTTE, N.C. (AP) Hornets coach Steve Clifford will be away from the team for an undetermined period of time to deal with a ''health issue.''
The team made the announcement Wednesday in a release.
The 56-year-old Clifford missed Monday night's game against Orlando because he was not feeling well. Associate head coach Stephen Silas filled in for Clifford against the Magic.
Clifford has battled heart problems in the past, but a person familiar with the situation told The Associated Press the issue was not a heart-related. The person spoke to the AP on condition of anonymity because the team has not released details of Clifford's health issue.
The team said there is no timetable for Clifford's return and that officials would have no further comment.
Silas will continue to coach the team with Clifford out. The Hornets host Golden State Wednesday night.
''I just want to send him my best wishes,'' Warriors coach Steve Kerr said. ''Obviously I have been through some issues, and I don't know what his health issues are, but it's no fun. I'm wishing him well and I hope he gets back on the sideline soon. But more importantly I hope that he's healthy.''
If the players know what is wrong with Clifford, they aren't saying.
''I feel like Cliff is one of those guys, no matter what is going on his life, he's always going to be here,'' Hornets forward Marvin Williams said. ''So for him to not be here now is a little bit concerning. I have texted back and forth with him a couple of times and he's texted back every time. He seems in good spirits. Whatever is going on with him I'm sure he's fine. If he has to step away to make sure he's OK, that's what is most important.''
Williams said the team has confidence in Silas.
''We will continue to follow his lead,'' Williams said.
Clifford underwent a procedure in 2013 - his first year as Charlotte's head coach - to have two stents placed in his heart, but returned to coaching just three days later. The procedure came after Clifford began experiencing chest pain while eating at a Charlotte restaurant and had to be taken by ambulance to the hospital.
Clifford has since changed his diet and has been eating healthier.
The Hornets were playing well at home under Clifford, but are just 9-13 overall heading into Wednesday night's game. They have struggled on the road, where they are 1-10 this season despite the play of All-Star Kemba Walker. The point guard is turning in another impressive season, averaging 22.7 points and 6.3 assists per game.
---
For more NBA coverage: https://apnews.com/tag/NBAbasketball
---
---