National Basketball Association
National Basketball Association
Durant scores 29 as Thunder hold on
Published
Apr. 6, 2011 1:00 a.m. ET

The blue T-shirt marking the first division title in the Oklahoma City Thunder's brief history sat folded up on a chair near Kevin Durant's locker.
Russell Westbrook left the locker room and was halfway down a hallway before stopping to run back, grab his and throw it over his shoulder.
The Northwest Division title, clinched with a 112-108 victory against the Los Angeles Clippers on Wednesday night, hardly merited a celebration for the Thunder.
''We've got goals at hand. When you have bigger goals, you tend to reach smaller goals,'' Kendrick Perkins said after grabbing a season-high 17 rebounds.
''I guess that was a good thing to see the guys not comfortable. Our guys want to go a little further than just being division champs.''
Durant scored 29 points, Westbrook added 26 and the Thunder fended off a late charge from the Clippers to win the first division crown for the franchise since 2005, when it was known as the Seattle SuperSonics.
''Of course the first one means a lot, especially after a few seasons I've been through since I've been in this league,'' said Durant, who was on teams that won 20 and 23 games his first two seasons in the NBA.
''It's a big turnaround for us, but we've just got to move past it. It's a great accomplishment, but we're trying to get to something bigger.''
Blake Griffin had 35 points and 11 rebounds in the second visit to his hometown in his NBA career, but he missed a key foul shot that helped put the game away for Oklahoma City.
Durant hit two free throws at the other end to put the Thunder up 110-106 with 12 seconds left and ice the game, just moments after he'd missed a foul shot to give the Clippers a chance for the tie.
When Mo Williams couldn't get open, Griffin attacked the basket for a powerful slam but couldn't connect and got fouled by Serge Ibaka. He missed the first of his foul shots before hitting the second.
''I should have made that dunk,'' said Griffin, who had eight dunks in the game. ''I should have had a chance to tie the game. I am disappointed that I missed it.''
The Clippers tried to trap Durant after the inbounds pass, but fouled him in the process. An 88 percent free throw shooter, Durant wouldn't miss again.
He locked up just the second division title for the franchise in 13 years, since Seattle won three straight Pacific Division crowns from 1996 to 1998. The win also ensures Oklahoma City will be at least the No. 4 seed in the West and have home-court advantage in the first round of the playoffs.
The Thunder are just one game behind third-place Dallas with four games to play apiece.
''I know last year we were an eighth seed. The year before that, we weren't even thinking about the playoffs,'' Durant said. ''I think every year we've gotten better. ... We've just got to keep pressing.
''I think this is just one stop in the road for us to try to get to the goal that we want to reach, and hopefully we get there.''
Williams and Eric Gordon scored 16 apiece for the Clippers, who overcame a 16-point deficit to beat Oklahoma City four nights earlier and nearly dug out of a 105-95 hole in the final 3 1/2 minutes in this one.
Gordon's steal set up a right-handed tomahawk jam by Griffin on the fast break, and Griffin then swatted Thabo Sefolosha's shot before Chris Kaman came up empty on two free throw tries that proved critical.
Randy Foye had a putback dunk after Williams tracked down a long rebound for a fast break, Williams hit a 3 and Griffin slammed home a two-handed reverse dunk off of Williams' alley-oop to get the Clippers within 107-105 with 23.1 seconds left.
L.A. could never make up for the two misses by Kaman, an 80 percent foul shooter who was 2 for 6 at the line in the fourth quarter.
''We made some plays, missed too many free throws but we had some good execution,'' Clippers coach Vinny Del Negro said. ''Guys stepped up and made some good plays.''
Griffin got off to a quick start, scoring the game's first points by dunking Williams' alley-oop pass from midcourt with two hands. He dunked three more times while single-handedly outscoring the Thunder as Los Angeles took a 20-10 lead. He had a two-handed jam off an offensive rebound, another two-handed slam off an assist from Gordon and then turned a right-handed dunk into a three-point play.
Durant had an alley-oop slam of his own during a personal 7-0 run to get the Thunder going, and Oklahoma City pulled ahead after finally breaking up one of Griffin's dunks in the second quarter.
Nazr Mohammed stole an alley-oop pass intended for Griffin and scored at the other end in transition, and James Harden finished an 8-0 run with a 3-pointer to make it 39-37 Thunder with 8:01 left in the second.
Oklahoma City scored the final seven points before halftime to go up 58-53, then led by as many as 12 early in the fourth quarter before fading late.
''You can't play at the start of the fourth like we play at the start of the second quarter. You've got to be more locked in, more focused,'' Durant said.
''I think that's something we're going to get to. We've just got to keep pushing at it.''
Notes: Griffin has 46 games this season with at least 20 points and 10 rebounds, one behind NBA leader Dwight Howard of Orlando. ... New Oklahoma coach Lon Kruger greeted Griffin, a former national player of the year for the Sooners, before the game. ... DeAndre Jordan was called for a technical foul for hanging on the rim after a two-handed dunk in the third quarter. Of Jordan's 221 baskets this season, 151 have been dunks.
---
---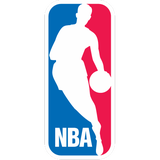 Get more from National Basketball Association
Follow your favorites to get information about games, news and more
---