New Orleans Pelicans
New Orleans Pelicans
Davis questionable as Pelicans face Nets (Jan 12, 2017)
Published
Jan. 12, 2017 3:04 a.m. ET

NEW YORK -- The New Orleans Pelicans held their breath when Anthony Davis took a hard foul and crashed into the front row of the stands at Madison Square Garden Monday.
Opposing defenders hold their breath and hope for the best each time Davis touches the ball near or around the rim.
Other than hope, there is little stopping Davis this season and the center looks to have another stellar performance if he plays Thursday night when the Pelicans visit the Brooklyn Nets.
Davis is listed as questionable with a left hip injury he sustained from a flagrant two foul from New York forward Kyle O'Quinn in the closing minutes of the third quarter of a 110-96 win. Davis hit two free throws after getting fouled and exited the game with 40 points and 18 rebounds.
"Sore, sore," Pelicans coach Alvin Gentry said of Davis' condition after the star did not do much in practice Wednesday. "We weren't going to have him do a whole lot today. He'll get treatment all day today and then tomorrow morning we'll see how he feels."
The Pelicans did not need the 23-year-old to play the fourth as they turned in one of their best games from start to finish.
"I was being aggressive," Davis said. "I know where we are as a team, what we're trying to do as a team. I just tried to come out aggressive. That was it."
Davis' aggressiveness resulted in his fifth game with 40 points this season, his 25th double. He came within four of his career high for rebounds and finished 14 of 22 from the floor.
Davis' performance helped the Pelicans (15-24) win for the fifth time in their last eight games. During one of the Pelicans' best stretches of the season, he is averaging 26.8 points, 16.1 rebounds and shooting 51.2 percent (80 of 166).
"When he's playing at a high level, it shows where our team is at," New Orleans rookie guard Buddy Hield said.
Despite Davis getting 40 points and over 15 rebounds in the same game for the sixth time, the Pelicans still are digging out of a 2-10 start, which morphed into a 9-20 hole before the current improvement.
If he plays, Davis will be looking for his first 30-point game against the Nets. In six games against Brooklyn, Davis is averaging 18 points with three double-doubles and has yet to score more than 24 points against the Nets.
He will also be looking to help the Pelicans continue playing somewhat improved defense. Monday was the 15th time, New Orleans allowed less than 100 and it is 9-6 when doing so.
"We have to play the way we played (tonight on the rest of the road trip). I thought we were efficient offensively. Our defense has been pretty solid the last two or three weeks. I've been happy with that, but we've struggled offensively (recently)," Gentry said."
The Nets (8-29) are on their second seven-game losing streak of the season and their fourth since the start of last season. Brooklyn is 4-25 in its last 29 games and 1-12 in its last three since a 10-point win over the Los Angeles Lakers on Dec. 14.
Brooklyn has led the league in pace most of the season but its offense is faltering at times to go along with the league's worst scoring defense (114.1 points per game). Since beating the Lakers, the Nets have been held under 100 six times and shot less than 45 percent eight times.
The latest instance was a 117-97 wire-to-wire loss to the Atlanta Hawks on Tuesday night. The Nets shot 40.2 percent and committed 18 turnovers.
Brook Lopez led the Nets with 20 points and Bojan Bogdanovic added 16 but there was little other help offensively. While Lopez and Bogdanovic were a combined 13 of 24 from the floor, the rest of the team shot 34.9 percent (22 of 63).
It marked the seventh straight game where the Nets did not get two players with at least 20 points and also was Brooklyn's 18th double-digit loss.
"They had more energy, especially the first half and they outworked us," Lopez said. "And the numbers clearly show it."
Trevor Booker did not play due to a left hip contusion but is expected to play Thursday. Booker is Brooklyn's top rebounder at nine per game and a rebounding percentage of 17.3.
Without him, the Nets were outrebounded 33-22 in the first half and 53-48 overall Tuesday. Even when Booker is on the court, rebounding is among the many issues plaguing the Nets, who are 3-22 when getting outrebounded.
"I just keep harping on this, but I think rebounding is a team thing," Brooklyn coach Kenny Atkinson said. "Where we are, I think we have to rebound better as a team, so not on person."
New Orleans is 5-0 against the Nets since Feb. 9, 2014. Last season, Jrue Holiday hit the game-winner with one second left in a 105-103 home win on Jan. 30 and Tim Frazier totaled 19 points and 13 assists in a 106-87 win at Brooklyn on April 3.
---
---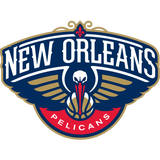 Get more from New Orleans Pelicans
Follow your favorites to get information about games, news and more
---