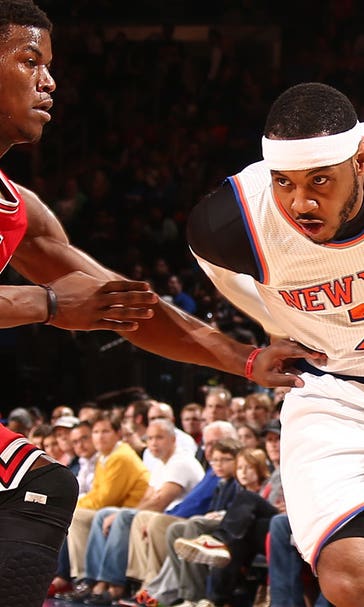 Chicago Bulls make hard pitch to Carmelo Anthony
July 1, 2014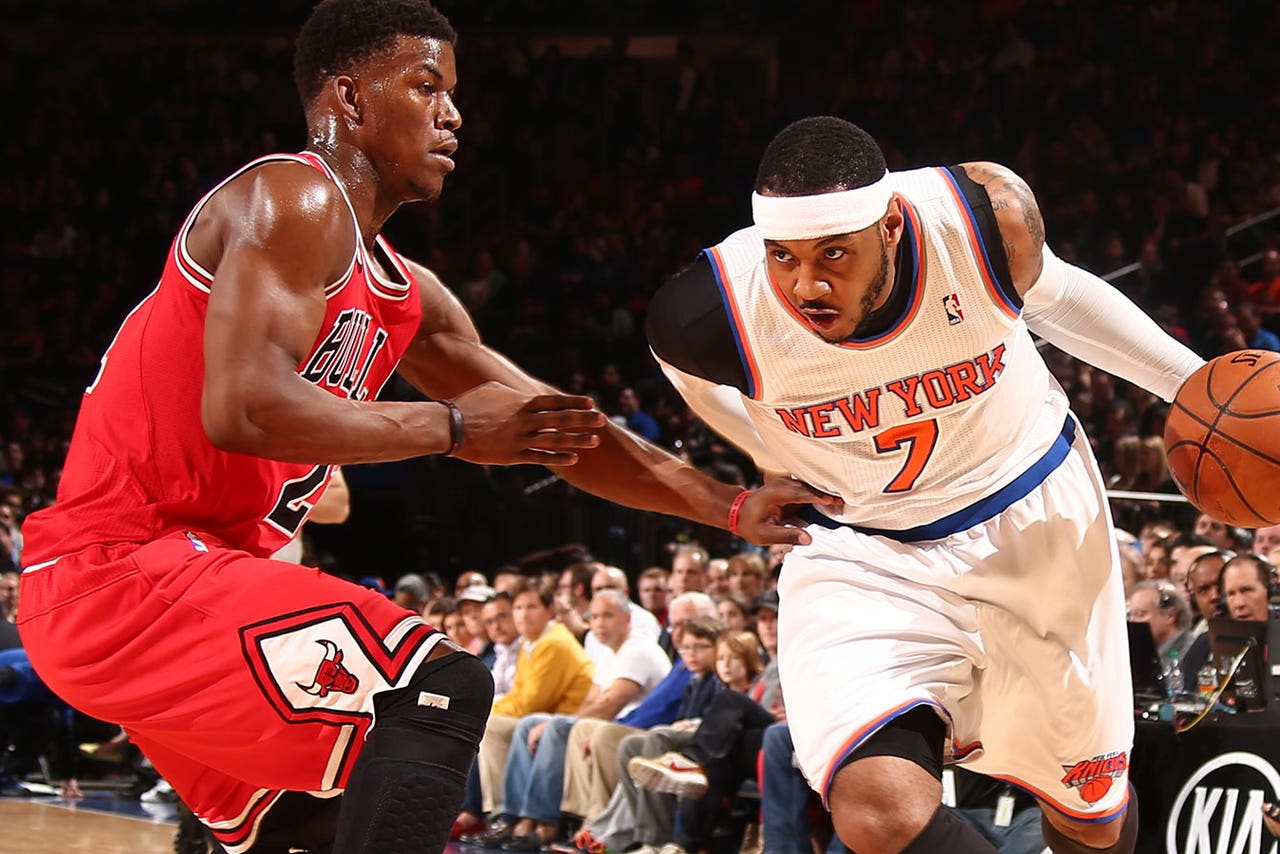 The Chicago Bulls made the hard sell for Carmelo Anthony and brought their stars along for the presentation on Tuesday.
That included Derrick Rose, no fan of recruiting. Joakim Noah and Taj Gibson were there, too, trying to convince the New York Knicks' free agent to choose the Bulls.
Anthony arrived at a decked-out United Center in the afternoon with agent Leon Rose and coach Tom Thibodeau, a police SUV trailing their oversized limousine.
He walked past the Michael Jordan statue, waving to a small group of cheering fans as he went inside, where he spent much of the afternoon before getting a look at the soon-to-open practice facility across the street.
The Bulls believe they have a strong pitch and a simple selling point: Anthony can transform a playoff team into a championship contender.
They believe uniting Anthony with Rose and Joakim Noah would put them in position to contend for their first title since Jordan and Scottie Pippen led the way to two three-peats in the 1990s. And they certainly made their feelings clear on Tuesday, turning the arena into one big welcome mat.
Two giant digital images above the entrance on Madison Street showed Anthony in a Bulls No. 7 jersey dribbling next to a championship trophy, fans stopping to take pictures. Another image around the corner also showed him in a jersey dribbling.
Signs wrapping around corners of the building and stacked on top of each other read, ''Carmelo Anthony and Chicago basketball'' and ''Melo'' with a cropped Bulls logo.
Anthony, a top target in NBA free agency, is expected to visit other teams.
If he signed elsewhere, it would probably bring back memories for Bulls fans of failed attempts to woo stars.
''It should work out,'' said James Babbitt of Chicago, who stopped to take pictures of the images above the entrance on Madison. ''He can go anywhere and win now - or maybe later. But if he comes here, he can win now and later.''
The Bulls tried to reel in Tracy McGrady under Jerry Krause in 2000, with mascot Benny the Bull and the Luvabulls dancers greeting him at the airport, only to lose out to the Orlando Magic.
In 2010, Chicago had enough salary-cap room to land two stars and went after LeBron James, Dwyane Wade and Chris Bosh.
When those three wound up joining forces in Miami, the Bulls turned to Carlos Boozer - now a candidate to be amnestied - and added depth. They went on to win 62 games on the way to the Eastern Conference finals, with Rose capturing the MVP award.
A year later, their championship hopes got derailed in the playoff opener against Philadelphia when Rose tore the ACL in his left knee. He sat out the following season, and his comeback got cut short when he tore the meniscus in his right knee in November.
With two season-ending injuries, Rose is one big question mark. He has played in just 49 games the past three seasons, and it remains to be seen if he can approach his dominant form. If he does and Anthony lands in Chicago, the Bulls would be a strong contender in the East.
The fact that Rose and Gibson were involved in Tuesday's presentation was notable for several reasons.
Gibson's presence was a strong indication that the Bulls intend to keep him rather than trade him to make room for Anthony.
Rose's participation might quiet critics who have blasted his aversion to recruiting. The point guard's stance stems from his reserved personality, his loyalty to his teammates and his belief that he can play with anyone - and beat anyone.
---
---