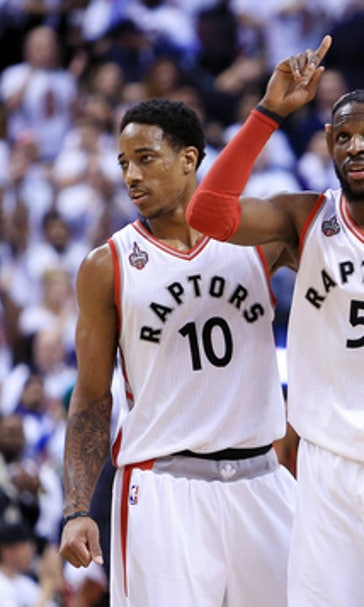 Carroll scores 21, Raptors beat Heat in OT to tie series
May 6, 2016

TORONTO (AP) This time, overtime went the way of the Toronto Raptors.
Jonas Valanciunas made sure of it.
DeMarre Carroll scored 21 points, Valanciunas had 15 points and 12 rebounds, and the Raptors beat the Miami Heat 96-92 on Thursday night to even the Eastern Conference semifinals at one game apiece.
Virtually ignored through three quarters, scoring four points on three shots, Valanciunas came alive with 11 points and seven rebounds in the fourth quarter and overtime as the Raptors avoided losing consecutive games for the first time this postseason.
''He came through big,'' Raptors guard DeMar DeRozan said. ''He's definitely the reason we won this game.''
Toronto made just 42 percent of its shots compared to Miami's 49.4 percent, but the Raptors survived.
''There's a lot of different ways to win a game,'' Raptors coach Dwane Casey said. ''Fortunately our guys found a way.''
DeRozan scored 20 points, Kyle Lowry had 18 and Terrence Ross 10 for Toronto, which battled back late in the fourth quarter to force the second overtime of the series, then shut the Heat down to start it.
That was the opposite of Game 1, in which Toronto couldn't score for the first 3:46 of OT.
''We were conscious of how the last overtime went,'' DeRozan said. ''We told all the guys, `We know what not to do and what we have to do this time around in overtime to get a win,' and that's what we did.''
Goran Dragic scored 20, and Dwyane Wade and Joe Johnson each had 17 for the Heat. Hassan Whiteside had 13 points and 13 rebounds, while Luol Deng had 12 points.
Game 3 is Saturday in Miami.
The Heat led 77-70 midway through the fourth, but back-to-back baskets by Valanciunas shaved the gap to 80-78 with 3:18 remaining. Ross tied it with a jumper at 2:01.
DeRozan missed a pair of free throws with 1:22 remaining but Valanciunas grabbed the rebound on the second and tipped it home to give Toronto an 82-80 lead.
''That was big,'' Wade said. ''If they get offensive rebounds, they're a tough team to beat.''
After a missed shot by Wade, Lowry hit a pull-up jumper with 45 seconds left, giving the Raptors a four-point cushion.
Wade cut it to one with a 3 but Lowry replied with another jumper with 14.9 seconds to go, putting Toronto up 86-83. After a Miami timeout, Dragic tied with a 3 with 10.5 seconds left.
Lowry, whose halfcourt shot sent Game 1 to overtime, got the last attempt for the Raptors but couldn't hit the rim with a long 3-point attempt.
The Heat went cold in overtime, missing their first five field goal attempts, including three misses by Johnson. DeRozan and Valanciunas connected and Carroll made a pair at the line before Miami's first basket of overtime, a driving dunk by Deng with 23 seconds left.
''I didn't think we did a good job at all executing (in overtime),'' Wade said. ''I thought our offense was poor. In a sense, we feel like we gave one up.''
Miami matched a franchise postseason record with 11 turnovers in the first, leading to 14 Toronto points. Miami finished with 21 turnovers.
''If we don't turn the ball over 20-something times, we'll be fine,'' Wade said.
The Raptors led 48-41 at halftime.
SHOOTING STRUGGLES CONTINUE
Toronto All-Stars Lowry and DeRozan continued to struggle with their shooting. DeRozan made nine of 24 attempts while Lowry was 7 of 22. DeRozan, who injured his right thumb late in Game 1, missed six of eight free throw attempts. ''It's been ugly,'' DeRozan acknowledged. ''As long as we come out with a `W,' it really doesn't matter how we play.''
DON'T MEAN TO BUG YA
Wade had to stop mid-answer during the postgame press conference as an insect buzzed around his face. ''This mosquito is all over me,'' Wade said, waving the bug away.
TIP-INS
Heat: All five Miami starters scored in double figures. ... Dragic was left bloodied after being hit by DeRozan's elbow in the second. Dragic was called for a blocking foul on the play. He received three stitches on the inside of his lip and five on the outside during halftime, returning to start the second half. ... This was the fourth time the Heat made 11 turnovers in one quarter of a playoff game. They last did it in 1997 against Chicago.
Raptors: Toronto went 14 for 26 at the free throw line. ... Lowry had as many points in the first quarter (7) as he had in Toronto's OT loss in Game 1.
---
---