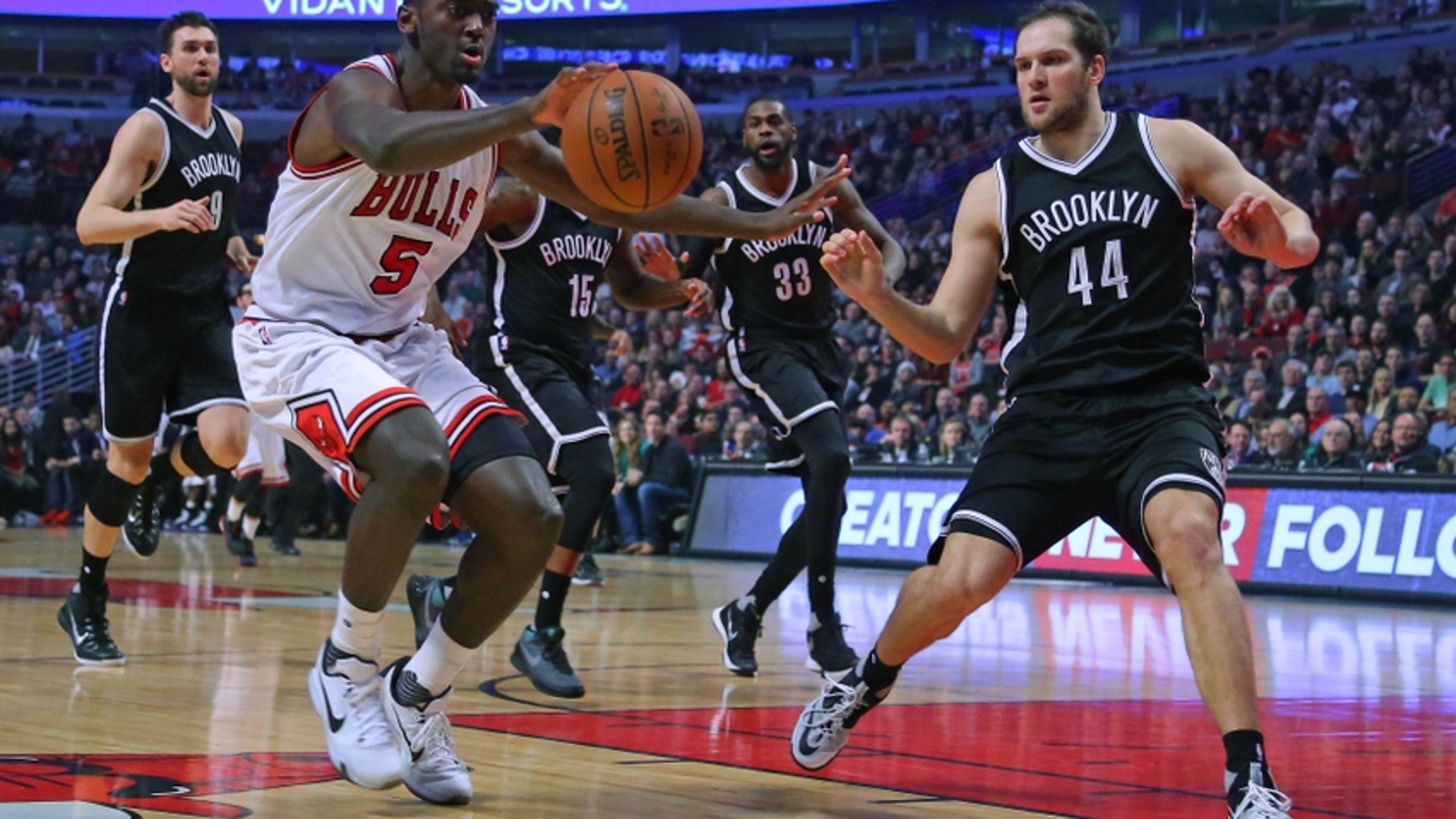 Brooklyn Nets vs. Chicago Bulls Pre-Game Report
BY foxsports • June 30, 2017
Dec 21, 2015; Chicago, IL, USA; Chicago Bulls forward Bobby Portis (5) chases the ball with Brooklyn Nets guard Bojan Bogdanovic (44) during the second quarter at the United Center. Mandatory Credit: Dennis Wierzbicki-USA TODAY Sports
The Brooklyn Nets are back in Brooklyn for a Halloween night matchup against the Chicago Bulls. Brooklyn is looking to build upon their home win over the Pacers last week.
After a loss that broke fans' hearts, the Brooklyn Nets are back in familiar territory: Brooklyn, NY. Waiting for them in the visitor's locker room this evening will be Dwyane Wade and the Chicago Bulls.
Want your voice heard? Join the Nothin' But Nets team!
The Bulls won three of the four games these two had against each other last season. Both rosters are mightily different than the ones fans knew last year, though.
Brooklyn added Jeremy Lin, Trevor Booker, Joe Harris, literally too many for a journalistic list. The Bulls have acquired All-Pro and ring-bearer Dwayne Wade, as well as Rajon Rondo, while losing Joakim Noah and Pau Gasol.
More from Nothin' But Nets
These two teams usually have a good game and fans should expect this Halloween to be no different. First off, it is Halloween. Things are supposed to get strange, scary, and sweet on Halloween. Just ask Robin Lopez, the mascot lover. Second off, these offenses have not scored under 100 points in a game yet this season.
The Bulls sit at 2-0 this season, while Brooklyn is at 1-2 after a pair of close losses. Brooklyn is still looking to improve their record, chemistry, and their knowledge of Coach Atkinson's motion offense. Chicago is looking to build upon their so-far undefeated season under their new team with Rondo and Wade.
Dec 21, 2015; Chicago, IL, USA; Brooklyn Nets guard Bojan Bogdanovic (44) is defended by Chicago Bulls forward Doug McDermott (3) during the second quarter at the United Center. Mandatory Credit: Dennis Wierzbicki-USA TODAY Sports
Nets' Keys to Victory
1. Brooklyn needs to score points in the paint
Minus Brook Lopez, the Nets got outscored 54-42 in the pain in Milwaukee Saturday night. Justin Hamilton showed the team that he is not a good Brook Lopez replacement from a starting lineup aspect.
Hamilton only scored six points off of two three-point shots made. Lopez is known for having a smooth shot, but Lopez is also a battler down low. Lopez will post up his opponents and score buckets over their heads inside the key.
If the Nets can win the battle in the paint, this should be a close game. Chicago does not have the greatest big men themselves, so, if Brooklyn can cancel out the Bulls' great shooters with their presence down low, it will help them en route to victory.
2. The Nets need to take better shots
Brooklyn has taken over 30 three-pointers in each of their first three games. Only 32 percent of them have went in.
Did I mention we got outscored 54-42 in the paint against Milwaukee?
These two go hand-in-hand. If Brooklyn can take less bad shots from long range, the motion offense should allow the ball to get closer to the basket, maybe even in the paint. Why not take the better and easier shot?
If Brooklyn keeps shooting franchise records in three-pointers, it will be a long game and an even longer season. There is no Reggie Miller or Stephen Curry on this team, giving there no reason to be shooting so many long shots.
Move the ball, get it closer to the net, take and make better shots.
3. Defense needs to be great tonight
Dwyane Wade, Jimmy Butler, and Doug McDermott are all viable shooters that can make shots from just about anywhere on the floor. Rajon Rondo is a dish-master who can find anyone anywhere on the floor even if he cannot see them.
Brooklyn has had their serious issues closing out to the shooter and playing solid defense overall. With these players in Chicago, this is no night for Brooklyn to dilly-dally defensively. If Brooklyn wants to win, they need to play great defense.
Wade and Butler can hit all kinds of shots, while McDermott has proven to be a good scorer in this league thus far as well.
Close out your opponents and play tight defense. Do not let them get comfortable or take open shots. Keep your hands in their faces and be ready for that extra pass.
Players to Watch:
Brooklyn: Trevor Booker
Booker has back-to-back double-doubles and is looking to build upon that back in Brooklyn tonight. He seems to be the Nets' only real rebounder and defender. Booker is going against an easier frontcourt tonight than the past few games of the season.
Look for Booker to dominate the glass yet again while quietly scoring double-digit points en route to another double-double performance.
Chicago: Dwyane Wade
Wade has always played really well against the Nets. When he and the Big Three were in Miami, it was rarely LeBron James that lit up the Nets. Nor was it Chris Bosh. More often than not, it was Wade.
Wade has had a resurgence this year. The swingman is averaging 18 points per game, second on the Bulls behind Jimmy Butler's 20 per game.
Brooklyn will need to silence Wade in order to keep the game close. There are too many scorers and shooters on this Bulls team to not stop on top of the two big scoring threats.
Mar 17, 2016; Chicago, IL, USA; Brooklyn Nets center Brook Lopez (11) is defended by Chicago Bulls forward Taj Gibson (22) during the second half at the United Center. Chicago won 118-102. Mandatory Credit: Dennis Wierzbicki-USA TODAY Sports
Projected Starters
Nets:
Bulls:
Injury Report
Nets:
Bulls:
The Bulls won three out of four last season against Brooklyn, but with revamped teams and systems, this year will prove to be different. If Brooklyn can abide by the three keys to the game and accomplish them fully, they could win this game.
It all comes down to defense and points in the paint. If Lopez, Booker, other big men, and slashers for Brooklyn can get easy buckets down low against a weak Chicago frontcourt, it will make things much easier.
If Brooklyn can close out and force the Bulls into bad shots, it will make the rest of the task of winning that much easier. Do not be surprised by a Nets win, it will just be tougher to come by than the previous games played.
This game will be broadcast on the YES Network at 7:30 EST. Join the conversation by tweeting to @NetsBlogFS.
This article originally appeared on
---
---