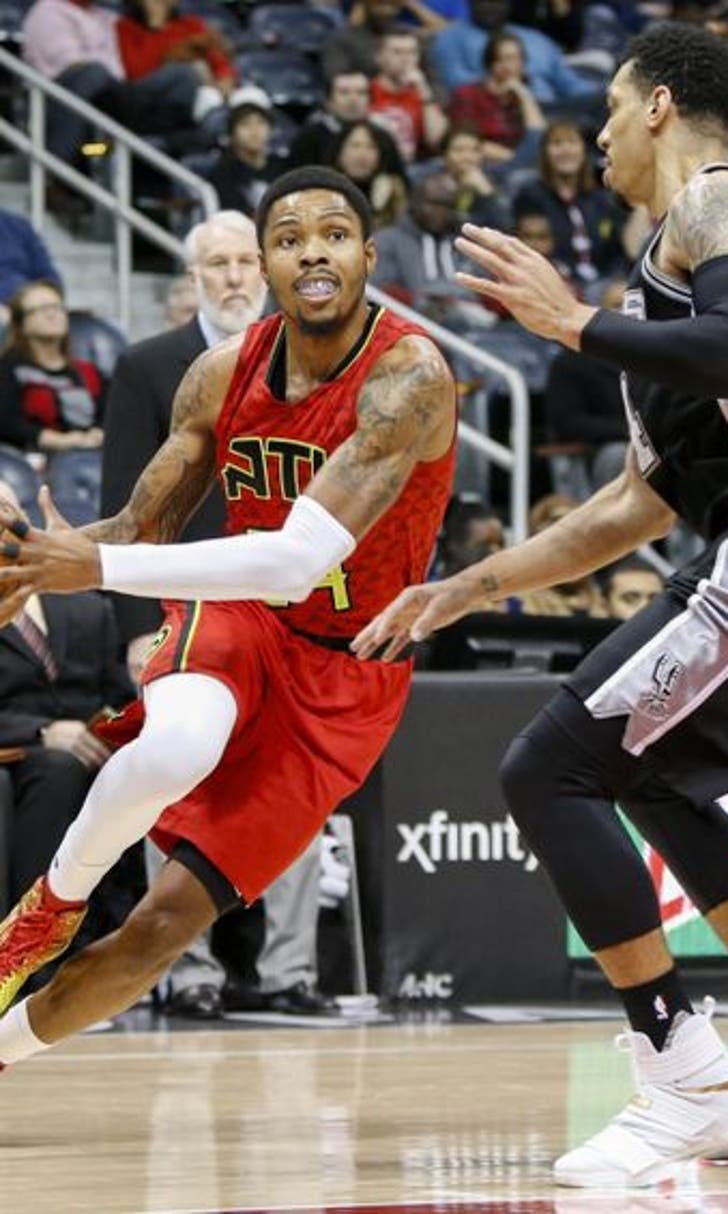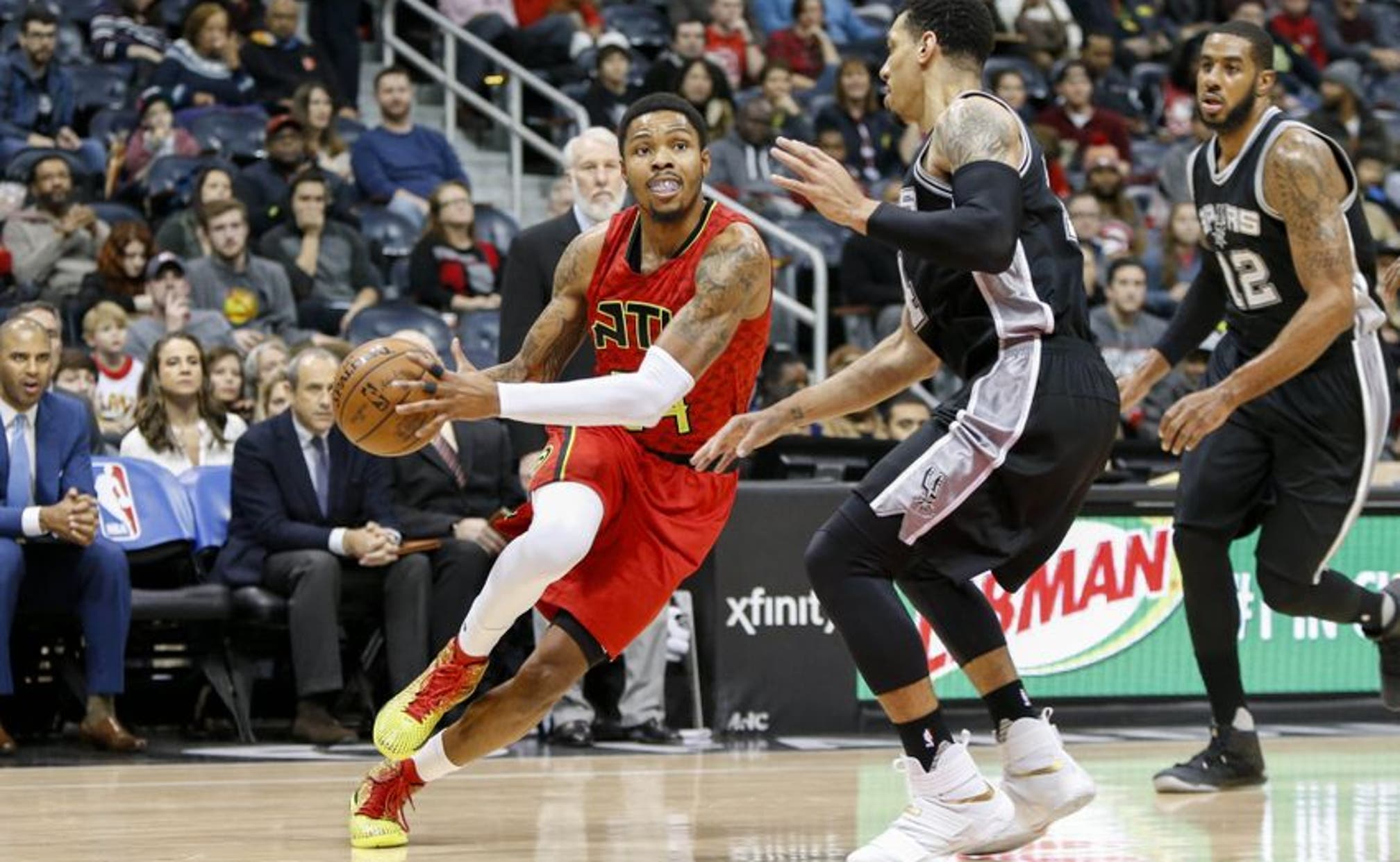 Atlanta Hawks: Grades From Overtime Win Over Spurs
BY Fansided and Andrew Snyder/FanSided via Soaring Down South • January 2, 2017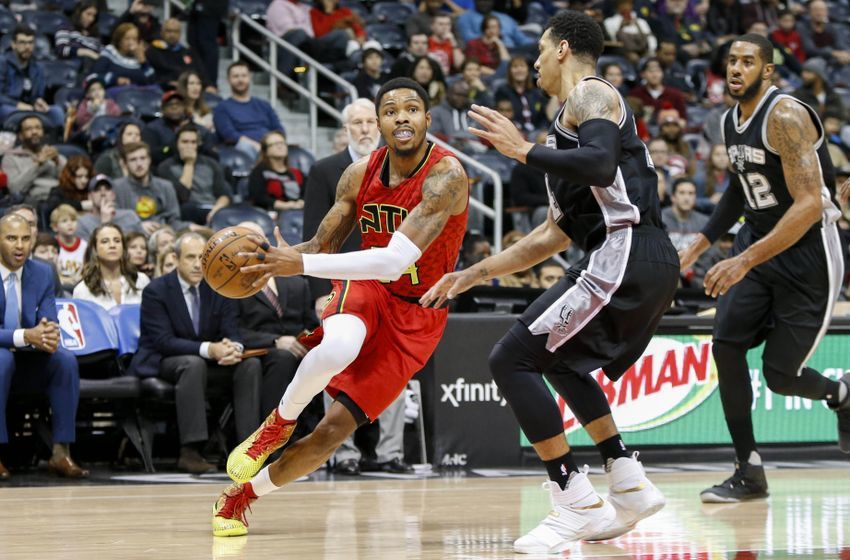 Amid trade rumors, the Atlanta Hawks battled the San Antonio Spurs Sunday night. Which individual performances stood out?
The Atlanta Hawks entered Sunday night's game against the San Antonio Spurs riding high on a two-game winning streak. Beating the Pistons and Knicks is one thing. Beating the Spurs is another thing. There would be no shame in having your winning streak come to an end because  Gregg Popovich's group of basketball playing robots were too hard to handle.
This was one of Atlanta's most entertaining games of the season. The fourth quarter was a battle of wills, each team trading baskets. Whenever the Spurs started to make a run that looked like it would kill the Hawks for good, someone hit a big shot to pull them back into contention. Whether it was a Tim Hardaway Jr. nailing a three-pointer, Paul Millsap getting to the free-throw line, Dennis Schroder pulling a "Rondo" on a Spurs big man, or Kyle Korver coming off of a screen to sink a jumper, the Hawks just wouldn't go away.
With under ten seconds remaining, it looked like the Hawks luck would finally run out. They were down 100-97 with the ball, obviously looking for a three-pointer to tie things up. Hardaway came off a screen, receiving a pass from Schroder just in time to swish a game-tying three. Phillips Arena was lit, as the kids says.
On the ensuing possession, a Kawhi Leonard jumper rimmed out, sending the game to overtime. You could cut the tension with a plastic knife. The Hawks looked like the 9-2 team that started the season for the first time in months.
More from Soaring Down South
The Hawks controlled the early portion of the overtime period, primarily due to Hardaway's hot shooting. He was absolutely phenomenal. When you're knocking down 30-foot heat checks in overtime you know you're feeling it.
This time it was the Spurs who wouldn't go away. With 34.3 seconds remaining, the score was tied 112-112. A chaotic sequence that saw both Hardaway and Schroder each make 1-of-2 free-throws gave Atlanta a two-point lead.
With the Hawks leading 114-112, and the last few seconds counting down, Kawhi Leonard drove to the rim looking to force a second overtime. His layup would careen wildly off the glass, giving Atlanta their third straight victory.
The win brings Atlanta to 18-16 on the season. They'll hit the road starting on Wednesday for a four-game road trip, against a slew of non-contenders. This is a huge stretch for them, and they need to take advantage of it. That's what awaits, but for now we can focus on the outstanding individual performances against the Spurs.
Jan 1, 2017; Atlanta, GA, USA; Atlanta Hawks center Dwight Howard (8) talks to forward Paul Millsap (4) against the San Antonio Spurs in overtime at Philips Arena. The Hawks won 114-112 in overtime. Mandatory Credit: Brett Davis-USA TODAY Sports
The Starting Five
Dennis Schroder
PG, Atlanta Hawks
B+It's going to be difficult for me to deliver critical grades for this game. For the most part, everyone played well. Schroder poured in 16 points and handed out ten assists. He shot 7-for-17 from the field and 0-for-2 from outside. He also had three turnovers. This game wasn't up to par with his December averages, but it was a solid outing. It's hard to be critical of a double-double. Schroder wasn't the star of the show, but he had a large part in the win.
Kent Bazemore
SG, Atlanta Hawks
C+Kent Bazemore had a weird night. He shot poorly, going 3-for-10 from the field, but finished with 8 points, two rebounds, and two steals. Baze shot 1-for-2 from outside, he just had difficulty finishing at the rim. He only played 19 minute, Mike Budenholzer rode the "hot hand" towards the end of the game, sticking with Tim Hardaway Jr. Bazemore was animated on the bench during some of the game's more exciting moments. Even when he struggles, Bazemore remains a good teammate.
Thabo Sefolosha
SF, Atlanta Hawks
B-Like Bazemore, Thabo Sefolosha didn't play much in this one. Sefolosha logged 16 minutes of action, scoring three points (all at the free-throw line). He also had a pair of rebounds, one assist, one steal, and one block. He played great defense on Kawhi Leonard, when he was actually in the game. Mike Budenholzer stuck with Kyle Korver during the fourth quarter and overtime due to his shooting. He gets a B- instead of a C+ because of his defense on Leonard. I'm a pushover.
Paul Millsap
PF, Atlanta Hawks
A+If the Hawks trade Paul Millsap they better get a ton in return. He's just so darn good. Millsap led the way for the Hawks, he scored 32 points and grabbed 13 rebounds on 11-for-23 shooting. At one point in the game he scored 14 straight points for Atlanta. During that stretch, there was a time when I briefly thought Millsap's offensive exploits were going to cause David Lee to retire mid-game. Guarding Millsap is not very fun. The trade rumors will continue to swirl, but if tonight is any indication, Millsap won't let them bother him. He's just going to keep doing what he does best.
Dwight Howard
C, Atlanta Hawks
B+It was a quiet night from Dwight Howard. Howard scored six points and collected seven rebounds in 34 minutes. He didn't get many touches. That will happen when Paul Millsap is cooking, and the Hawks are launching three-pointers at will. Atlanta didn't need Howard to do anything other than exactly what he did. Howard has been a good citizen in Atlanta, so far. If they continue to win, I hope that it stays that way. He's played his role perfectly, up to this point.Next: The Bench
Jan 1, 2017; Atlanta, GA, USA; Atlanta Hawks guard Tim Hardaway Jr. (10) shows emotion against the San Antonio Spurs in overtime at Philips Arena. The Hawks won 114-112 in overtime. Mandatory Credit: Brett Davis-USA TODAY Sports
The Bench
Malcolm Delaney
PG, Atlanta Hawks
BMalcolm Delaney seemed more comfortable tonight than he's looked in quite some time. December was a rough month for the former Virginia Tech star. 2016 is over, and he can start fresh. New year, new Delaney? This was a good start. Delaney scored four points, dished four assists, and grabbed four rebounds in 20 minutes. He had three turnovers, but he was plus 9 for the game. This looks like another step in the right direction.
Kyle Korver
SG, Atlanta Hawks
A-The Kyle Korver renaissance continues. Don't call it a comeback, because he never went away. Korver played 39 minutes, scoring 14 points on 4-for-9 shooting from three-point range. Korver hasn't just been a deadly shooter this season. He's stuffing the stat sheet in other ways. He also finished with eight rebounds, four assists, one steal, and one block. Watching Korver come around a screen for an open three-pointer is still like looking at a beautiful rainbow.
Tim Hardaway Jr.
SG, Atlanta Hawks
A+I assume someone is hard at work constructing a Tim Hardaway Jr. statue outside of Phillips Arena right this moment. Hardaway was on fire, the guy just couldn't miss. Well, literally he did miss, but not much. He shot 11-for-13 from the field and 6-for-7 from three-point range. His three-pointer in the waning seconds of regulation sent the game into overtime, it was an exhilarating moment. He finished the game with 29 points, tying his career high. He also had five rebounds, and one assist. When Hardaway is in the zone he can be a dynamic scorer. Hardaway being half of what he was against the Spurs would be huge for Atlanta moving forward.
Mike Muscala
PF, Atlanta Hawks
CMike Muscala had a quiet game. He finished with two points, one rebound, one assist, one block, and one steal in 19 minutes. He shot 1-for-4 and missed the only three-pointer he took. I don't know what else to say. I promised myself I wasn't going to talk about his hair.
Kris Humphries
PF, Atlanta Hawks
CKris Humphries wasn't a factor in this one. He played six minutes, failed to score, and only grabbed two rebounds. I imagine he'll get more playing time later this week. Atlanta plays back-to-back games Wednesday and Thursday. I doubt Paul Millsap will play 47 minutes in either of those games. With Mike Scott back in the D-League, that leaves Humphries as the second big man off the bench. Next: The San Antonio Spurs
Jan 1, 2017; Atlanta, GA, USA; San Antonio Spurs forward Kawhi Leonard (2) shoots the ball against the Atlanta Hawks in overtime at Philips Arena. The Hawks won 114-112 in overtime. Mandatory Credit: Brett Davis-USA TODAY Sports
 The San Antonio Spurs
San Antonio Spurs
27-7, Western Conference
B+I almost gave the Spurs an A. This was one of those games where neither team deserved to lose. Somebody had to lose, and tonight it was San Antonio. They shot 46.7 percent from the field, but shot just 33.3 percent from three-point range. They came into the game shooting an NBA best 41 percent from outside. LaMarcus Aldridge led the way for the Spurs, scoring 27 points and grabbing 13 rebounds. Kawhi Leonard struggled in his return to action after missing back-to-back games due to illness. He shot 3-for-12 from the field and finished with just 13 points. Still, he almost won the game in regulation with a mid-range jumper. His attempt to tie the game at the end overtime wasn't quite as close. As always, the Spurs are one of the best organizations in sports. Anytime you can get a win over Gregg Popovich and company it's an accomplishment.Next: The Head Coach
Apr 28, 2016; Boston, MA, USA; Atlanta Hawks head coach Mike Budenholzer watches during the first half in game six of the first round of the NBA Playoffs against the Boston Celtics at TD Garden. Mandatory Credit: Mark L. Baer-USA TODAY Sports
The Head Coach
Mike Budenholzer
Head Coach, Atlanta Hawks
AMike Budenholzer finally got a win over his mentor and his former organization. Coming into the game, Budenholzer was 0-6 against the Spurs. Make that 1-6. What a way to get a win. Budenholzer stuck with the rotation he used during their wins over the Knicks and Pistons, but he changed things up a bit in terms of minutes played. In crunch time, he went with Kyle Korver over Thabo Sefolosha and Tim Hardaway Jr. over Kent Bazemore. There's some debate in the NBA blogging community about whether coaches should stick to their rotations or let the way players are performing in that particular game determine substitution patterns. I tended to believe that coaches should stick to their rotations, but Budenholzer didn't do that tonight his team beat one of the best teams in the NBA. I bow to Budenholzer's basketball wisdom.Next: Player Power Rankings From 2016This article originally appeared on
---
---