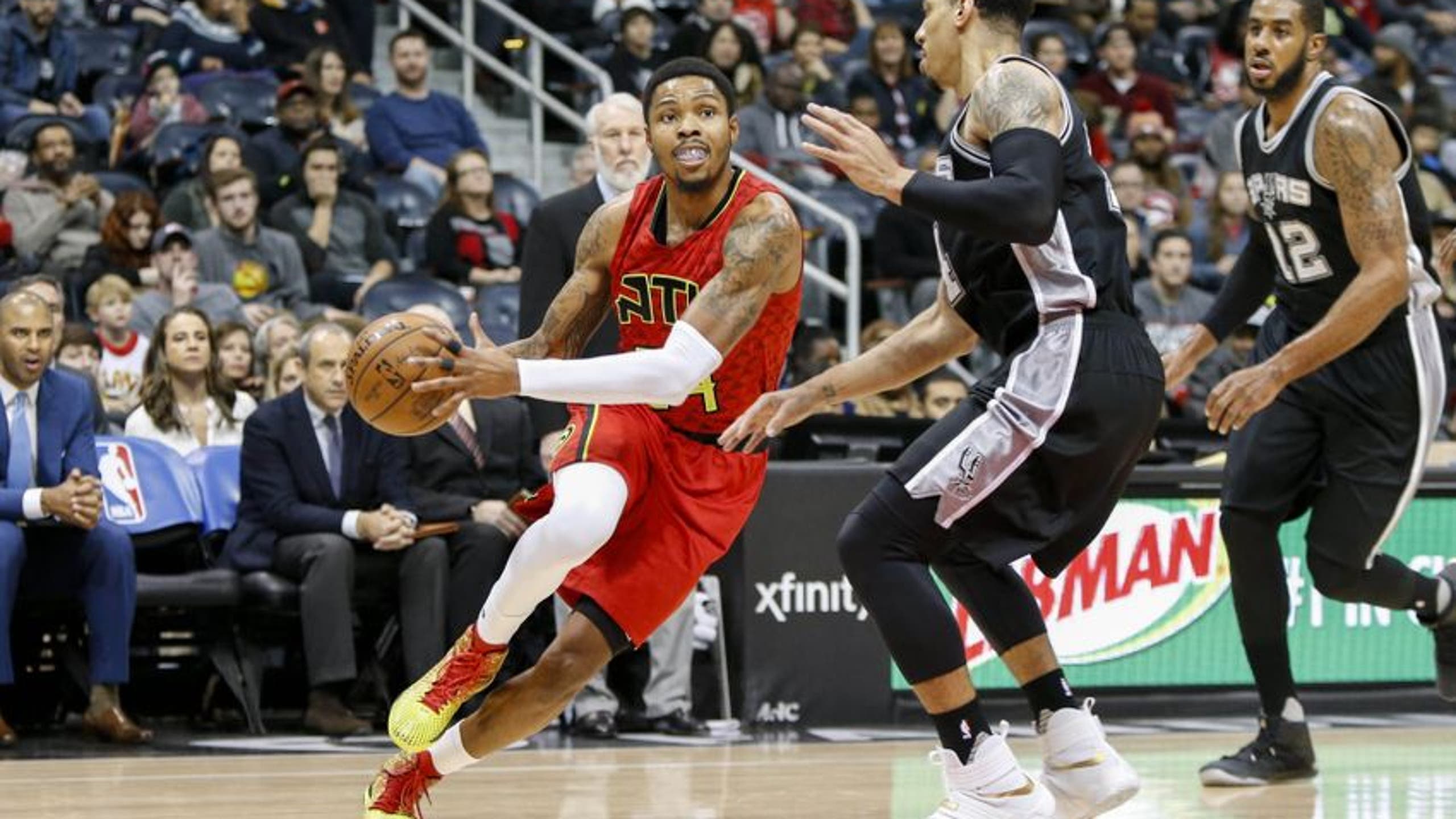 Atlanta Hawks: Assessing Kent Bazemore's Performance
BY Fansided and Xavier Cooper/FanSided via Soaring Down South • June 30, 2017
It's been a roller coaster ride this entire season for the Atlanta Hawks. At times, they've looked playoff ready, and at other times they have looked liked a team that should consider tanking. Every player on the roster has had their fair share of bad games, but Kent Bazemore has consistently performed below the level Hawks fans thought he would.
Usually, when a NBA team re-signs a player to a contract it means they see something special in that player. Sports franchises won't spend money on a guy they feel isn't valuable to the team, in some aspect. In the 2016 off-season, the Atlanta Hawks signed Kent Bazemore to a 4-year, $70 million contract. This past season, Bazemore proved through his decent three-point shooting, good defense, and efficiency at the free throw line, that he deserved a spot in the starting lineup.
He ended the season averaging 11.6 points, 5.1 rebounds, and 2.3 assists per game. He also averaged 35.7 percent from long range on 4.1 attempts per game and 81.5 percent from the free-throw line.
These stats aren't anything to drool over, but they're pretty nice for a guy whose only expected to be the 4th or 5th best player in the starting lineup. These stats led Atlanta to believe that Bazemore would perform even better with a new contract and a permanent starting position, but that hasn't happened.
Currently, Kent Bazemore is averaging 29.6 percent from the three-point line, 3.1 rebounds per game, and shooting a troubling 68.4 percent from the free-throw line. Bazemore had compiled a 36 percent shooting percentage from beyond the arc in his past three seasons.
Taking a leap from that good of a percentage on threes, to a demoralizing 29.6 percent, just isn't normal. The front office and coaching staff probably gauged he would shoot around the same percentage as last year, if not better. This is obviously an area where he was suppose to shine.
Bazemore has never been a great free-throw shooter. In fact, it looked as if Kent Bazemore made a concerted effort to improve his free-throw shooting last year. Before last season, Kent Bazemore never made more than 64.4 percent of his free throws. Still, taking a step down from 81.5 percent to 68.4 percent in two seasons is less than stellar. Bazemore's overall field goal percentage is 37 percent, significantly down from last season's number.
More from Soaring Down South
If Bazemore was great in other areas besides defense, it would make up for his bad shooting, but he doesn't do too many other things well. Bazemore is only averaging  2.6 assists and 3.2 rebounds per game. These numbers haven't been enough to excuse Kent's poor shooting.
Bazemore is responsible for guarding the some of the best offensive players on the opposing teams due to his defense, so when he screws up defensively, he has limited value because of his lack of offense.  Bazemore ranks in the top 20 for defensive efficiency, but it would help the Hawks greatly if he brought something to the table offensively.
If you take a look at some of the other players on the roster, they've improved over the summer. Dennis Schroder has improved his overall shooting efficiency, Tim Hardaway Jr. is much more confident player (averaging 11.4 points per game off the bench), and Mike Muscala has improved his outside shot averaging 45.3 percent from the three-point line, which is amazing for a big man.
Bazemore is the one player that was supposed to improve his game, and show why he deserved a $70 million contract. So far, the only thing he's shown is his ability to stare into a camera while his teammates do post-game interviews, something Hawks fans call, the "BazeGaze". Were almost halfway through the season, and Bazemore better start gazing into the Hawks playbook if Atlanta wants to be successful come playoff time.
All jokes aside, there's still time for Bazemore to get things turned around. He's a dedicated worker, and clearly a skilled basketball player. Will that be enough during the second half of the season? He's got high character, and is an absolutely delightful teammate. Hawks fans will be behind him 100 percent.
---
---