76ers snap 13-game losing streak, Covington carted off court
Published
Mar. 12, 2016 12:33 a.m. ET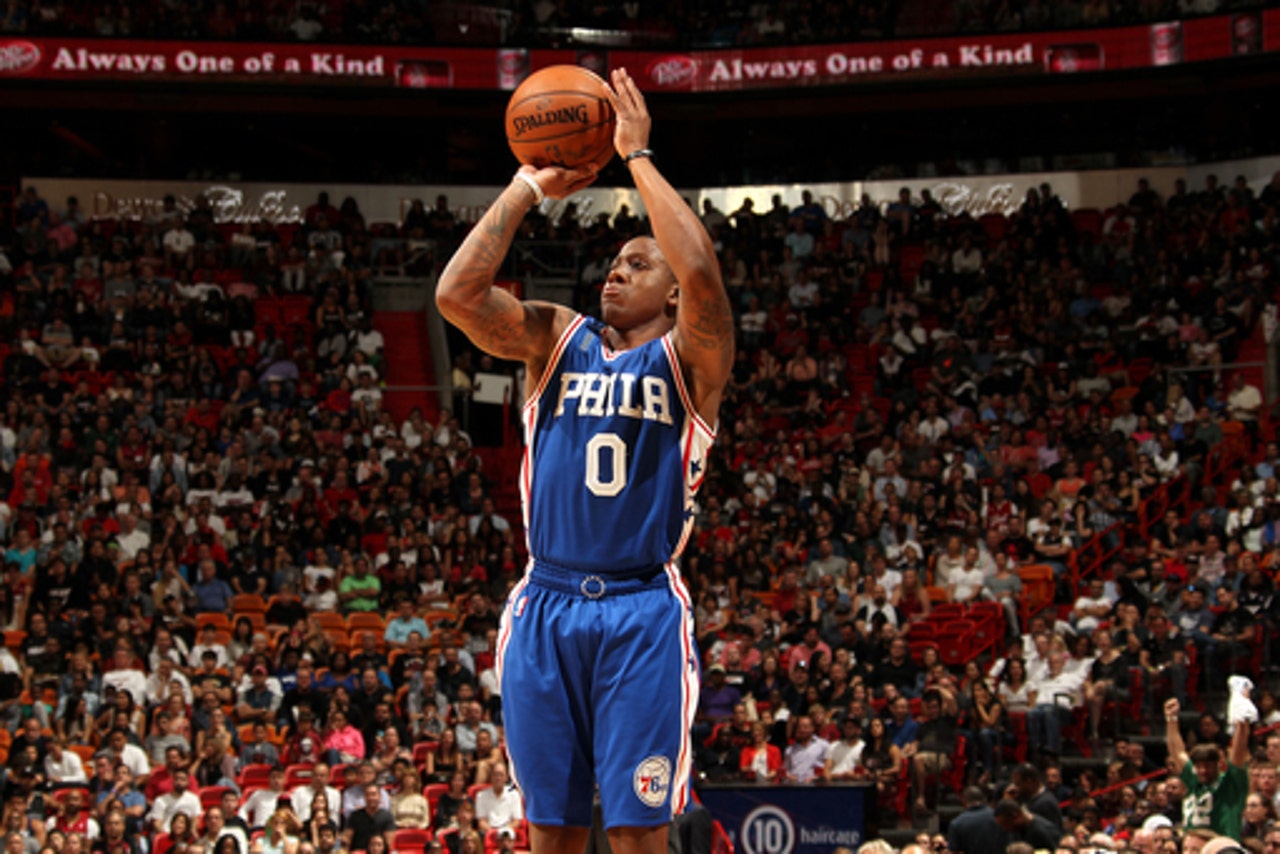 PHILADELPHIA (AP) For the first time in more than a month, the Philadelphia 76ers won a game.
But instead of celebrating too much, many of their thoughts were instead with a teammate in the hospital.
Carl Landry scored 16 points, Nerlens Noel had 13 points and 11 rebounds and the 76ers snapped a 13-game losing streak with a 95-89 victory over the Brooklyn Nets on Friday night.
Ish Smith added 10 points, nine assists and seven rebounds for the Sixers (9-56), who won their first game since Feb. 6 - also against Brooklyn - despite dealing with several injuries, including a potentially serious one to Robert Covington.
Covington finished with 12 points on 4-for-6 shooting from 3-point range before exiting with 9:40 left in the third quarter. He was kicked in the face by teammate Jerami Grant in a collision under the basket. He remained on the court for several minutes before being taken off on a stretcher and transported to Thomas Jefferson University Hospital, where he was being evaluated for a possible neck injury.
''It was a significant collision,'' 7ers coach Brett Brown said. ''In one fell swoop, you lose your 3 and your 4 men. ... When you see a player, a teammate, a friend being taken off the court on a stretcher, it's different than someone walking off the court with a sprained ankle.''
Grant also did not return following the collision and was evaluated for a concussion, and Richaun Holmes later left with a strained right Achilles. Leading scorer Jahlil Okafor also missed his sixth straight game for the depleted Sixers. It was announced before the game that Okafor will have season-ending surgery on his right knee.
Brook Lopez scored 24 points for the Nets (18-47), who have lost three straight and finished the longest road trip of the NBA season with a 3-6 mark. Brooklyn's nine-game, 18-day trek began on Feb. 23 at Portland.
Thaddeus Young, who spent first seven seasons with Philadelphia, had 21 points and nine rebounds for the Nets in a matchup between the two worst teams in the Eastern Conference.
''Before anything else, my thoughts and prayers go out to Robert Covington,'' Nets coach Tony Brown said. ''He and Grant took a horrible fall and I just hope and pray he's OK. As far as the game is concerned, they put pressure on you. They make it tough to run your offense. Credit to them -- they deserved to win.''
Trailing by 15 early in the second half, the Nets pulled within five at 76-71 heading into the fourth quarter and again got within five on Wayne Ellington's 3-pointer with 4:10 left.
But Landry, called into extra duty because of his team's injury troubles, responded with buckets each time to help Philly preserve its lead. Landry's dunk with 2:15 left, which followed a tough rebound on the other end, gave the Sixers a 92-84 lead and helped seal the win.
Landry, who averages only 12 minutes per game, scored all but two of his points in the second half, adding eight rebounds and shooting 7 for 9 from the field in 25 minutes.
''Carl Landry, oh my God,'' Noel said. ''He was able to get us some easy buckets that we definitely needed. Guys just did what they had to do.''
WHEN OPPORTUNITY KNOCKS
Despite having played sparingly for much of this season, Landry had a feeling the time might come when he'd be called upon to play more. And the nine-year NBA veteran knew he had to be ready for it.
''The NBA is an opportunists' league, you know what I'm saying?'' Landry said. ''When you get an opportunity, you have to take advantage of it. That's just who I am. I just try to make the best of every opportunity that's given to me.''
THAT WINNING FEELING
Although everyone in the Philly locker room was worried about Covington, there were also plenty of smiles after a rare victory.
''It feels amazing,'' Noel said. ''I ain't gonna lie, it feels good. A month seems like forever.''
TIP INS
Nets: In addition to Young, the Nets had a couple of other local connections in Philly-area natives Wayne Ellington and Rondae Hollis-Jefferson. Ellington finished with 10 points. Hollis-Jefferson has been out since early December with a broken ankle. ... Bojan Bogdanovic, Brooklyn's fifth-leading scorer, was given the night off to rest.
76ers: Elton Brand, on his 37th birthday, made his third appearance of the season. ... Philly's 13-game losing streak was the longest since it started the season 0-18. ... The Sixers' only two wins since Jan. 26 have come against Brooklyn.
UP NEXT
Nets: Host Milwaukee on Sunday night.
76ers: Host Detroit on Saturday night.
---
This story has been corrected to Carl instead of Carly for Landry in 3rd paragraph, summary.
---
---