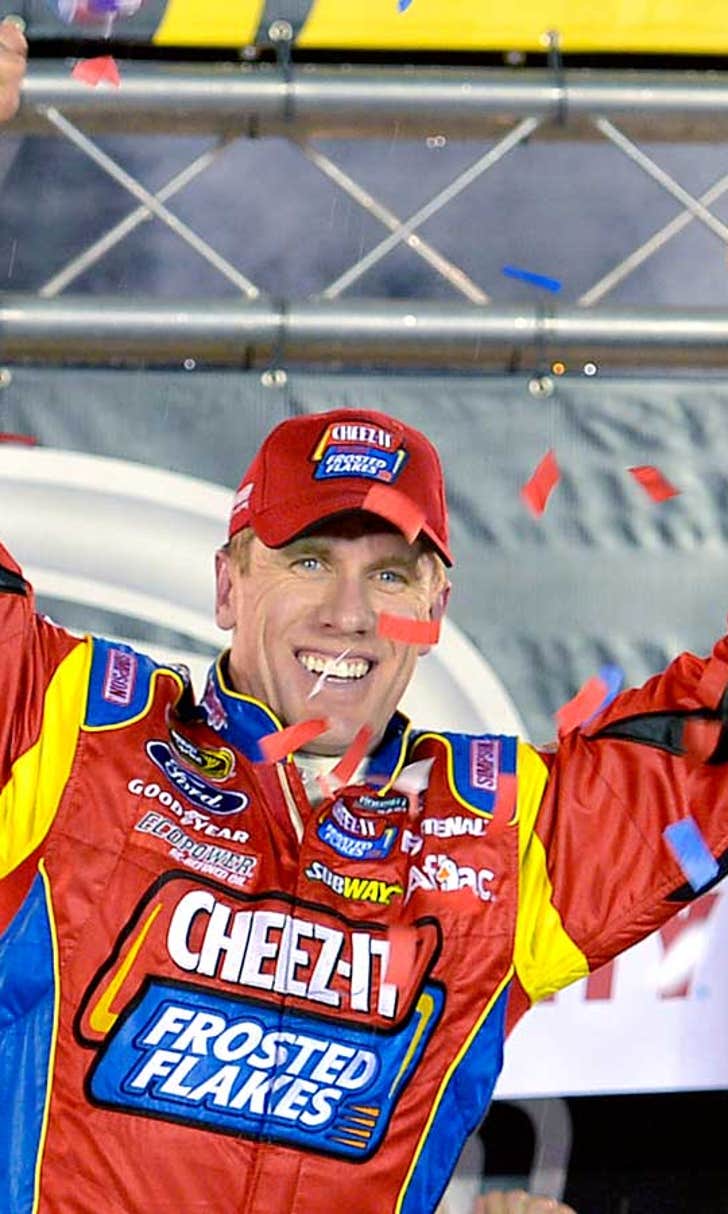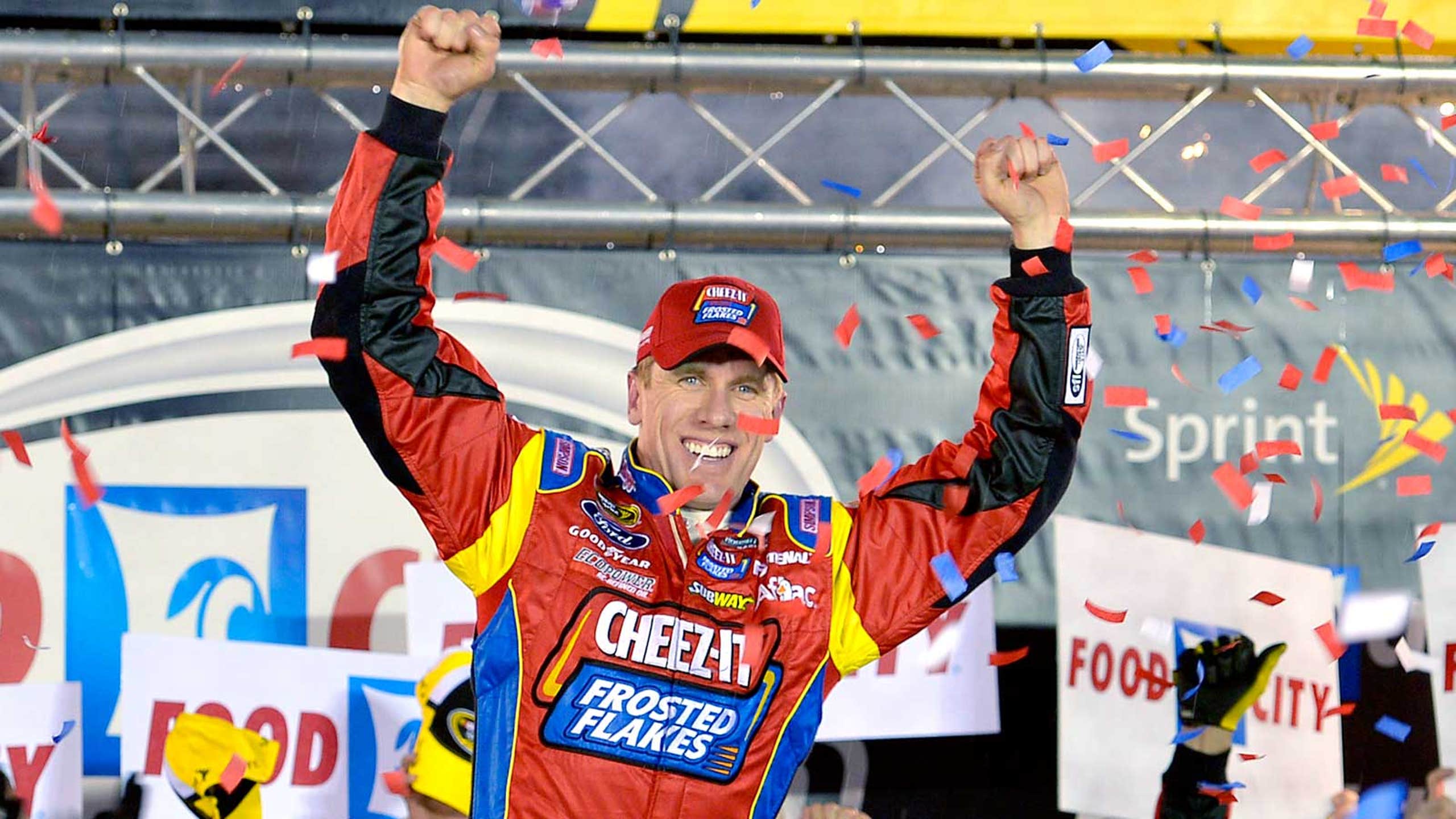 Standing tall: Edwards survives rain, wrecks for Bristol win
BY Tom Jensen • March 16, 2014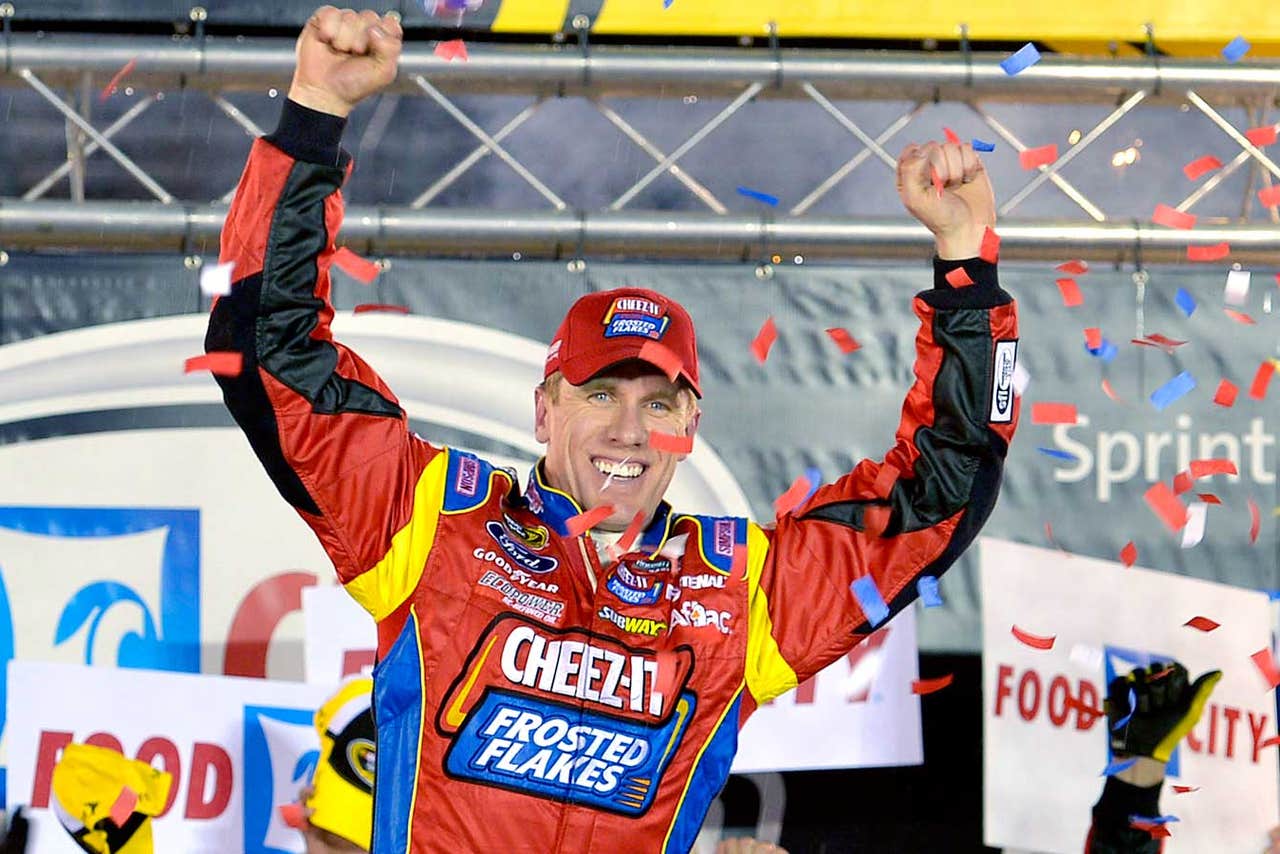 Carl Edwards gambled on late-race pit strategy and was rewarded with a dramatic victory in the rain-delayed Food City 500 NASCAR Sprint Cup Series race at Bristol Motor Speedway.
Driving the No. 99 Roush Fenway Racing Ford, Edwards became the fourth different winner in as many Sprint Cup races this season, as he captured his third Bristol Sprint Cup race and the 22nd of his career.
The winning move came with 78 laps to go, when most of the lead-lap cars pitted, but Edwards and crew chief Jimmy Fennig decided to stay out. That gave Edwards his only lead of the race, but one he never relinquished. 
And, yes, Edwards nailed his trademark post-victory backflip after the race, when heavy rain was falling all around him.
Edwards' Roush Fenway teammate Ricky Stenhouse Jr. finished a career-best second ahead of Aric Almirola who also had his best ever finish in the No. 43 Richard Petty Motorsports Ford.
Tony Stewart and Marcos Ambrose completed the top five, with Stewart having his best race since last year's gruesome sprint car crash. Stewart's teammate Danica Patrick was 18th, her best result of the still-young season.
Afterward, Edwards said that not pitting was his only chance to win.
"Aric and those guys were really fast," said Edwards. "I don't know if I could have gotten by them."
Edwards said his car had been disappointing in practice and he credited Fennig for getting the handle on it. "Man, I can't believe we turned this thing around," Edwards said. "It was terrible Saturday, so, Jimmy's the man."
Third-place Almirola said the late cautions hurt his chances.
"Our car was really good on the long runs, but we were just way too tight on the short runs," he said. "It seemed like it kept getting better and better the longer we went."
But the happiest driver on the night might have been fourth-place finisher Stewart, who is still recovering from a double-compound fracture of the right leg suffered last August.
"It feels like a win, even though it's not," said Stewart. "To start 37th and end up fourth, I'm pretty excited about that. … I feel great. Let's do it again."
Like the Daytona 500, this race began in the daytime and went deep into the night, thanks to two lengthy rain delays, one before the race began, that delayed the proceedings by nearly six hours.
And there was plenty of drama and mayhem during the long day and night.
Denny Hamlin started from the pole, but on Lap 2, Brad Keselowski moved into the lead and by Lap 5 his teammate Joey Logano was second in the other Penske Ford.
NASCAR threw a competition caution on Lap 50, which proved to be eventful. Six-time and defending series champion Jimmie Johnson took left-side tires only and emerged with the lead, but his shot at victory ended on Lap 114, when he blew his right-front tire and had to pit for fresh rubber, going three laps down.
Matt Kenseth took the lead on Lap 98 and held it until weather interfered. Rain, which was forecast for the entire day, returned on Lap 118, bringing out first another yellow and then on Lap 124 a red flag that stayed out for 3 hours and 19 minutes.
After the race resumed, Patrick and Cole Whitt made contact, with Whitt spinning. Once the caution came out, the leaders slowed, but the lapped car of Timmy Hill didn't, and he drilled Kenseth hard from behind, causing substantial damage to the rear of Kenseth's JGR Toyota.
Kenseth, who rejoined the race in 30th after his crash, was back up to 10th by Lap 212 and fourth 30 laps later. By lap 270, Kenseth was second behind Kasey Kahne, and on Lap 285 he went into the lead.
And Kenseth held that lead until Lap 397, when Kevin Harvick passed him on pit road under caution following a Kyle Busch spin.
Martin Truex Jr. cut a tire and spun out on Lap 423, bringing out another yellow and sending most of the lead-lap cars into the pits for tires. Edwards, Almirola, Hamlin and Stenhouse stayed out, however, and took over the top four spots.
The race restarted on Lap 430, with Edwards and Almirola pulling out a substantial lead.
Twenty laps later, Harvick blew up and Keselowski ran into the back of Jamie McMurray, who was in front of him.
With the victory, Edwards virtually locked himself into the Chase for the Sprint Cup, joining prior race winners Dale Earnhardt Jr., Harvick and Keselowski.
"Just an awesome night," said Edwards. "We're in the Chase and we're going to go out and win this championship."​
---
---