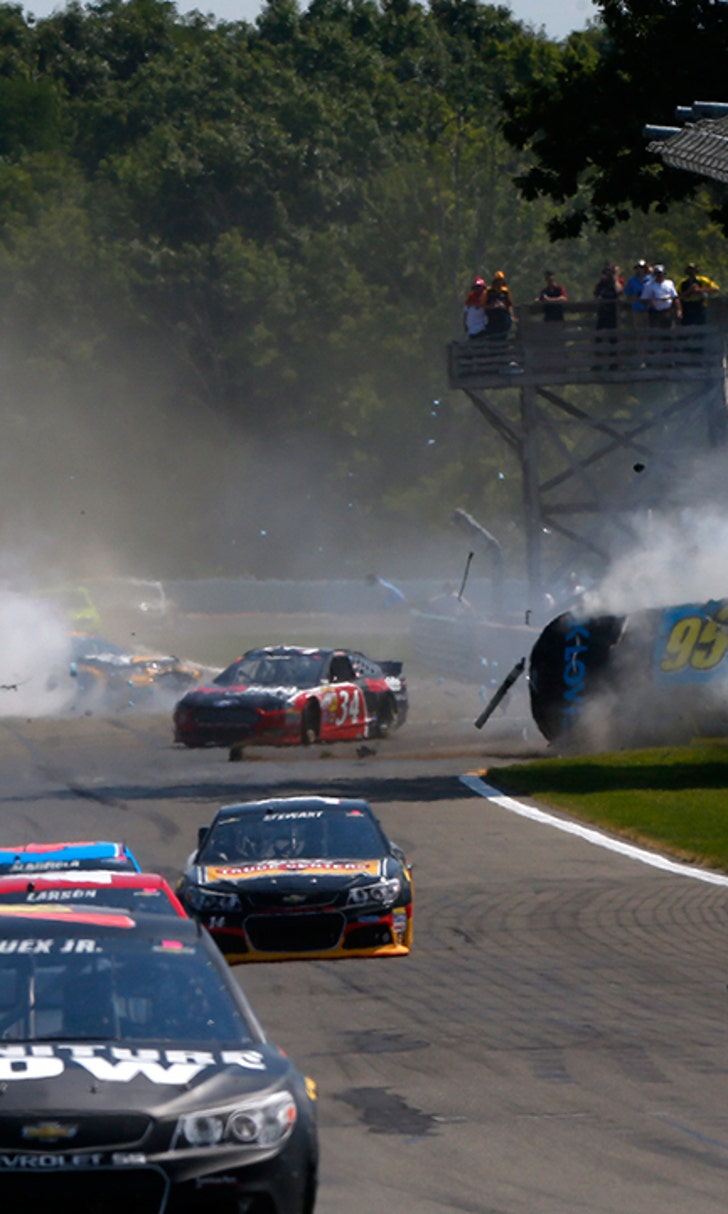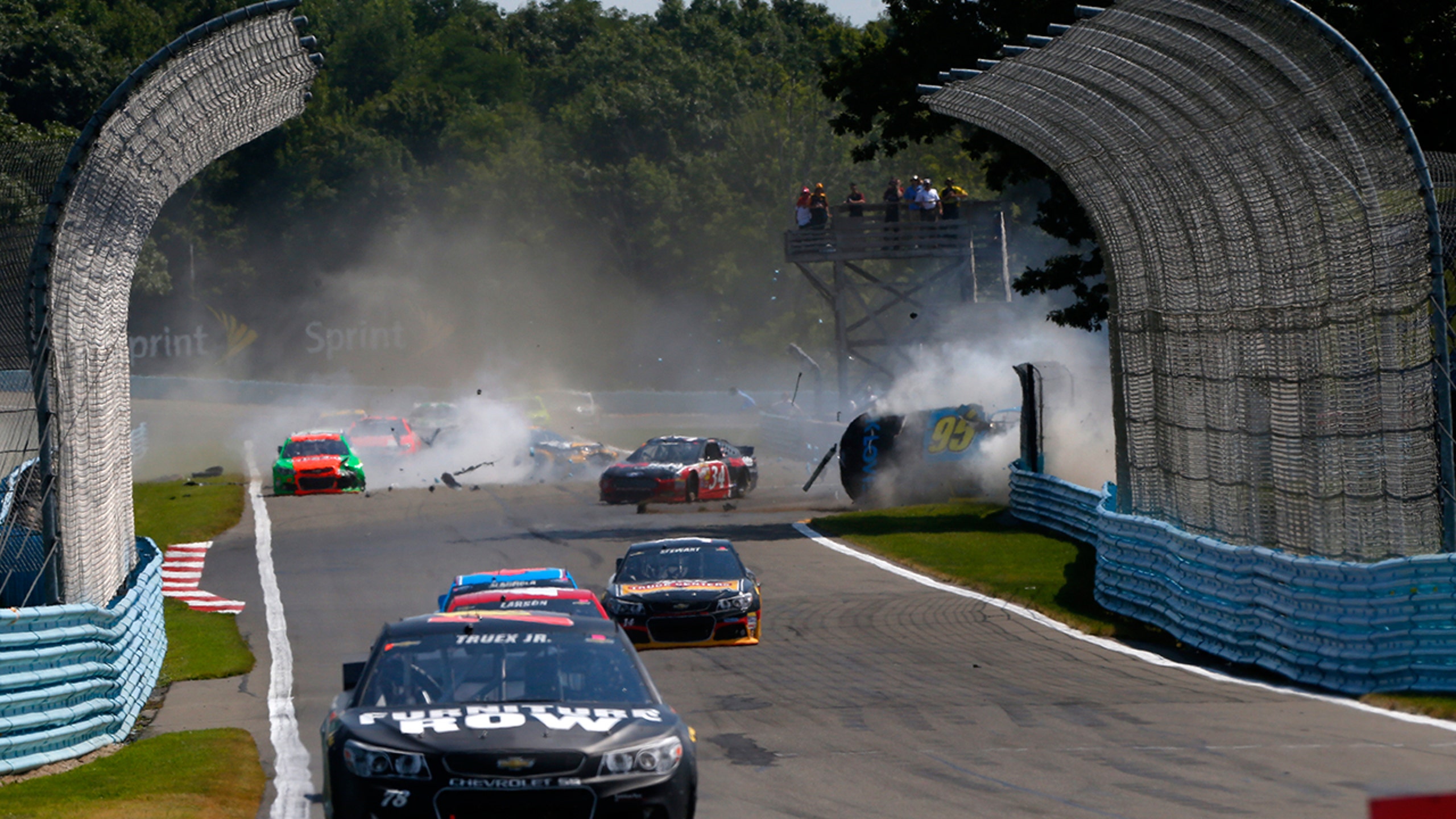 Massive wreck leads to lengthy red-flag delay at Watkins Glen
BY foxsports • August 10, 2014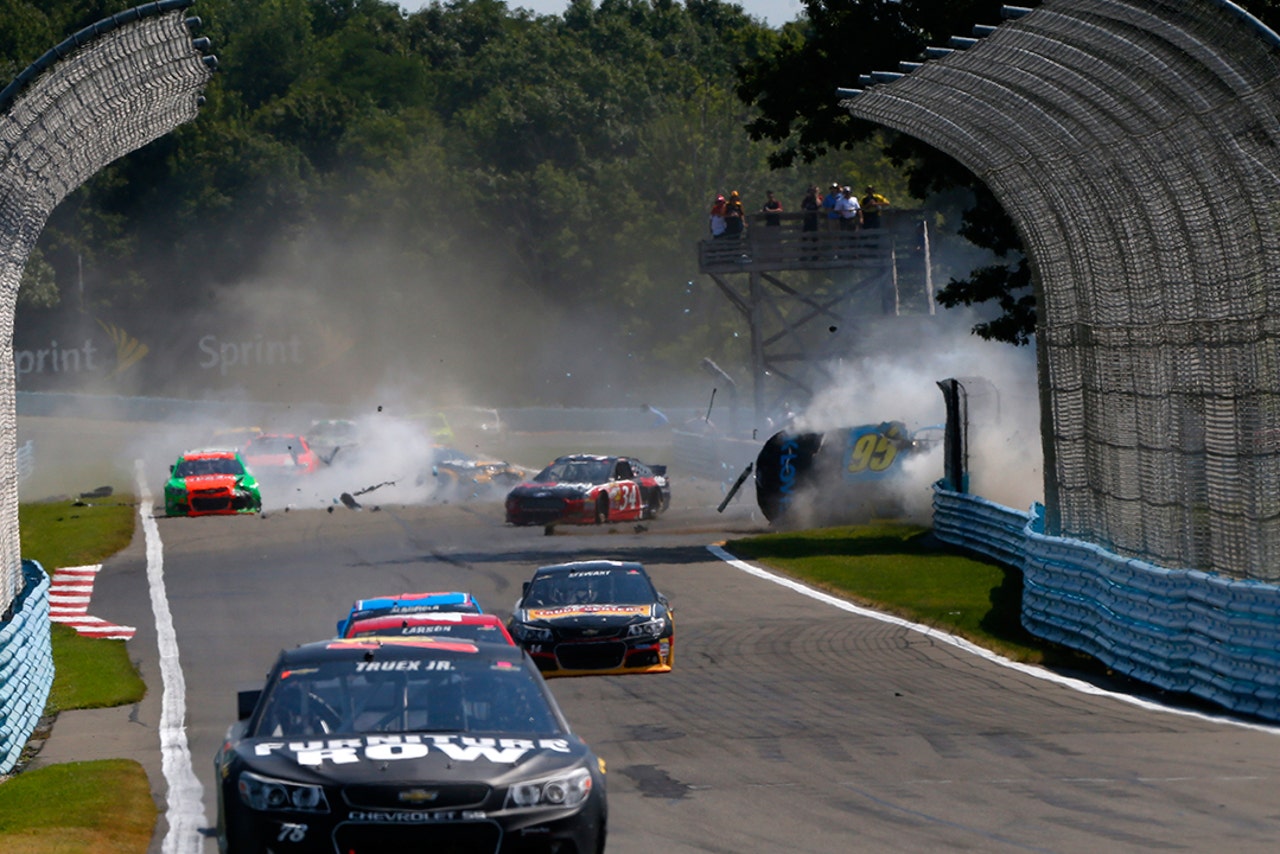 A massive incident during Sunday's Cheez-It 355 at The Glen collected Ryan Newman and Michael McDowell, damaging the guardrail and bringing out the red flag on Lap 56.
The incident occurred when Greg Biffle got off track exiting the carousel just ahead of Newman's No. 31 Chevrolet. As Biffle gathered his car up, Newman had no place to go and his car spun hard into the inside guardrail.
Making hard contact with the nose of the car, Newman's No. 31 shot violently across the track. As McDowell tried to avoid the wildly spinning car, Newman made contact with the No. 95 Ford's left rear tire.
The contact ripped the rear axel from McDowell's car and shot it airborne into the opposing guardrail and fencing. The violent impact left McDowell's rear tire lodged into the fencing, while the impact left a hole in the guardrail.
Despite the massive impacts, both drivers were able to walk away from the incident under their own power.
Yet another spectacular wreck for McDowell, the Leavine Family Racing driver said he did all he could to avoid Newman's spinning car.
"I'm good. Thank the good Lord above, because that's a bad wreck," McDowell said. "It seems like when I do it they're fairly big. I'm not real sure what happened. I saw the 16 get a little wide and the 31 come back across the track and I didn't really have time to adjust and move. I just tried not to hit Ryan in the door there and that was pretty much it. Just along for the ride."
Walking from the infield care center, Newman said he was uninjured in the violent wreck, but was highly critical of the safety innovations at Watkins Glen International.
"I'm fine," he said. "Just wrong place at the wrong time. From my standpoint, Biffle jumped the curb and got the splitter up on the curb or something, got out and got across the grass. I probably could have given him a little more (room), but I tried to time it so I would shoot past and he slowed down when he got back on the race track. It's just really disappointing.
"We lost John Melvin here in the last couple weeks," Newman said. "He did a lot of innovations for our sport and it's really sad they haven't adapted any of them here at this race track. The barriers, the SAFER barrier, that doesn't exist here. The Armco walls, there's no concrete walls. It's just a very antiquated race track and the safety is not at all at NASCAR standards. It's a shame we have to have accidents like that to prove it."
The Lap 56 incident also collected Danica Patrick, David Gilliland and Alex Bowman.
---
---