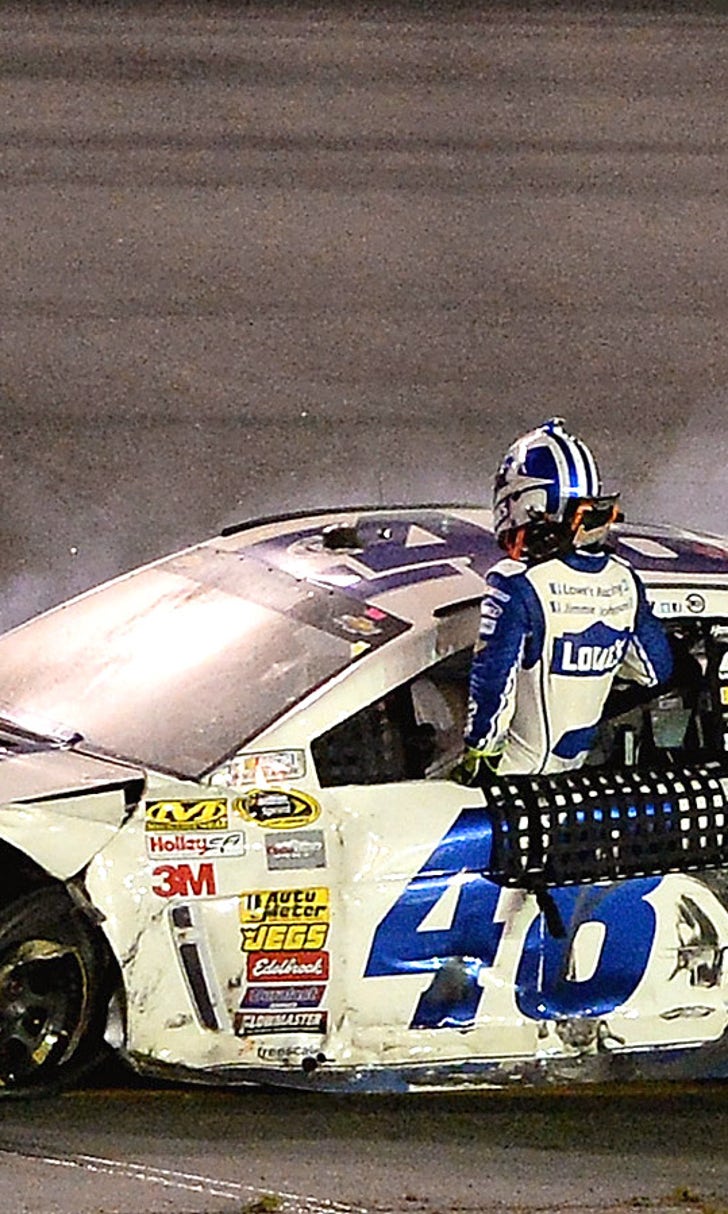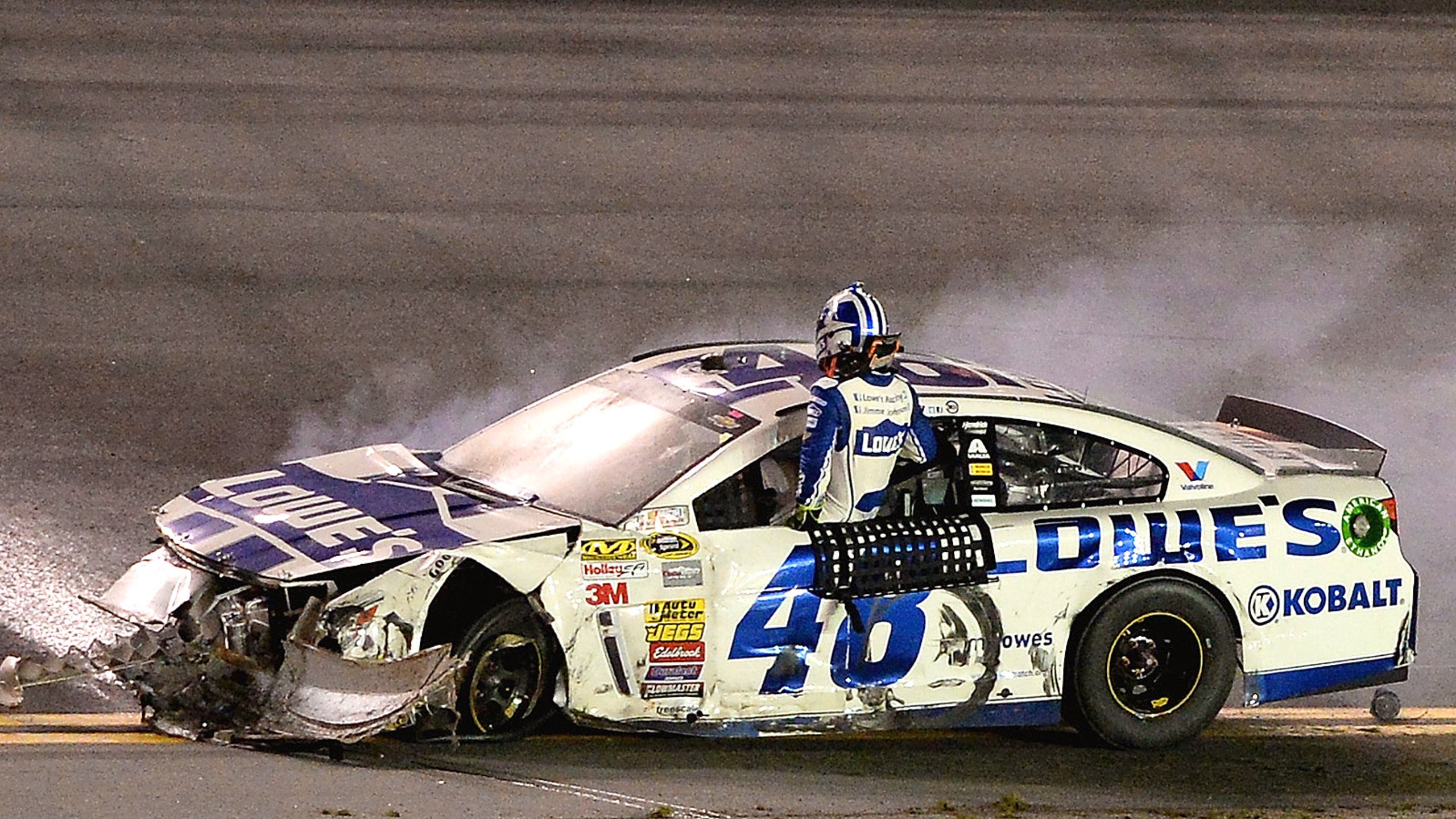 Jimmie Johnson hits empty, causing full-fledged chaos at Daytona
BY foxsports • February 21, 2014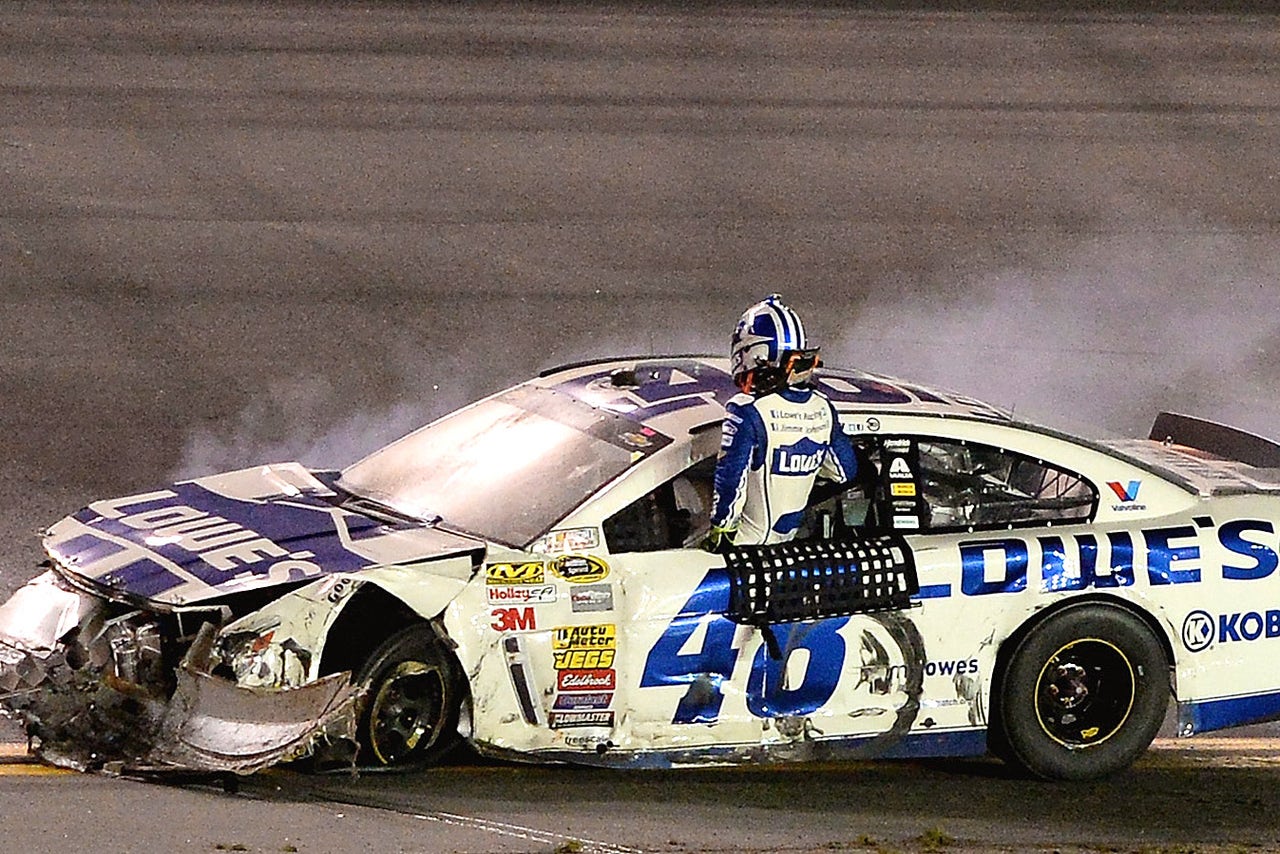 DAYTONA BEACH, Fla. -- Who knew that running out of gas could prove so costly?
A miscalculation of fuel by the No. 48 Hendrick Motorsports team left Jimmie Johnson's Chevy sputtering at the finish of Thursday night's second Budweiser Duel and triggered a nine-car wreck that collected Jamie McMurray, Martin Truex Jr., Carl Edwards, Clint Bowyer, Michael Waltrip, David Ragan, Kyle Larson and Ryan Truex.
"Did you run out of gas?" crew chief Chad Knaus asked his driver.
"Correct," Johnson replied. "Ran out of gas."
Johnson apologized to Bowyer, who salvaged a 10th-place finish after flipping over the top of Ragan's car but landed right-side up.
"I would say perfect, perfect landing," Bowyer joked, despite having to go to a backup car. "You have to prepare for this stuff. I messed up on pit road and put us in this situation."
Truex will also be forced to drop to the back of the field on Sunday. He posted the second-fastest lap in qualifying, but his No. 78 Chevy burst into flames as it slid into the front-stretch grass.
"Cars spinning and crashing into the wall and nowhere to go," Truex said. "That is really all you can say about it. It's unfortunate, obviously -- last corner, last lap to have something like that happen."
Before the final lap, the only drama in the second Duel was Brad Keselowski being penalized for speeding on pit road after leading 34 laps and being forced to serve a drive-through penalty. But his problems didn'€™t end there. He cut a left front tire and had to return to pit road for repairs. Keselowski's misfortune likely saved him from being involved in the wreck.
The accident also proved beneficial for sixth-place finisher -- and 2011 Daytona 500 winner -- Trevor Bayne, who had to race his way in after he finished 26th in pole qualifying on Sunday. The Wood Brothers' situation was compounded by Bayne's contact in the practice wreck on Wednesday that sent the No. 21 Motorcraft Ford to the garage.
"It was more than nerve-wracking," Bayne said. "I was waiting on what happened off of (turn) four to happen a lot earlier.  Fortunately, we just happened to go to the bottom.  I can't take credit for any of that -- that'€™s just being at the right place at the right time, and I'€™m just so thankful for this team.
"It's a lot of pressure, though. I'm not gonna lie. I kind of take it for granted all the time when we qualify good and don't have to worry about these Duels, but we did it when it mattered, and I'm really proud of these guys. They've worked hard on this car and deserve to be in the 500, and I'm just thankful Jesus spared us on this one."
The Labonte brothers both needed a solid effort to transfer into the field for the Great American Race. Said Bobby Labonte, who finished 13th in the Phoenix Construction Chevy: "Kind of figured it was going to happen."
"They were muscling around but you never know," the 2000 Sprint Cup champ added. "Sometimes, they make it work. But we're in one piece. So it's all good."
The elder Labonte -- brother Terry is a two-time Cup champ --  acknowledged he was "tickled to death" coming from 42nd to finish 12th in his qualifier.
"We're in the show," said Bobby, who starts 24th in his 32nd 500 start. "I told 'em before this is my last Daytona 500, so I'm glad we made it in."
Ryan Truex, Michael McDowell, Joe Nemechek, Morgan Shepherd and Eric McClure weren't so lucky. All five drivers failed to make the show. Dave Blaney, who entered the event, withdrew from the Duels following his wreck during practice on Wednesday.
---
---