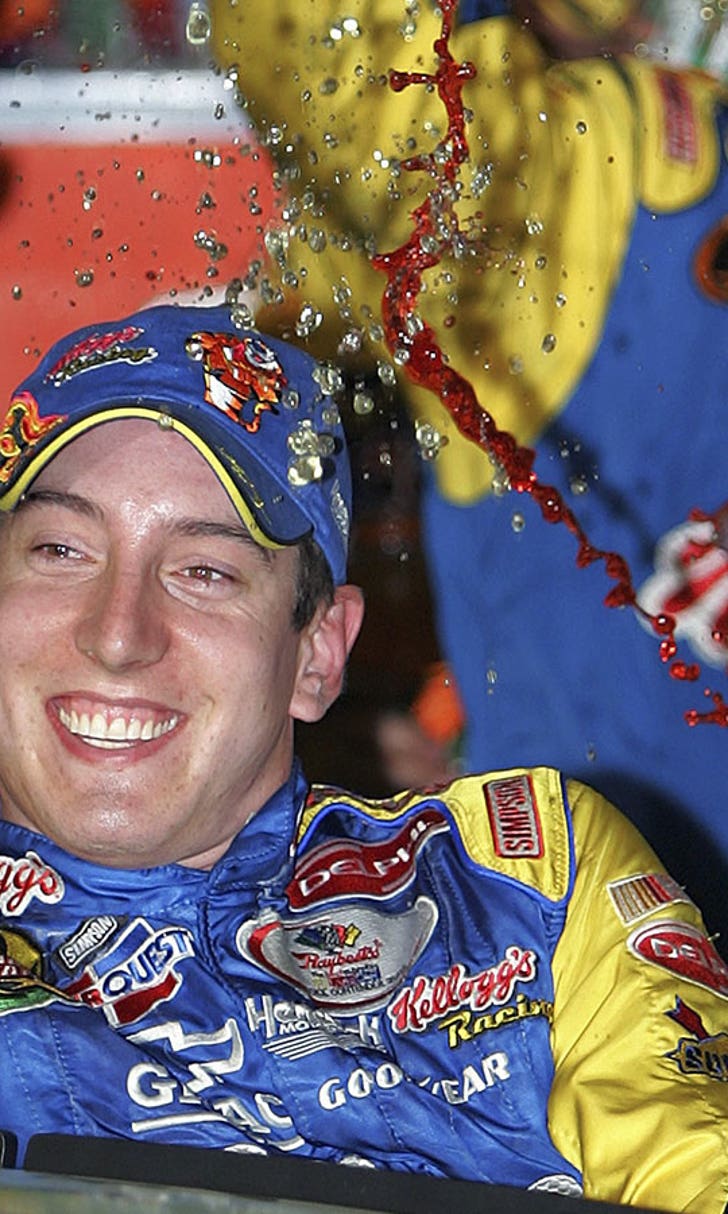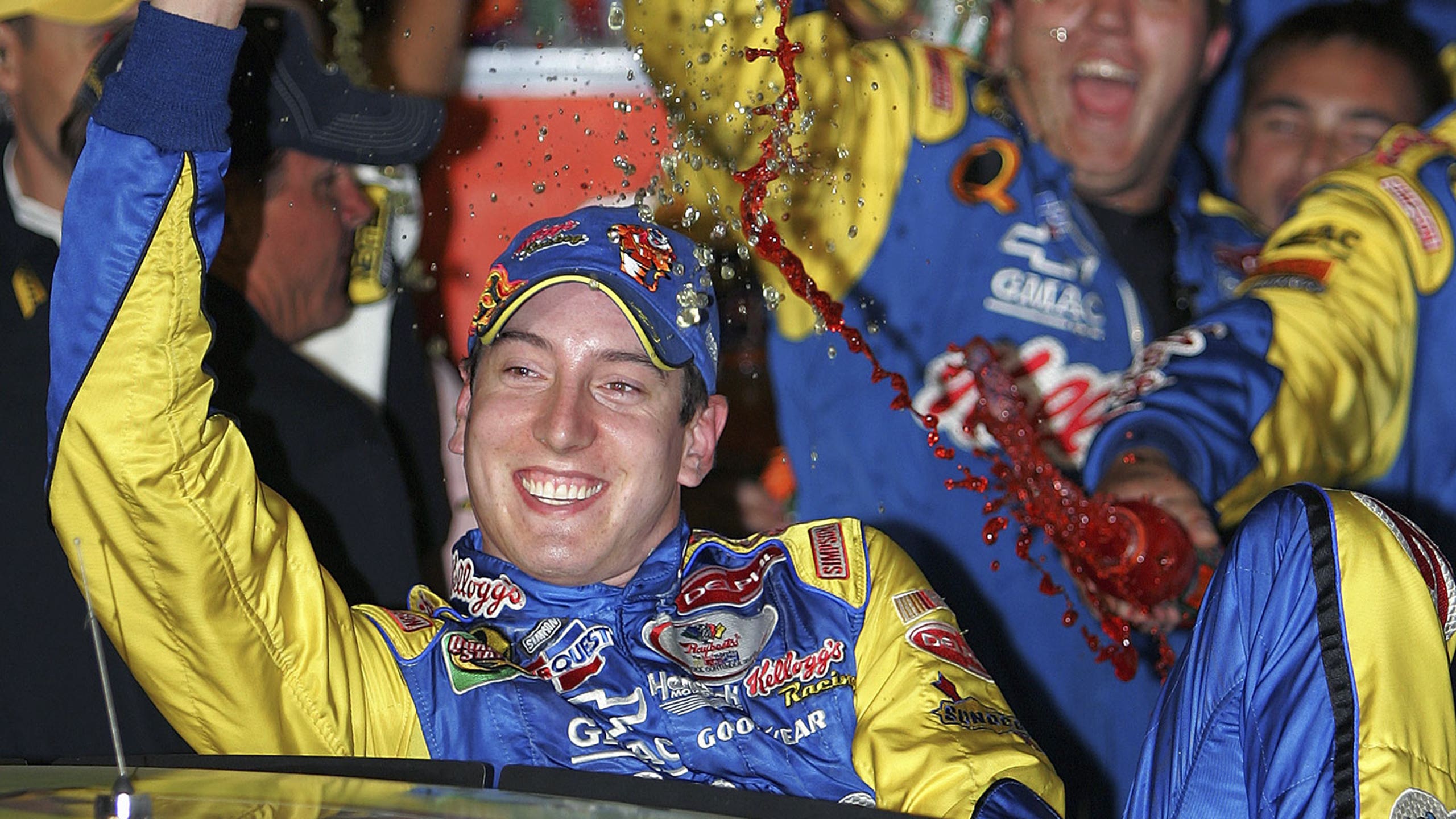 Back where it all began: Fontana holds special meaning for Shrub
BY Jared Turner • March 19, 2014
Of all the venues on the NASCAR Sprint Cup Series schedule where Kyle Busch has enjoyed success, none -- with perhaps the lone exception of Las Vegas Motor Speedway, his hometown track -- is any nearer to his heart than Auto Club Speedway, site of Sunday's race.
It was here, after all, back in 2005 that the then-rookie Sprint Cup Series driver went to Victory Lane for the first time at the tender age of 20.
Busch, making his 31st Cup start, took the win in the No. 5 Hendrick Motorsports Chevrolet that he would pilot until leaving for Joe Gibbs Racing after the 2007 season.
"We ran in the top five all day long but we really didn't think we had a winning car," recalls Busch, now a 28-time Sprint Cup winner. "When we got the lead a few times throughout the race, we just pulled away and led by quite a bit. It was really cool to have a really dominant race car. I remember having to drive the car really loose. That was the loosest I think I've ever driven a race car that was still moving forward. It was crazy because I came over the radio and told the guys I couldn't believe how loose I have to drive the car. But it was fast."
Beginning with his maiden victory at Fontana in September 2005, the driver nicknamed "Shrub" and "Rowdy" has rattled off 11 top-10 finishes in 16 races at the fast, 2-mile track in Southern California. Busch also has six Nationwide Series wins here, including one last March that he followed with a victory in the next day's Sprint Cup Series race.
Needless to say, it's easy to understand why Busch likes making the now yearly trek to Auto Club Speedway.
"It always seems to be a really good race there," Busch said. "It's a really fun racetrack. It's widened out and it's become where you can race all over it and, with the race being as long as it is, you need to take a lot of time working through traffic and being able to have a good car and all that. But sometimes it's really a hard racetrack to get ahold of, now, especially when it's hot and the sun is out. There are two completely different types of racing when you run the top versus the bottom groove."
Running third with half a lap to go, Busch took the lead in the final turn when teammate Denny Hamlin and Joey Logano tangled while battling for the win, with Hamlin crashing hard and Logano losing his momentum, which allowed Busch and Dale Earnhardt Jr. to sneak by.
"Last year was special for a lot of reasons," said Busch, who led a race-high 125 laps. "The track is just down the road from Toyota Racing Development headquarters and our win there last year was the first Sprint Cup win for them at their hometown track. Being able to celebrate that with Toyota was very special, to say the least.
"Then, just how the race was won was crazy, too. We had the best car there all day but we ended up getting some late cautions and had to make some hard decisions on whether to stay out on old tires or lose our track position. We ended up getting passed by Joey and Denny and thought they had the race won. They got caught up racing each other and I was coming even if they didn't end up wrecking. I was digging on the high side and they got together.
"I hated it for Denny since that was really a tough circumstance for him. It was a crazy finish, one that I won't forget for a while, and I'm sure the fans won't forget anytime soon, either."
Now, as Busch prepares to head back to ACS, he could certainly use a similar result. So far this season, Busch and his typically fast-out-of-the-gate No. 18 team have been notably mediocre. After four races, Busch has just one top-10 finish and is still searching for his first top-five of the year.
Busch hopes to leave ACS with a better result than he left his hometown track of Las Vegas, a 1.5-mile layout with similar characteristics, two weeks ago. In that race, Busch finished 11th after leading 52 laps but fading late.
"I don't think it's anything to do with the aero rules. I think it's just to do with the new ride-height rules," Busch said. "The box used to be so big and now it's way bigger. It just allows more opportunity for teams to experiment and to come up with different things that make their cars go fast. I don't discount the time and effort and everything that my guys put in at the race shop, and everybody at Joe Gibbs Racing and all the work that they do, but there are teams out there right now that have worked a little smarter than us and figured it out a little earlier than us.
"But if now is the time to struggle a little bit, it's certainly earlier in the season. It's an OK time to do that. You do need to pick business up by at least Week 10 or so and get yourself rolling."
---
---