Bryce Harper
Bryce Harper
Top agent Boras calls rebuilding teams 'competitive cancer'
Updated
Mar. 4, 2020 12:31 p.m. ET
CARLSBAD, Calif. (AP) — The agent for free agent Bryce Harper and many of baseball's top players claims rebuilding teams have become a "competitive cancer" that caused this season's 4 percent attendance drop.
As the sport's officials start to consider possible rules changes to spark offense and speed up play, Scott Boras acidly critiqued several clubs that were among the 17 to draw fewer fans this year than last.
Boras pointed out Louisiana State's baseball team had a higher average attendance for its 37 home games than the Miami Marlins did for their 81 — 10,786 to 10,014.
"The fans of Florida have certainly brought the MIA to Miami," he said Wednesday in a courtyard outside the general managers' meetings.
He claimed when "the divisional clubs come to Minnesota, it's gotten so bad that only one of the Twins shows up."
And he criticized the Toronto Blue Jays, who had the biggest decrease in the major leagues this year, falling by 878,000 fans to 2.33 million.
"They've lost near a third of their fan base due to the blue flu of not bringing attractive players the fans find interesting to their market," he said.
Boras has self interest in encouraging spending, wanting fewer clubs jettisoning veterans in favor of youth and more handing out lucrative contracts — especially to his clients.
Major League Baseball's average attendance dropped to 28,830, its lowest since 2003 after 14 consecutive seasons topping 30,000, and six ballparks set record lows. Boras connected the drop to non-competitive clubs: There were three 100-loss teams for the second time since 1985 and the first since a record four in 2002. And there were eight 95-loss teams for the first time in big league history.
"The reality of it is they're losing their fan base, and it costs millions and millions of dollars to rebuild the fan base," he said.
Boras is seeking a record contract for Harper, topping outfielder Giancarlo Stanton's $325 million, 13-year deal through 2027 reached with the Miami Marlins, who traded him to the New York Yankees last December. Boras sounded as if he had rehearsed his zingers like a stand-up comedian.
"Certainly Harper's bazaar has begun," he said. "It's fashionable. It's historical. It's elite. It's global, certainly. And certainly it has inspirations that deal with great shoes and great hair."
Washington made a late-season offer before Harper became a free agent at the unusually young age of 26. Nationals general manager Mike Rizzo said Harper didn't respond.
"He's going to go about his business and we're going to go about our business," Rizzo said. "We drafted, signed, developed him. He turned into one of the best players in the league with our uniform on."
While GMs meet with each other and agents, the formal sessions deal with the mechanics of the sport, and Commissioner Rob Manfred and his staff are concerned about the drop in offense and rise in strikeouts. The big league batting average fell seven points to .248, its lowest since 1972 — the last season before the American League adopted the designated hitter.
Strikeouts set a record for the 11th straight year and topped hits for the first time in big league history.
"I think fans like the ball in play a little bit more," Chicago Cubs president of baseball operations Theo Epstein said. "I embrace MLB's efforts to think about how to steer the game towards the most compelling product for the fans. If that involves the ball in play more, then you find some subtle ways to influence that."
Los Angeles Angels general manager Billy Eppler doesn't think alterations are needed.
"I think we should embrace it. I don't think we should fight it," he said. "Why are people striking out more? Probably because pitchers are throwing about 3 1/2 miles an hour harder than they were seven years ago. People are getting better with their breaking ball. There's more technology in the game. And you can really accurately decide where you want to throw a baseball and practice that for particular hitters."
As many teams rotate the back end of their bullpens with their Triple-A teams to have more depth for each game, innings per starting pitcher dropped to 5.36 from 5.51 last year and 5.89 in 2012, and relievers per team per game rose to 3.4 from 3.2 last year and 3.0 in 2012. Tampa Bay started experimenting with a relief pitcher as an "opener" instead of a traditional starter, a move adopted by Oakland and Milwaukee even in the playoffs.
More discussion is likely when owners meet next week in Atlanta, and the players' association appears open to at least consider changes — a stark change from its near-constant refusal in recent years. But first MLB must formulate what it wants to propose, a process likely to stretch through next month's winter meetings in Las Vegas and possibly into January.
"We live in a time where we expect answers very quickly, and I think we have to remember that in baseball history there have been many different eras, many styles of baseball that have been played," Philadelphia GM Matt Klentak said. "A dead-ball era occurs, and then teams begin to adjust their behavior, and all of a sudden you hit more home runs. And then teams adjust, and speed and defense takes over the game more. And then teams try to exploit all the PITCHf/x data and the TrackMan data. The game will naturally ebb and flow. To some degree we need to have patience with the game and let it evolve naturally. It will."
---
---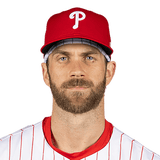 Get more from Bryce Harper
Follow your favorites to get information about games, news and more
---