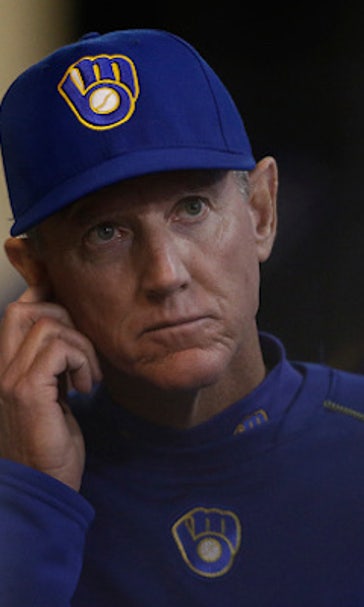 The Milwaukee Brewers' untimely collapse
April 21, 2015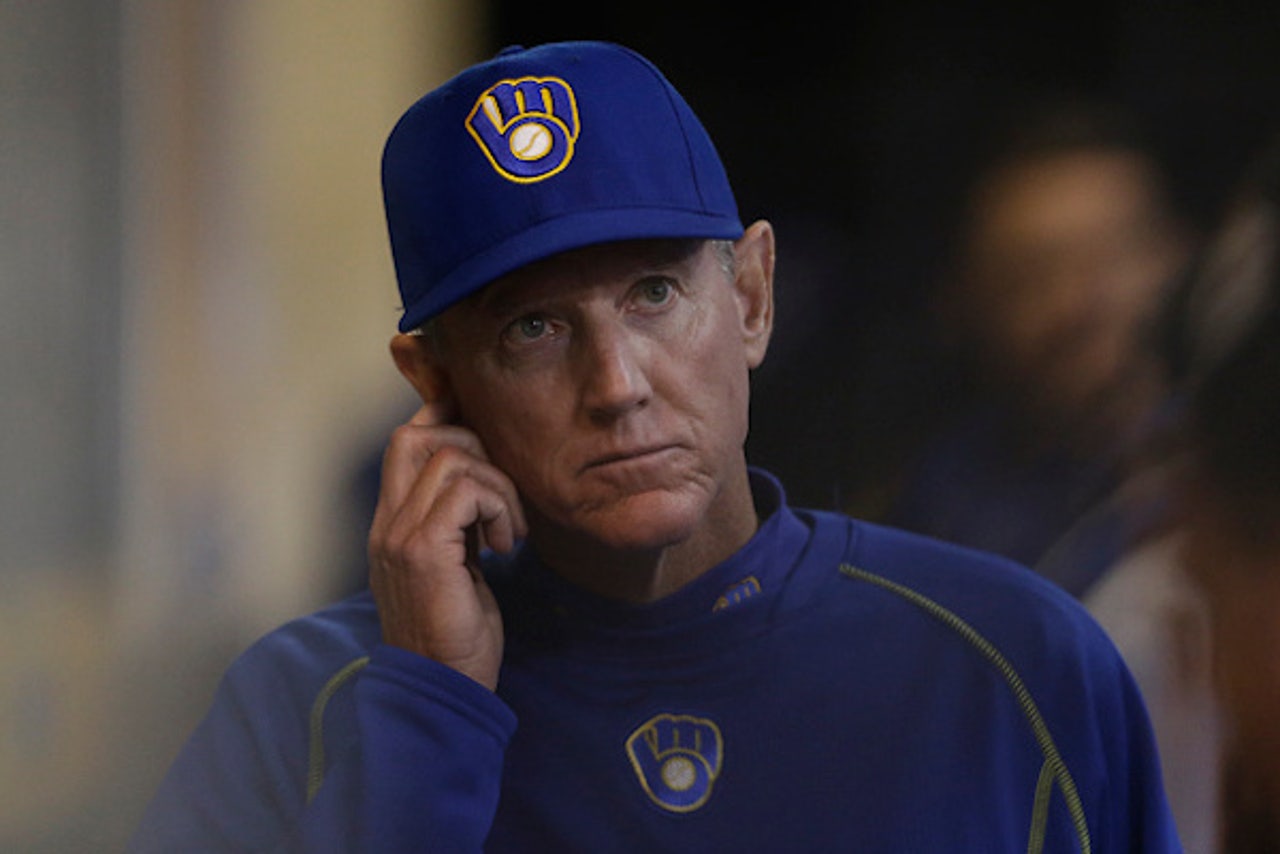 By Mike Petriello
Avert your eyes, Milwaukee Brewers fans. I apologize in advance for how painful this may be.
When the Brewers woke up on Monday morning, they were merely a bad baseball team, off to a 2-10 start, the worst in 47 years of Pilots/Brewers baseball. When they went to bed on Monday night, they were still a bad baseball team, off to a 2-11 start, one of just two teams with fewer than four wins. In between, second baseman Scooter Gennett joined the "stupidly weird injury" club, slicing his hand open in the shower. In between, star catcher Jonathan Lucroy left Monday's 6-1 loss to Cincinnati early with what was revealed to be a fractured toe, one that managerRon Roenicke could apparently hear happening.
So there's terrible baseball, and then there's this, in which a team that had just about no margin for error has gotten off to what's basically the worst possible start imaginable. You can't make the playoffs in April, but you sure can miss them. That's a saying that exists or it's one I'm either making up or poorly paraphrasing, but now it's on the Internet, and therefore it's true. Welcome to the 2015 Milwaukee Brewers, a team that just saw its season implode before it really began.
In one sense: Hey, things can't get much worse! The Brewers rotation is baseball's worst run-prevention unit. Their offense is baseball's worst run-scoring unit. This is basically as bad as you can be at baseball. This is what it looks like when you forget how to play baseball. This was never going to be a great team, but you would have expected competitiveness. Carlos Gomez is on the disabled list. Aramis Ramirez has been awful. So has Ryan Braun. So had Lucroy. So has Matt Garza. So has Kyle Lohse. There's more than enough track record there to expect a whole lot better than you're seeing right now.
In another, far more real sense: Yes, they certainly can get worse! In addition to the fact I think we can all easily take the under on Jimmy Nelson's 2.01 FIP and Khris Davis' .433 BABIP and Adam Lind's 147 wRC+, now the Brewers are without Lucroy for a few weeks. Juan Centeno is hardly an adequate replacement on the roster, even if Martin Maldonado is a capable defensive fill-in. Gennett may be out for days or longer. Things were pretty bad yesterday morning, and with two injuries and another loss, they're considerably worse this morning.
Remember that when I said the Brewers had no margin for error, I'm not exaggerating. Before the season, we had them at a 10% chance of making a wild card, worrying that the only way this could possibly go well was if the solid offensive core all mashed and no one got hurt, especially in the rotation. Now, without the system knowing about Lucroy, it's down to 1.6%. Even the Minnesota Twins are higher than that. It's not too harsh to say that on April 21, the season is already over, or at least the part of the season that contained hope for an unlikely wild card run in 2015.
To get to .500, the Brewers have to play at a .530 clip the rest of the way. Last year, they had a .506 winning percentage. The year before, .457. Before that, .512. They won't stay at the current .154 — that's a 25-137 season, in case you were wondering — but we're projecting them at .472 from here on out, which again I'm writing before updating for Lucroy. To think the Brewers can get to a .500 record, you have to believe they're going to play better than they have in three years. Even if they did, a .500 record doesn't get you to the wild card.
It's not like this was impossible to see coming. Well, not this, obviously, but a scenario where a team that couldn't decide whether it was in or out going was going to have some considerable problems contending. The week before the season, I looked on in horror when I realized just how little rotation depth this club had, saying, "This has the potential to get real ugly, real quickly." It took one day into the season for Dave Cameron to call them out as "having a real chance to be terrible," saying that "among the 25 or so teams who are projected to at least be respectable in 2015, Milwaukee is the one that I think could just completely fall apart."
I bring those links up not to toot our own horns and say that we were absolutely positive the Brewers would crater, because certainly we weren't.  This is simply to note that, in the new world of multiple wild cards — where something like 85% of the teams in baseball think that if they squint hard enough, they can be the next 2014 Royals — this is the risk you run. You think: If everything goes right, that could be us. Why not us? Well, this is why. Not being honest about where you are or what you need to do to get where you want to be is why.
Still, you get the impulse for the team to choose to look on the bright side, especially after spending five months in first place last year. If Braun and Ramirez and Lucroy and Davis and Gomez all stayed healthy and crushed, and Garza and Lohse and Wily Peralta and Mike Fiers all showed the best versions of themselves; and if a surprisingly expensive bullpen led by Jonathan Broxton and Francisco Rodriguez and Neal Cotts became a mini-version of the Royals, then sure, things could have gone better. The problem is that "pray that everyone, including several aging veterans and an expensive star coming off two lost seasons, will stay whole" is a tough gamble to make. It's a losing bet every time, except for when it's not.
It probably wasn't realistic to expect the Brewers to blow it all up, but you'd be forgiven for wishing they'd done more than import Lind and Cotts, bring back Rodriguez, and trade Marco Estrada and Yovani Gallardo while completely ignoring the depth of the rotation, particularly since they fell apart down the stretch, losing 22 of their final 33 games. (Throw in the beginning of 2015, and they're 11-33 in their last 44.) It's not like cracks weren't showing. It wasn't likely to be quite this much of a mess, but this certainly seems a more expected outcome than everything working together in perfect harmony.
But really, the problem isn't what happens with the rest of the season. This season is done, even if it's hard to admit. The problem is what happens with the immediate future of the franchise, because there's limited pieces to sell. Gomez and Lucroy are each extremely valuable, but to such an extent that the team isn't likely to consider moving either, and while that's defensible in both cases, that presents a problem. There's no Johnny Cueto or Aroldis Chapman or Cole Hamels here, no very appealing part that's a clear trade scenario as the July deadline comes.
Look what's left. Ramirez is 37 in June and already said 2015 is probably his final season. Lohse, Cotts and Gerardo Parra are free agents of limited value. Braun's $105 million extension somehow still doesn't start until next year. Garza is owed $37.5 million (including 2015) and has seen his K%-BB% decline every year since 2011. Rodriguez has been replacement-level over the last three years but has $13 million coming to him. Jean Segura has a long way to go to overcome his value-killing 2014. Everyone else is a nice supporting part at best — Davis, Gennett, Peralta — and the farm system routinely ranks near the bottom.
This is the trap of indecisiveness. The Brewers never could figure out whether they were coming or going, unwilling (or unable) to commit to a rebuild or go full speed ahead on contention. What's left is a team that was built for mediocrity with a one-in-a-million chance of something more, and what's come up instead is something considerably less. They're not nearly as bad as what they've shown, it must again be said. But that's just accelerated the obvious, really. The team that was stuck in the middle now is firmly at the bottom, with no timetable or obvious plan to change that reality.
More from Fangraphs:
---
---