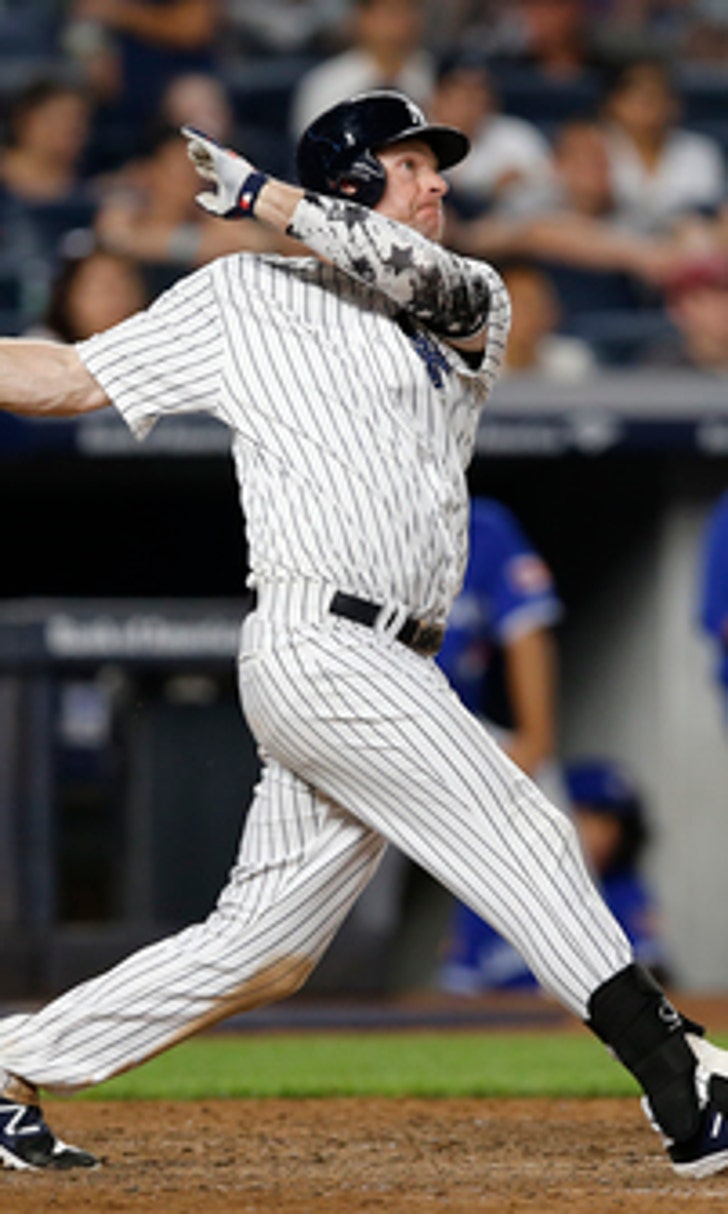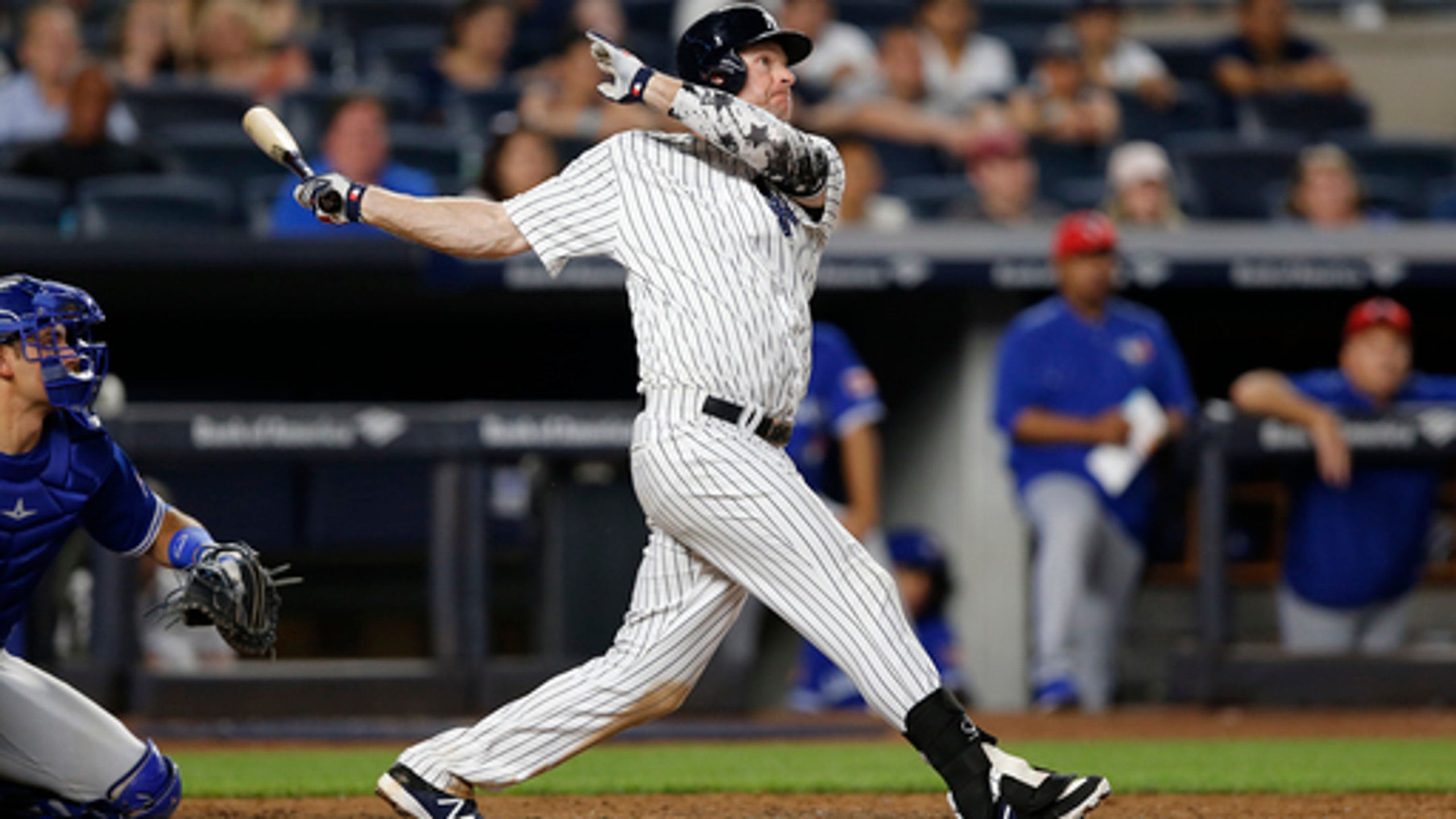 Tanaka pitches Yankees to 6-3 win over slumping Blue Jays (Jul 03, 2017)
BY AP • July 4, 2017
NEW YORK (AP) One big development for the banged-up Yankees as they've limped toward the All-Star break the past few weeks: Masahiro Tanaka is back in top form.
Tanaka pitched seven sharp innings for his second straight win following a long slump, and the Yankees beat the skidding Toronto Blue Jays 6-3 on Monday night.
''I feel better out there and it's definitely going in the right direction,'' Tanaka said through a translator.
Hours after announcing they'll both compete in the Home Run Derby next week, All-Star sluggers Aaron Judge and Gary Sanchez sparked New York's offense. Consecutive singles by those Baby Bombers in the first helped the Yankees scratch out two runs against Marcus Stroman. Judge's leadoff single and Sanchez's double set up a four-run eighth that included Chase Headley's two-run double off Ryan Tepera.
Headley was hit by a pitch to force home a run in the first and finished with three RBIs. Jacoby Ellsbury drew a bases-loaded walk from Stroman (8-5), who grew up on Long Island about 55 miles from Yankee Stadium.
Last-place Toronto has dropped five straight and nine of 11.
''Just gone cold, you know?'' manager John Gibbons said. ''I still feel like we're about to explode.''
Tanaka (7-7) turned in his third consecutive strong outing, a major positive for the second-place Yankees as they chase AL East-leading Boston. New York won for only the sixth time in 20 games.
''We have an opportunity in front of us,'' manager Joe Girardi said. ''I think that's what you ask for as you move forward.''
Tanaka yielded one run and five hits with eight strikeouts and one walk. The right-hander was coming off a win last Wednesday at the Chicago White Sox - his first since May 8. Before that, he was 0-6 in a stretch of eight starts.
''He gets you off the fastball just in time to throw the fastball,'' Toronto outfielder Steve Pearce said. ''It's only a matter of time for somebody like that.
''Sometimes you'll feel the wrath of somebody when they're coming out of it,'' he added. ''He's coming out of it - you could tell.''
New York scored its last two runs in the eighth on an error by catcher Luke Maile . They came in handy when Aroldis Chapman gave up two in the ninth before closing it out.
With a runner on, Headley went to his knees to snag a game-ending line drive .
Struggling reliever Dellin Betances, another one of New York's five All-Stars, struck out two in a scoreless eighth to protect a 2-1 lead. He was aided by Sanchez, who threw out Josh Donaldson trying to steal for an inning-ending double play .
Darwin Barney hit an RBI single in the seventh off Tanaka, who snared Maile's hard comebacker with a runner on second to end the inning and keep the Yankees ahead.
Pinch-hitter Kevin Pillar had an RBI double in the ninth, and Barney followed with a run-scoring single.
BLISTERING TAKE
Stroman developed a blister and was checked by a trainer in the fifth. He finished the inning but was pulled after that by Gibbons, who said the right-hander's finger was getting raw.
''Extremely frustrating. I feel like it's an epidemic that's happening across the big leagues now, a bunch of pitchers getting blisters, guys who have never had blisters before. So for MLB to turn their back to it, I think that's kind of crazy,'' said Stroman, who threw 79 pitches. ''I have no theory. But obviously, I mean, it's not a coincidence that it's happening to so many guys all of a sudden. It's not a coincidence.''
QUOTABLE
Betances on being elected to his fourth straight All-Star game by his peers around Major League Baseball: ''Thank God that the players voted last week,'' Betances said. ''I had a tough couple games.''
FIRST IMPRESSION
Touted rookie Clint Frazier went 0 for 3 with two strikeouts in his Yankee Stadium debut for New York.
TRAINER'S ROOM
Blue Jays: Stroman said he'll do everything in his power to make his next scheduled start against Houston this weekend. ... With afternoon games coming up the next two days, SS Troy Tulowitzki, C Russell Martin and Pillar were rested. ''They need it,'' Gibbons said. ''I've got to do what's best for them.'' All three players pinch hit in the ninth. ... RHP Aaron Sanchez (blister) rejoined the team and could come off the DL this week to start at home against Houston. Sanchez made his second minor league rehab start Sunday, allowing four runs in 4 1/3 innings for Triple-A Buffalo. He threw 76 pitches.
Yankees: Unable to figure out why 1B Greg Bird (bruised right ankle) is still hurting, general manager Brian Cashman said the team hasn't ruled out exploratory surgery. Cashman called that the ''worst-case'' scenario. ''Obviously, there's something going on that we haven't been able to get our hands on,'' the GM said. ''All the diagnostic testing showed the bone bruise has healed and yet he still has pain.'' Understandably, Bird didn't sound too keen about the idea. ''I still think there's a lot of different options,'' he said. ''Anytime you can avoid it, you want to avoid it.'' For now, Bird has been prescribed rest and will see specialists this week.
UP NEXT
CC Sabathia (7-2, 3.46 ERA) comes off the disabled list for the Yankees to start Tuesday against fellow lefty J.A. Happ (2-5, 3.71) and the Blue Jays. Sabathia has been sidelined since June 14 with a strained left hamstring. ''I feel good. I'm ready to go,'' he said. New York also expects to activate reliever Adam Warren from the DL before the game. Warren has been out since June 16 because of right shoulder inflammation.
---
More AP baseball coverage: https://apnews.com/tag/MLBbaseball
---
---