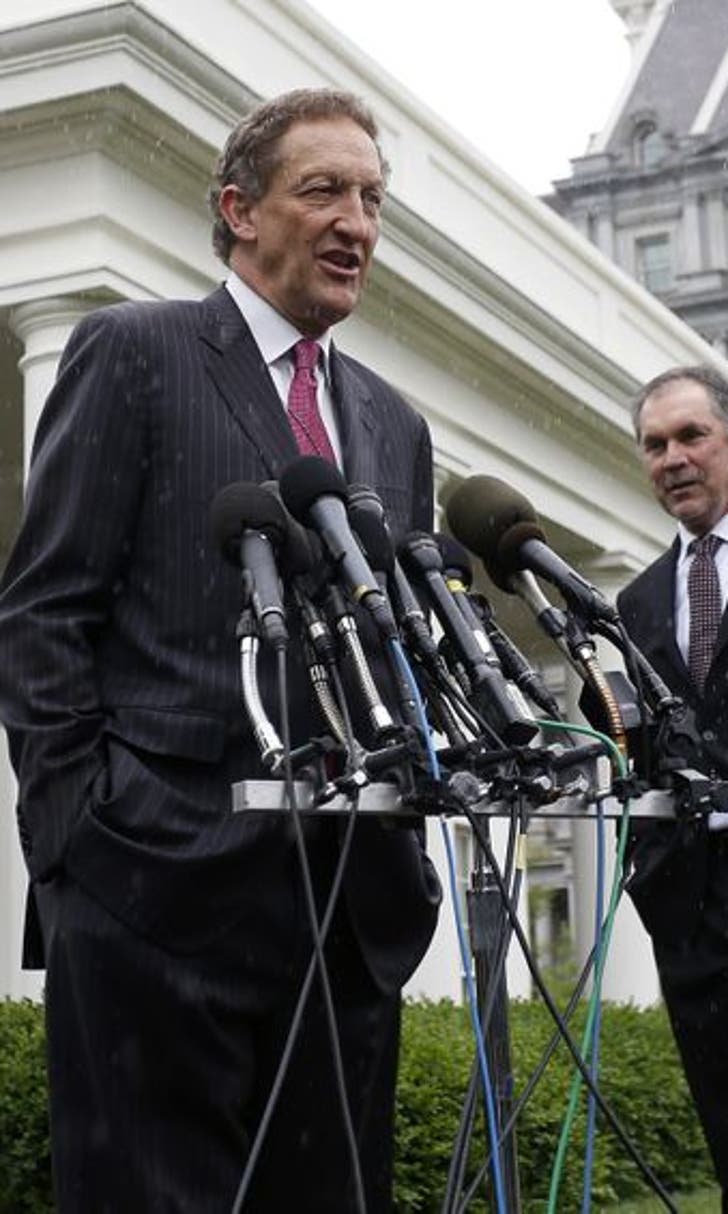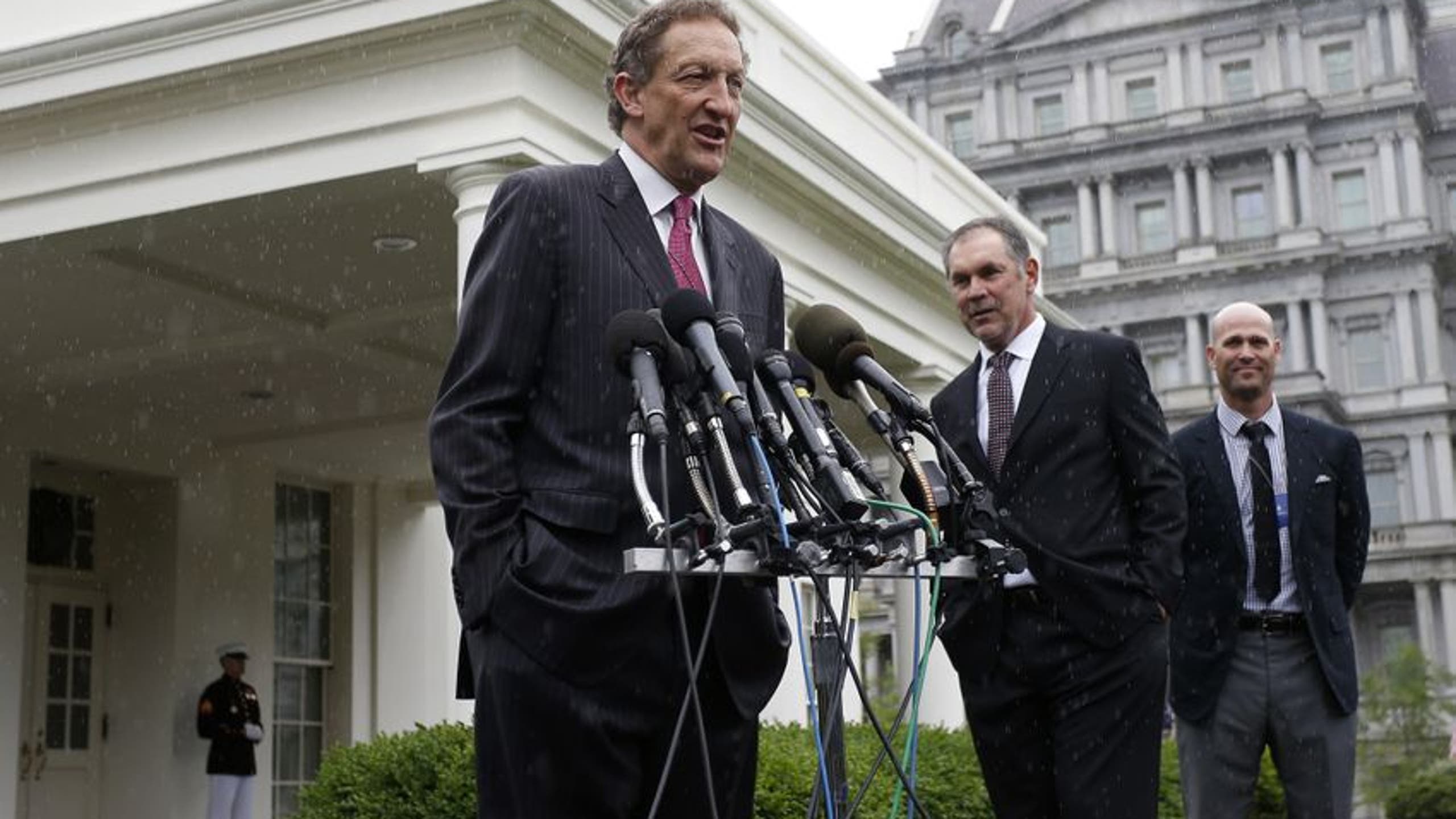 San Francisco Giants: A Team And Organization to Take Pride In
BY Fansided and Daniel Sperry/FanSided via Around the Foghorn • December 14, 2016
Jun 4, 2015; Washington, DC, USA; San Francisco Giants team president Larry Baer speaks with the media at the stakeout location outside the West Wing at the White House after a ceremony honoring the World Series champion San Francisco Giants. Mandatory Credit: Geoff Burke-USA TODAY Sports
Keeping up with the Holidays we are going to do a San Francisco Giants themed "Twelve Days of Christmas." This series will include everything from wishes, to reflections, historical rememberances. Enjoy!
On the First day of Christmas, the San Francisco Giants gave to me: a team, and organization to be proud of.
The Giants' had a decent part of their history in the early 2000s marred by off the field issues. Hot heads in the clubhouse, and of course, "the steroids". But since Barry Bonds departure, the Giants have done absolutely everything in their power to make sure the makeup of the team is something that fans can be proud of, not only on the field, but off the field as well. First example? The handling of Melky Cabrera.
When Melky Cabrera was busted for PED's midway through his 2012 season, there were a couple feelings that welled up within. I was sure the Giants were done. His defense, and his bat were so integral to how successful the Giants had been that season, it seemed like they wouldn't be able to step up and get the job done. The addition of Hunter Pence sort of helped, but it was really the performances of Angel Pagan and Gregor Blanco in left field that gave the Giants their shot in the arm. The other feeling that welled up inside was anger.
I was angry that yet again, another player had brought the Giants and steroids back into the same conversation. I was angry that it was somebody whose performances were so linked to their success, that people would write them off. I was angry that the Giants went back to being labeled "cheaters."
I was also angry that Cabrera, and the club, had tried to dupe everyone and a very trustworthy and well revered beat writer (Andrew Baggarly) had his name sullied when the initial reports of positive tests were denied. He even apologized! For writing and reporting what he heard! Later he was proved right by the league, and Melky's shameful cover-up plan had made the Giants look terrible for chastizing Baggarly, and for protecting Melky themselves.
We all know how it ended up though. The Giants won a World Series in spite of Melky. They exiled him and the players stepped up. They really didn't do much for him when he returned as a member of the Blue Jays a season later. Frankly he didn't deserve anything. No highlights, no big time play as he stepped in the box, no nothing. Just, here's your ring, now get in the box and play.
Them casting him out because of the whole snafu was brilliant. The A's had something similar happen to a player of theirs. When he came back from suspension they kept him playing, and gave him another contract! He's STILL playing and getting big contracts too, at 42! The Giants? They said, "no way will be associated with something of bad character" and moved on from him. They also did the same this offseason with Aroldis Chapman.
Ann Killion wrote a fantastic piece asking the Giants to not sign Chapman because of his past domestic abuse issues. I agreed with her personally, that it wasn't a good message for the Giants to send, especially to a fanbase that has as heavy a female presence as it does male. The Giants have actually taken to fighting for social justices, that frankly, their fanbase has wanted themselves.
In 2015, the San Francisco Giants were one of a few professional sports teams that signed a brief filed with the Supreme Court that asked for bans on same-sex marriage at the state level to be ended. The Tampa Bay Rays signed the brief as well. Here is what Larry Baer had to say about it:
More from Around the Foghorn
"San Francisco is the epicenter of the marriage equality movement, and it is only fitting that its professional sports team would join in this effort. The San Francisco Giants are proud to sign the brief because it speaks directly to our core values of equality and social justice for all."
Signing a player with a well documented, and violent, domestic abuse incident in tow, would have gone against any of the principles that the Giants set forth with signing the brief.
The Giants have done their best to be a team, and organization that fans could take pride in supporting. In turn, the Giants have created one of the most special fanbases in all of baseball. A fanbase where everybody belongs, feels welcome, and most importantly, knows their team reflects the heart of their fanbase.
On the First day of Christmas, the Giants gave to me: a team, and organization to be proud of.
---
---