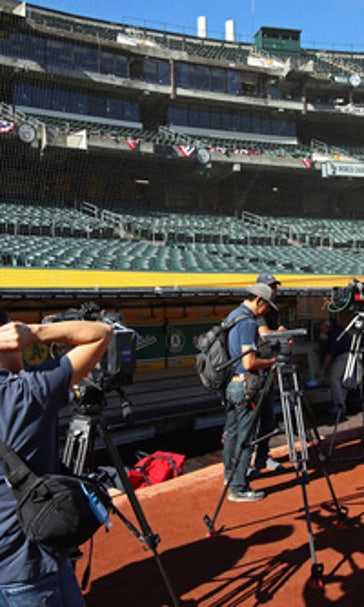 Ohtani a DH for big league debut, to pitch Sunday
March 29, 2018
OAKLAND, Calif. (AP) Shohei Ohtani got off to a perfect start at the plate.
The two-way newcomer from Japan quickly put aside a rugged spring training, hitting a single in his first real at-bat for the Los Angeles Angels on Thursday before finishing 1 for 5 with three groundouts and a strikeout in a 6-5, 11-inning loss to Oakland.
Batting eighth as the designated hitter, Ohtani swung at the first pitch and grounded a hard single to right field off Oakland's Kendall Graveman in the second inning.
''As a hitter I was never really nervous on opening day,'' Ohtani said through interpreter Ippei Mizuhara. ''That's kind of the same thing today. I wasn't too nervous.''
That first ball he hit will go to his parents - mother Kayoko and father Toru - who were in the stands to see it.
''That's probably an at-bat I'm not going to forget for the rest of my life,'' Ohtani said.
Ohtani often looked overmatched in the Cactus League, managing just four singles in 32 at-bats (.125) and striking out 10 times.
The 23-year-old also struggled on the mound in exhibition play and wound up pitching on back fields against minor leaguers. He'll get his first chance in a game that counts when he starts Sunday against the A's and said he ''probably'' will have some jitters for that outing.
Ohtani said he won't know perhaps for months whether the adjustment is more or less difficult than he envisioned.
''It really has been a learning experience. I think it's still too early to say whether it's harder or not,'' he said. ''It's going to be a long season and throughout the season there's probably parts where I will feel like oh this part was harder or this part was not as hard. I just want to enjoy the season.''
Ohtani left the Nippon Ham Fighters of Japan's Pacific League during the offseason and joined the Angels for a $2,315,000 bonus. If Ohtani had waited two more years, he could have commanded a deal for $100 million or more.
''I think with where the lineup is, we feel good with Shohei hitting there and getting some at-bats. We feel it's a good matchup for him,'' Angels manager Mike Scioscia said before the game. ''Obviously when he's available to hit we'll look at a number of different things and see if he's going to be in the lineup or not.''
Scioscia hasn't mapped out a plan for Ohtani beyond Sunday.
Oakland and the Angels play seven times in their initial 10 games.
''Boy, he gets down the line,'' A's manager Bob Melvin said. ''He has a nice swing. I haven't seen him pitch yet but on the offensive end it's pretty impressive and you know he's got some power, too, so he looks to be quite the pain in my side.''
A lot of people are curious to see how Ohtani does in his quest to succeed as a pitcher and hitter.
Ohtani tipped his cap as he emerged from the dugout tunnel before the game, cameras clicking away in a media frenzy.
''We know that Shohei just like any player is excited, but Shohei is well beyond his years as far as analyzing the game and going out there and understanding his talent,'' Scioscia said. ''We're very comfortable that he's going to go out there and compete very well and hopefully help us win. I think the illusion might be he's taking things in stride, but he's very confident and I don't know if you get a sense of how hard he's worked to get acclimated to baseball in the United States. I think he's done a great job, and we feel he's ready.''
Scioscia is still getting accustomed to having a star who offers so much, with the bat and his arm.
''It's almost like having two players, Shohei the hitter and Shohei the pitcher,'' Scioscia said. ''Why don't we give him two numbers so looking at him we can decide, hey, he's the hitter today, he's the pitcher today. We're going to see how this goes. I think the way it's mapped out, especially with the six-man rotation, it gives it a chance to be very feasible and we just want to see how it works out. He swung the bat a lot in Japan and we feel that he'll be able to handle what we project.''
---
More AP baseball: https://apnews.com/tag/MLBbaseball
---
---