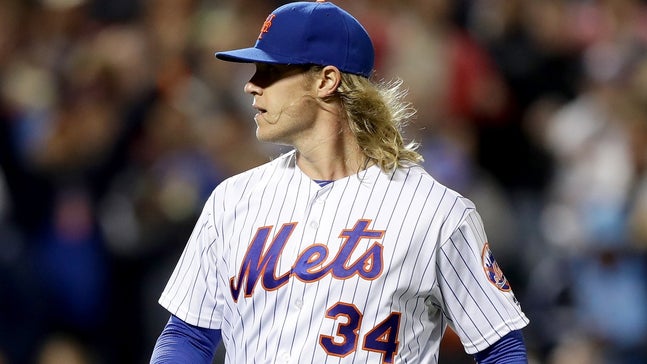 Noah Syndergaard's mixture of power, precision puts him in elite company
Published
May. 18, 2016 12:40 a.m. ET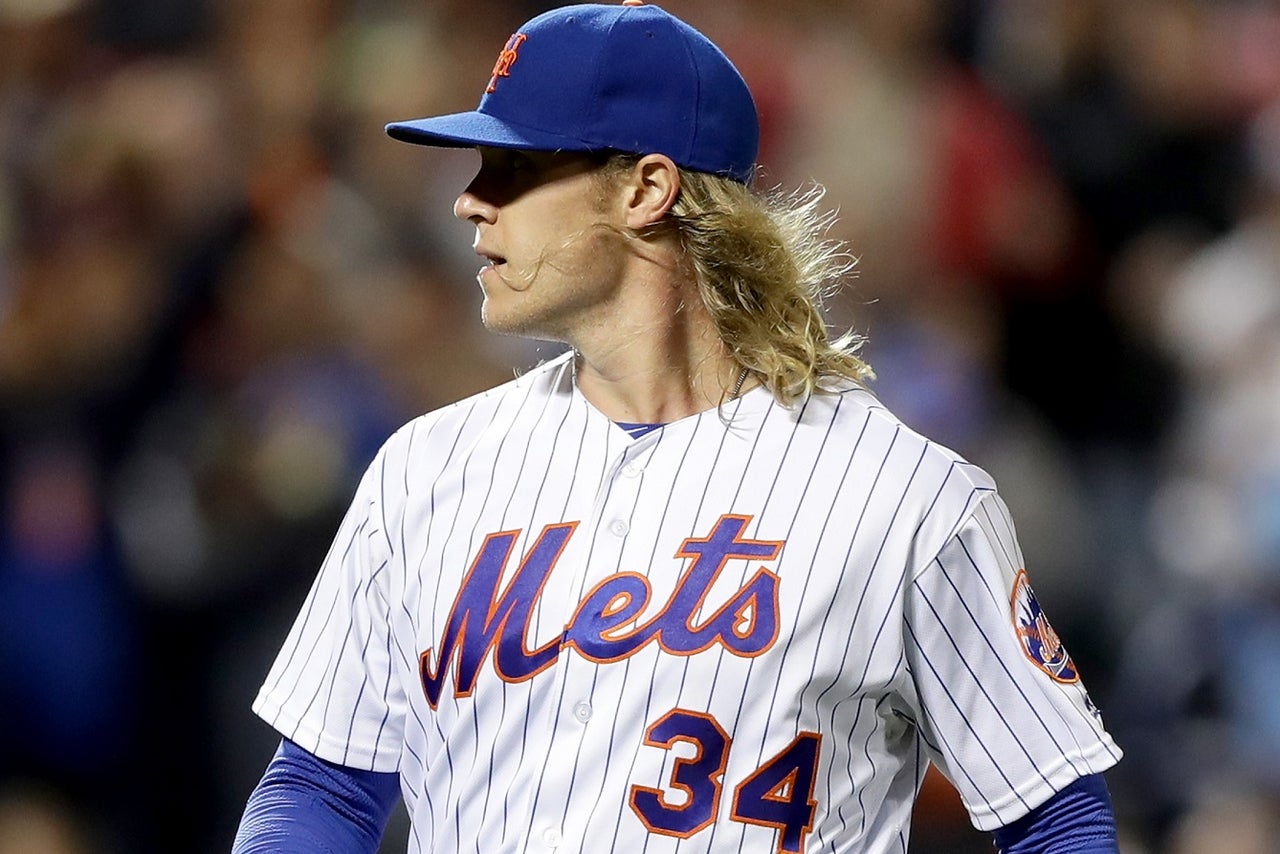 NEW YORK -- Fifth inning, Anthony Rendon digs in against Noah Syndergaard. No easy task, but Rendon already has a hit off the Mets' right-hander. And now, leading off, maybe he can get the Nationals started.
First pitch, a called strike on a 97-mph sinker.
Second, a swinging strike on a 91-mph changeup.
Third, a swinging strike on an 80-mph curve.
The at-bat was one of many jaw-dropping sequences on this night, a night in which Syndergaard struck out 10, walked none and outpitched the Nats' Max Scherzer, who also struck out 10, but allowed two solo homers.
Rendon saw everything and saw nothing, and he hardly was alone in his futility during the Nationals' 2-0 loss to the Mets at Citi Field.
"The first at-bat, he threw a fastball away. It was straight," Rendon said. "Then he tried to throw one in on me. It was off the plate, and it was straight as well. We had been told when he comes in, the ball runs. That ball didn't run.
"The second at-bat, he starts me off with a fastball that was off the plate. Then it sinks right back over. I was like, 'OK.' Then obviously the changeup. It's tough when the changeup is 91 mph, sinking. Then he has that hard curveball, a big downer."
Strike one, strike two, strike three. 
Entering Tuesday night, Syndergaard threw the hardest average fastball (97.9 mph) of any starting pitcher this season, the hardest slider (91.6) and hardest changeup (89.9), according to Fangraphs.
The crazy thing is, he commands all three pitches, as well as his slider, which he throws as hard as -- ahem -- 95 mph.
The Nats did not score after Rendon's one-out single put runners on first and third in the second inning; in fact, they did not advance a runner to second base the rest of the night.
Seriously, if Mets manager Terry Collins had to pick an All-Star Game starter tomorrow, whom would he choose?
Cubs right-hander Jake Arrieta leads the majors with a 1.29 ERA and .451 opponents' OPS. Dodgers lefty Clayton Kershaw has a 1.67 ERA, 88 strikeouts . . . and four walks.
Collins, who first became acquainted with Kershaw as the Dodgers' farm director, said Kershaw against the Mets last Thursday was as good as he has ever seen him.
Then there is Syndergaard, whose numbers aren't quite as gaudy as Arrieta's and Kershaw's, but who might be the most intimidating pitcher in baseball at the moment -- and, of course, pitches for Collins' team.
Syndergaard has struck out eight or more hitters in 15 of his first 32 career starts, a total exceeded by only Dwight Gooden, Kerry Wood, Yu Darvish and Hideo Nomo since 1913, according to the Mets.
His career strikeout-to-walk ratio? Nearly 6-to-1.
Consider another at-bat from Tuesday night, one that was even more scintillating than the strikeout of Rendon.
With a runner on first and two outs in the sixth, Syndergaard fell behind Bryce Harper 3-0. A threat seemed imminent -- Harper had gotten ahead 3-0 in 16 previous plate appearances this season, and walked every time.
Three pitches later, Harper became strikeout No. 10.
On 3-0, he took a called strike on a 98-mph fastball over the outside corner -- a pitch that some Nationals felt was ball four.
On 3-1, he swung through a 91-mph changeup.
And on 3-2, he swung through a 92-mph slider in the dirt.
Many pitchers want no part of Harper, who leads the majors in walks. But Harper seemed almost incredulous when a reporter asked if he expected Syndergaard to come after him.
"He throws 100," Harper said. "He's going to come after me. I think anybody who has 100 mph is going to come after somebody."
The word Collins used was "fearless." Of course, we all would be fearless if we stood 6-foot-6 and could throw 100 mph with almost pinpoint control.
Mets third baseman David Wright offered the most vivid assessment of Syndergaard earlier this season, comparing him to a video-game character that you construct and "put all the abilities up to max 10."
Stuff, command, presence.
Strike one, strike two, strike three.
---
---