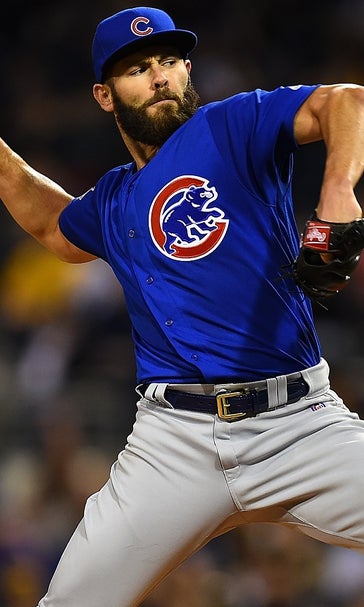 Jake Arrieta continues his dominance to improve to 6-0
May 3, 2016

PITTSBURGH -- Seven months later, the Pittsburgh Pirates still can't hit Jake Arrieta.
Then again, they're hardly the only ones.
The Chicago Cubs ace scattered two hits in seven shutout innings in a 7-1 victory that looked more than a little like Arrieta's dominant performance in an NL wild-card playoff win at PNC Park last October. Arrieta (6-0) allowed only singles to Sean Rodriguez in the second and Francisco Cervelli in the seventh, striking out five and walking two while lowering his ERA to 0.84. He became the second six-game winner in the major leagues after Chris Sale of the Chicago White Sox.
"He struggled early, then once he finds out where the ball is going, everything takes off for him," Chicago manager Joe Maddon said. "He's going to keep going down this path with his skill and the way he works."
Kris Bryant had three hits for the Cubs, who have won seven of eight and moved five games ahead of Pittsburgh in the NL Central.
"We had some good at-bats right out of the shoot," Maddon said. "We did some good things early. We put them a bit on their heels and that's always important in a game like tonight."
Jon Niese (3-1) gave up six runs and nine hits over five innings while losing for the first time since the Pirates acquired him from the New York Mets in an offseason trade.
Two starts removed from his second career no-hitter, Arrieta kept on going. His only real trouble spot came in the first, when he issued consecutive walks to John Jaso and Andrew McCutchen. A strikeout, a fielder's choice and a harmless grounder back to the mound later, Arrieta had his bearings.
The Pirates could do little to stop him even with manager Clint Hurdle using an unorthodox lineup that included Matt Joyce in right field thanks in large part to his career .500 batting average (7 for 14) against Arrieta. Yet, the last time Joyce faced Arrieta was in 2013, when Arrieta was struggling in Baltimore. Not anymore.
"He's facing a different guy now," Arrieta said.
Joyce went 0 for 3 with Arrieta in the game and Pittsburgh didn't get a runner over his final six innings.
"He doesn't get out of his zone," Joyce said. "I read after the game that this was the first time in his career he walked the first two hitters in a game but it didn't faze him one bit. He wasn't upset with himself. He wasn't frustrated. It's pretty amazing stuff."
The Cubs have won each of Arrieta's last 19 starts. He became the first Chicago pitcher to win each of his first six starts in a season since Mordecai Brown won his first 11 starts in 1908, which is also the last time the Cubs won the World Series.
Arrieta is doing his best not to get caught up in his own hype even as his numbers become ever more impressive.
"You try to enjoy it, but it's short lived because of the goals we have here," he said. "We play so many games, it's smart to get on to the next page."
Pittsburgh wants to be in the mix with Chicago and St. Louis, but the first series of what is becoming a hotly contested rivalry has been decidedly one-sided. The Cubs have outscored the Pirates 14-3 in the first two games.
This one lacked the vitriol that accompanied Chicago's 7-2 romp on Monday night Maddon traded words with several Pirates. Maybe because Chicago was too busy getting to Niese, obtained for popular second baseman Neil Walker.
Niese has benefited from the second-best run support in the NL, one of the reasons he came in undefeated. The Cubs, however, wasted little time taking control. Chicago jumped in front 2-0 in the second on a run-scoring groundout by Javier Baez and an RBI single by Arrieta. The Cubs tagged Niese for four more runs in the fourth as Niese struggled with his command. Addison Russell scored on a wild pitch, Jorge Soler and Bryant followed with RBI singles and Rizzo smacked a run-scoring double as Niese's ERA rose to 5.84.
That was more than enough offense for Arrieta, who left after 99 pitches and his winning streak firmly intact.
Rodriguez scored Pittsburgh's only run in the eighth on Jaso's single.
TRAINER'S ROOM
Cubs: Placed OF Matt Szczur on the 15-day disabled list with a strained right hamstring and brought up OF Ryan Kalish from Triple-A Iowa. Szczur injured the hamstring during a rundown between third and home in the fifth inning Monday night. Kalish hit .368 in 70 plate appearances at Triple-A. The Cubs also transferred INF Christian Villanueva to the 60-day DL. ... OF Jason Heyward was given a second straight day off while nursing a sore right wrist.
UP NEXT
Chicago will look for the sweep when Jon Lester (2-1, 1.83) faces Pittsburgh's Juan Nicasio (3-2, 3.33.) Lester is 2-2 with a 1.86 ERA in four starts against the Pirates. Nicasio is coming off seven shutout innings against Cincinnati last Friday.
---
---