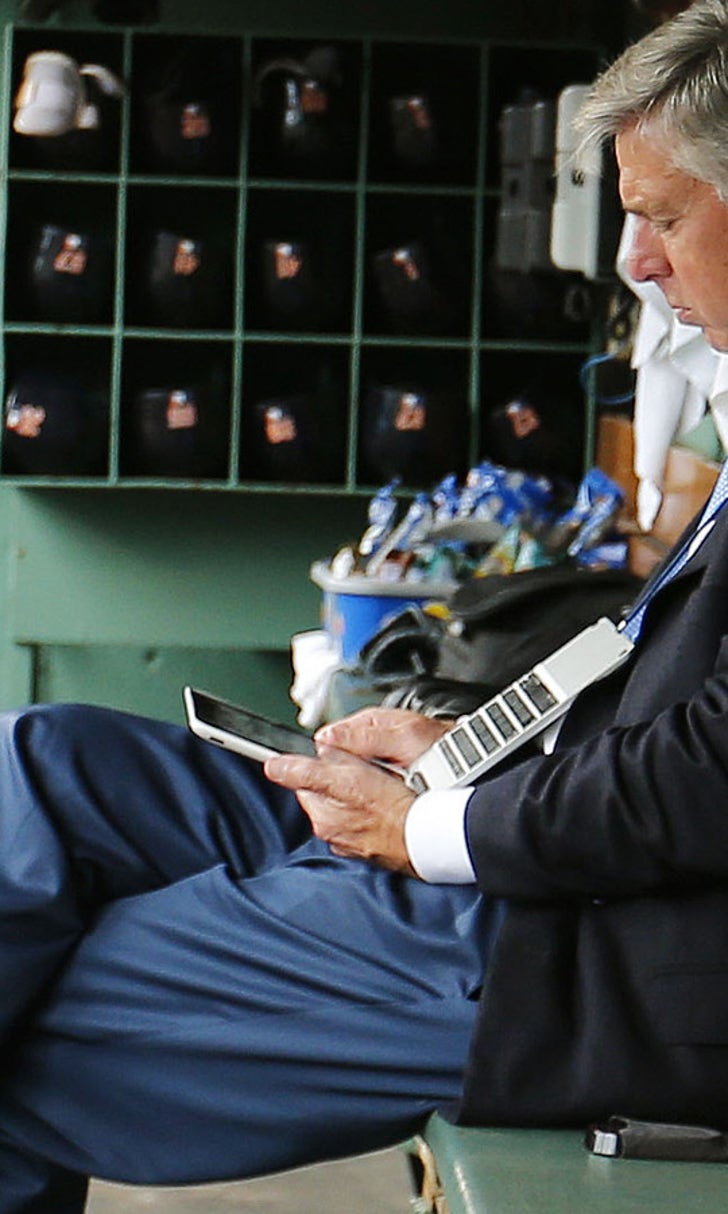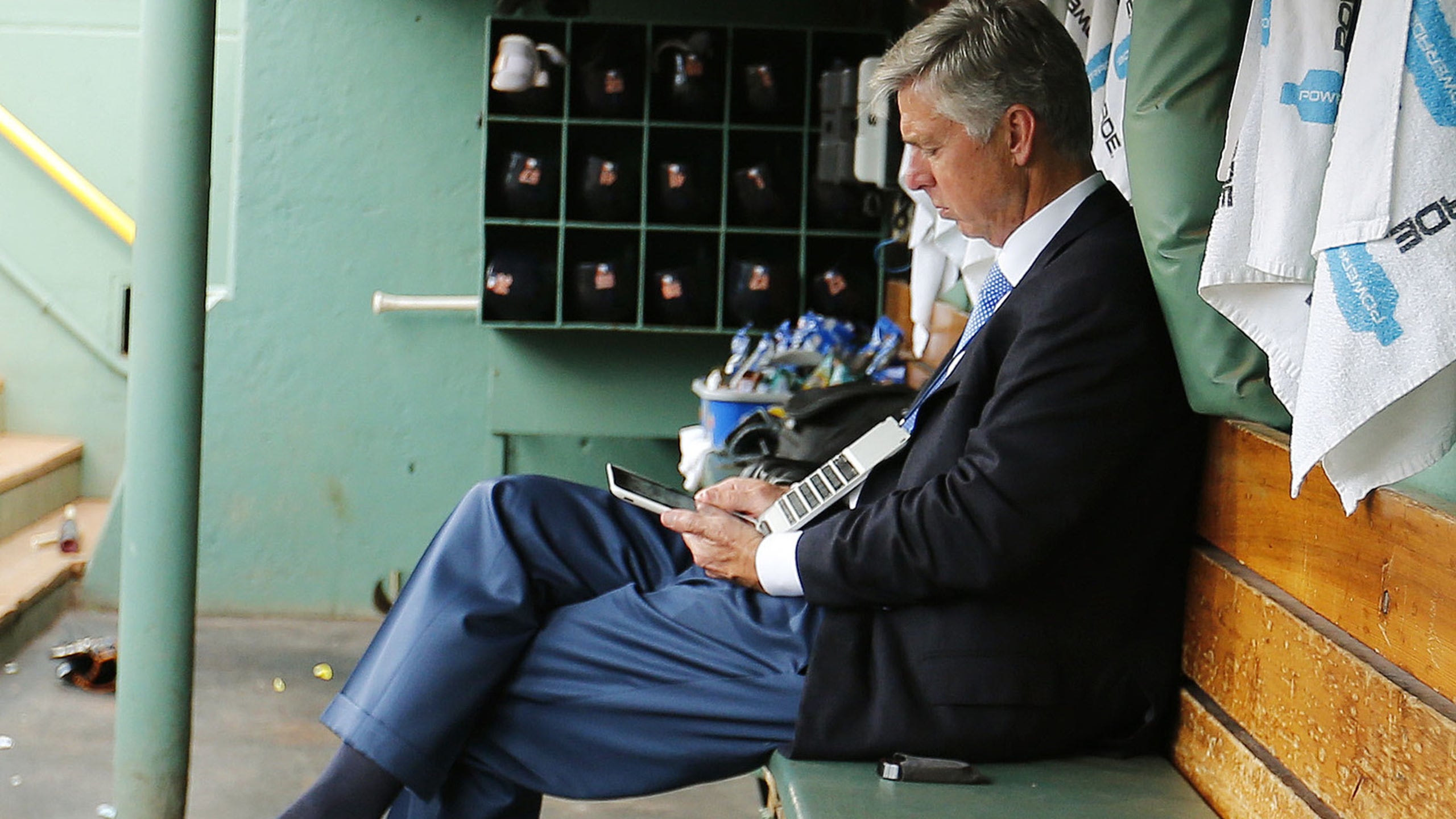 Dombrowski faces immediate challenges as Red Sox president
BY foxsports • August 21, 2015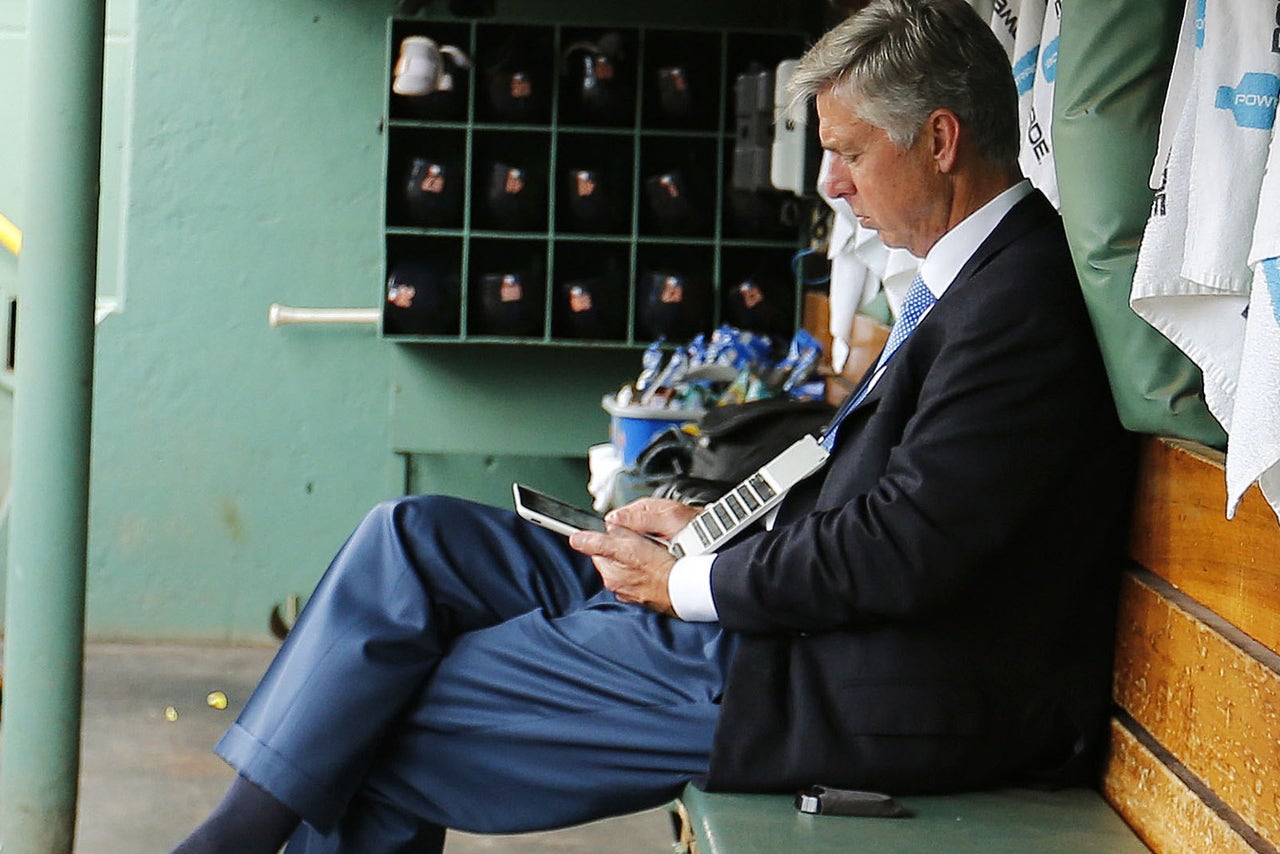 by Ian Casselberry
On Wednesday, the Boston Red Sox officially announced Dave Dombrowski as their new team president. It was a rather stunning move, if for no other reason than its timing. Dombrowski was rumored to be considered for other opportunities throughout MLB, and Boston already had a general manager in Ben Cherington. But owner John Henry saw the chance to bring in a more proven commodity — one whom he's worked with before — and made what looks like a relatively ruthless, but potentially prosperous decision.
Obviously, Dombrowski would not have this new job if there weren't significant moves to be made in lifting the Red Sox out of last place, a standing that fell well below expectations this season. But he also has far more to work with, especially with Boston's minor-league system, than he had with the Tigers. That should help him address the pressing matters that immediately face him in Boston.
Who's the new GM?
The first order of business will be to hire a general manager. Dombrowski held both president and GM duties in Detroit, but stated in his introductory press conference that running the front office is a bigger job in Boston and will require some help. That sort of setup is developing into a standard among new MLB front offices.
Jed Hoyer is the Cubs' GM, but there's little doubt that president Theo Epstein is the main decision-maker. The Dodgers have a similar dynamic with GM Farhan Zaidi working under team president Andrew Friedman. But this might not be a new dynamic for Dombrowski, so much as a difference in job titles. With the Tigers, Al Avila (now Dombrowski's successor) was the assistant GM while Dombrowski held the main title. But were the job duties and delegated responsibilities all that different than they will be in Boston?
Most of the chatter in baseball points to former Braves executive Frank Wren taking GM duties under Dombrowski with the Red Sox. Other former GMs Dan O'Dowd and Jerry Dipoto (who was recently hired by the Red Sox on a temporary basis as an evaluator) could also be up for the job.
Getting starting pitching power
Dombrowski was rather candid when asked about his plans to improve the Red Sox pitching staff, saying, "I guess we need to find some better pitching." His focus will almost certainly zero in on the starting rotation. During the spring, Boston downplayed the sentiment that the rotation needed to find a No. 1 starter, but the lack of an ace was glaringly apparent this season. Fortunately for the Red Sox, one of Dombrowski's strengths in Detroit was constantly pursuing and developing big starting pitchers who throw strikeout stuff.
In the meantime, Boston has promising young pitchers in Matt Barnes, Brian Johnson and Henry Owens who could either help fill out next year's rotation or provide two appealing trade chips to use in remaking the roster. Dombrowski had little hesitance to deal top prospects with the Tigers. In fact, another of his strengths might have been successfully selling young pitchers such as Andrew Miller and Jacob Turner to rival GMs in order to facilitate impact trades.
Also working to Boston's great fortune is this winter's free-agent market, which is top-heavy with strong starting pitching. Failing to acquire Cole Hamels or Johnny Cueto might have been a factor in Cherington being replaced, but Dombrowski can get a No. 1 pitcher without having to surrender top prospects. Could he reunite with David Price as a free agent? Besides Cueto and Price, Jordan Zimmermann (though not a classic power pitcher) could also fill the ace role in Boston. And Zack Greinke is expected to opt out of his contract with the Dodgers.
Breaking up the logjam
Something else Cherington failed to do during the offseason was utilize the Red Sox's surplus of outfielders to help improve the starting pitching and bullpen. Perhaps that's because the right deal just never developed, and Cherington was smart to hold onto his pieces (especially Mookie Betts). But Dombrowski typically doesn't waste a resource that can be turned into immediate help, such as when he dealt Rick Porcello to Boston in return for Yoenis Cespedes.
Jackie Bradley Jr.'s August explosion — a .340/.438/.774 slash average with five doubles, three triples and four home runs — either puts him in line for a starting position next season or makes him an extremely appealing trade candidate. But Dombrowski and manager John Farrell (assuming he's not replaced) might opt to roll with Bradley, Betts and Rusney Castillo in the outfield, either moving Hanley Ramirez to a different position or off the roster entirely.
Ramirez might turn out to be Dombrowski's biggest offseason project. Cherington believed Ramirez could play a serviceable left field, with his potent bat offsetting his defensive shortcomings. But Ramirez has been a disaster in the outfield, routinely turning flyball or live-drive outs into base hits with tentative play and costing the Red Sox -17 Defensive Runs Saved this season.
Trade a bad contract
Dombrowski has been willing to sacrifice defense for offense before, such as when Miguel Cabrera was moved to third base to accommodate Prince Fielder, which pushed Nick Castellanos out to left field. But as he said during his presser, a player moving out of position to keep his bat in the lineup has to "crush the ball." Ramirez's .735 OPS probably doesn't qualify, despite his 19 home runs. Dombrowski's preference has largely been to emphasize defense whenever possible, especially up the middle. With better defensive options available, it's difficult to imagine Boston putting Ramirez in the outfield again next year.
But which position would Ramirez play instead? He's likely best as a designated hitter, but David Ortiz mans that position — at least through next season. First base is a possibility, unless the team believes that Travis Shaw's August production (six homers, 1.305 OPS) can sustain itself. (That could make him trade bait, too.) But Pablo Sandoval has struggled playing third base this year (-13 Defensive Runs Saved) and might need to move to first.
It might come down to which of Ramirez's or Sandoval's contracts Dombrowski can move. Back in 2002, his diatribe about trying to trade the Tigers' several bad contracts was embarrassingly caught on tape. But Dombrowski could go on a similar rant regarding Cherington's two big free-agent signings from last winter.
Ramirez is due at least $66 million over the next three years, unless he triggers a $22 million vesting option for 2019. Sandoval, meanwhile, is owed $75 million on the remaining four years of his deal (presuming Boston doesn't pick up his $17 million option for 2020). Not only could his contract be more difficult to trade, but the Red Sox might prefer keeping his left-handed bat to balance out the lineup. Not to mention that Sandoval has proven capable of playing a defensive position throughout his career.
All of this gives Dombrowski a pretty full desktop as he moves into his office at Fenway Park. Red Sox owner John Henry might have seen these pressing matters and more on the horizon, which is why he advocated for bringing in Dipoto and was reportedly also talking to Pat Gillick about coming on as a senior adviser. He knew Cherington needed help. That is, until Dombrowski became available and just decided to hand the team over to someone who's proven more capable during his nearly 40 years in baseball.
The Red Sox's roster and farm system present a much more appealing opportunity and challenge for Dombrowski than he faced in Detroit (or with the Mariners and Nationals, who reportedly also showed interest in hiring him). Henry knows the resources that his team has, and though Cherington played a large role in assembling those pieces, there was obviously doubt as to whether he could properly utilize them toward winning another World Series. Dombrowski gets to pick up the baton and has to be relishing the job ahead of him.
More from The Outside Corner:
---
---