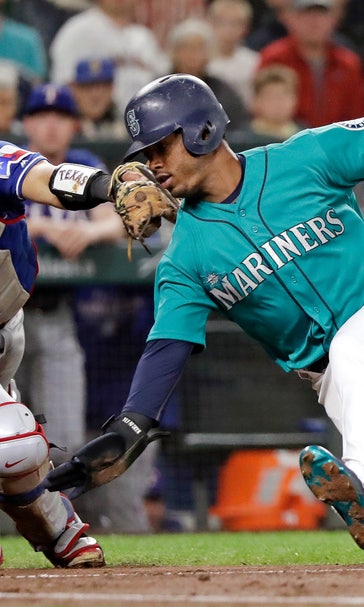 Cano, Maybin lead Mariners over Rangers 12-6
September 29, 2018
SEATTLE (AP) — Jean Segura made a smart slide to score. It's the roundabout path he took toward the plate that bothered Seattle manager Scott Servais.
Servais pulled Segura for a lack of hustle after two innings, saying he wanted to send the All-Star shortstop a message Friday night during the Mariners' 12-6 win over the Texas Rangers.
"We're going to play hard through the end of the year. I didn't think Jean gave a really good effort trying to score from second and he came out of the game," Servais said.
Segura is hitting .301 after a prolonged dip in the second half. Servais didn't commit to play Segura in the final two games of the regular season.
The Mariners scored seven times in the second inning, helped by four walks from Martin Perez (2-7) and a three-run error by right fielder Nomar Mazara on a ball hit by Segura.
Perez had allowed two runs when he was replaced by Jeffrey Springs with two outs and the bases loaded. Segura hit a flyball and it looked as if it would be an easy catch for Mazara at the front of the warning track, but the ball skipped off the top of his glove, clearing the bases to make it 5-0.
Segura reached second on the play, and Cano followed with a single to right-center. Segura barely scored, needing to twist around catcher Robinson Chirinos to make it safely home. A double by Nelson Cruz accounted for the final run of the inning.
Cano had four hits and Cameron Maybin had four RBIs as Seattle built a nine-run lead after three innings.
Cano was suspended for 80 games this season after testing positive for a performance-enhancing drug. Since being reinstated, he is hitting .319 with six homers and 28 RBIs.
He wanted to play well on Fan Appreciation Night.
"We went out there tonight and showed people how much we care and how much we respect the fans," Cano said. "The games don't mean anything, but we're still going to compete. You want to always give 100 percent."
Maybin had three hits and Cano drove in two runs and scored twice.
"There were some mistakes made, but we're going to focus on the positives," Rangers interim manager Don Wakamatsu said. "We talked about finishing hard and playing to the end of the game. We had chances to come back and tie that ballgame after being down. I'm proud of those guys."
Wade LeBlanc (9-5) had a rough outing, allowing five earned runs on six hits in five innings, but ended the season with career highs in innings (162), starts (27) and strikeouts (130).
"This season definitely was a huge blessing," said LeBlanc, who joined the team in late March and became a starter in May. "If you had asked me in March, I'd be hard-pressed to say I'd be standing here. It's been a fun experience to be here with these guys and go to battle every day. It didn't turn out where we wanted, but there's not a lot of teams it does work out for."
Seattle added two runs in the third on a double by Maybin and a single by Cano that made it 9-0. Maybin had an RBI double one inning later and a two-run single in the eighth.
Chirinos hit a two-run homer and the Rangers scored four runs off LeBlanc in the fourth. He gave up two more runs in the fifth.
LeBlanc was asked if the long time in the dugout had a detrimental effect on his pitching.
"Yeah, how selfish of those guys to keep scoring all those runs," LeBlanc joked. "Nah, it just sometimes the guy that finishes the game is completely different than the guy who starts it. I threw pitches for the first three innings probably the best I've thrown the whole second half. But everything was awful in the fourth and fifth inning."
The Mariners (87-73) were 46-25 on June 16, but have gone 41-48 since.
"How we got there is a little crazy, with the hot start and tailing off in the second half," Servais said. "Overall there will be some good things come out of the season, but we're still not where we want to be as a team."
MILESTONES
Adrian Beltre doubled to right-center in the Texas fourth for the 1,705th RBI of his career, moving him ahead of Frank Thomas and alone in 21st place on the all-time list. Cano's double in the sixth tied him with Lou Gehrig for 40th on the all-time list at 534.
TRANSACTIONS
The Rangers purchased the contract of RHP Brandon Mann from Triple-A Round Rock. The move will give the Tacoma, Washington, native a chance to pitch in front of his friends and family. Mann will work out of the bullpen this week. He appeared in six games for Texas this year, posting a 6.14 ERA in 7 1/3 innings of relief.
TRAINER'S ROOM
Mariners: 2B Dee Gordon was not in the lineup for the third consecutive game after fouling a pitch off his foot Tuesday night. "We'll wait and see," Servais said. "I wanted to give Dee a couple of days off and we'll see if he's able to go (Saturday) night."
UP NEXT
Rangers: RHP Adrian Sampson (0-2, 4.96 ERA) will make his fourth start, going against his former teammates for the first time. Sampson made one start for the Mariners in 2016, taking the loss in Boston when he allowed four runs on eight hits in 4 2/3 innings. Sampson, 26, is a Seattle-area native who attended Skyline High School in Sammamish. He missed his senior season after having Tommy John surgery in 2009.
Mariners: LHP James Paxton (11-6, 3.85 ERA) will make his 28th and final start of the season. He needs one more strikeout to reach 200 — the last Mariners pitcher to fan that many since Felix Hernandez in 2014. Paxton already has pitched more innings than any season of his career, but he's hoping to go at least 5 2/3 innings to reach 160 for the year. A win also would tie his career high of 12 last season. Servais announced that LHP Roenis Elias will start the season finale Sunday.
---
---