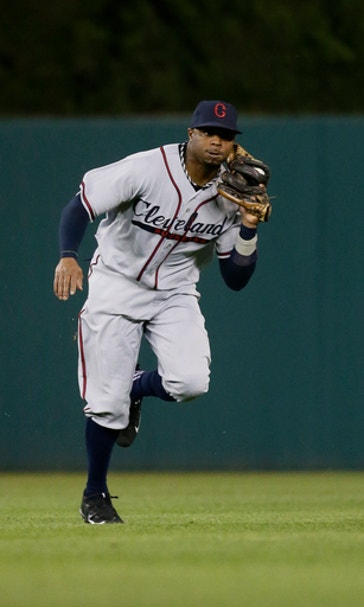 Candelario's homer in 12th gives Tigers 4-2 win over Indians
June 9, 2018
DETROIT (AP) A bit of bad luck ended Jeimer Candelario's first chance to end the game in extra innings.
On his second opportunity, he made sure luck wouldn't be a factor.
Candelario hit a 2-0 fastball from Cody Allen deep into the right-field stands in the 12th inning, giving the Detroit Tigers a 4-2 victory over the Cleveland Indians on Saturday.
''When the ball hit my barrel, all I could think was, `Wow!''' Candelario said. ''I knew it was gone.''
In the 10th, Candelario came up with one out and the bases loaded and hit a line drive right at shortstop Francisco Lindor with the infield drawn in.
''That was frustrating, because I knew that was a huge chance, and I hit it right at Lindor,'' Candelario said. ''I was hoping I'd get another chance.''
Miguel Cabrera singled off Allen (2-3) with two outs, and Candelario followed with the first game-ending homer of his career.
''That's huge, because he's been struggling a bit - the first time he's really done that - and then he missed that shot in the 10th,'' Tigers manager Ron Gardenhire said. ''That was a great swing, a loud noise and a big smile.''
Indians manager Terry Francona didn't want to use Allen - who took a grounder off his foot while getting the save on Friday - but the closer told his manager he could pitch.
''He just got behind in the count and had to come in with a fastball,'' Francona said.
Warwick Saupold (4-1) worked two scoreless innings of relief. He entered in the 11th with two on and nobody out, got out of the jam and then pitched a pitched 12th.
''We put him in a really bad situation, and he saved us,'' Gardenhire said.
Tigers starter Mike Fiers allowed one run on five hits in seven innings.
''Our offense has been in a bit of a slump, and their starter was really firing, so I knew I had to be good to keep us in the game,'' Fiers said.
Mike Clevinger gave up two runs on four hits in 6 2/3 innings.
Detroit took a 1-0 lead in the first on Victor Martinez's two-out RBI single.
Yan Gomes tied the game with a homer on the first pitch of the third inning, the 13th home run hit off Fiers in 12 starts.
Clevinger retired 17 straight batters after Martinez's hit, but the Tigers loaded the bases with three straight singles with one out in the seventh. Iglesias took a 3-2 fastball down and away to give the Tigers a 2-1 lead.
''Iglesias put together a good at-bat, especially that late in the game,'' Clevinger said. ''I just pulled the last two fastballs.''
Rajai Davis hit reliever Louis Coleman's first pitch of the eighth for his first homer of the season, tying the game at 2.
Cleveland's best chance in extra innings came in the 11th. Buck Farmer walked the first two hitters, bringing Saupold out of the dugout. Chisenhall popped up a bunt, and the next two batters couldn't advance the runners.
Chisenhall has 14 sacrifice bunts in his eight years in the majors.
''That was frustrating, because it directly impacted winning the game,'' Francona said. ''We try not to ask guys who aren't bunters to bunt, but we haven't been getting them down.''
The start of the game was delayed 1 hour, 51 minutes by rain, finishing nearly six hours after the scheduled start.
The Tigers played in Detroit Stars jerseys, while the Indians wore Cleveland Buckeyes uniforms to honor Negro Leagues Weekend.
DOUBLE TRIPLE CROWN WINNERS
As Justify was hitting the backstretch at Belmont Park en route to his Triple Crown victory, Cabrera, winner of baseball's Triple Crown in 2012, stepped to the plate in the third inning. He grounded out as his equine counterpart reached the far turn.
TRAINER'S ROOM
Indians: 1B Edwin Encarnacion sat out after injuring his ankle while running the bases on Friday. He is not expected to miss much time. ... OF Brandon Guyer (neck strain) could be activated when the Indians travel to Chicago on Monday.
Tigers: RHP Jordan Zimmermann will make a rehab start with Class-A West Michigan on Monday. He has been on the disabled list since May 5 with shoulder problems. He has already made two rehab starts with Triple-A Toledo.
UP NEXT
The teams finish the three-game series on Sunday, with Cleveland's Corey Kluber (9-2, 1.96 ERA) facing Detroit's Artie Lewicki (0-1, 3.86).
---
More AP baseball: https://apnews.com/tag/MLBbaseball
---
---