Braves' Newcomb falls 1 strike short of no-hitter vs Dodgers
July 29, 2018
ATLANTA (AP) Sean Newcomb thought his near no-hitter would be the story of the day.
Then he picked up his phone.
Newcomb said he had forgotten about racist, homophobic and sexist tweets he sent as a teenager, but was quickly reminded a few minutes after speaking with the media about the Atlanta Braves' 4-1 win Sunday over the Los Angeles Dodgers.
After seeing that he had been called out, the 25-year-old Newcomb said it was his idea to bring reporters back to the clubhouse so he could address the issue before he went home.
The old tweets overshadowed his career-best moment.
''This is something obviously that can't be happening,'' he said. ''I feel bad about it. I don't mean to offend anybody. It was six, seven years ago. I didn't mean anything by it and I definitely regret it, for sure.''
Newcomb came within one strike of pitching the first no-hitter by the Braves since 1994, denied when Chris Taylor sharply singled with two outs in the ninth inning.
''I was happy to get to that point and annoyed it was just a groundball through the hole,'' Newcomb said. ''In hindsight, you'd like to throw a different pitch or something, but I will just take that and go forward.''
Newcomb had a 2-2 count when Taylor hit a hard grounder beyond the reach of diving third baseman Johan Camargo. That came on the career-high 134th and final pitch by the lefty.
''I was crushed,'' Braves catcher Kurt Suzuki said. ''It felt like we lost, like that was a walk-off hit, but it happens. We were really close.''
Newcomb (10-5) exited to a thunderous standing ovation from the sellout crowd at SunTrust Park as manager Brian Snitker removed him. Snitker took the ball and gave it back to Newcomb as a keepsake - instead, Newcomb simply tossed it toward the Atlanta dugout as he walked off, wanting no souvenir of the near-miss.
Kent Mercker was the last Atlanta pitcher to throw a no-hitter, doing it 24 years ago at Dodger Stadium. There have been three no-hitters in the majors this year.
Less than an hour later, Newcomb was talking about his offensive tweets.
''I just wanted to apologize for any insensitive material,'' he said. ''It was a long time ago, six or seven years ago, saying some stupid stuff with friends.''
Major League Baseball dealt with a similar situation this month involving Milwaukee Brewers reliever Josh Hader on the night he pitched in the All-Star Game.
''Such inappropriate comments have no place in our game,'' MLB said in a statement. ''We are aware of this serious issue ... we will identify an appropriate course of diversity training for him in the Atlanta community.''
In a statement posted on Twitter, the Braves said they had spoken to Newcomb, calling him ''incredibly remorseful.''
''We find the tweets hurtful and incredibly disappointing and even though he was 18 or 19 years old when posted, it doesn't make them any less tolerable. We will work together with Sean towards mending the wounds created in our community,'' the team said.
Newcomb struck out eight and walked one against the NL West leaders. He retired the first 15 batters before walking Yasiel Puig to begin the sixth, and that was the only runner Newcomb permitted until the ninth.
Dan Winkler relieved Newcomb and gave up Manny Machado's RBI single before ending it on Matt Kemp's groundout.
Nick Markakis homered, doubled and drove in three runs as the Braves snapped a four-game skid and pulled within 1 1/2 games of the NL East lead.
Pitching past the seventh for the first time in 40 career starts, Newcomb worked fast, mixing a good fastball with sharp breaking balls. This is his second season in the majors, having gone 4-9 in 19 starts last year.
''He could've thrown 160 pitches and been fine, as evidenced to the last hitter,'' Snitker said. ''He got up to 95 (mph), probably had some of his best velocities. He kept attacking the strike zone, making them swing the bat and did a great job.''
Ross Stripling (8-3) was subpar in his second straight start, allowing four runs, seven hits and one walk in four innings. Stripling, a first-time All-Star, gave up seven hits and five runs, a season high, in a no-decision that the Dodgers lost last week at Philadelphia.
For Newcomb, a day that could've been nearly perfect had a dramatic letdown. His old social media comments cast some darkness on a big day for the Braves, who were also celebrating the Hall of Fame enshrinement of third baseman Chipper Jones in Cooperstown, New York.
STAY PROFESSIONAL
Braves TV broadcaster Joe Simpson spoke with Dodgers veteran Chase Utley before the game, meeting in a clubhouse office for approximately 10 minutes following his on-air criticism of Utley and his teammates for wearing T-shirts and shorts in batting practice Saturday. During a fifth-inning package about the Dodgers' pregame attire, Simpson said some players ''looked very unprofessional'' because they weren't dressed in apparel approved by MLB.
After they parted ways Sunday morning, Simpson and Utley declined to speak with reporters. Los Angeles manager Dave Roberts was pleased when told that Simpson met with Utley, but also expected a direct apology from the broadcaster. ''To take a shot at him and our guys, I just thought it was unfair,'' Roberts said.
UP NEXT
Dodgers: RHP Kenta Maeda (7-5, 3.27 ERA) will try to win his third straight decision as Los Angeles opens a four-game home series Monday against Milwaukee. Maeda allowed four runs and six hits in seven innings of a no-decision in his last start, a 7-4 loss at Philadelphia last Tuesday.
Braves: RHP Julio Teheran (7-7, 4.42) will try to improve on a 5.24 ERA in four starts this month as Atlanta opens a three-game home series Monday against Miami.
---
More AP baseball: https://apnews.com/tag/MLBbaseball
---
---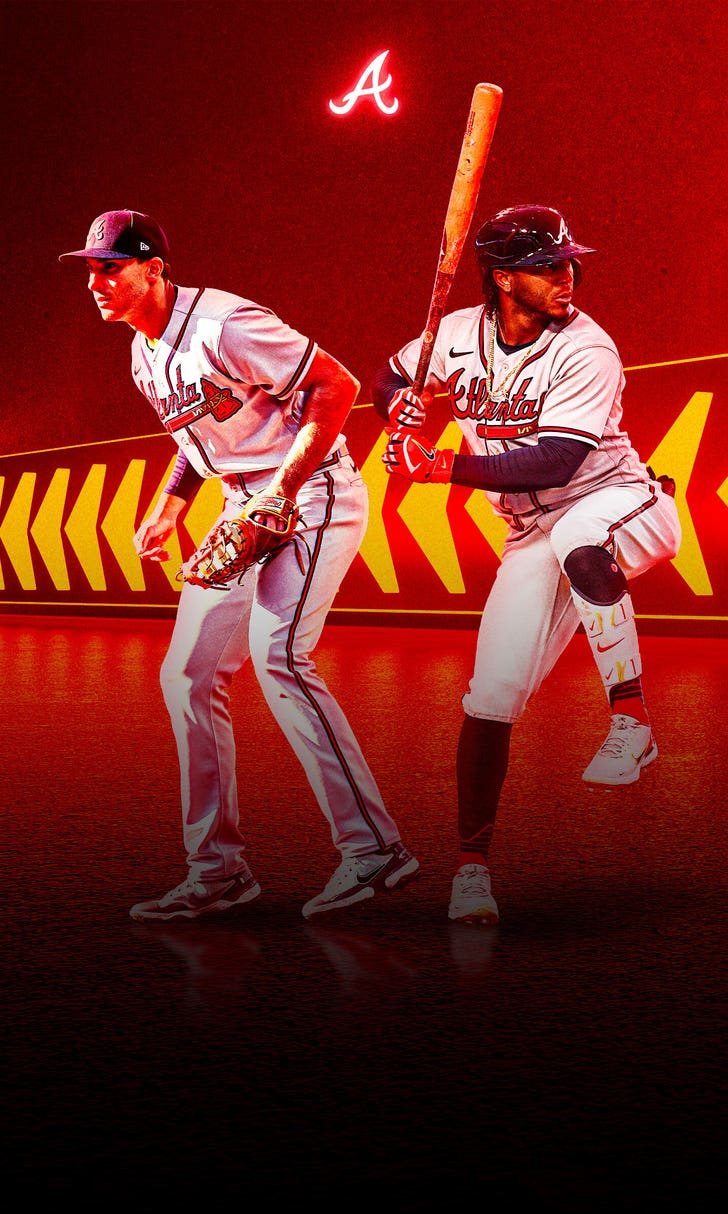 With Ronald Acuña Jr. nearing return, Braves confident despite slow start