The clueless fan's guide to the Masters
BY foxsports • April 6, 2016
This conversation between you and I, clueless fan, is not to teach you the rules of play or explain who's likely to win this year's tournament but to discuss the Masters tournament itself. So if you're chatting with your boss or a client, you'll have a clue.
The Masters is held at Augusta National Golf Club in Georgia and begins on Thursday morning. Beyond that, I'll assume you know next to nothing. "You" type your questions in bold. Let's go:
So why is the Masters called "A tradition unlike any other?" That seems a bit presumptuous.
Well ... okay. First of all, Jim Nantz said it, so it's not like the Masters gave itself that designation. But let's put it this way: Much of what makes the Masters so special is its traditions. First of all, it's the only major tournament that's played at the same course every year. There's a Par 3 Contest on Wednesday on its own separate course that's nicer than most regular courses. The tournament starts with golfing legends taking opening tee shots. The previous year's winner gets to pick the menu at the Champions Dinner held on Tuesday --
Oh that reminds me, what kind of meal options are there at Augusta? Could I get one of those concoctions they sell at baseball games?
Wait, you're actually going?
No, I'm just curious.
Right. No, nothing crazy on the menu but the good news is that the food prices are incredibly low, almost as if the menu froze in time in 1976. It's just a plain menu and you can stay fed all day for less than 10 bucks.
Notice there's no brands or anything on there. Everything they serve has a Masters label on it and that's it. There's no corporate advertising on the course and no corporate tents.
But the beer isn't exactly dirt cheap.
I mean, it's not $12 or whatever you'd pay at Yankee Stadium. Besides, people who attend aren't going there to get wasted. It's a crowd much more interested in the actual golf and the experience. It's a once-in-a-lifetime trip for many folks.
Kind of sounds like Disney World for golf fans.
Not a bad analogy. Except everyone there is pretty well behaved and there's no cell phones or cameras allowed once the tournament starts. If you get caught, they'll toss you. It's no joke. But most people know better and it's a congenial atmosphere. Of course the fans do get loud — the "roars" at the Masters really are unlike any other.
If the course is the same every year, doesn't it get easy for the regulars?
Not easy, but pros who have played the course more frequently certainly ought to have a better feel for the layout and the greens than the newcomers. Many of them memorize the curves and breaks of the greens, know where to get aggressive and where to stay conservative. That kind of thing. It's still a very challenging course with notoriously difficult, undulating greens. The course architects may adjust the location of hazards, add or remove some trees, change tee boxes around. So it's not exactly the same. Have you ever watched before?
You're asking me questions now?
Just go with it.
Yeah, I've watched a couple times but just flipping through.
Okay, so you at least know what the course looks like, but the telecast doesn't even do it justice. The course in person looks pristine, every blade of grass in its place, manicured very meticulously by a bevy of greenskeepers. You glance down on the the fairway and it almost looks like carpet. And one other thing that's difficult to observe on TV is how hilly the course itself is, not only the greens.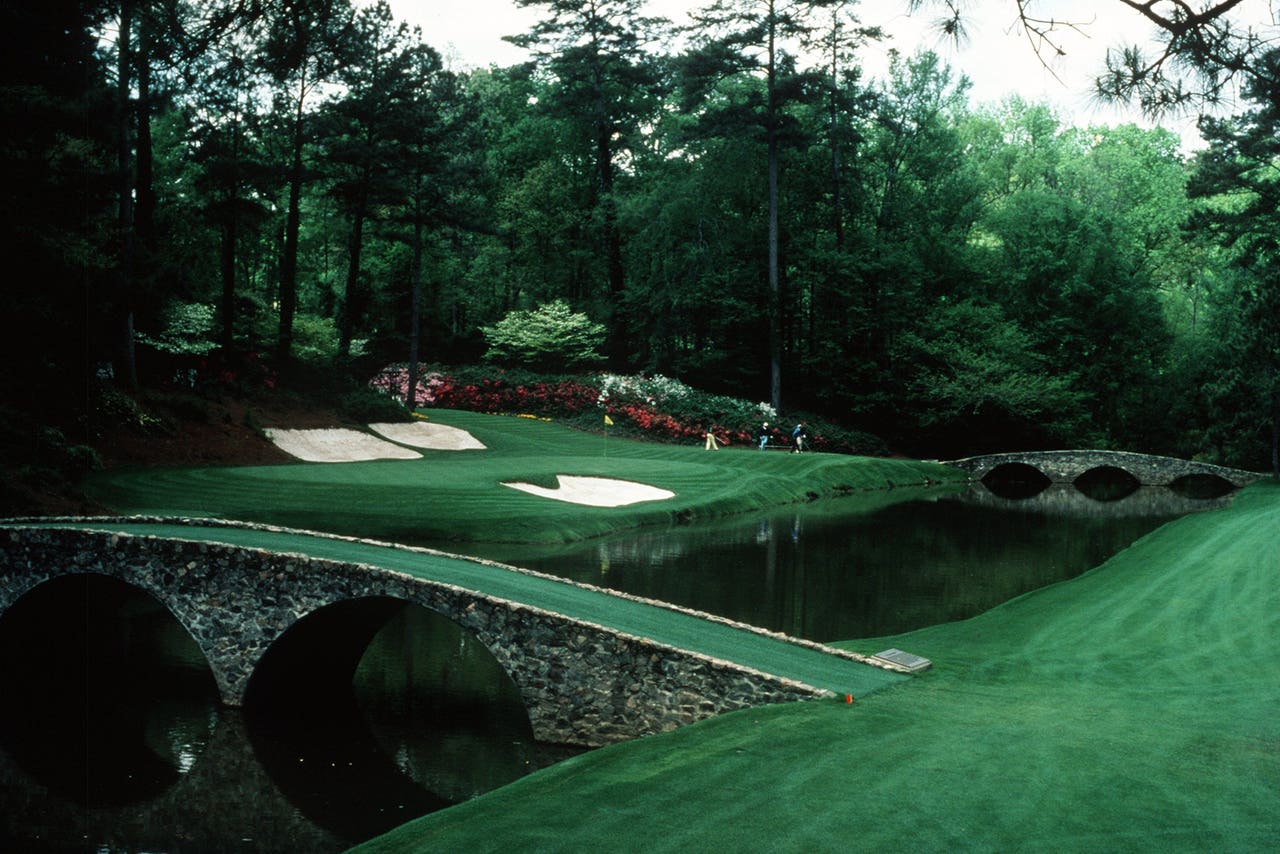 A scenic view of the infamous Amen Corner of the par three 12th hole during the 1992 Masters.
Is that why the winner get a green jacket -- because of the greens?
No. But thanks for bringing that up. Honestly I don't know why the settled on "Masters Green" for the color of the jacket, but that tradition of awarding the jacket originated with Bobby Jones, who co-founded the tournament in 1934. He observed a similar tradition at an event in England where captains were wearing red jackets.  
I don't think I'd have much use for a red or a green jacket.
Not that you'd have to worry about that, but the tournament's previous winners don't have a ton of sartorial use for the jacket either. The current champion gets to keep his with him for a year after winning. And after that, the club requires that that winner returns it to Augusta where it's stored in a designated coatroom with every other winner's.
I'm interested in all this, but I'm not sure I can actually watch any of it until the weekend.
You can check it out on your computer for the stream. After they make cut --
Cut? What is this, surgery?
It's just the word for when they reduce the amount of players that get to play the final two rounds on Saturday and Sunday. The official rule is that the top 50 players (including ties) plus any golfers within 10 strokes of the leader gets to advance. But you don't need to worry about that — just follow that big white leaderboard and focus on the names near the top.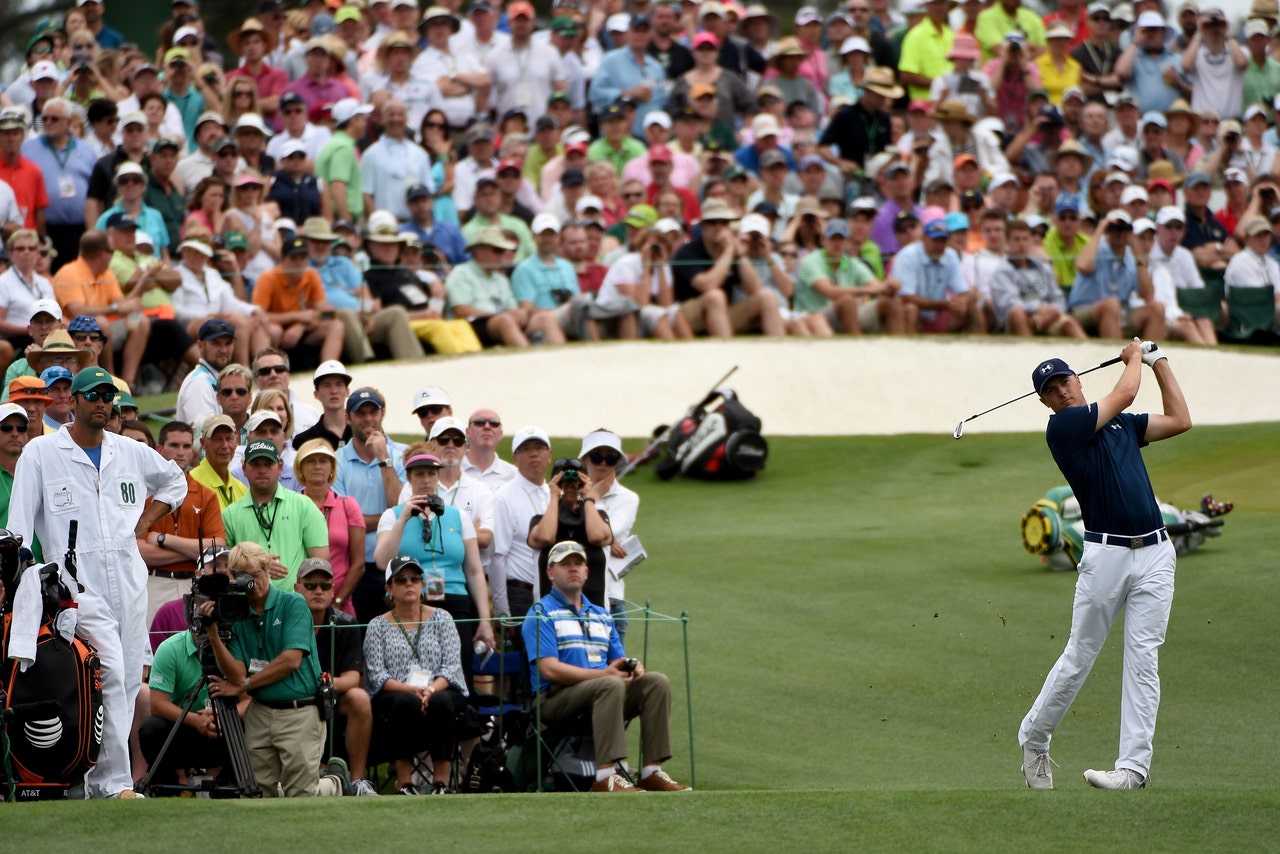 Jordan Spieth on the 3rd tee during the final round of the 2015 Masters at Augusta National Golf Club.
And to the victor goes the spoils!
You got that right. It's a large cash prize to the winner. Last year Jordan Spieth raked in $1.8 million as the winner, and even the guy who finished in 23rd won more than $100K.
Beyond that, the Masters champion automatically gets to play in the other three majors for the following five years, and he gets to play at the Masters for life. Not only is the green jacket highly coveted, it's really a career-changer for a lot of players.
Tiger Woods is probably going to win this, right?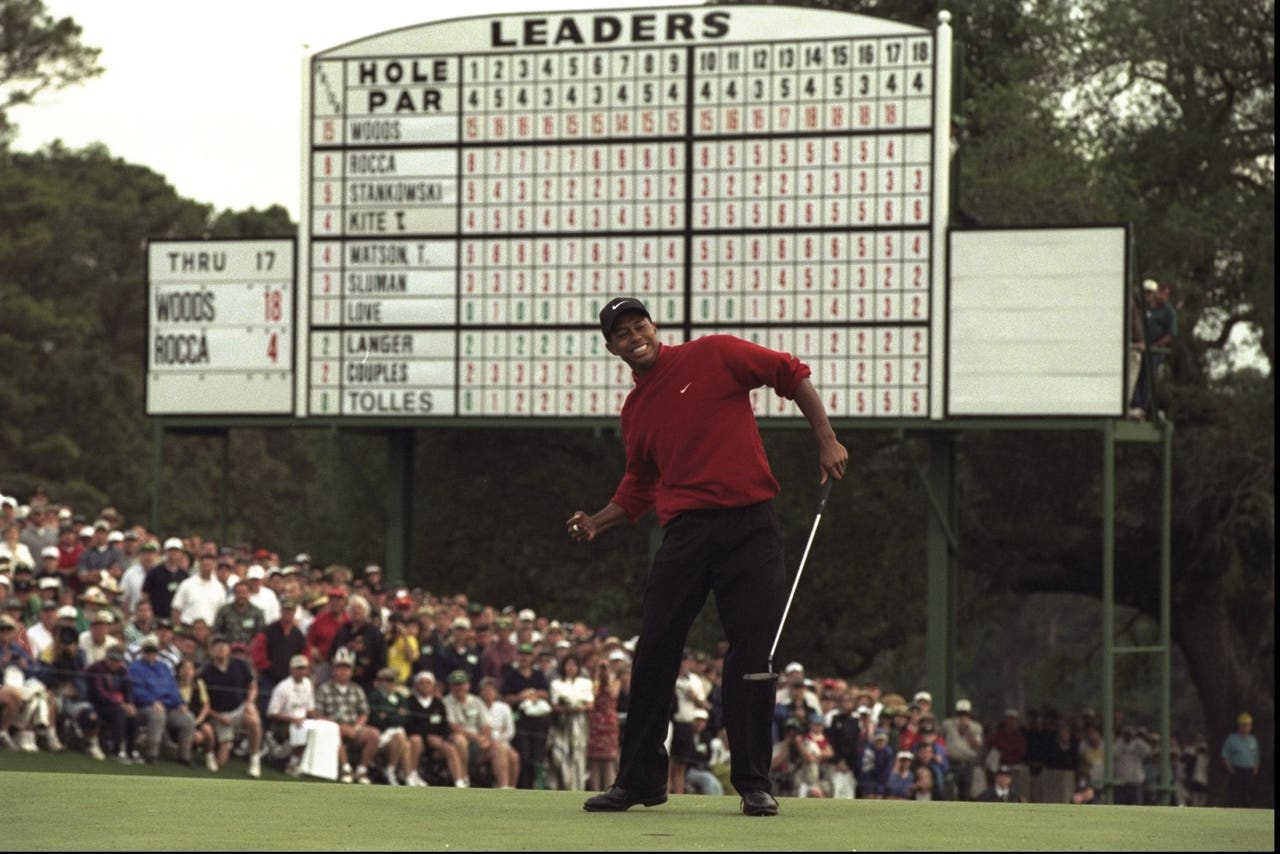 Tiger Woods celebrates after sinking a putt to win the Masters in 1997.
Actually, he's not even playing this year, he's --
What, does he have a date with some --
We're not even going there. He's injured. Do you have any other questions?
Yeah, so whoever has the best score after the fourth and final round on Sunday is the winner, correct?
Yes, the best aggregate score, lower being better, unless there's a tie and it goes to a playoff.
Wait, there likes a regular season and playoffs?
Now you're just messing with me. You're on your own, pal.
---
---