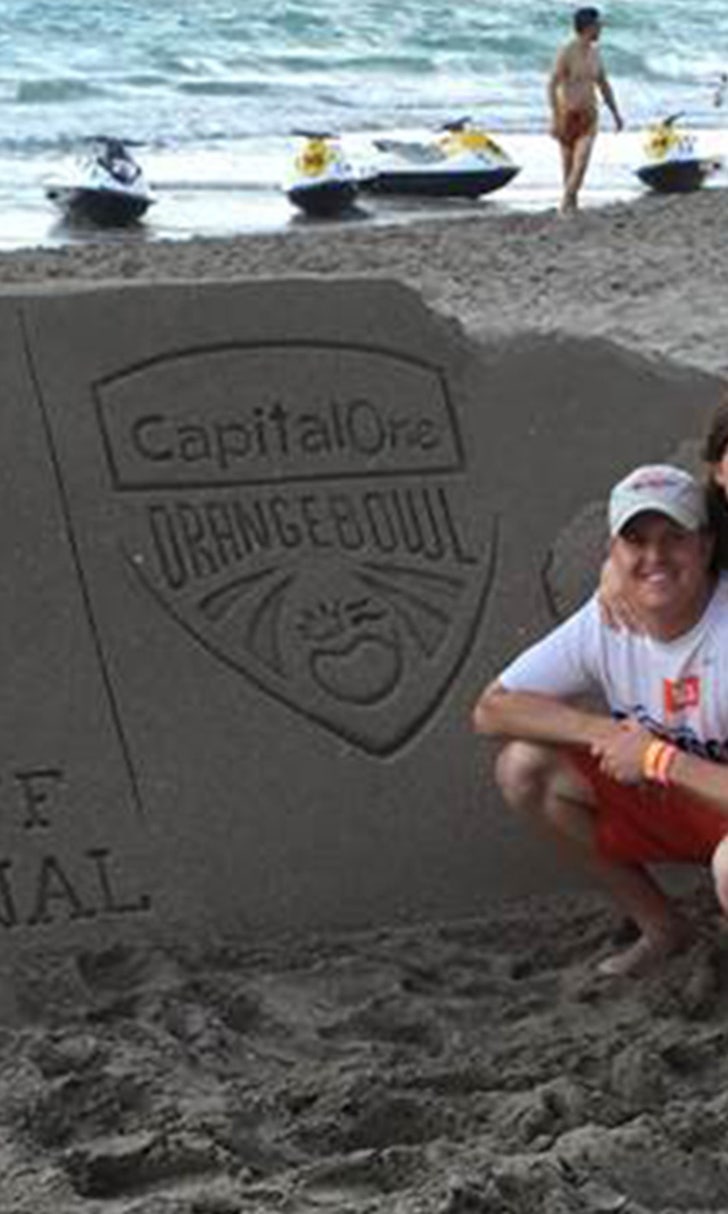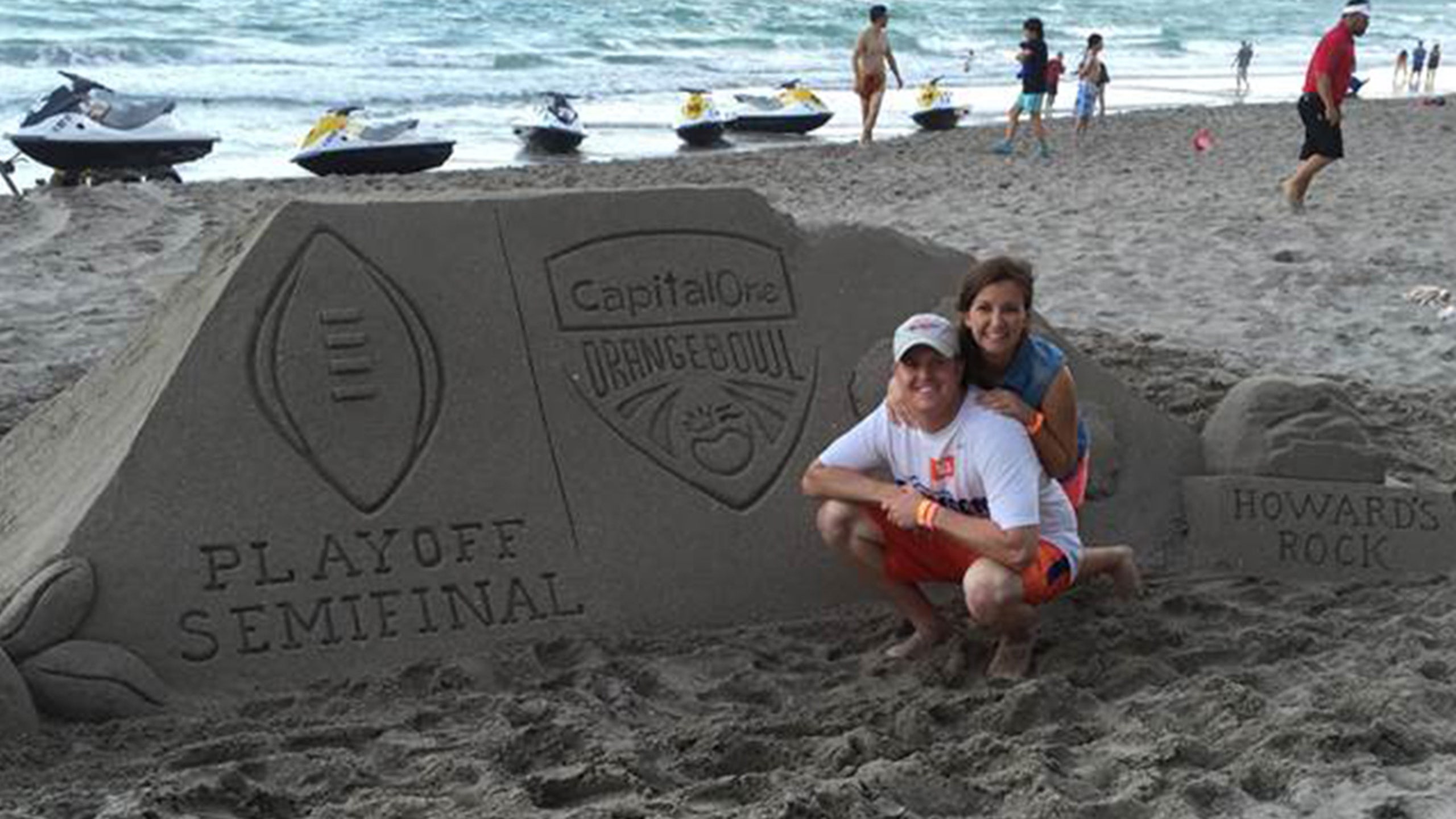 How Clemson student coach went from UAB shutdown to title game in a year
BY Bruce Feldman • January 10, 2016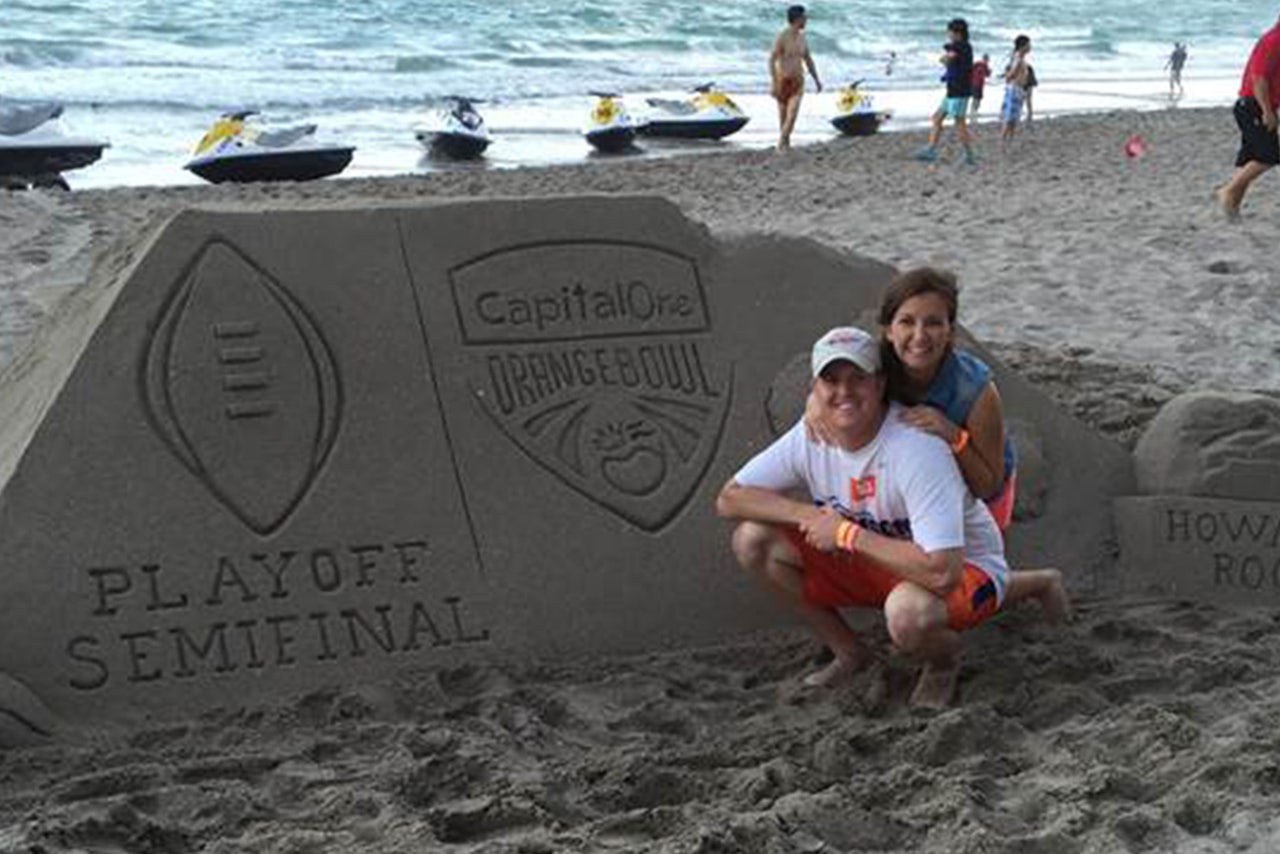 SCOTTSDALE, Ariz. -- He is perhaps the most anonymous member of either team playing in the 2016 national title game. He also has traveled the most unique route over the past year to get to Monday night's showdown between No. 1 Clemson and No. 2 Alabama. 
His name is Mike Miller. A little over a year ago, he was a member of the UAB football team that was just about to go under. Ironically enough, Miller's path to a spot on the Clemson Tigers staff as a student assistant coach was paved by an old Alabama QB who 23 years ago led the Crimson Tide to a national title.
In December 2014, Woody McCorvey, Dabo Swinney's old position coach at Alabama, was in New York City at the College Football Hall of Fame event when Jay Barker, 'Bama's old quarterback, called. Months earlier, Barker had met a sharp UAB walk-on QB who had come out to assist a youth camp that the old Crimson Tide great (and now a popular host of a local morning sports talk show) was helping coach. That QB, Miller, had his playing career ended by shoulder injuries and wanted to get into coaching. The fact that UAB football was being shut down by the school administration only made things dicier for Miller's prospects.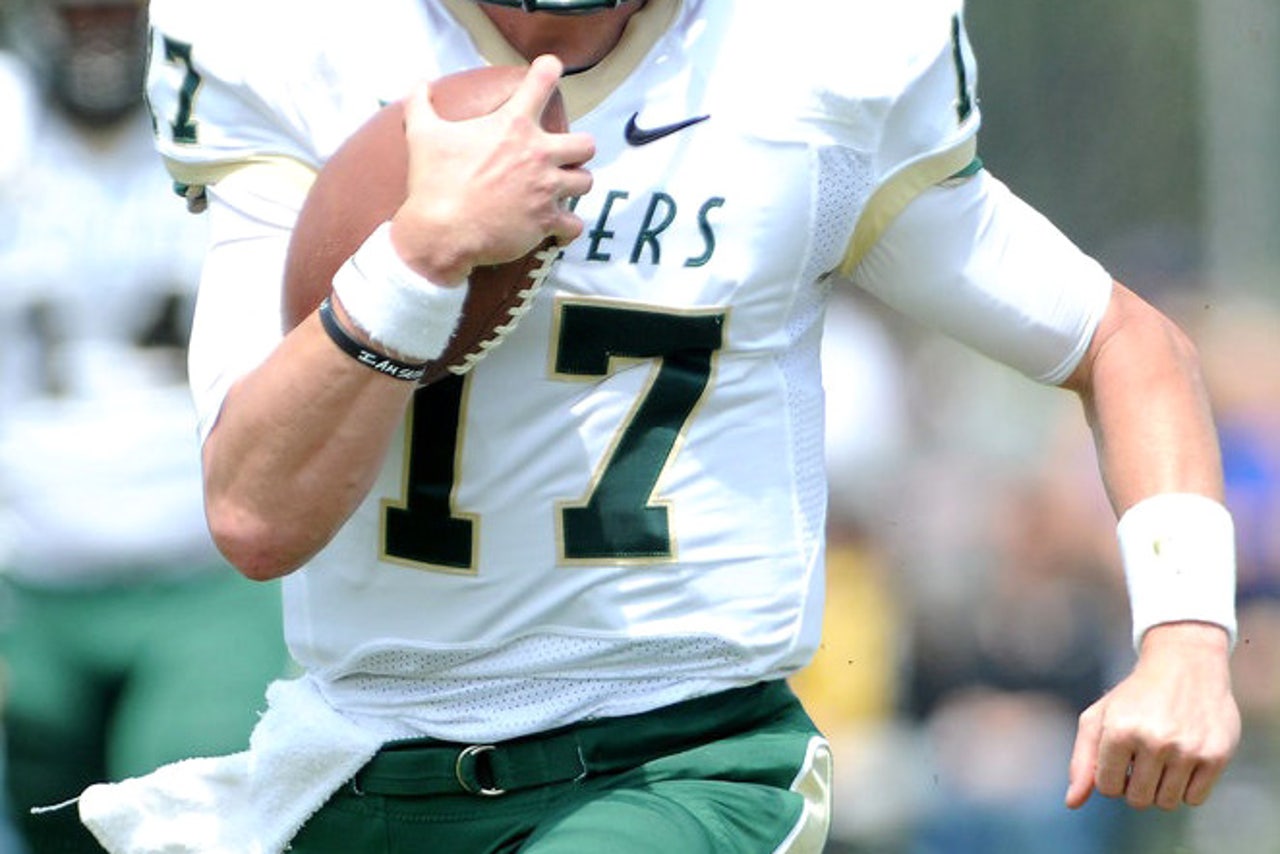 Mike Miller at UAB.
"I called Woody and told him about Mike because I thought they might be able to help him," Barker said. "I knew Woody would be impressed with him."
McCorvey, Clemson's associate AD for football administration, was impressed. "All of a sudden, he shows a few days before our (Russell Athletic) bowl game," McCorvey said. "I take him in to see Dabo, who goes 'How'd you get into my office?'"
"He looked like he had a million things to do," Miller recalled.
Swinney smiled and said, 'OK, you got one minute. Let's hear it.'"
Miller doesn't recall exactly what he said as he made his elevator pitch in a situation that was more crucial than any third-and-long he'd ever faced. "I told him I was a walk-on. I'd earned a scholarship. UAB had dropped football. 'Now I'm free. I'll do whatever I have to do to help you here.'"
Swinney, deep in preparation for the bowl matchup against Oklahoma, was puzzled. 
"How are you here?"
Miller explained that he knew former UAB staffer-turned Clemson grad assistant Cam Aiken and that he was staying at the home of some family friends who also happened to be friends of Swinney's. (Aiken said he actually got the call from Swinney offering him a job on Dec. 2 when he was marching in the streets of Birmingham with a bunch of UAB players and staff protesting the shutdown.)
Swinney suggested maybe Miller could be an intern. After the bowl game, Miller became a fly on the wall around the Tigers football facilities. Then in February, Swinney was running out to hop on a private plane to do a speaking engagement in Charleston and told Miller to come with him.
Swinney didn't really understand Miller's situation so he started peppering him with questions on board. "Do you have any eligibility left? Can you play? Are you any good?"
Miller explained that his career had ended due to injuries and he'd been a student coach at UAB until the school discontinued the program. So, like the other Blazer coaches and players, he was seeking a new home to continue his career. Problem was, if he transferred to Clemson, Miller would lose about 40 percent of the credits he had earned, and it would take at least 45 credits for him to earn a Clemson degree, which would push his expected graduation date from December 2015 to May 2017. Worse still, at UAB he was only one course short of earning his degree -- CMST 103, a mass communications class -- and that was the school paying for his education. 
"Oh man, I'll go to bat for you," Swinney told him. 
Swinney did. He wrote letters. Made phone calls. The old UAB staff and Clemson compliance helped out a bunch, too. 
On July 22, Miller submitted his four-page appeal to the NCAA. "... Because I have another year of eligibility on my clock, in accordance with the NCAA's belief in Student-Athlete welfare, I humbly ask you to allow me to take full advantage of the opportunity that Coach Swinney and Clemson University have offered me; to serve as a Student Coach at Clemson, while completing my last class at UAB in order to acquire my degree. This opportunity allows me to make the most of a very unfortunate situation, and doesn't require my career goals to be put on hold... "
Miller waited for an answer while he became even more connected to the Clemson family. The South Florida native essentially had been living out of his car. He couch-surfed for much of May and June, bouncing between the apartments of a couple of Tiger grad assistants and staffers and also spending many nights sleeping on an air mattress in the Clemson offensive staff room. He and his girlfriend got engaged on July 4. (She later got a job working as the nanny for the three kids of Tigers QB coach Brandon Streeter and his wife and moved into their garage apartment.) 
Then, a couple of days into training camp, McCorvey walked into the Clemson QB room. 
"Hey man," McCorvey told Miller. "You're good. You're a coach now. You're allowed to be here. You've been granted this waiver."
Miller was elated. The NCAA's green light meant he could coach out on the field. He could help with the scout team.
In his job as a student coach, Miller has a real role on the field. He can explain to the players what their read is on a given play, what their footwork should be as they run and why their team is running a certain play.
In games, Miller is one of several staffers signaling plays from the sideline. At one point when the Tigers were short a QB because of injury, Miller even jumped in to help out during drills.  
"What a phenomenal guy he's been," McCorvey said of Miller. "From a knowledge standpoint and work ethic, and also in today's game you gotta have computer skills and understand technology and he really does."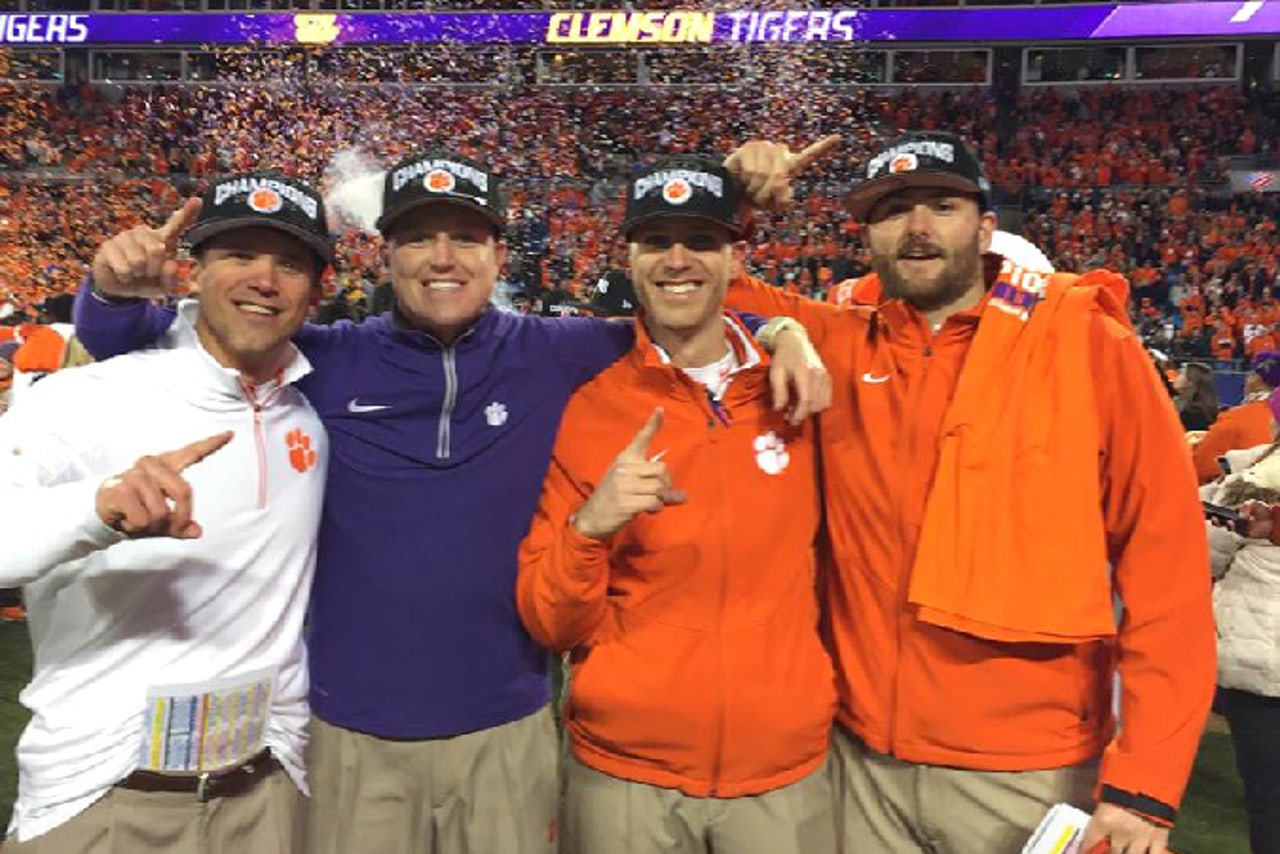 From left: Tyler Grisham (WR GA), Miller, Clemson recruiting coordinator Jordan Sorrells (who helped with Miller'€™s appeal), and Thomas Austin (O-line GA).
McCorvey said Swinney takes Miller whenever he goes to a coaching clinic to help assist him. "This business is all about opportunities and he's really making the most of it."
Without the NCAA's blessing, "I wouldn't have been able to actively partake in Clemson football," Miller said.
On Dec. 12, Miller, who had taken an independent study course, graduated from UAB. He and his fiancée Megan, also got married that day. 
"It's all been a whirlwind," Miller said.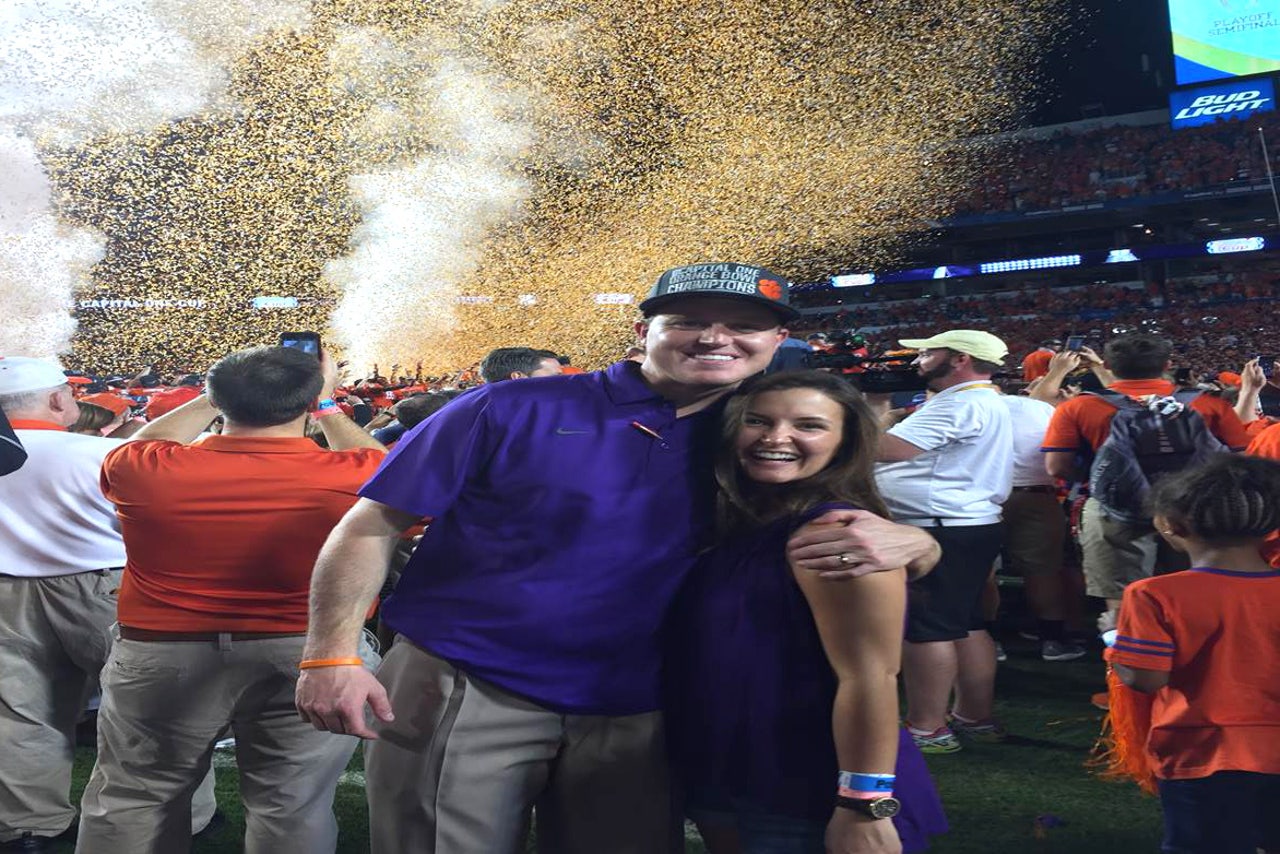 Mike Miller and his wife Megan.
The third-generation college football player, whose dad played at Ole Miss and grandfather was an All-American lineman at Duke, is grateful for the opportunities he's received. He said he learned from his father, a pastor, and from his coaches about the impact he could have on kids and that's why he grew up aspiring to coach -- not to play in the NFL.
Miller credits UAB head coach Bill Clark for showing him just how hard you have to work in football, and former UAB coach Garrick McGee for teaching him X's and O's.
At Clemson, Miller has been blown away by the spirit of family and what it is for a program to have "a culture" and priorities, all things hammered home by Swinney. 
The mantras from the Tigers head coach (like "Bloom where you're planted") or the one Tigers offensive coordinator Tony Elliott has instilled in him ("Serve their heart, not their talent") have been life-changing, Miller said.
It's that spirit that folks inside the Clemson program will tell you has as much to do with the Tigers getting to this title game as anything. 
"It's so surreal being here," Miller told FOX Sports at Saturday's Media Day. "I was never even part of a bowl team at UAB and now we're in the playoff, about to play for the national title. It's so cool to look back and see God's hand in all this."
Bruce Feldman is a senior college football reporter and columnist for FOXSports.com and FS1. He is also a New York Times best-selling author. His new book, "The QB: The Making of Modern Quarterbacks," came out in October 2014. Follow him on Twitter @BruceFeldmanCFB and Facebook.
---
---