Volgograd Arena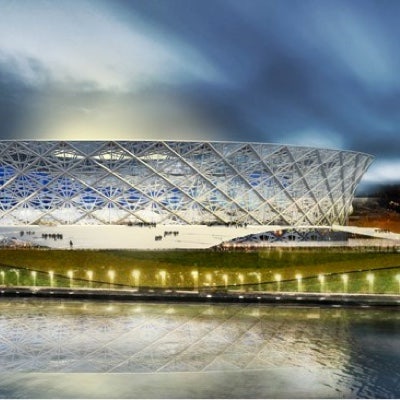 Built:
New Stadium
Built:
New Stadium
Capacity:
568
Home Team:
FC Rotor
Volgograd Arena will be built at the foot of the Mamayev Kurgan war memorial. The location of the previous stadium is a Mecca for local football supporters, with the more seasoned among them able to remember European victory over Manchester United and domestic battles with Spartak Moscow.
The stadium's façade takes the form of an inverted, truncated cone with an open lattice structure, lending the arena an extra element of airiness.
After Russia 2018, the stadium will be home to FC Rotor, which in the past has finished in the top three in the Russian championship.
---
ABOUT VOLGOGRAD
Founded: 1589
Population: 1 million
Altitude: 42 m
Distance to Moscow: 941 km
Formerly known as Stalingrad, the city of Volgograd extends alongside the Volga River and has over one million residents. Modern Volgograd is an important manufacturing centre, with industries that include shipbuilding, oil refining and steel and aluminium production.
Volgograd and its surrounding areas saw some of the heaviest battles during World War II. The Battle of Stalingrad was a turning point in the war. The 85-metre tall 'Motherland Calls' statue is Volgograd's most famous landmark and can be seen from any point in the city.
Volgograd is a centre for ecotourism in Russia. The city is close to the unique Volga-Akhtubin floodplains, the last pristine stretch of the Volga river valleys. Lakes make up 30 per cent of the park's territory and it counts over 200 species of birds.
Volgograd is a sporting city. Yelena Isynbayeva, a multiple world pole-vaulting champion and ambassador for Russia's bid to host the 2018 FIFA World Cup™, began her sporting career in Volgograd.