Nizhny Novgorod Stadium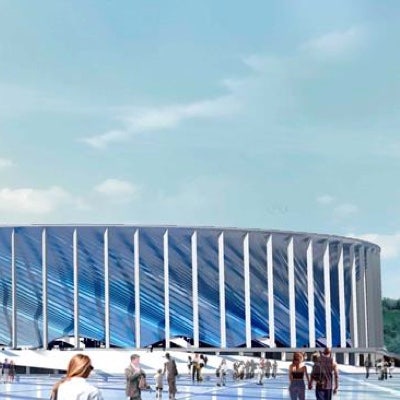 Built:
New Stadium
Capacity:
45,331
Home Team:
FC Volga Nizhny Novgorod
Nizhny Novgorod Stadium is being built in one of the city's most picturesque locations, at the confluence of the Volga and Oka rivers, near the Alexander Nevsky Cathedral. The area offers a panoramic view of the Nizhny Novgorod Kremlin.
Nizhny Novgorod Stadium's design is inspired by aspects of nature in the Volga region – water and wind. By evening, the various façades will be lit up, highlighting their plasticity and airiness.
The stadium will be home to FC Volga Nizhny Novgorod, a team which regularly features in the Russian Premier League.
---
ABOUT NIZHNY NOVGOROD
Founded: 1221
Population: 1.2 million
Altitude: 200 m
Distance to Moscow: 425 km
Due to its advantageous location on the Volga River, Nizhny Novgorod developed into Russia's key commerce centre in the 19th century. It is one of Russia's most traditional and beautiful cities. Famous annual trade fairs attracted the country's merchants and wealth to the city.
Nizhny Novgorod, along with its Kremlin, is beautifully situated on the hills overlooking the Volga River. The Kremlin, dating back to the 16th century, has a 2-kilometre brick fortress wall and 13 watchtowers. It stands on an elevation offering a breathtaking view of the city and its waterfront. Nizhny Novgorod is one of a hundred world cities included on the UNESCO World Heritage List.
Today, Nizhny Novgorod has a population of 1.2 million and continues to grow as a key business and cultural centre in Russia.