Cowboys Dak Prescott: Where NFL Scouts Missed the Mark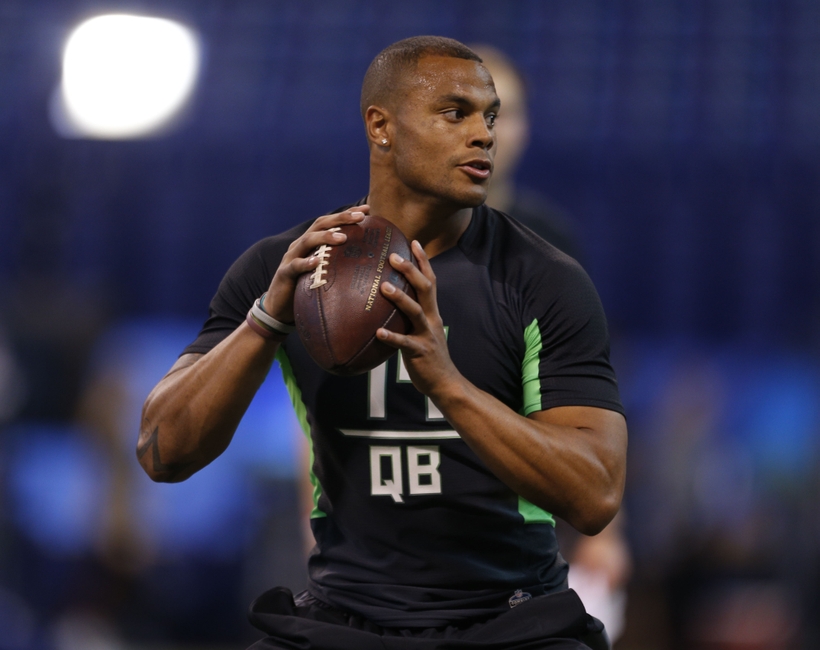 After leading the Dallas Cowboys to an 8-1 regular season start, we ponder how the NFL's top scouts could have been so wrong about rookie quarterback Dak Prescott.
What Dallas Cowboys quarterback Dak Prescott has done in his first NFL season is truly amazing. I know the word "amazing" is cliché and used so often it's really lost it's meaning. But there is simply no other way to describe what's happening in Dallas this year.
After leading the Mississippi State Bulldogs to a 9-4 record last season and a victory in the Belk Bowl over the NC State Wolfpack, quarterback Rayne Dakota "Dak" Prescott prepared himself to enter the 2016 NFL Draft.
Coming out of college, NFL scouts earmarked Prescott's poise and leadership skills among his best attributes. Unfortunately, he also suffered from being labeled a "running" quarterback. And the fact Mississippi State played in a spread offense only prompted more questions about Prescott's ability to play under center, and ultimately, in the pros.
There were also questions about Prescott's decision-making, accuracy and his ability to play within the pocket. That's despite Dak posting a career-high completion percentage of 66.2% during his final year with the Bulldogs. Prescott also threw career-highs in yards (3,793), touchdowns (29) and just five interceptions in 2015.
Prescott was also named the Most Outstanding Player at the 2015 Senior Bowl after he completed 7 of his 10 passes for 61 yards and a touchdown.
The Cowboys meet with Prescott several times throughout the offseason. They likely knew more about him than any other NFL franchise. And his coming to Dallas seemed to make perfect sense as the team needed to find a viable back-up to veteran quarterback Tony Romo whom was coming off two separate collarbone injuries the prior year.
But as the 2016 NFL Draft progressed, Prescott continued to fall down draft boards. Some blamed team's declining interest on the fact he was arrested for a possible DUI in March. Dak would later be found not guilty of those charges after two breathalyzer tests came back inconclusive.
Even Dallas seemed unsure about Prescott's abilities and future during the draft as the Cowboys actually attempted to trade up to take two other rookie quarterbacks (Memphis' Paxton Lynch, Michigan State's Connor Cook) instead. Both unsuccessfully.
Luck is a funny thing. The Cowboys ended up drafting Prescott almost by default with their compensatory selection late in the fourth round, 135th overall. Romo goes down with a back injury in Dallas' third preseason game and Prescott is forced into the starting lineup. After a stellar preseason, Dak leads America's Team to an 8-1 regular season record through Week 10.
Prescott has been one of the top quarterbacks in the NFL in his first season under center. The rookie gunslinger has completed 187 of his 280 passes for 2,339 yards, scored 18 total touchdowns and thrown just two interceptions. His completion percentage is currently 66.8%, which is 0.6% higher than his best and final year in the SEC. And Dak currently ranks second in the NFL in QBR (82.5), if you are in to that kind of thing.
So how could all the NFL Scouts, including the Cowboys, get it so wrong about Dak Prescott? His play so far this season would undoubtedly make him a top-five worthy draft pick instead of the fourth-round flier he was. According to Senior NFL Draft Analyst for NFLDraftScout and CBS Sports Dane Brugler, they simply underestimated Prescott's ability to improve.
"Limiting mistakes," Brugler, the co-host of DallasCowboys.com's The Draft Show, responded when asked about what Prescott has done differently than what scouts saw in college. " [Prescott is] making the right decision and right read and delivering with accuracy. [He] didn't show that enough at MSU."
Brugler went on to explain how he can't be too hard on teams for missing on Prescott. And that he gives credit to Dak for improving so much in such a short amount of time. Brugler agreed that this is a very rare thing that is happening in Dallas, and that Prescott should be praised for preparing the right way and locking in on game day.
I think the main takeaway here is the fact that even the top NFL scouts, including those that are employed by the Cowboys themselves, missed the mark when it came to properly predicting Dak Prescott's success in the NFL. The area everyone seems to have underestimated the 23-year old quarterback was in his ability and willingness to improve.
I wonder if we'll one day look back at Prescott's draft the way we do the New England Patriots' selection of quarterback Tom Brady in the sixth round of the 2000 NFL Draft (199th overall).
This article originally appeared on