Colin Kaepernick Protest: 49ers Locker Room Defying the Critics Who Thought It a Distraction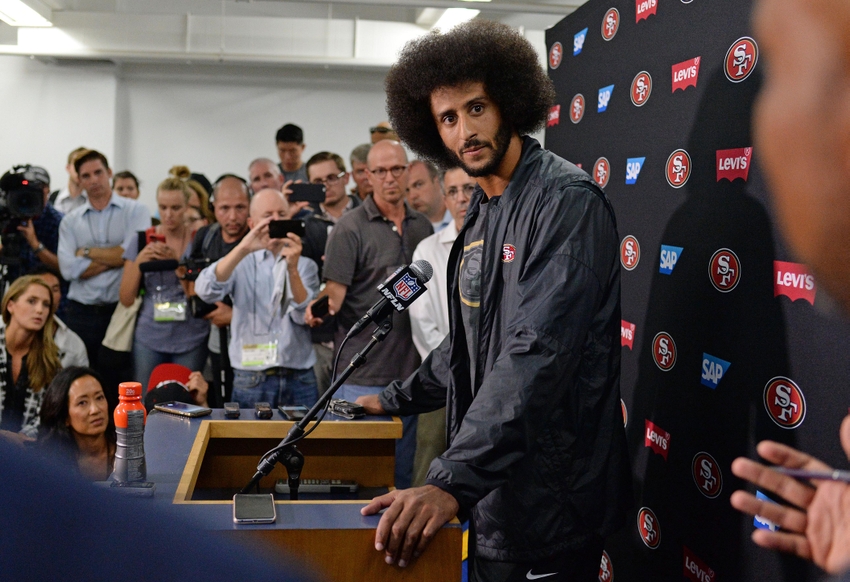 The San Francisco 49ers are proving Colin Kaepernick's national anthem protest isn't a team distraction, despite numerous experts and analysts speculating it would tear the team apart. And the Niners deserve all the credit for allowing this issue to bring them together.
I was at dinner with my father-in-law a couple of weeks back, and we got onto the topic of quarterback Colin Kaepernick, the national anthem protest and how it would affect the San Francisco 49ers locker room.
"That's our goal here, is to stay as (close) as we can because things like this are what breaks teams apart. And we can't allow that to happen." – NaVorro Bowman
My argument was Kaepernick's protest was going to be a distraction for the Niners locker room. I based this off a primarily young team with a new head coach. And I based my argument off both players' and analysts' comments and insight. You can see my viewpoint here.
Needless to say, the 49ers locker room proved me wrong. This group is proving a lot of people wrong.
My father-in-law made the opposite argument. In spite of me pointing out comments from 49ers linebacker NaVorro Bowman and former Niners tight end Brent Jones, among others, San Francisco isn't falling apart because of a perceived notion Kap is putting himself above the team.
Bowman's cautionary comments concerned me the most.
We have one common goal," Bowman said, via Eric Branch of SFGate.com. That's to win football games. And anything outside of that is not really important to the team. Your prerogative is your prerogative, but the team comes first.
"We're still going to support Colin and rally (with) Colin because he's part of our team. That's our goal here, is to stay as (close) as we can because things like this are what breaks teams apart. And we can't allow that to happen."
The 49ers haven't allowed this to break the team apart.
The Trent Dilfer Debate
Former quarterback and current ESPN analyst Trent Dilfer managed to put himself amid the controversy with his comments about Kaepernick's protest.
"[T]he big thing that hit me through all of this was this is a backup quarterback whose job is to be quiet and sit in the shadows and get the starter ready to play Week One," Dilfer said, per Pro Football Talk. "Yet, he chose a time when he became the center of attention. And it has disrupted that organization. It has caused friction and torn the fabric of the team."
These comments drew ire from a number of players. Second-year linebacker Eli Harold was one of the first to weigh in:
And Kaepernick wasn't shy in his response either:
Colin Kaepernick responds to Trent Dilfer's statements. pic.twitter.com/fIMO2Pz7yz

— deray mckesson (@deray) September 13, 2016
Dilfer later tried to explain why he made those comments, comparing a similar situation to one he was in with the Seattle Seahawks.
Make of that what you will. But the reality is the 49ers locker room is proving any doubters wrong.
The Locker Room Closer than Ever?
The 49ers are no strangers to negative leaks. All one has to do is look back over the past few seasons to see press leaks about former head coach Jim Harbaugh, Kaepernick and various other problems stemming from within the organization.
So if there truly was a major issue within the clubhouse, one has to think those problems would be out there.
They're not.
Even 49ers CEO Jed York noted how the locker room dynamic is stronger now.
"As a team, we collectively understand where he's coming from and respect his position," York said, via Cam Inman of the San Jose Mercury News. "It's been good to actually start a dialogue in our locker room and in our entire organization.
"That's what I've been trying to say: It's not about an act, it's not about a gesture, it's not about attire. It's about the underlying socioeconomic and social and racial issues that we see in the country that we'd like bring light to and hopefully we can make a little bit of a difference."
Others have been openly supportive of the movement as well. Safety Eric Reid, who has also explained his stance, has knelt alongside Kaepernick for two games.
And other sources are indicating nothing but support within the locker room itself.
You can choose to agree or disagree with the means Kaepernick and others around the league are protesting these issues.
But the actions aren't undermining the 49ers internally. They're handling this in the best of ways and are stronger because of it.
For a team looking to get back on track, this might be a crucial step in turning the 49ers back into an organization commanding respect and admiration from around the league.
San Francisco still has a long way to go, but the players' responses to this situation have been nothing but positive.
And the Niners are proving the doubters wrong with every step.
All statistics, records and accolades courtesy of ESPN.com, Pro-Football-Reference.com and Sports-Reference.com unless otherwise indicated.
This article originally appeared on