Erik Jones notches fourth Xfinity Series win of season at Chicagoland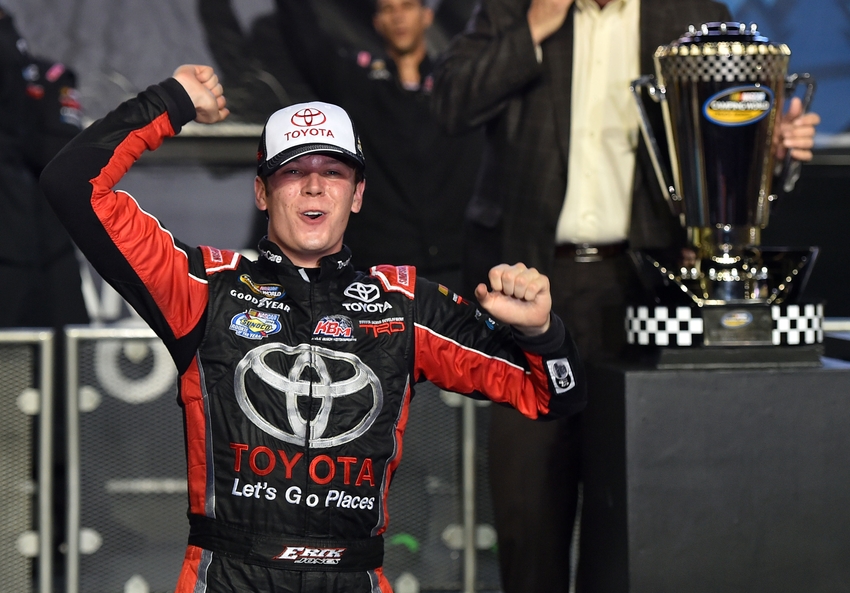 The 20-year old phenom will make the jump to Sprint Cup next year, but not before he lays claim to the championship in the first Xfinity Series Chase.
If there was a favorite heading into the first Xfinity Chase, it has to be Erik Jones (No. 20 Camry) who held off a late charge by Sprint Cup regular Kyle Larson (No. 42 Camaro) to come away with the victory in the Drive for Safety 300 at Chicagoland Speedway Saturday afternoon. It was his fourth win of the season and gives him a huge six-point advantage going into the final seven events of the 2016 campaign.
Jones, a rookie in the series, will be looking for the Xfinity championship before he moves up to Sprint Cup to drive the No. 77 Toyota for Furniture Row Racing next year. FRR will be fielding two cars in 2017.
"It was tough," Jones said. "I knew we were in a good spot on tires, but we pretty far back – think we restarted sixth there. I didn't know if Hisense Camry was going to have enough time to get back up to the front, but we had a really good restart and got clear to third and then just had to go chase Elliott (Sadler) down. It was a matter of time before we got around him. What an awesome day. Get a win before the Chase, this is a great momentum for us. I'm really excited – this is our second win at Chicago. It's a lot of momentum.
"I wish this was our first round right here. We'll go into Kentucky, definitely with a full head of steam and are due for another win there. Our mile-and-a-half program is great – it's been great all year. To finally get a first mile-and-a-half win of the year – just looking forward to getting to Kentucky next weekend and try to chase down another one."
With the conclusion of the race, the Chase field has now been set with Jones, Elliott Sadler, Daniel Suarez, Ty Dillon, Justin Allgaier, Darrell Wallace Jr., Brendan Gaughan, Brennan Poole, Ryan Sieg, Ryan Reed, Brandon Jones and Blake Koch rounding out the dozen drivers who will vie for the championship beginning next week in Kentucky.
Meanwhile, a funny thing happened to Kyle Busch on the way to his ninth Xfinity Series win of the year and his 85th overall. He tapped the wall and on lap 183, just 17 away from the checkered flag, his No. 18 Camry blew a left rear tire, spinning him out, and putting him out of contention for the victory. What made his day even worse after his late race mishap, one of his pit crew members came over the wall too soon and he had to start at the back of the field for the restart. He would finish 13th despite leading 154 of the 200 laps.
Ryan Reed (No. 16 Mustang) brought out a pair of cautions, the first was a spinout as he tried to pit under green, however, it was the second that knocked him out of the race. He got too close to Kyle Larson (No. 42 Camaro) and lost the air under his car and hit the wall suffering severe front end damage.
"I thought it was tight racing," he said. "Looking back I should have just lifted down out of there. He was on my door pretty tight and got me aero tight coming out of two there. He probably could have given me the spot and was probably upset he had gotten into the wall earlier and was sliding backwards and didn't want to give me the room. I understand his frustration but it sucks that we tore up a race car on lap 100."
Despite the wreck, Reed was locked into the Chase and will move on to Kentucky to focus on the final seven races.
PIT NOTES:
Seven rookies – Erik Jones (who is moving to full time Sprint Cup next year), Brennan Poole, Brandon Jones, Ryan Preece, Garrett Smithley, BJ McLeod, and Ray Black Jr. – started the race.
Carl Long and Mike Harmon drove the only two Dodge cars in the field. There are none in Sprint Cup.
CAUTIONS:
Lap 5 – Derrike Cope (No. 70 Chevy) hits the wall in Turn 3
Lap 25 – Competition caution
Lap 83 – Ryan Reed (No. 16 Ford) spins out trying to pit. Brandon Jones gets free pass.
Lap 89 – Fluid on track. JJ Yeley gets free pass.
Lap 102 – Ryan Reed hits wall.
Lap 112 – Fluid on track. Brendan Gaughan gets free pass.
Lap 160 – Jordan Anderson (No. 97 Camaro) stalls. Jeremy Clements gets free pass.
Lap 182 – Kyle Busch blows tire. JJ Yeley gets free pass.
DRIVE FOR SAFETY 300 FINAL RESULTS:
1 – Erik Jones
2 – Kyle Larson
3 – Elliott Sadler
4 – Daniel Suarez
5 – Justin Allgaier
6 – Clint Boyer
7 – Joey Logano
8 – Brendan Gaughan
9 – Paul Menard
10 – Brandon Jones
11 – Ty Dillon
12 – Ryan Sieg
13 – Kyle Busch
14 – JJ Yeley
15 – Blake Koch
16 – Jeremy Clements
17 – Ryan Preece
18 – David Starr
19 – Garrett Smithley
20 – Darrell Wallace Jr.
21 – Brennan Poole
22 – Dakoda Armstrong
23 – Martin Roy
24 – BJ McLeod
25 – Timmy Hill
26 – Joey Gase
27 – Ryan Ellis
28 – Ray Black Jr.
29 – Jordan Anderson
30 – Mike Harmon
31 – Jeff Green
32 – Ryan Reed
33 – Travis Kvapil
34 – Morgan Shepherd
35 – Spencer Boyd
36 – Dexter Bean
37 – Derrike Cope
38 – Carl Long
39 – Ross Chastain
40 –  Matt DiBenedetto
This article originally appeared on