Baltimore Orioles All-Time 25-Man Roster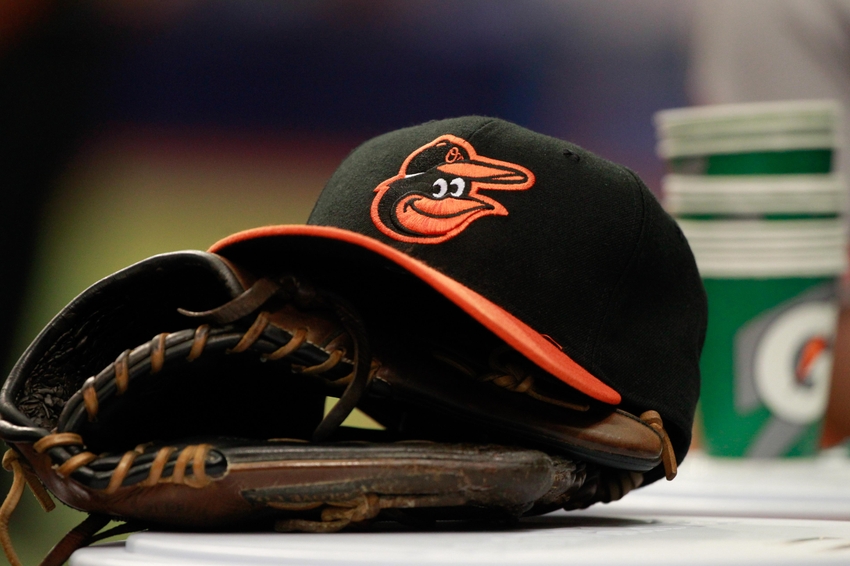 We continue our off-season project with a look at the Baltimore Orioles All-Time 25-Man Roster.
This look at the Baltimore Orioles all-time 25-man roster only includes their time in Baltimore. The Orioles franchise dates back to 1901, when it originated in Milwaukee as the Brewers. That team became the St. Louis Browns and existed as the Browns through the 1953 season. Along the way, the Browns were purchased by Bill Veeck in 1951. He made a valiant effort to outdraw the crosstown St. Louis Cardinals with his many interesting promotions, but ultimately conceded defeat when the Cardinals were purchased by Anheuser-Busch. Veeck couldn't compete financial with Anheuser-Busch.
Veeck was not well-liked by the other owners in part because of the publicity stunts he used as promotions at Browns home games. When he realized it would be difficult for two teams to remain in St. Louis, he tried to move the team to Milwaukee, but was blocked by the other owners. Then he worked on a deal to move the team to Baltimore, but found resistance there as well. He ended up selling his entire stake in the Browns to a group of investors who moved the team to Baltimore.
Once in Baltimore, the Browns became the Orioles and started fresh, putting the St. Louis Browns in their rear-view mirror. In December of 1954, they made a 17-player trade with the New York Yankees that sent away most of the former Browns who were still on the team's roster.
The Orioles were quite awful during their first six years in Baltimore. Things started to turn around in the 1960s, as the Orioles finished in the upper half of the standings five times in six years from 1960 to 1965. They had a terrific stretch of play from 1966 to 1971 when they won went to the World Series four times in six years, winning twice. Many of the great players from this era are members of the all-time 25-man roster.
The Orioles continued their strong run throughout most of the 1970s and into the early 80s. They lost the ALCS in 1973 and 1974. They made the post-season again in 1979, losing the World Series to the "We R Fam-A-Lee" Pittsburgh Pirates. Four years later, they won the World Series against the 1983 "Wheeze Kids" Philadelphia Phillies.
The last half of the 1980s were not a good time for Baltimore Orioles fans. The team bottomed out with a 54-107 season in 1988, but bounced back to win 87 games in 1989. They made the playoffs in 1996 and 1997, but lost in the ALCS both years. They then went 14 years without making the post-season before making the playoffs three times in the last five seasons.
The Orioles franchise is historically known for their strong defense and pitching. They've had some amazing fielders over the years, including Hall of Fame third baseman Brooks Robinson, who was a wizard with the glove at the hot corner. Their great-fielding teams in the early 1970s helped the team have twelve 20-game winners in the six seasons from 1970 to 1975, including four 20-game winners on the 1971 team.
Here is the Baltimore Orioles all-time 25-man roster.
Rick Dempsey (with Orioles from 1977-1986 & 1992)
.238/.319/.355, 1245 G, 4105 PA, 89 OPS+
 Rick Dempsey was drafted in the 15th round of the 1967 amateur draft by the Minnesota Twins. He got a small taste of big league action as a 19-year-old in 1969, but didn't get regular playing time until he was traded to the Yankees after the 1972 season. He spent three-plus seasons with the Yankees before making his way to Baltimore in a 10-player trade on June 15, 1976. In this deal, the Yankees sent Dempsey, Tippy Martinez, Rudy May, Scott McGregor, and Dave Pagan in exchange for Doyle Alexander, Jimmy Freeman, Elrod Hendricks, Ken Holtzman, and Grant Jackson. This trade worked out quite well for the Orioles.
After being traded to the Orioles, Dempsey established himself as the starting catcher. He was never known for his bat, but was well-regarded on defense. He had a strong throwing arm and good footwork behind the plate. Longtime Orioles' manager Earl Weaver said of Dempsey, "He's the best throwing catcher I've ever had. He gets rid of the ball so quick and he's accurate . . . also amazing on pickoffs . . . I've never seen anybody throw better." He was also considered a good handler of pitchers. His best offensive season was 1980, when he hit .262/.333/.425. This was one of the few times he slugged over .400 in his career.
The Orioles went to two World Series while Dempsey was on the roster. The 1979 team led the Pittsburgh Pirates three-games-to-one, but couldn't hold the lead when Willie Stargell and the Lumber Company came back to win the final three games of the series. The 1983 Orioles beat the Philadelphia Phillies and Dempsey was named World Series MVP for hitting .385/.467/.923.
Dempsey became famous for his performance during rain delays, when he would come out of the dugout in his socks (and sometimes a pair of underwear over his uniform) and pretend to hit an inside-the-park home run. He often stuffed towels in his shirt to create a big belly, a la Babe Ruth, and at times pointed his bat to center field as if indicating where he would hit a home run.
Baltimore fans embraced Dempsey as their gritty backstop who could be counted on to put in a hard day's work. He enjoyed mingling with fans and liked putting on a show when the rain started to fall. He is the all-time Orioles leader in games played at catcher and one of only four catchers in MLB history to play in four decades.
Eddie Murray (with Orioles from 1977-1988 & 1996)
.294/.370/.498, 1884 G, 8053 PA, 139 OPS+ (with Orioles)
The Orioles drafted Murray in the third round of the 1973 amateur draft. After four years in the minor leagues, he came up to the big leagues and started a long string of consistently good seasons. He won the AL Rookie of the Year Award with a 27-homer, 88-RBI season that would be the blueprint for most of his career. Murray was one of the most consistent players in baseball in the 1970s and 80s.
In his first twelve years in the major leagues, Murray's average season consisted of 152 games played, 649 plate appearances, 87 runs scored, 28 homers, and 99 RBI. He hit .295/.371/.500 over this stretch, was a seven-time all-star, and finished in the top five in MVP voting five straight years. He was a guy you put in the lineup at the beginning of the year and didn't have to worry about for the next six months.
The Orioles made the post-season twice during Murray's initial 12-year run with the team. In 1979, they beat the California Angles in the ALCS, with Murray hitting .417/.588/.667. In the World Series, they jumped out to a three games to one lead, but were swept in the final three games by the Pittsburgh Pirates.
This World Series changed Murray. He had always been an introvert. He wasn't flashy, didn't crave the headlines, didn't want the spotlight shined on him. He was consistent, steady, and workmanlike. In the Orioles' Game 1 victory, Murray was 1-for-2 with two walks and a run scored. The Orioles lost Game 2, but Murray was 3-for-3 with a walk, a home run, and two RBI.
Dick Young of the New York Daily News wrote an article about Murray after Game 2. It was a positive piece for the most part, but there was a section about Murray's family that would greatly affect Murray's relationship with the media for the rest of his career. As Joe Posnanski writes here, Young wrote that Eddie Murray's family badly mistreated Orioles scout Ray Poitevint, the man who offered Murray his first pro contract. Young wrote, "(Poitevint) offers $20,000. He gets cursed at. He leaves. He goes back. He is called a thief, kicked out. This was by Ed Murray's older brothers. They and Ed Murray's mother do all the talking. Ed Murray, 17, just sits there, listening, not saying a word." He also wrote that Poitevint claimed one of Murray's brothers tried to run him over with a car.
This article was very upsetting to Murray. He felt like he'd been ambushed. He went 0-for-21 after the Dick Young story appeared during the World Series and the fans questioned his heart. From that point on, his relationship with the media was civil, but not friendly. He rarely talked to the press and didn't say much when he did talk. It created a vicious cycle. The press would ask him questions, he would respond minimally, then they would write that he was angry and bitter. That just made him talk to them less and the cycle continued. He got a bad reputation with the media, which affected his relationship with some fans.
On the field, Murray continued to hit. He had one of his best seasons in 1983 when he hit .306/.393/.538, with 33 homers and 111 RBI. He was an all-star, a Silver Slugger, and a Gold Glove winner. He finished second to teammate Cal Ripken, Jr. in the voting for AL MVP. The Orioles made the post-season again that year. They took down the Chicago White Sox in the ALCS, then beat the Philadelphia Phillies in the World Series. Murray combined to hit .257/.333/.514 in nine post-season games.
Murray continued to hit with the Orioles, but the off-field relationship with upper management soured. After owner Edward Bennett Williams was quoted saying Murray needed to get in better shape, Murray wanted out of Baltimore. According to this article from the Baltimore Sun, Murray's departure was ugly. Fans hurled racist insults and complained when he didn't run out ground balls. They questioned his passion for the game. They didn't think he hustled enough.
After a dismal 1988 season in which the Orioles went 54-107, Murray was traded to the Los Angeles Dodgers for Juan Bell, Brian Holton, and Ken Howell. He played for the Dodgers for three years, then spent two years with the Mets. He played for Cleveland for two-plus years in the mid-1990s, including their World Series losing team in 1995. The Orioles brought him back during the 1996 season. In his final year, he played 46 games for the Angels and finished out his career with nine games with the Dodgers.
While he had an adversarial relationship with the media, Murray was well-liked by teammates. They admired the hard work he put in and the consistent production he provided to the team. Former teammate Mike Flanagan said of Murray, "He didn't care to give up his little secrets." He added, "He was the best clutch hitter that I saw during the decade we played together."
Brian Roberts (with Orioles from 2001-2013)
.278/.349/.412, 1327 G, 5905 PA, 102 OPS+ (with Orioles)
Choosing Brian Roberts over Bobby Grich was difficult. Grich actually provided more Wins Above Replacement (WAR) as an Oriole than Roberts, but Roberts is the team leader in games played at second base. Grich played for the team for seven years; Roberts was with the Orioles for 13. Grich was as well known for his time with the Angels as with the Orioles, while Roberts played almost his entire career in Baltimore. For that longevity and some strong seasons mid-career, Roberts is the choice as the starter at second base.
Roberts came up to the big leagues as a 23-year-old in 2001, but struggled in 75 games, hitting .253/.284/.341. It took him a few years to become a full-time starter. His first above average season was 2004, when he hit .273/.344/.376 and led the American League with 50 doubles. He also stole 29 bases. At this point, he had established himself as a low-power second baseman who could steal 20-30 bases per year.
Then came the 2005 season. Roberts exploded for a career-high 18 home runs and set career highs in batting average, on-base percentage, and slugging percentage, hitting .314/.387/.515. He was an all-star for the first time and finished 18th in MVP voting.
The 2005 season was easily the best of his career, but Roberts continued to be productive through the rest of the decade. From 2005 to 2009, he averaged 150 games per year and hit .294/.369/.451. He also had an average of 37 steals per year, including a league-leading 50 in 2007.
Coming off this stretch of good performance, Roberts signed a four-year, $40 million contract before the 2010 season. The contract would prove to be a disaster, mainly because Roberts couldn't stay on the field. He had numerous injuries, including a self-induced concussion when he hit himself in the helmet after a strikeout.
After averaging over 150 games per year over the previous six years, Roberts averaged just 48 games per year over the next four. When he did get in the lineup, he didn't do much at the plate, hitting .246/.310/.359. The Orioles released Roberts after the 2013 season. He signed with the Yankees, but hit just .237/.300/.360 in 91 games and was released in August.
In December of 2007, two years after Roberts' breakout 2005 season, his name appeared in former Senator George J. Mitchell's report on steroid use in major league baseball. Roberts admitted that he had used steroids "once" back in 2003, but had never used them again. He said, "In 2003, when I took one shot of steroids, I immediately realized that this was not what I stood for or anything that I wanted to continue doing. I never used steroids, human growth hormone or any other performance-enhancing drugs prior to or since that single incident."
It's hard to know what to believe about that era in baseball. Roberts went from being a light-hitting second baseman who had a career slugging percentage of .360 in his first 384 games to a double-digit homer guy with a .451 slugging percentage in his next 751 games. Whether or not he had more chemical assistance than he's willing to admit to, we don't really know. Roberts did have some very productive years for the Orioles and would be the starting second baseman and leadoff hitter for the all-time Orioles' squad.
Cal Ripken, Jr. (with Orioles from 1981-2001)
.276/.340/.447, 3001 G, 12883 PA, 112 OPS+ (with Orioles)
The left side of the infield for the all-time Baltimore Orioles 25-man roster is made up of the two pillars of the Orioles' franchise, Brooks Robinson and Cal Ripken, Jr. Shortstop Cal Ripken, Jr. is the all-time team leader in games played, plate appearances, hits, runs, home runs, RBI, total bases, walks, and WAR.
Everyone knows about Ripken's 2,632 consecutive games played streak. When he broke Lou Gehrig's record in September of 1995, it was a huge moment for baseball fans everywhere because it helped MLB recover from the labor stoppage in 1994 that carried over into early 1995. When the game became official, Ripken took a lap around the stadium to thank the fans.
Before Cal Ripken, Jr. showed up, Mark Belanger had been the longtime shortstop for the Orioles under manager Earl Weaver. Belanger was a terrific fielder but a negative on offense. He occasionally had a year where he approached league average as a hitter, but was generally well below average with the bat. In 17 years with the Orioles, Belanger hit .227/.300/.280.
Ripken was drafted in the second round of the 1978 June Amateur draft and began his career as a 17-year-old shortstop for the Bluefield (West Virginia) Orioles in the Appalachian League. He made 33 errors in 62 games. The next year, he split time between shortstop and third base, with more time spent at the hot corner than at short. Because of his size, 6'4 and 200 pounds, no one expected he could play shortstop regularly in the big leagues.
When Weaver brought Ripken up from Triple-A in August, 1981, he made eight stars at shortstop and just one at third base. He started the 1982 season as the regular third baseman and was hitting .267/.300/.455 through his first 69 games. That was when Earl Weaver decided to ignore baseball history and put the 6'4" Cal Ripken, Jr. at shortstop. This was unprecedented. There had never been a regular shortstop as big as Ripken. As Joe Posnasnki wrote in his Ripken entry on his list of the Top 100 players: "This might be hard to believe, but before Ripken came along, there had only been 17 everyday players in major league history (minimum 3,000 plate appearances) who were 6'4" and weighed 200 pounds. None were shortstops. None were second basemen. None were third basemen. You look at the list of 17, and about half were big hulking power hitters without a position (Frank Howard, Dave Kingman, Ken Singleton, Dick Stuart, etc.)."
Ripken started the July 1 game at shortstop and not only held his own on defense, but saw his hitting improve. He hit .262/.329/.490 over the rest of the season. He won the AL Rookie of the Year Award and held the shortstop position in Baltimore for the next 15 years.
After winning the AL Rookie of the Year Award in 1982, Ripken won the AL MVP Award in 1983. He also helped lead the Orioles to a World Series championship, there first since 1970. Then came a 12-year stretch during which the Orioles failed to make the playoffs, followed by back-to-back losses in the ALCS in 1996 and 1997.
In the middle of the 1996 season, Orioles' manager Davey Johnson moved Ripken to third base. He had been talking about it for a while, but finally made the move on July 15. Manny Alexander started at shortstop. The move didn't last long. Alexander went 1-for-18 with nine strikeouts and Ripken was back at shortstop less than a week later.
In the off-season, the Orioles signed shortstop Mike Bordick as a free agent and Ripken officially moved to third base. He played his final five seasons at third as he aged into his late 30s. His final season came as a 40-year-old in 2001. Despite no longer being the player he once was, he still made the all-star game thanks to the fan vote. In the third inning of the game, he stepped up to the plate against Chan Ho Park and gave the fans one last, great memory. Park threw a batting practice meatball down the center of the plate and Ripken knocked it over the left field wall at Safeco Field.
Cal Ripken, Jr. is on the short list of greatest shortstops in baseball history. The only guy clearly better according to WAR was Honus Wagner, whose career ended in 1917. Alex Rodriguez also has an argument, but he played 1,000 fewer games at shortstop than Ripken.
Brooks Robinson (with Orioles from 1955-1977)
.267/.322/.401, 2896 G, 11782 PA, 104 OPS+ (with Orioles)
The player right behind Ripken in most categories on the Orioles' all-time leaderboard is Brooks Robinson. He is second on the team in games played, plate appearances, runs scored, hits, RBI, total bases, and WAR. Like Ripken, Robinson was a fixture on the left side of the infield for many years. Unlike Ripken, Robinson was known more for his sterling glove at the hot corner than for his bat. From 1960 to 1975, he won 16 straight Gold Gloves.
Brooks Robinson was incredible at third base. According to Baseball-Reference.com, Robinson got nearly 50% of his career value from his tremendous defense. He made plays down the line that no one had ever seen before. One umpire said of Robinson, "He plays third base like he came down from a higher league." He may have been at his absolute best during the Orioles' 1970 World Series victory over the Cincinnati Reds.
Robinson was a key part of the Orioles' four World Series teams in the six years from 1966 to 1971 (they won two championships). He was great on defense in the post-season, but he also elevated his game at the dish, hitting .303/.323/.462 in 39 post-season games. Even though his hitting was sporadic he was good enough in the field to make the all-star team 15 years in a row from the early 1960s to the mid 1970s.
From 1964 to 1966, Robinson finished first, third, and second in AL MVP voting. The year he won the award, 1964, he hit .317/.368/.521 with a career-high 28 homers and 118 RBI. According to Baseball-Reference, Robinson was an 8-WAR player in 1964. For comparison, only two players were worth 8 WAR in 2016—Mike Trout and Mookie Betts.
As good as he was as a player, he had the reputation for being even better as a person. He regularly signed autographs in the parking lot long after the game ended. Late Orioles broadcaster Chuck Thompson said of Robinson, When fans ask Brooks Robinson for his autograph, he complied while finding out how many kids you have, what your dad does, where you live, how old you are, and if you have a dog."
Boog Powell (with Orioles from 1961-1974)
.266/.362/.465, 1763 G, 6911 PA, 135 OPS+ (with Orioles)
 Figuring out what to do at left field for the Orioles all-time 25-man roster was difficult. Of the modern Orioles (1954 to present), Brady Anderson has the most games played in left field, but if Anderson is named as the all-time team's starting left fielder, that leaves one important longtime Oriole on the bench, Boog Powell. Powell played the majority of his games at first base, but he would take a back seat at first base to Eddie Murray. I thought Powell deserved a starting spot. Because he played 430 games in left field, he gets the nod here and Brady Anderson goes to the bench.
Booooooooooog started his career playing primarily in left field, but switched over to first base almost exclusively by his sixth season in the big leagues. He was part of the group of players, many of them on this list of all-time greats, who played for the four World Series teams from 1966 to 1971. In fact, Powell had his best stretch of play during these years.
Powell had his first great year in 1964, when he hit .290/.399/.606 with 39 homers and 99 RBI. He struggled in 1965, but came back to hit 34 homers and drive in 109 runs in 1966. He finished third in AL MVP voting that season, finishing behind his teammates Frank and Brooks Robinson.
The late 1960s was not a good time to be a hitter in Major League Baseball. This was a pitcher-dominant decade. Despite this, Powell had some great years. As an example of how much pitchers dominated baseball during this time, consider Powell's 1968 season. That year has long been known as "The Year of the Pitcher." Powell hit .249/.338/.411, which doesn't look that impressive, but it was good for a 127 OPS+, meaning Powell was 27% better than the league average hitter.
MLB raised the pitcher's mound before the 1969 season and Powell enjoyed the change, hitting .304/.383/.559. He finished second in AL MVP voting. One season later, he hit .297/.412/.549 and won the AL MVP Award. This was during a three-year stretch in which the Orioles would play in the World Series every year and Boog Powell was one of the big bats right in the middle of the Orioles' lineup. In the 1970 playoffs against the Minnesota Twins, Powell was 6-for-14 with six RBI. In the World Series against the Reds, he had five hits and five walks in five games.
Powell's production waned as he turned 30 in 1972. In his final three years with the Orioles, he hit .260/.366/.416. He was traded to Cleveland before the 1975 season and had one final bounce back season, hitting .297/.377/.524. He played one more year in Cleveland, then finished out his career with 50 games for the Los Angeles Dodgers in 1977.
Years after his career with the Orioles ended, Powell returned to Baltimore with his Boog's Bar-B-Q stand located at Camden Yards. During his playing days, Powell was the guy who would have his teammates over for good food and drinks in the backyard, so it's not surprising he would open a Bar-B-Q stand. He can still be found at Boog's Bar-B-Q on game days serving overstuffed pit beef, barbecued turkey and pork sandwiches, and tasty side dishes such as baked beans and coleslaw.
Paul Blair (with Orioles from 1964-1976)
.254/.306/.388, 1700 G, 6192 PA, 99 OPS+ (with Orioles)
Blair was part of the great Orioles teams from the mid-1960s to the late 1970s. Like Teammates Brooks Robinson and Mark Belanger, Blair was a wizard with the glove. According to Baseball-Reference, he got nearly half of his career value from his great defense in center field. He also earned eight Gold Glove Awards, including seven straight from 1969 to 1975.
The Orioles went to the World Series four times in Blair's first eight years with the team, winning twice. Blair was at his best in the 1970 series against Cincinnati when he hit .474/.524/.526 with five runs scored and nine hits in five games. He missed out on the MVP award because teammate Brooks Robinson also had a spectacular series, particularly on defense.
Blair was well-known for playing a very shallow center field. He was able to steal hits that would normally drop in against other center fielders, but had the quickness and speed to make plays behind him as well. He once said, "In the outfield I felt there was no ball I couldn't get to. I played the shallowest center field of anyone."
The 1969 season was one of Blair's best with the bat. He hit .285/.327/.477, and set career bests in runs (102), home runs (26), and RBI (76). He also stole 20 bases. The next season, he was hit in the face by a Ken Tatum fastball on May 31 that resulted in a broken nose and damage to his eye and face. The beaning didn't seem to affect Blair that season. At the time he was hit by the pitch, his batting line was .264/.335/.451. After missing three weeks, he came back to hit .268/.350/.430 over the rest of the season.
According to multiple sources, Blair attempted to become a switch-hitter in 1971, perhaps as a result of being hit by the Ken Tatum pitch, but Baseball-Reference.com has no record of Blair hitting left-handed that season.
Blair was a regular in the outfield for the Orioles from 1966 to 1975, but he really struggled at the plate in his final two years with the team when he hit .209/.252/.283 in 900 plate appearances. His glove wasn't good enough to make up for that awful production and he was traded to the New York Yankees in January of 1977. Despite the rough ending to his career in Baltimore, Blair is remembered for his great range in center field during a fun time to be a fan of the Orioles.
Frank Robinson (with Orioles from 1966-1971)
.300/.401/.543, 827 G, 3492 PA, 169 OPS+ (with Orioles)
After 10 years with the Cincinnati Reds, Frank Robinson was traded to the Baltimore Orioles for Milt Pappas, Jack Baldschun, and Dick Simpson in December of 1965. The owner of the Reds at the time, Bill DeWitt, thought Robinson was "a fading talent increasingly hobbled by leg injuries." He was very wrong.
In his first year in Baltimore, he had a monster Triple Crown season, hitting .316/.410/.637, with 122 runs, 49 homers, and 122 RBI. He led the AL in all six of those statistics. He was an all-star and the regular season MVP, then won the World Series MVP award when the Orioles swept the Dodgers in four straight games. It was about as good as you could get from a player you just acquired in a trade before the season.
The Orioles were very successful during Robinson's six years with the team. They went to the World Series four times, winning twice. Robinson was an all-star in five of his six years in Orioles' orange. In addition to winning the AL MVP Award in 1966, he finished third in the voting two times. His average season with Baltimore: 138 games, 582 plate appearances, 92 runs, 30 homers, 91 RBI, .300/.401/.543, and 5.4 WAR (per Baseball-Reference).
And then, coming off a very good 1971 season, he was traded to the Los Angeles Dodgers with pitcher Pete Richert for Doyle Alexander, Bob O'Brien, Sergio Robles, and Royle Stiillman. The Orioles had a young Don Baylor ready to play and wanted to shed Robinson's $130,000 salary.
Robinson's time in Baltimore laid the groundwork for his future beyond his playing days. He became a more vocal proponent of civil rights causes in large part because he couldn't find a place to live for his wife and kids in the racially segregated city of Baltimore. According to this article in the Baltimore Sun, the Robinsons "were denied housing in a number of all-white neighborhoods. He couldn't patronize most taverns in town. And his wife was rebuffed at a beauty shop whose female proprietor said, 'If you were Mrs. Brooks Robinson, we could serve you.'"
Baltimore was a terribly racist city when Robinson arrived in 1966. That July, a white supremacists rally was attended by a thousand people who chanted, "We'll win this battle with bullets and bombs." C. Fraser Smith, author of Here Lies Jim Crow: Civil Rights in Maryland, wrote "People would go into bars to watch guys like Frank Robinson hit home runs on TV, but they didn't want him [sitting] next to them having a beer. We weren't very enlightened."
Robinson dealt with the racism of his new city by having one of his best seasons in 1966. He then used his experience and his fame to continue the battle for civil rights long after his playing days were over.
Ken Singleton (with Orioles from 1975-1984)
.284/.388/.445, 1446 G, 6072 PA, 135 OPS+ (with Orioles)
 Harold Baines played more games at DH for the Orioles than anyone else, including Ken Singleton, but Singleton was much more productive. Singleton came to the Orioles after two years with the New York Mets and three with the Montreal Expos. On December 4, 1974, the Expos traded Singleton and starting pitcher Mike Torrez to Baltimore for starting pitcher Dave McNally, outfielder Rich Coggins, and minor leaguer Bill Kirkpatrick.
Early in his career with the Orioles, Singleton mostly played right field but shifted to designated hitter as he got older. By his final two years with the O's, he was exclusively the DH. Defense was never his strong suit, but Singleton could hit. He averaged 4.7 WAR per year for the first six years he was with the O's and twice had over 100 RBI. In 1979, Singleton hit .295/.405/.533, with career-highs in homers (35) and RBI (111). He finished second to Don Baylor in the AL MVP voting (although George Brett and Fred Lynn were much more deserving choices than either Murray or Baylor).
With Singleton leading the way, the Orioles made the playoffs in 1979. They beat the California Angels in the best-of-five ALCS, with Singleton hitting .375/.389/.500. He kept his hot hitting going with a .357/.400/.393 batting line in the World Series, but the Orioles blew a three-games-to-one lead and lost the series to the Pittsburgh Pirates.
The Orioles made the playoffs again in 1983 and again advanced to the World Series. This time they beat the Philadelphia Phillies in five games to win their first world championship since 1970. At 36 years old, Singleton was still a capable on-base machine (.393 OBP), but without the power he'd once had (.436 slugging percentage). He was still respected enough that he led the AL by getting intentionally walked 19 times.
For the World Series, MLB rules at the time allowed for the use of the DH for all games during even-numbered years, with no DH for any games during odd-numbered years. This was an odd-numbered year, so Singleton didn't have a spot in the lineup. He got pinch-hitting appearances in games three and four, walking once and striking out once.
Singleton finally hit the wall in 1984, when he had the worst batting line of his career, hitting .215/.286/.289 in 404 plate appearances. Despite the bad final year, Singleton had an impressive .284/.388/.445 batting line during his 10 years with the Orioles.
Singleton is remembered by Baltimore fans as a class act on and off the field. Terry Pluto wrote about Singleton in his book The Earl of Baltimore, "He will not swing at a bad pitch and every action he takes on the field has a purpose. Like his speech and his dress, Ken Singleton the ballplayer is neat, precise and fluid."
Backup Outfielder #1 Brady Anderson (with Orioles from 1988-2001)
.257/.364/.430, 1759 G, 7464 PA, 110 OPS+ (with Orioles)
Brady Anderson was a 10th round draft pick by the Boston Red Sox in the 1985 amateur draft. It took him a few years to reach the big leagues. The Red Sox called him up in 1988, but traded him to the Orioles that July. Anderson was traded along with Curt Schilling for Mike Boddicker. This was long before Schilling would be known for his bloody sock and offensive tweets. In fact, Twitter hadn't yet been invented.
Anderson didn't become a full time player until 1992, when he was 28 years old. To that point of his career, he was a .219/.313/.306 hitter. Then something clicked in 1992 when Anderson made his first all-star game and hit .271/.373/.449. This would become his established level of production for the next few years. From 1992 to 1995, he hit .265/.367/.436 and averaged 34 steals per year.
Then came the 1996 season, one of the great fluke years of any player's career. After never hitting more than 21 home runs in a single season, Brady Anderson broke out with a 50-homer, 110-RBI year that saw him slug .637. Amazingly, Anderson didn't lead the league in any of those three categories. Mark McGwire had 52 bombs and slugged .730. Juan Gonzalez slugged .643. And there were 17 American League players who had more than 110 RBI. Anderson's 50 HR/110 RBI season earned him a ninth place finish in MVP voting.
After reaching such great heights, Anderson regressed back to the player he had been in the four seasons before the 50 homer year. From 1997 to 2000, he hit .267/.384/.449 and averaged 20 homers and 23 steals per year. He played his final season with the Orioles in 2001, then finished out his career with Cleveland in 2002.
So, that 50-homer year is interesting. Below is an average season for Anderson in the four years before and the four years after his 50-homer year, with his 50-homer year to compare them to.
141 G, 647 PA,   94 R, 18 HR,   64 RBI, 28 SB, .266/.376/.442—Surrounding Years
149 G, 687 PA, 117 R, 50 HR, 110 RBI, 21 SB, .297/.396/.637—1996
Because it was such a fluky years, rumors of steroid use have always been there for Brady Anderson. Whether he used or not, we just don't know. He was well-known in Baltimore as a health nut who was in tremendous shape through working out hard and eating right. Would that make him more or less likely to use PEDs?
In this column at The Hardball Times, Jeremy Greenhouse makes the argument that it's odd for people to think that Anderson would use PEDs for one year, have a monster season, then quit using them the following year when he's playing for a new contract. Greenhouse writes, "It's fall of 1996, and Anderson, having realized the magic of performance enhancing drugs, is coming off a 50-homer year. He's heading into his final year with the Orioles before he hits free agency. But he comes to the decision that he doesn't want to be remembered as a cheat, so he dramatically throws all his pills and vials into the trash, possibly with the help of an intervention from Zack Morris. So Brady hits 18 homers in 1997, but he does it clean."
It does seem unlikely that a guy would use PEDs and increase his season-high in home runs from 21 to 50, then stop using PEDs. And it's not like Brady Anderson is the only player in baseball history with such a fluky year. Another Baltimore Oriole, second baseman Davey Johnson, had one of the flukiest of fluky years in 1973 when he suddenly hit 43 home runs and had 99 RBI, with a .546 slugging percentage. Other than this season, Johnson never hit more than 18 homers, drove in more than 72 runs, or had a slugging percentage higher than .443 in full-time play.
Anyway, Anderson is the choice as one of the backup outfielders on the Orioles all-time 25-man roster.
Backup Outfielder #2 Adam Jones (with Orioles from 2008-present)
.278/.319/.462, 1321 G, 5593 PA, 109 OPS+ (with Orioles)
 This extra outfielder spot could have gone to Al Bumbry or Nick Markakis, but Jones is the choice for his play with the Orioles so far and the anticipation of what is yet to come. He has been the starter in center field since 2008 and is signed through the 2018 season. He already has more plate appearances as an Oriole than Bumbry and should pass Markakis this year.
Jones was acquired in one of the best trades in Orioles' history. They received Jones, Chris Tillman, George Sherrill, Kam Mickolio, and Tony Butler for Erik Bedard. Bedard pitched parts of three seasons with the Mariners after the trade, starting a total of 46 games. Jones has played in 1394 games, Tillman has started 179 games, and Sherrill pitched 99 games in relief for Baltimore. So far, Jones, Tillman and Sherrill have combined for 43.1 WAR compared to Bedard's 4.2.
Jones turned 30 last year and may be on the downside of his career. He steadily improved into his late 20s, topping out with back-to-back seasons worth 4.6 and 4.8 WAR in 2013 and 2014. In 2015, he dropped to 3.2 WAR. Last year, he struggled in the power department and on defense and finished with 1.1 WAR, his worst year as a regular. He's not that old, though, so it wouldn't be a surprise to see him bounce back a bit from last year.
Backup shortstop Mark Belanger (with Orioles from 1965-1981)
.227/.300/.280, 1962 G, 6544 PA, 68 OPS+ (with Orioles)
 There probably isn't a more unnecessary roster spot in the entire hypothetical sports world than the backup shortstop on the Baltimore Orioles all-time 25-man roster. Starter Cal Ripken, Jr. will never need a day off, so what good is Mark Belanger?
And yet, it's Mark Belanger. How does he NOT make an all-time Orioles team? Belanger took over the Baltimore shortstop position in 1968 and regularly started 140-150 games per year over the next decade. He was a fixture on the left side of the infield, with the great Brooks Robinson next to him at third base through the mid-1970s. That duo was a big part of the success of that generation of Orioles, especially the pitching staff.
Other than the 1979 season, Belanger was the main starter at shortstop for the O's from 1968 to 1981. The Orioles released him after the 1981 season and he signed as a free agent for one final year with the Los Angeles Dodgers. Cal Ripken, Jr. took over the shortstop position in the middle of the 1982 season and held that spot for 15 years. It was an impressive stretch of consistency at the position. The Baltimore Orioles played 4,552 games in the 29 years from 1968 to 1996 and Belanger and/or Ripken played shortstop in 92% of them.
Unlike Ripken, though, Belanger was all glove. His bat was a liability. His lifetime batting line was .228/.300/.280. That .280 slugging percentage is the lowest all-time for players with 6,500 or more plate appearances. His .228 batting average is the second-lowest all-time for players with 6,500 or more plate appearances (behind only Ed Brinkman's .224). You have to be pretty special with the glove to stick in the lineup with a bat like that.
Infielder Bobby Grich (with Orioles from 1970-1976)
.262/.372/.405, 786 G, 3344 PA, 127 OPS+ (with Orioles)
 The perennially underrated Bobby Grich is getting the short end of the stick here. He had 36.0 WAR (per Baseball-Reference) in 3344 plate appearances with the Orioles, yet is slated for the bench behind Brian Roberts, who had 28.9 WAR in 5905 plate appearances. Grich could easily be the starter, but it felt like Roberts' edge in playing time and years at the position should give him the nod for the starting spot on the all-time Orioles' roster.
Grich was very good as an Oriole. He just played in a time when the things he did well were not appreciated like they are now. He played seven years with Baltimore and hit .262/.372/.405. His 127 OPS+ suggested he was 27% better than the league average hitter. He was also good on defense. Grich had five straight years with 6 or more WAR from 1972 to 1976. Roberts had just one season in his career with 6 WAR. During that five-year stretch, Grich was an all-star three times and won four Gold Glove Awards.
The Orioles let Grich go after the 1976 season and he signed as a free agent with the California Angels in November of that year. He continued to play well with the Angels, but at a lower level than his time with the O's. In his career, Grich had 36 WAR in 7 years with Baltimore (5.1 WAR per season) and 34.9 WAR in 10 years with the Angels (3.5 WAR per season).
Statistically, Grich is in the ballpark of other prominent second basemen in the history of the game, such as Lou Whitaker, Craig Biggio, and Roberto Alomar. He was also a cut above Willie Randolph, Ryne Sandberg, and Joe Gordon. Biggio, Alomar, Sandberg, and Gordon are all in the Hall of Fame. Grich, Whitaker, and Randolph were all "one-and-done" guys on the BBWAA ballot. All three should have fared better in the voting, none more so than Grich.
Backup Infielder Manny Machado (with Orioles from 2012-present)
.284/.333/.477, 608 G, 2675 PA, 117 OPS+ (with Orioles)
Machado was the #3 overall pick in the 2010 amateur draft and he quickly moved through the Orioles' minor league organization. He got to the big leagues as a 19-year-old in 2012. His first all-star game and Gold Glove award came in 2013. He also finished ninth in the voting for AL MVP. An injury caused him to play just a half season in 2014, but he came back strong the last two years and made two more all-star teams and won another Gold Glove.
 Right now, Manny Machado is in the mix with a large group of players who could be chosen for the Orioles' bench. He doesn't yet have the win value of Melvin Mora or Rafael Palmeiro and is only slightly ahead of Doug DeCinces. He's coming off two very good years, though. In fact, Machado has been among the best players in the league in every full season he's played. And he's only 24 years old. He has two years before free agency, so he should easily pass Melvin Mora in career value by that time. He would have to sign a long-term deal to remain in Baltimore in order to bump Brooks Robinson out of the starting spot at third base, but that doesn't seem likely to happen.
A recent article at the Washington Post suggested that the new CBA will enable the Yankees to open up their wallets and sign the best players available after the 2018 season. One of those players could be Manny Machado. Author Mark Feinsand wrote, "According to a source familiar with the terms of the new CBA, the deal should be 'very good' for the Yankees, who stand to see their revenue sharing contribution reduced and a chance to—finally—get their payroll beneath the luxury tax threshold." He envisioned a Yankees team with Manny Machado at third base, Bryce Harper in right field, and Matt Harvey on the bump. The New York Daily News added to Orioles' fans fears with a Photoshopped cover featuring Machado and Harper in Yankees pinstripes.
What a nightmare that is. There has been only one third baseman in the history of the game who was been worth more WAR through the age of 23 than Manny Machado. That player is Hall of Famer Eddie Mathews. Machado is on the right path. Whether he continues down that path as a Baltimore Oriole after 2018 remains to be seen.
Backup Catcher Chris Hoiles (with Orioles from 1989-1998)
.262/.366/.467, 894 G, 3339 PA, 119 OPS+ (with Orioles)
 Every team needs a backup catcher. There are no Cal Ripken, Jr. types wearing the Tools of Ignorance and playing every inning of every game at the catcher position. With Rick Dempsey as the starter, a team would do well to have a more offensive-minded player as his backup. The choice here is Chris Hoiles.
Hoiles was drafted by the Detroit Tigers in the 19th round of the 1986 amateur draft. Two years later, he was traded to the Orioles for Fred Lynn. Lynn was near the end of his career at this point. He would play the 1989 season in Detroit, hitting .241/.328/.371, then finish out his career in San Diego, hitting .240/.315/.357. I would guess only the most die hard of Fred Lynn fans remember that he played with Detroit and San Diego at the end of his career.
Hoiles had a sip of coffee with the Orioles in 1989 and a full cup of coffee with the team in 1990. He finally started getting regular at-bats in the big leagues in 1991 and reeled off eight straight years with double-digit home runs, including three years with 20 or more. Hoiles was at his best in 1993 when he hit .310/.416/.585 with 29 home runs and 82 RBI. That year got him some down ballot MVP Award recognition. Hoiles is the Orioles' all-time leader in runs and home runs by a catcher.
Jim Palmer (with Orioles from 1965-1967, 1969-1984)
268-152, .638, 2.86 ERA, 1.18 WHIP, 3948 IP, 125 ERA+ (with Orioles)
 Palmer is head-and-shoulders above any other starting pitcher in Baltimore Orioles history. Remember, this only includes their time with the Orioles, which bumps Mike Mussina down to #2. Palmer leads all Orioles pitchers in numerous categories and his lead is often substantial. He leads Dave McNally in wins, 268-181, and starts, 521 to 384, and innings pitched, 3948 to 2652.7. He's the only Orioles pitcher ever with more than 2000 strikeouts and the only starting pitcher in team history who pitched 800 innings or more with an ERA under 3.00.
The Orioles made the playoffs eight times in Palmer's 19 seasons and won three World Series titles. He had a better ERA in the post-season (2.61) than the regular season (2.86). He was at his best from 1970 to 1978. During this nine-year stretch, Palmer won 20 games eight times, led the league in innings four times, wins three times, ERA twice, and won three AL Cy Young Awards.
The numbers are impressive, but Palmer was more than just his statistics. He became one of the most famous faces in baseball in the 1970s, thanks in part to being the spokesman and underwear model for Jockey. He was part of the company's national print and television advertisements and was featured on billboards in Times Square in New York and other major cities. Even after his career was over, he was regularly seen on TV adds for The Money Store. He also moved quickly from the playing field to the broadcaster's booth with the Orioles when his playing days were over.
Despite his fame, Palmer wasn't the most popular of players (or announcers). He can come across as arrogant and seems to spend way too much time talking about himself. It's likely true that he is often the smartest man in the room, but he seems to believe it's always true. As good as he was as a player for the Orioles and even after his long association with the team as an announcer, he doesn't come across as a guy who's embraced by the Baltimore fans.
Yet he's done many good things off the field over the years. He donated all proceeds from the sale of his Jockey underwear poster to the Cystic Fibrosis Foundation. He's worked with the Baseball Assistance Team to help provide Major League, Minor League, and Negro League players who are in financial or medical need. Former teammate Boog Powell said Palmer was one of the first people to visit him in the hospital when Powell had colon cancer.
Of course, any writing about Jim Palmer has to refer to his long, stormy relationship with manager Earl Weaver. Palmer joined the Orioles as a 19-year-old rookie in 1965. Earl Weaver arrived to manage the team in 1968. Weaver initially retired after the 1982 season, while Palmer's career with the Orioles ended in 1984. Once Palmer retired, Weaver came back to manage the Orioles in 1985 and 1986. Maybe Weaver wanted a chance to manage the O's without Palmer on the roster? Despite their many disagreements, the two had a grudging mutual respect for each other.
Just as there's no doubt Earl Weaver would be the manager of the Orioles all-time 25-man roster, there's also no doubt that he would have Jim Palmer as his #1 starter.
Mike Mussina (with Orioles from 1991-2000)
147-81, .645, 3.53 ERA, 1.18 WHIP, 2009.7 IP, 130 ERA+ (with Orioles)
 Had Mike Mussina played his entire career with the Orioles, he likely would have passed Jim Palmer and finished in the #1 spot for starting pitchers. Mussina was very good with the Orioles, but was only on the team for 10 of his 18 major league seasons.
Mussina, of course, pitched in a different era. While Palmer started 38-40 games and pitching over 300 innings per season in the mid-1970s, Mussina started 32-34 games and pitched 220 innings per season in the late-1990s/early-2000s. They each pitched more than 3,500 innings in their careers and allowed a similar number of runs when compared to the league they played in at the time. Palmer had an ERA+ of 125; Mussina finished at 123. They also finished within two career wins of each other, with Mussina winning 270 and Palmer winning 268.
We only care about his time with the Orioles for this roster spot, so Mussina is second to Palmer among Orioles' starting pitchers. Mussina was a five-time all-star who also finished in the top six in AL Cy Young voting seven times in 10 years. He twice won 19 games in a season as an Oriole.
The Orioles only made the post-season twice during Mussina's time with the team. In 1996, he pitched once against Cleveland in the ALDS and gave up three runs in six innings. He got one start against the Yankees in the ALCS and was knocked around for five runs in 7 2/3 innings. He redeemed himself the following year when he was 2-0 with a 1.93 ERA in 14 innings in the Orioles' defeat of the Mariners in the 1997 ALDS, then posted a 0.60 ERA in 15 innings against Cleveland in the ALCS. Unfortunately, the Orioles didn't win either of those games and lost the series four games to two.
Since his retirement, Mussina has been on the Hall of Fame ballot for three years, gaining votes each year. Last year, he had 43% of the vote, which is still a long ways from the needed 75% for induction. Based on Baseball-Reference WAR, Mussina should be faring better with the writers. There are only two players on the ballot with more bWAR than Mussina—Barry Bonds and Roger Clemens. Mussina is higher on the list of currently eligible players than Jeff Bagwell, Tim Raines, Ivan Rodriguez, and Vladimir Guerrero, among others. And, except for Clemens, he's the top pitcher on the ballot.
Dave McNally (with Orioles from 1962-1974)
181-113, .616, 3.18 ERA, 1.20 WHIP, 2652.7 IP, 107 ERA+ (with Orioles)
 Before becoming a major league pitcher, Dave McNally was a young pitcher for a few years on an American Legion club that won 14 state titles in a row. McNally grew up in Montana and his high school didn't have a baseball team. Most baseball-playing teenagers in Montana played Legion ball, which had 80-game seasons and traveled extensively. McNally said of those days, "School would let out and immediately we would go on a five or six state tour in our air-conditioned bus. Not only did we have our local Legion post behind us, but everybody else in town too. A good team would come into town and we'd draw 4,000 to 5,000 people." McNally had one season in which he was 18-1 and had a game in which he struck out 27 batters.
Major League Baseball didn't have a draft in those days, so teams would find players and offer them contracts. McNally signed for $80,000 with the Orioles about a month before his 18th birthday in 1960. He pitched his first major league game less than two years later. In his major league debut on September 26, 1962, McNally pitched a complete game shutout against the Kansas City A's for his first major league win.
It took McNally a couple years to establish himself. He really came into his own in 1968 when he was 22-10 with a 1.95 ERA and 0.84 WHIP. In the seven years from 1968 to 1974, McNally was 133-75 with a 3.00 ERA. He won 20 games or more four straight years, including a league-leading 24 wins in 1970. He also had three straight top-four finishes in AL Cy Young voting.
The four straight 20-win seasons propelled McNally to a lucrative contract. He became the first AL pitcher ever to earn $100,000 in a season when he signed a contract for $105,000 for the 1972 season.
This was a successful time for the Orioles and McNally was a big part of it. The team won two World Series titles during McNally's career. In the post-season, he was 7-4 with a 2.49 ERA in 12 starts.
After pitching an average of 261 innings per year from 1968 to 1974, McNally asked to be traded and was sent was to the Montreal Expos. The swap brought Ken Singleton and Mike Torrez to Baltimore. McNally battled with Expos management on his contract and they never came to terms. He played without one, so the club renewed his 1974 contract with a small raise).
McNally struggled with the Expos in 1975. In early June, he was 3-6 with a 5.24 ERA in 77 1/3 innings. He didn't feel right about continuing to pitch so poorly, so he abruptly announced his retirement on June 9. He said at the time, "It got to the point where I was stealing money." He apologized to the fans of Montreal and walked away from baseball. Notably, he did not sign his official retirement papers. This would prove to be a big deal at the end of the season.
At this time, the players union was looking to challenge MLB's reserve clause. Up until this point, teams held contracts on the players that would automatically renew for the next season if the team chose to renew them. Players had no say in the matter and no opportunity to become a free agent. Union leader Marvin Miller wanted a player to play an entire season without a contract so the union could file a grievance. In 1975, Dodgers pitcher Andy Messersmith and Expos pitcher Dave McNally both pitched without a contract. Even though he was retired and not planning to pitch again, McNally was asked to join the suit. He agreed to do so.
The union filed a grievance in November of 1975. A month later, arbitrator Peter Seitz ruled in favor of Messersmith and McNally and they were both free agents. This ended the reserve clause and would lead to the free agency we see for players today.
Mike Flanagan (with Orioles from 1975-1987, 1991-1992)
141-116, .549, 3.89 ERA, 1.32 WHIP, 2317.7 IP, 100 ERA+ (with Orioles)
 The Baltimore Orioles drafted Mike Flanagan out of the University of Massachusetts Amherst in the 7th round of the 1973 draft. He reached the big leagues in 1975, but didn't get established as a regular in the rotation until 1977. In the eight-year stretch from 1977 to 1984, Flanagan was 122-81, with 87 complete games and 17 shutouts. His best year was 1979. Flanagan led the AL in wins and shutouts and won the Cy Young Award (23-9, 3.08 ERA). In the 1979 post-season, Flanagan was 2-1 with a 3.68 ERA.
Injuries limited Flanagan to 20 starts in the 1983 regular season, but he was still effective. He was 12-4 with a 3.30 ERA. The Orioles again made the playoffs. They beat the White Sox in the ALCS then beat the Phillies in the World Series for their first title since 1970.
Flanagan bounced back to pitch 226 2/3 innings in 1984, but he wouldn't reach that innings total again in his career. He struggled towards the end of his time in Baltimore, then was traded to the Toronto Blue Jays in August of 1987 for Oswaldo Peraza and a player to be named later. That player would eventually be Jose Mesa.
During his three-plus years with the Blue Jays, Flanagan was 26-27 with a 3.94 ERA. The Jays released him during the 1990 season. Flanagan singed as a free agent with Baltimore as a 39-year-old in 1991 and finished out his career pitching almost exclusively out of the bullpen. He was effective in 1991 when he had a 2.38 ERA in 64 appearances, but got knocked around pretty hard in 1992.
The 1991 season was the last year the Orioles played in old Memorial Stadium. Camden Yards would open the following year and begin the trend towards baseball-only ballparks rather than multi-use stadiums. The final game at Memorial Stadium was on October 6, 1991. It was typical for an Orioles' game that year. They fell behind early, couldn't mount a comeback, and lost handily.
There were some great moments, though. After the game, 119 former Orioles walked out onto the field of Memorial Stadium to the music of Field of Dreams. Earl Weaver came out last and 50,000 people combined to sing Auld Lang Syne.
Before that final moment, there had been another nice moment that involved Mike Flanagan. With one out and the bases empty in the top of the ninth, Oriole's manager Johnny Oates came to the mound to get the ball from reliever Gregg Olson. He signaled to the pen and in came Flanagan. Flanagan would be the last Orioles' pitcher to ever throw a pitch at Memorial Stadium. He got Dave Bergman to strike out swinging on a full-count, then got Travis Fryman to do the same. The crowd roared.
Mike Cuellar (with Orioles from 1969-1976)
143-88, .619, 3.18 ERA, 1.19 WHIP, 2028.3 IP, 109 ERA+ (with Orioles)
 The great Orioles teams of the late 1960s and early 1970s hardly needed a fifth starter, but I'm going to fudge it a little and give the all-time roster a fifth and a sixth starter. It's tough to leave either Mike Cuellar or Scott McGregor off the list, so they both get a spot. Cuellar gets the #5 spot.
 Unlike many players on this all-time roster, Cuellar was not a homegrown product. He pitched with three other major league teams before making his way to Baltimore. Just before coming to Baltimore, Cuellar pitched four years with the Houston Astros from 1965 to 1968. While playing winter ball in Puerto Rico, Cuellar mowed down a team that had major leaguers Paul Blair, Orlando Cepeda, Dave Johnson, and Tony Perez. The team's opposing manager was Earl Weaver.
Weaver sent word to the Orioles' general manager, Harry Dalton, that he liked what he saw in Cuellar. Jim Russo, a well-regarded scout for the Orioles, also raved about Cuellar. On December 4, 1968, the Orioles traded Curt Blefary and minor leaguer John Mason to the Astros for Cuellar, Enzo Hernandez, and minor leaguer Tom Johnson.
Cuellar would be 32 years old in his first year with the O's, but he showed very quickly that age is just a number. He was 23-11 with a 2.38 ERA and won the AL Cy Young Award. He followed that up by going 24-8 in 1970 and 20-9 in 1971.
In his first seven years with the Orioles, Cuellar was 139-75 with a 3.08 ERA. Only Fergie Jenkins, Catfish Hunter, and Gaylord Perry had more wins than Cuellar during this stretch. Off the field, it's likely that Cuellar led baseball in quirkiness. He was a fanatic about his special baseball cap. He wouldn't pitch without it. He was superstitious about when he would return to the field to start the next inning after the Orioles ended their at-bat; he wouldn't leave the mound until his catcher put his shin guards back on. He also refused to step on the foul line and wouldn't let anyone toss the ball to him when he was on the mound; he had to pick it up himself. On road trips, he always wore a blue suit. He also ate Chinese food the night before every start.
After pitching an average of 274 innings per year for seven years, the 39-year-old Cuellar had arm trouble in 1976 that limited him to 107 innings. He also had a surprisingly high 4.96 ERA. The Orioles released him at the end of the year. He signed with the Angels but pitched just 3 1/3 innings before being released. That was the end of an impressive major league career.
Scott McGregor (with Orioles from 1976-1988)
138-108, .561, 3.99 ERA, 1.29 WHIP, 2140.7 IP, 98 ERA+ (with Orioles)
The Orioles had many more good starting pitcher candidates than relievers, so McGregor makes the cut as the #6 starter. The 1st round pick by the Yankees in 1972 was part of the 10-player trade on June 15, 1976 that would provide the Orioles with some key players on their 1979 and 1983 World Series teams. In that deal, the Yankees traded McGregor, Rick Dempsey, Tippy Martinez, Rudy May, and Dave Pagan to the Orioles for Doyle Alexander, Elrod Hendricks, Ken Holtzman, Grant Jackson, and Jimmy Freeman.
McGregor pitched mostly in the minor leagues in 1976 before establishing himself with the Orioles a relief pitcher in 1977. He moved into the rotation in 1978 and was 15-13 with a 3.32 ERA. Despite missing some time with an injury in 1979, McGregor was able to start 23 games and pitch 174 2/3 innings. He was 13-6 with a league-leading 1.08 WHIP and a league-best 1.2 walks per nine innings. In the postseason, he pitched a clutch shutout against the Angels in the ALCS, then started and won Game 1 of the World Series. He came back and pitched well in Game 5, but the Orioles' relievers couldn't hold down the Lumber Company and the O's lost the game. They ended up losing the series in seven games.
In 1980, McGregor had a career-best 20 wins and finished sixth in AL Cy Young voting. He continued to pitch well in the strike-shortened 1981 season, but struggled to a 14-12, 4.61 ERA season in 1982.
The Orioles were back on top of the AL East in 1983 and McGregor led the way with a record of 18-7 and a 3.18 ERA. Once again, he was very effective in the post-season. He pitched 23 2/3 innings over three starts and allowed just three earned runs. In six post-season starts in his career, McGregor had a 1.63 ERA.
Unfortunately, that 1983 season would be the apex of McGregor's career. The Orioles won the World Series and he was an above average pitcher. Over the last five years of his career, McGregor would go 42-51 with a 4.81 ERA. He hung up his spikes after getting pounded for 18 runs in 17 1/3 innings in his first four starts in 1988. That team would lose 107 games.
McGregor came to the Orioles in the middle of a long run of success. He wasn't part of the late 1960s teams that won two World Series championships, but he got to be part of the successful 1979 and 1983 teams. He talked about the tradition in Baltimore, saying, "When I came here, they had tradition. They just won. They had a pitching-rich history. They played good defense. They had lots of hitting. They made it easy to win and be in contention."
Gregg Olson (with Orioles from 1988-1993)
17-21, 160 SV, 2.26 ERA, 1.25 WHIP, 350.3 IP, 176 ERA+ (with Orioles)
 When it comes to relief pitchers, the Baltimore Orioles don't have many that stand out above the rest. Gregg Olson is the team leader in saves, with 160, and ranks near the top of the relievers in WAR. He was one of the bright spots on the 1989 Orioles team that improved their win total from 54 wins in 1988 to 87 wins in 1989. Olson saved 27 games with a 1.69 ERA that year, which was his first full season in the big leagues. He won the AL Rookie of the Year Award over Tom Gordon and Ken Griffey, Jr. It was the first time a reliever won the AL Rookie of the Year Award and Olson's 27 saves was a record for an AL rookie.
Olson continued his success in 1990 when he was selected to the all-star team and set a club record with 37 saves (since broken). He saved 31 games in 1991 and 36 in 1992. He was limited to 45 innings in 1993, but had a career-best ERA of 1.60 and saved 29 games in 50 outings.
The Orioles had back-to-back 3rd place finishes in 1992 and 1993 and were expecting to be contenders in 1994. Olson had pitched just one time after August 8 in 1993. The team decided to let him become a free agent and signed Lee Smith to close out games. Olson bounced around the big leagues after his departure from the Orioles. He pitched for Atlanta, Cleveland, Kansas City, Detroit, Houston, Minnesota, Kansas City again, Arizona, and the Dodgers over the next eight years. He had one more 30 save season (with Arizona in 1998) but never came close to the extended run of good pitching he had with the Orioles in the early 1990s.
Zach Britton (with Orioles from 2011-2016)
27-21, 120 SV, 3.24 ERA, 1.24 WHIP, 463.2 IP, 129 ERA+ (with Orioles)
 Zach Britton has been the Orioles' closer for just three years but is already third on the team's all-time list in saves. He'll pass Jim Johnson early next year and could pass Gregg Olson for first place by the end of the season. He's also coming off perhaps the greatest year any relief pitcher has ever had.
As good as he's been out of the pen the last three years, it's easy to forget that Britton was a mediocre starting pitcher not that long ago. He started 28 games in 2011, going 11-11 with a 4.61 ERA. Over the next two years, he bounced between the major and minor and struggled to find success. He made 18 starts across 2012-2013 and was 7-6 with a 5.02 ERA.
Britton was moved to the bullpen in 2014 and turned his career around. He saved 37 games with a 1.65 ERA in his first year pitching predominantly out of the pen. The next season, he made the all-star team for the first time when he had 36 saves and a 1.92 ERA.
Those two years led up to the 2016 season. This year, Britton led the AL in saves (47) and games finished (63). He was an all-star and finished fourth in AL Cy Young voting. Amazingly, he allowed just four earned runs in 67 innings, good for an ERA of 0.54. It was the lowest ERA ever for a reliever with 50 or more innings, just beating out Fernando Rodney's 0.60 ERA in 2012 and Dennis Eckersley's 0.61 ERA in 1990. We may never see a year like this again.
Dick Hall (with Orioles from 1961-1966, 1969-1971)
65-40, 60 SV, 2.89 ERA, 1.01 WHIP, 770 IP, 124 ERA+ (with Orioles)
 Hall was originally signed by the Pittsburgh Pirates in 1951 as an outfielder. He spent a few seasons in their minor leagues as a hitter, but switched to pitching in 1955. He didn't have much success with the Pirates. He missed the entire 1958 season with hepatitis, then returned in 1959 to pitch mostly at the Triple-A level. He was traded to Kansas City after the 1959 season. After one year with Kansas City, Hall was traded to Baltimore along with Dick Williams for Chuck Essegian and Jerry Walker.
The Orioles used Hall as a starter and reliever in 1961. He was 7-5 with a 3.09 ERA while starting 13 of the 29 games in which he appeared. Over the next five years with the Orioles, Hall would become exclusively a reliever. He never had high save totals, topping out with 12 in 1963 and 1965, but the save rule had yet to be invented so teams didn't use their relievers then like they do now.
One of the characteristics of Hall's pitching during this time with the Orioles was his terrific control. From 1962 to 1966, Hall walked 1.3 batters per nine innings and had a K/BB of 4.6. Both were the best marks in baseball for relief pitchers with more than 150 innings during this five-year stretch.
Hall didn't pitch during the 1966 World Series, which the Orioles won in four games over the Dodgers. He just wasn't needed. The Orioles used four pitchers in the entire World Series and only one was a reliever (Moe Drabowsky). Hall was traded to the Philadelphia Phillies after the 1966 season. When the Phillies released him two years later, the Orioles signed him as a free agent.
In his second stint with the Orioles, Hall continued to limit walks. From 1969 to 1971, he appeared in 98 games and had a 3.12 ERA. The Orioles made the World Series all three years, winning once. In the post-season, Hall pitched 8 2/3 innings without allowing an earned run.
Tippy Martinez (with Orioles from 1976-1986)
52-40, 105 SV, 3.46 ERA, 1.37 WHIP, 752.3 IP, 112 ERA+ (with Orioles)
 Only Jim Palmer has appeared in more games for the Baltimore Orioles than Tippy Martinez and no one has finished more games for Baltimore than Tippy. He's also fourth all-time on the Orioles' saves list.
Tippy Martinez started his career with the New York Yankees. He was acquired by the Orioles in the 10-player trade on June 15, 1976 that also brought over Rick Dempsey and Scott McGregor, both of whom are also on this Orioles all-time 25-man roster.
Except for his very bad 1978 season, Martinez was a mainstay out of the Orioles' bullpen for eight years from 1977 to 1984. He appeared in 408 games and had 92 saves during this stretch, with a record of 46-34 and a 3.24 ERA. He appeared in three games in the 1979 World Series loss to the Pittsburgh Pirates, allowing one run in 1 1/3 innings. He was better in the 1983 post-season. Martinez pitched nine innings in five post-season games and helped the Orioles to the World Series title over the Philadelphia Phillies.
The most famous moment of Martinez' career came on August 24, 1983. The Orioles were facing the Blue Jays and the score was tied 3-3 in the top of the 10th. A series of moves were made by the Orioles that led to infielder Lenn Sakata having to play catcher for the first and only time in his major league career. Tim Stoddard starting the inning on the mound for the O's, but allowed a solo home run and a single. Tippy Martinez came into the game and picked off Barry Bonnell at first. Dave Collins then walked . . . and was picked off by Tippy Martinez. Willie Upshaw followed with a single . . . and was picked off by Tippy Martinez. It was incredible, three batters reached base and three batters were picked off.
Amazingly, the Orioles would end up winning that game in the bottom of the inning on a walk-off home run by Lenn Sakata. Martinez pitched three more years with the Orioles but got progressively worse. He was released in the middle of the 1987 season.
Baltimore Orioles All-Time 25-Man Roster:
 Starting Lineup
2B Brian Roberts
DH Ken Singleton
RF Frank Robinson
SS Cal Ripken, Jr.
1B Eddie Murray
LF Boog Powell
3B Brooks Robinson
C Rick Dempsey
CF Paul Blair
 Bench
OF Brady Anderson
OF Adam Jones
C Chris Hoiles
SS Mark Belanger
INF Bobby Grich
INF Manny Machado
 Starting Rotation
RHP Jim Palmer
RHP Mike Mussina
LHP Dave McNally
LHP Mike Flanagan
LHP Scott McGregor
LHP Mike Cuellar
 Relievers
RHP Gregg Olson
LHP Zach Britton
RHP Dick Hall
LHP Tippy Martinez
 Just Missed the Cut (the next 10 players)
OF Al Bumbry
OF Nick Markakis
3B Melvin Mora
1B Rafael Palmeiro
3B Doug DeCinces
SP Milt Pappas
SP Mike Boddicker
SP Steve Barber
RP Jim Johnson
RP Stu Miller
This article originally appeared on