The Top 10 most eye-opening performances of bowl season
Bowl games often serve as a coming-out party for a lot of players who either have been under-the-radar or on the cusp of having a break-out game. We've seen plenty over the past few weeks who fit in both categories.
This week's Top 10: The most eye-opening performances of bowl season.
Caveat: As amazing as Christian McCaffrey and guys like Laquon Treadwell were, I'm not including them here. We already knew those guys were fantastic.
1. Lamar Jackson, Louisville, QB
There's no disputing Bobby Petrino is a terrific offensive mind, and now he's got a special triggerman to work with in the 6-foot-3, 198-pound freshman from South Florida who gashed a very athletic Texas A&M defense. Jackson ran for 226 yards and passed for 227, producing four total TDs in the win. "He's a lot faster than you think (compared to just watching him on film)," said Texas A&M D-line coach Terry Price. "He's tall and a pretty big guy, but he really has big-time top-end speed and he can make you miss in a heartbeat."
Credit to the Cards staff, which souped up their running attack with Jackson by tweaking how the offense blocks certain things compared to earlier in the season.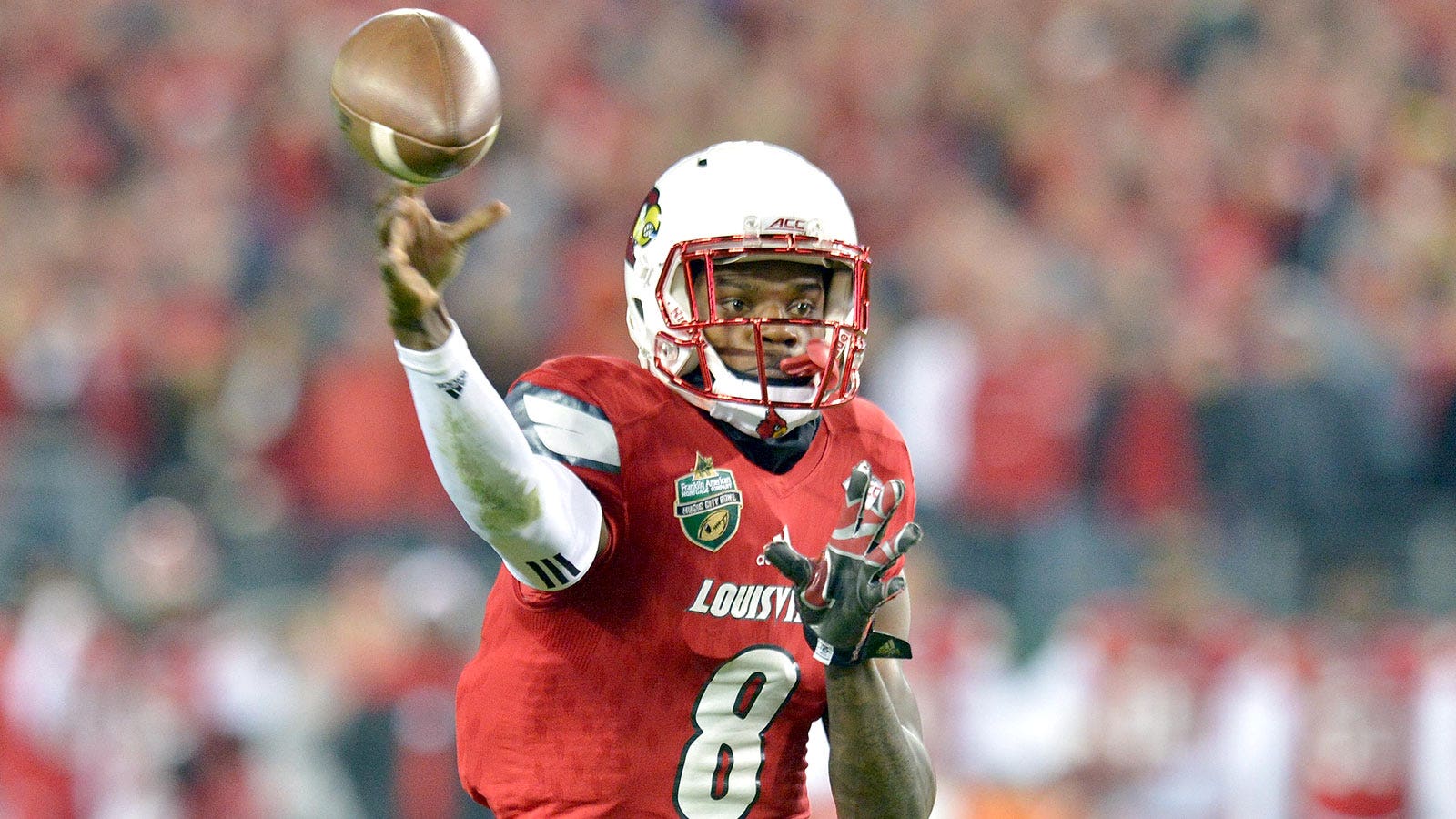 2. Baylor run game
The only running attack even more impressive this month than Georgia Southern's was Art Biles' at Baylor. It was insane what they did to UNC especially considering how depleted Baylor was — down two QBs, star RB Shock Linwood and the best WR in the nation in Corey Coleman. Johnny Jefferson ran for a record 299 yards and the Bears pounded the Heels for 645 rushing yards, winning the Russell Athletic Bowl 49-38. As usual, Baylor's O-line was fantastic, and Briles kept UNC off balance with five different players taking snaps from center all within the game's first two series.
3. Michigan's offense
Even though Florida won the SEC East, it's not like the Gators looked like any powerhouse. They got blown out in their final two games of 2015 and had been mediocre on offense ever since Will Grier was suspended. But UF's defense is legit, ranking in the Top 15 in the country. However, Michigan mauled the Gators, rolling up more than 500 yards, more than anyone else had put up on Florida this season. Jake Rudock, the Iowa grad transfer, looked dramatically improved from where he was at the start of the season and RB De'Veon Smith looked like a much different back from 2014. Smith went over 100 yards rushing and forced 11 missed tackles, according to Pro Football Focus.
4. Bram Kohlhausen, TCU, QB
The most stunning news of bowl season came last week when it was reported that TCU star Trevone Boykin had been arrested and suspended. Kohlhausen, a senior, made his first career college start against Oregon in the Alamo Bowl and it was epic. The Horned Frogs, who have been depleted all season and were also without star WR Josh Doctson, fell behind 31-0. However Kohlhausen led TCU back behind his 351 yards passing and 45 rushing yards in a wild rally after Oregon standout QB Vernon Adams was knocked out of the game, winning 47-41 in triple overtime. It matched the biggest comeback in bowl history that Texas Tech pulled off against Minnesota in the Insight Bowl. Kohlhausen also has a very compelling personal story; I encourage you to read this Star Telegram piece.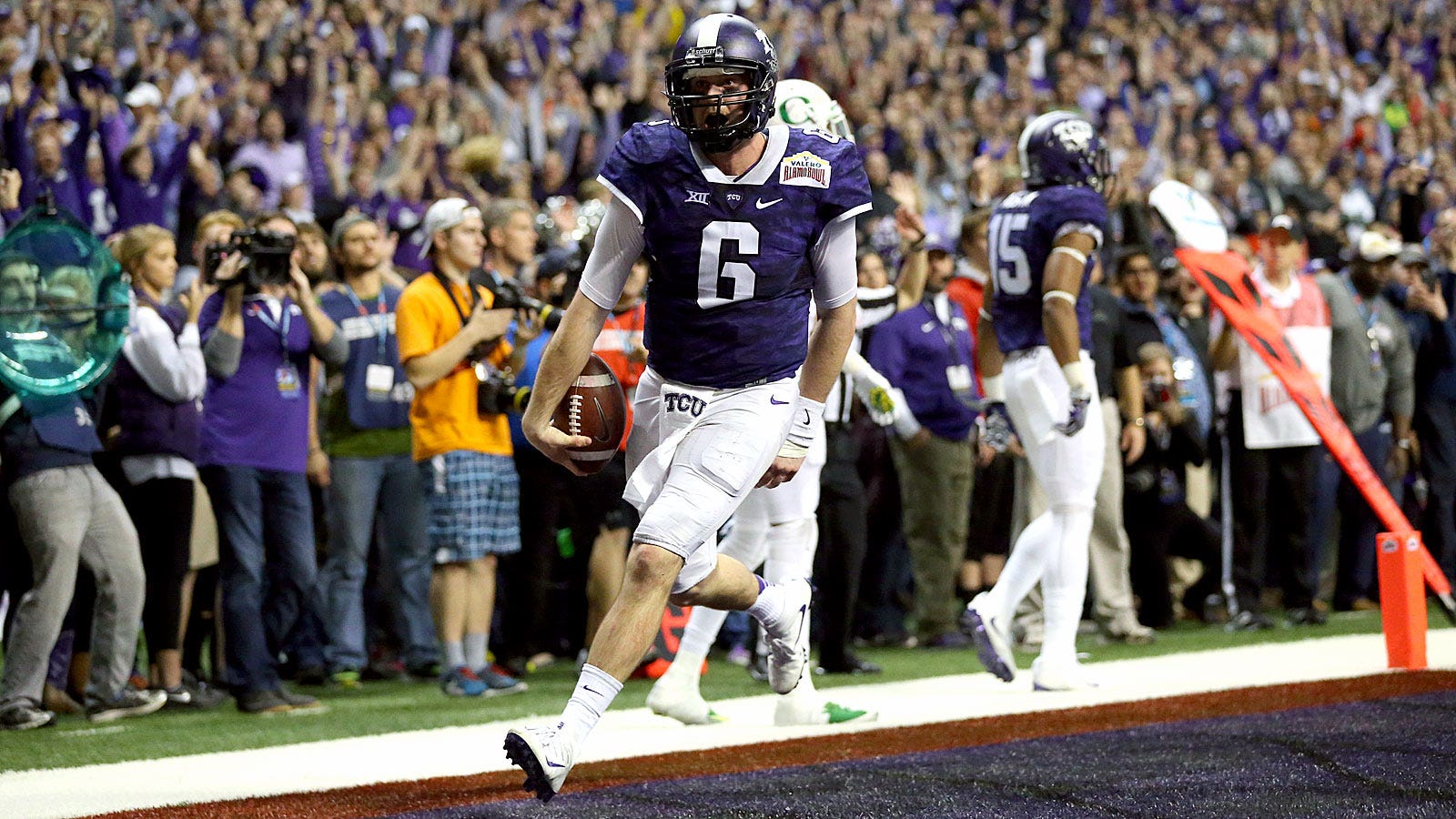 5. Boise State Broncos
I'm not sure I've ever seen a team as dominant in a bowl as the Broncos were by walloping NIU 55-7 in the Poinsettia Bowl. BSU outgained the Huskies 654-33. That is ridiculous. Freshman QB Brett Rypien was, again, very impressive. He carved NIU, especially when he got pressured. Marcel Yates' Boise D was suffocating. Future NFL player Kamalei Correa and senior Tyler Gray were the first two guys singled out when I asked Yates who really shone for Boise in the bowl game. The 6-4, 230-pound Gray really came on for the Broncos in the last four games of the season and was a huge force against NIU, Yates said.
6. Jake Coker, Alabama, QB
The position that was once — actually just a few weeks ago — the biggest question mark about Alabama came through as a resounding strength in the blowout win over MSU in the Cotton Bowl. The 6-5, 232-pound senior was superb, ripping the Spartans D on big throws downfield. Taking into account drops and throwaways, Coker was on target for 26 of his 27 throws in the game. Overall, his stat line read a gaudy 25-of-30 with two TDs and no INTs. The Spartans' game plan on defense was to force Coker to beat them, and he did — badly. He got the ball out of his hands quickly. When OC Lane Kiffin asked him to take deep shots, Coker connected, and only one of those five crucial big plays the Spartans allowed came against a coverage bust. That one was on a big pass to TE O.J. Howard.
7. Georgia Southern
The Eagles blasted Bowling Green 58-27, rallying from a 20-9 second quarter hole in the GoDaddy Bowl to win the first bowl game in school history in the first year it was eligible to go to the postseason. Along the way, Ga. Southern showcased an explosive run game that rolled up 452 rushing yards, almost 100 more than its nation-leading average. The Eagles shook up their offense at halftime, swapping out starting QB Kevin Ellison (who had actually been pretty impressive in the game) for blazing fast backup QB Favian Upshaw, who made the Falcons look silly. On designed runs, Ellison averaged over 17 yards a carry. In all, he ran for 199 yards on 12 carries in essentially one half of football.
8. Wayne Gallman, Clemson, RB
Deshaun Watson gets most of the attention, but Gallman showed again that he's a very good back. Just ask Oklahoma, which never had a tailback run it down their throats quite like Gallman did in the Orange Bowl. Two very impressive stats courtesy of PFF: 112 of Gallman's yards came AFTER contact, and he was responsible for 10 of OU's missed tackles. If he can produce anything similar to that against Alabama's awesome defense, the national title game will not go the way the Vegas experts think.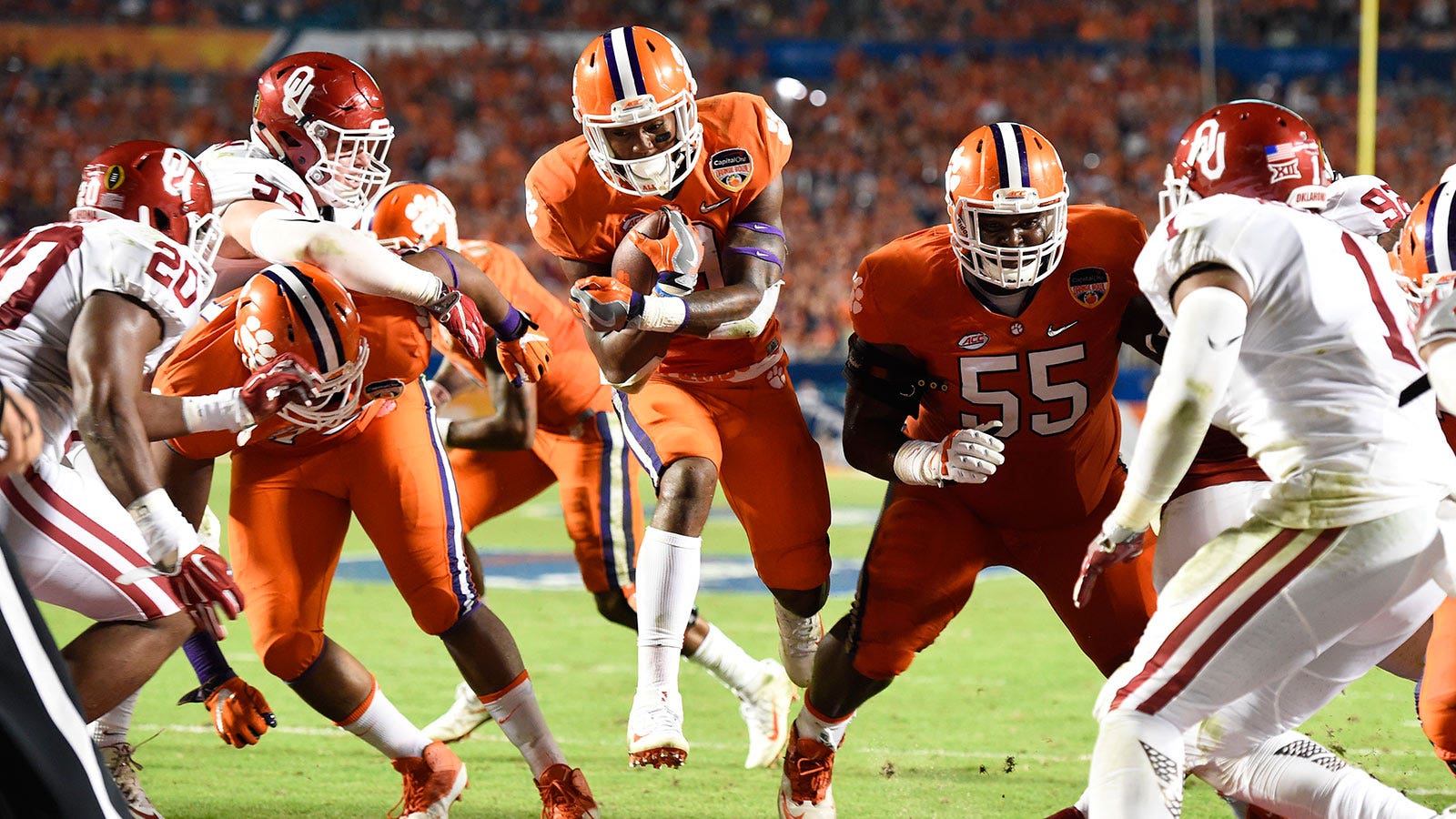 9. Chad Kelly, Ole Miss, QB
Kelly is a little further down this list because he has been very, very good and pretty underrated this season. The one-time Clemson QB, who came to Oxford from a JC, kinda quietly had a huge first year in the SEC, producing a season that trailed only Cam Newton and Johnny Manziel in total offense. But it was the way Kelly bounced back from his early INT against Oklahoma State that wowed me. After that, he threw four TDs without another INT and also ran for 73 more yards in the 48-20 Sugar Bowl romp against a defense that ranked in the Top 5 in sacks.
10. The LSU defensive front
The Tigers came into the season pretty green, but they're coming around nicely. In the Texas Bowl, they faced a very experienced Texas Tech O-line that leads an explosive offense. LSU, though, dominated up front and harassed talented sophomore QB Patrick Mahomes all night long in the 56-27 romp. Mahomes was sacked six times, and any other QB less mobile might've gone down a dozen times. Keep an eye on true freshman DE Arden Key, who was hounding Mahomes throughout the game. Veteran Tiger D-line coach Ed Orgeron, who has developed a bunch of first-round defensive linemen, said Key will be the best rush end he's ever coached, and that includes Greg Hardy and any of the guys he had at Miami or USC.
"I've never had a guy like this," Orgeron told FOX Sports Monday of the 6-6, 231-pounder. Orgeron also produced Top-10 pick Leonard Williams, but he was more of a 3-Technique and not like Key. "Arden's so fast and long, and instinctive and smart. He's also tough as nails. Hardy was stronger but not as fast or fluid like this guy. Wait till he gets to 250 (pounds)."
Bruce Feldman is a senior college football reporter and columnist for FOXSports.com and FS1. He is also a New York Times best-selling author. His book, "The QB: The Making of Modern Quarterbacks," came out in October 2014. Follow him on Twitter @BruceFeldmanCFB and Facebook.