WWE: Does Braun Strowman Need This Sami Zayn Feud?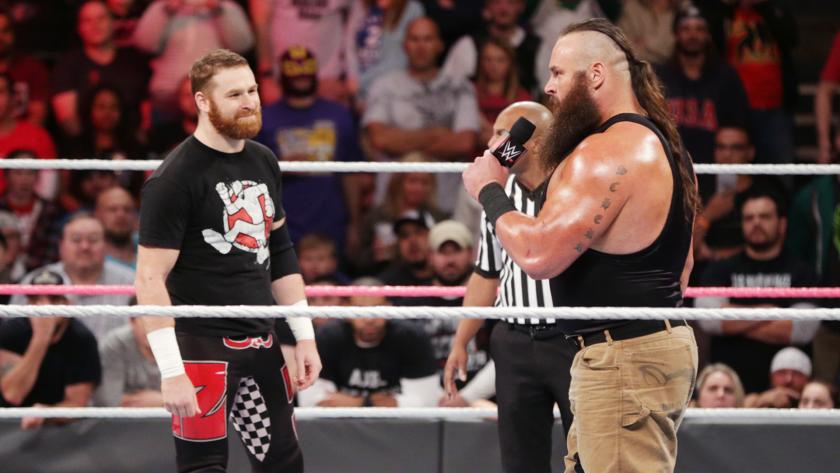 In what appears to be a battle of David versus Goliath, Braun Strowman and Sami Zayn appear headed for a collision course against one another. However, the question is does this feud in any way benefit the massive Strowman?
They may very well be opposites in every conceivable way. However, when the WWE creative team first presented the idea on Raw of Braun Strowman and Sami Zayn crossing paths, a few schools of thought emerged. The promotion's fanbase was clearly in favor, and hoped that by having these two men with vastly different styles face one another, they would create something different. We have no idea if the dynamic will or won't work, nor would we suggest that the chemistry between them will definitely work. However, it is clear that Strowman's demand for competition had to be met, and having Zayn be that competition is so outside the box that it could very well work.
Strowman has been booked as this massive monster who is impossible, to knock down. In comparison, Zayn is often touted as the underdog from the underground. It is without question a true David and Goliath story that manages to capture the interest of those watching, and provides fans another opportunity to get behind Zayn. The size difference between them suggests that it should be a lopsided feud. The question that still remains is, does Braun Strowman need to face Sami Zayn?
How This Feud Makes Sense
The argument for why these two should be poised to face each other actually does have some merit. Not only do they have differing styles, but Strowman's lack of ring experience means he may need guidance in the ring from someone that can help him through the course of a match. This is where the veteran iZayn comes in. Often younger wrestlers are still too green to be taken seriously, and there is the risk of either sustaining an injury, or causing injury.
Many may remember that, while Strowman did train at the WWE Performance Center, he didn't actually compete in a televised NXT event. In fact, his debut was on Raw when he made both Roman Reigns and Dean Ambrose seem like nothing more than a couple of tackling dummies. Zayn doesn't need to act like another guy that can sell the big man's offense; that really doesn't serve a purpose. Zayn's role would be more in helping tell a convincing story, and have fans believe that, even though he is being beaten up, he is able to show chinks in his opponent's armor.
His job would be to wear down Strowman unlike anyone else before him has been able to do, and fans will get behind his all-out attack. This feud doesn't just have to be something for Strowman and Zayn to do. It has the potential of being a feud that fans get behind because, in an age where there is greater awareness of bullying, and cultural efforts to fight back against it, what a great story to tell your audience that it is possible to bully the bully.
How This Feud Doesn't Make Sense
The idea why this feud may not work is related to a recent accident that took place in NXT. As many fans are aware, Hideo Itami suffered a major neck injury. While some might suggest he was partly responsible for the injury, he was also the one on the receiving end of the move. The injury was suffered when a less experienced NXT performer executed a move on him.
A wrestler puts their trust in their opposition; their livelihood, but more importantly their life, is in the hands of their opponent. While we aren't suggesting that Strowman would injure his opponent, considering Zayn has been in the ring for over a decade and competed all over the world the much larger man may have difficulty following his lead simply because of his lack of in-ring experience.
Another concern as to why this feud doesn't really work is the question if they could convincingly carry on a program without delivering promos against one another. Zayn can deliver somewhat convincing promos, but the jury may still be out on Strowman and whether he can be more than an ominous figure.
One has to wonder what the future may hold for either one of them after Survivor Series draws.
This article originally appeared on