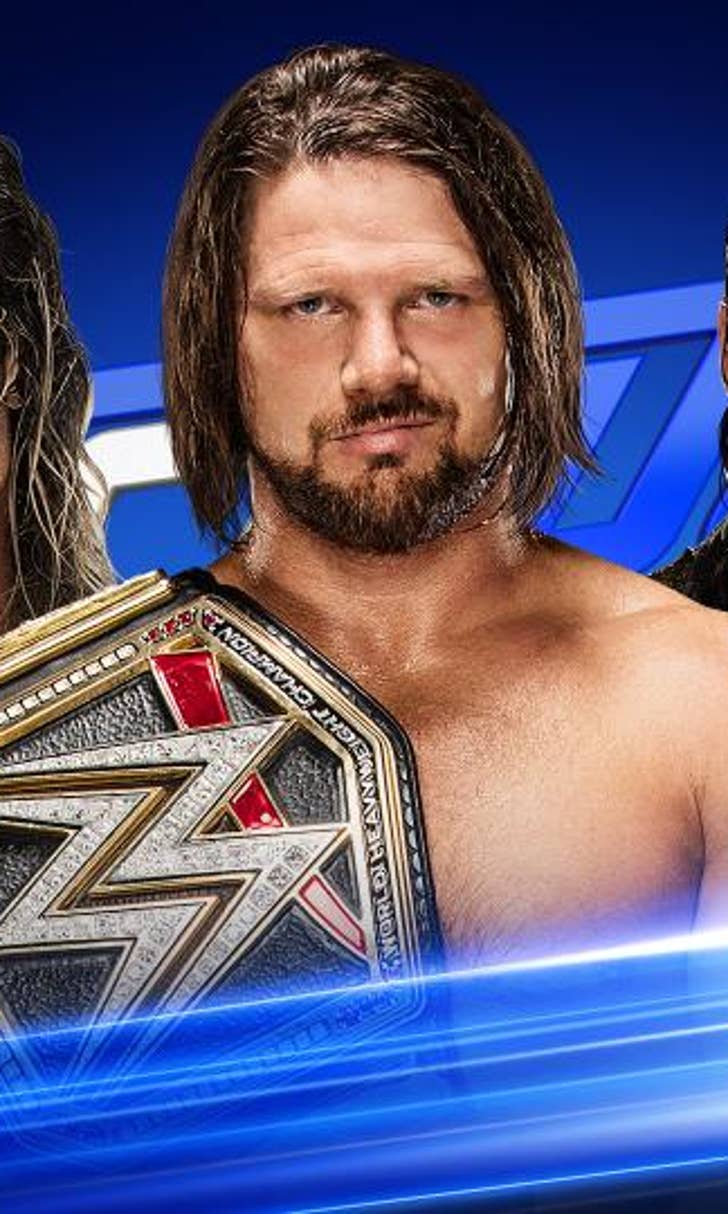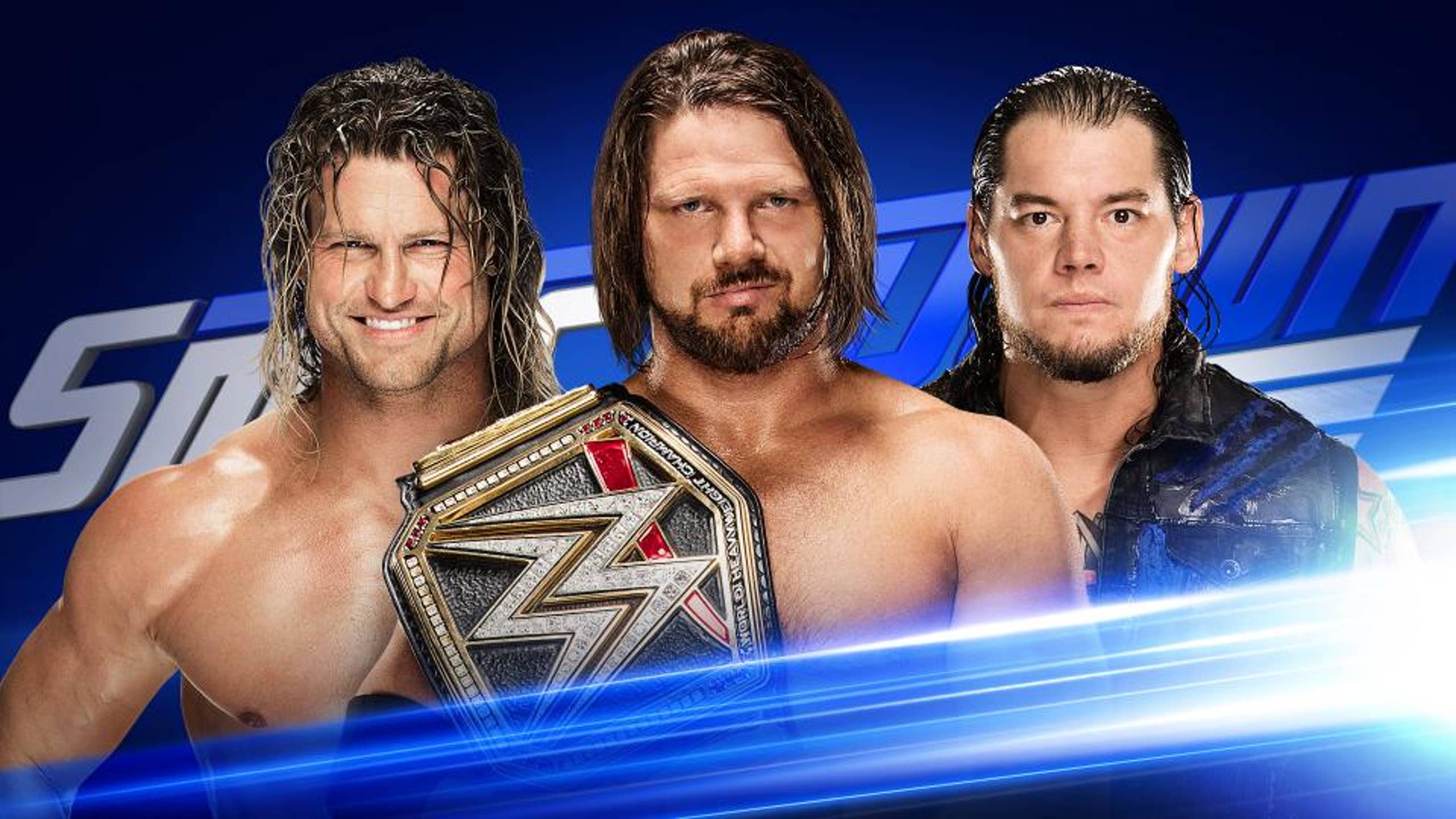 WWE SmackDown Live Review: Results, Highlights, and Grades for December 27
BY Fansided and Grant Mannis/FanSided via Daily DDT • December 28, 2016
As 2016 comes to a close, the men and women of SmackDown Live prepare for their biggest episode of 2016. Here is everything you need to know heading into tonight's show:
John Cena will make his long anticipated return to SmackDown Live here tonight. This will be his first appearance since the No Mercy event, where he (and Dean Ambrose) lost a WWE Championship match against AJ Styles.
Dean Ambrose will be out for revenge following his assault at the hands of The Miz last week. The Awesome One made it his mission to make an example out of the Lunatic Fringe, and him choosing to involve the relationship Ambrose has with Renee Young has made things far more personal.
The Wyatt Family will defend their SmackDown Live Tag Team Championships against the Usos, American Alpha, and the team of Heath Slater & Rhyno. This is an elimination style match, with the last team standing walking away with the gold.
Women's Champion Alexa Bliss faced a tough challenge because she will face-off against her recent rival Becky Lynch. With the title up for grabs, could Lynch become the first ever two-time SmackDown Live Women's Champion?
Due to AJ Style's interference in the main event last week, the WWE Championship match set for tonight is now a triple threat match. Dolph Ziggler will have the opportunity to become a three-time world champion, while Baron Corbin looks to win his first title in the company.
So without further ado, here is the live results and analysis for the December 27th edition of SmackDown Live.
WWE.com
John Cena Returns
The show begins with John Cena making his return to SmackDown Live. He receives his usual mixed reaction, and the ever popular "Cena Sucks" chants make their return as well. It doesn't take long for the Chicago crowd to chant "CM Punk", but Cena quickly changes the topic to hyping up the city's sports teams. He then hypes up the title matches for tonight, before questioning his motive for coming out to the ring. Undertaker chants quickly fill the arena, and this leads to Cena announcing that he has no plans of going to Hollywood or stepping aside. Challenging the winner of tonight's WWE Championship match to face him at the Royal Rumble, Cena states he can do so because he is who he is and then leaves the ring.
This was a great opening segment to kick-off the final episode of 2016. It's quite obvious from the live crowd tonight that the fans want Cena versus Undertaker to happen next year. From the response, he gave it may not come to fruition, which would be a huge missed opportunity. Still, it's good to know that his rivalry with AJ Styles will seemingly continue. They produced two great matches in 2016, with their best work possibly ahead of them.
WWE.com
Elimination Match for the SmackDown Tag Team ChampionshipRandy Orton and Luke Harper (c) vs. American Alpha vs Heath Slater and Rhyno vs The Usos
Result: American Alpha defeats Randy Orton and Luke Harper via pinfall to become the SmackDown Tag Team Champions.
Rating: 3.25 out of 5 stars
Contested under elimination style rules, this match allowed all four teams a chance to shine. The first team that was eliminated ended up being Beauty & The Gore, when Heath Slater was pinned following a superkick by Jimmy Uso. Their dominance didn't last long, though because a short time later Chad Gable managed to eliminate the duo following a roll-up pin. Clearly upset by the result, the Usos attacked their foes after they were eliminated, which made it seem as though the Wyatt Family would retain. However American Alpha fought their way back into the match, and an accidental collision between Randy Orton and Bray Wyatt allowed the young team to defeat the champions.
When Zach Ryder went down with an injury a couple of weeks ago, the tag division on SmackDown Live seemed to be in trouble. American Alpha and the Usos were teams that were over with the crowd, but they were the only two credible challengers to face the Wyatt Family. Tonight's result showed that Bray Wyatt versus Randy Orton will occur once again, most likely at WrestleMania. That will give these two men plenty of time to create a compelling story, and hopefully they'll produce a better encounter than their No Mercy outing.
After the match, Dolph Ziggler gave a passionate promo about how he interested to win the WWE Championship here tonight. Following that, James Ellsworth had another backstage segment with Carmella, where she stated that she found the chinless wonder to be uniquely attractive. I don't know where this storyline will go exactly, however, I'm sure that Ellsworth isn't complaining about that in the slightest.
WWE.com
SmackDown Women's Championship MatchAlexa Bliss (c) vs Becky Lynch
Result: Alexa Bliss defeats Becky Lynch wins via pinfall to retain the SmackDown Women's Championship.
Rating: 3.50 out of 5 stars
Heading into tonight's "Wild Card Finals" episode of SmackDown Live, as noted, this was going to be quite the match. Given ample time to produce a meaningful storyline, these two women put the RAW locker room on notice. It wasn't as strong as their previous outings, however, the effort they put into the match was on full display. The action was back and forth throughout the contest, with Becky Lynch gaining control in the final moments. Right when it seemed as though she was going to secure the title, an unknown assailant dressed as La Luchadora came out to distract the Irish Lass. Capitalizing on this distraction, Alexa Bliss took advantage of an exposed turnbuckle to nail her finisher and retain the title.
Based off of tonight's interference, it would appear that the rivalry between Bliss and Lynch has concluded. In the coming weeks, the identity of the assailant will become known, with my personal prediction being that it's Mickey James. A high-profile return such as hers would strengthen the SmackDown Live Women's division, and it would ensure a fresh and engaging new opponent for Lynch. Where this leaves Bliss is up in the air at this point, but the next logical step would likely be an alliance with her newfound accomplice.
WWE.com
Renee Young Interviews The Miz
Brash and arrogant as ever before, The Miz was seen backstage alongside his wife Maryse. Refusing to conduct his scheduled interview with Dasha Fuentes earlier in the night, Miz demanded that Renee Young interview him instead. This led to a pretty tense moment between the two, with the current Intercontinental Champion continuing his disrespect. Before we got a repeat of last week, Dean Ambrose emerged disguised as arena security and took the fight to Miz. A chaotic brawl ensued, and the Lunatic Fringe laid waste to Miz and the surrounding security to close out the segment.
Despite the fact that Renee Young has been a part of WWE for years, this has been just her first big storyline. She excelled as the uncomfortable interviewer who was placed in an awkward position due to job requirements. Her involvement thus far has helped the storyline become deeper and more personal, and it's a wise move that WWE hasn't overly used her. Should her performance continue to improve, we could very well see her and Ambrose featured prominently together in 2017.
WWE.com
WWE Championship MatchAJ Styles (c) vs Baron Corbin vs Dolph Ziggler
Result: AJ Styles defeats Baron Corbin and Dolph Ziggler via pinfall to retain the WWE Championship.
Rating: 4.0 out of 5 stars
As the final match on SmackDown Live in 2016, this encounter had high expectations. The superstars in the ring put everything they had into the match, producing a physical and emotional story. Baron Corbin was taken out of the mix early following an announce table spot, which left the two seasoned veterans to go at it. They went back and forth quite frequently, but at one point it seemed Dolph Ziggler had AJ Styles beat when he hit the Zig Zag. Surprisingly the champion kicked out, and then he managed to outlast a resilient Ziggler and a now recovered Corbin. A phenomenal Forearm to Ziggler put an end to the contest, which then brought out John Cena. Shaking the hand of his rival, he stared down Styles to close out the show, hyping their upcoming match at the Royal Rumble.
Arguably one of the greatest matches featured on SmackDown Live this year, all three men shined throughout.  Corbin especially was a forced to be reckoned with, and his performance tonight proved that he is indeed capable of a main event run. In the end, AJ Styles stood as the man who gained the most from the contest, solidifying a run that dominated the scene in 2016. His upcoming clash with John Cena should tear the house down, with it being quite possible that the Road Rumble will be the stage for their biggest encounter. Fan opinion is going to be right down to middle on who will win the match, but my pick is definitely Styles. While he doesn't need to prove his worth to fans anymore, the time for Cena to win his illustrious 16th world title isn't just yet.
More from Daily DDT
This article originally appeared on
---