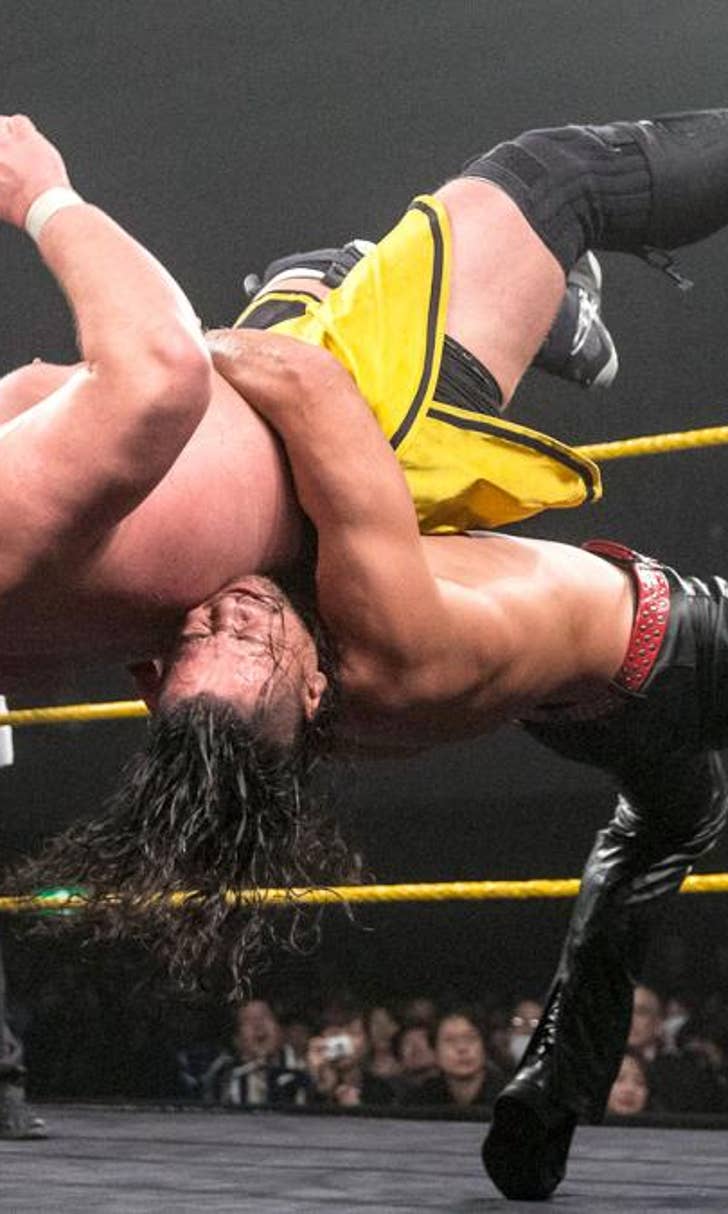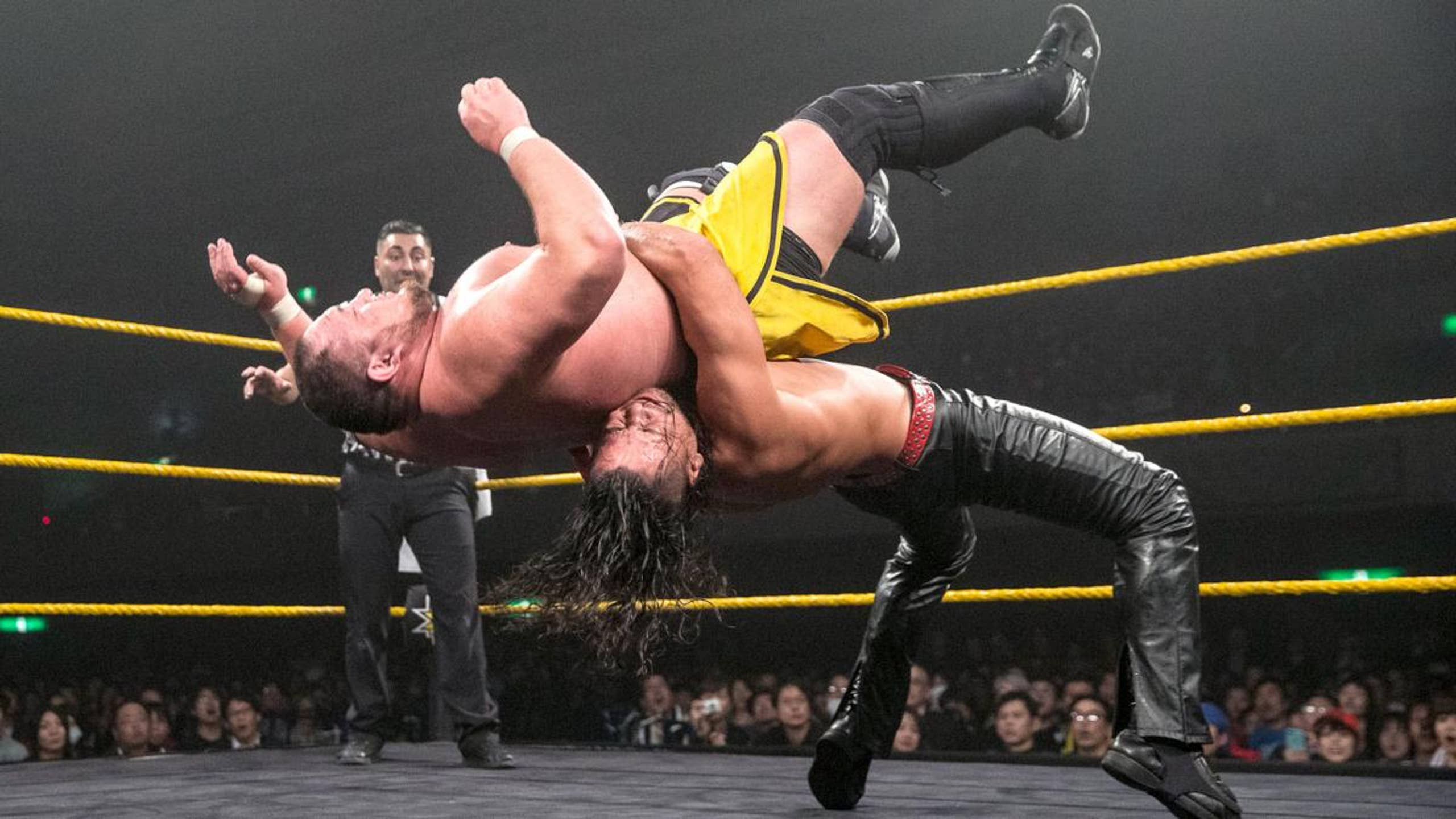 NXT, Source: WWE.com
NXT comes to us this week from its recent tour stop in Osaka, Japan. Read on for results, highlights, and analysis from the episode.
Previously on WWE NXT, a new number one contender for the NXT Championship was crowned. After a series of qualifying matches in the previous week, a four way elimination match took place, with the winner going on to TakeOver: San Antonio and a championship match.
Andrade Almas was the first eliminated, followed shortly by Roderick Strong. That left Tye Dillinger and Bobby Roode as the final competitors, and it was an intense affair. Dillinger hit a Tye-Breaker, but Roode kicked out. A Glorious Drop later, and Bobby Roode is your new number one contender.
This week on NXT, the brand's recent tour stop in Osaka, Japan, plays host to the action. We've already seen that show's main event – Shinsuke Nakamura regaining the NXT Championship from Samoa Joe. But there's plenty of more action on tap from the Land of the Rising Sun.
One match that's advertised is a tag team contest. Current NXT Tag Team Champions DIY will take on Tajiri and Akira Tozawa. All four men competed in the Cruiserweight Classic this summer, and Tajiri and Tozawa are rumored to be arriving in the Cruiserweight division shortly.
Tonight's episode is also super sized, clocking in at two hours. Putting such a focus on the live events helps turn them into "can't miss" spectacles. You never know when a show will be broadcast in the future, so you need to get there whenever possible.
Please continue reading for all the results and analysis from the December 28 episode of WWE NXT.
Source: WWE.com
Oney Lorcan vs. Andrade "Cien" Almas
Result: Oney Lorcan defeated Andrade "Cien" Almas via pinfall
Rating: 3.2 out of 5 stars
First things first: I loved loved LOVED the La Sombra mask Almas wore for his entrance. I wonder if the performers knew that the plan was to broadcast this event, because the "house show" vibe was present all night. Almas acknowledging his past in Japan is something that seems tailor-made for a non-televised show in Japan.
The (mercifully) Percy Watson-free broadcast team also kept bringing up the success Almas had in Japan prior arriving in NXT. I know there's legalities and such involved, not to mention a certain pride factor that "WWE is the best, all other promotions must kneel before McMahon." But how much more interested are you in an Andrade Almas who defeated Shinsuke Nakamura to win the IWGP Intercontinental Championship in NJPW?
And let's not forgot how talented Almas is. It's no secret that he was put in an absolutely terrible spot upon his debut, and because of that he didn't click with the NXT fans. But one simple tweak – letting him be the guy who got signed, basically – and he's on fire lately. Look at this move! It's like an underhook flipping reverse cutter or something, it's nuts.
But remember – house show vibe! One of the hallmarks of a house show is that the majority of matches are won by the babyfaces to make the crowd happy. So Lorcan – no slouch by any means – withstands the onslaught and hits a top rope exploder suplex for the victory. And what a match it was!
It's good to see Lorcan getting a little bit of a push lately. He was in the number one contender tournament, and he's picking up victories over the likes of Andrade Almas. And the match tonight was great! The future is bright in NXT.
Liv Morgan & Aliyah vs. Peyton Royce & Billie Kay
Result: Peyton Royce & Billie Kay defeated Liv Morgan & Aliyah via pinfall
Rating: 2.5 out of 5 stars
Corey Graves and his hatred of New Jersey is one of my favorite running bits in NXT. I'm glad it has no international borders, because he was on fire tonight. The clever and well-executed waistlock roll sequence with Morgan and Kay was wonderful, and Graves perfectly punctuated it with his commentary. It's the little things that make something great, you know?
Kudos to the referee for playing along and really selling it, too. It was a Jack Gallagher-esque spot, and it really added to the match.
When Catwoman Aliyah came into the ring, it turned into a tag team clinic for Royce and Kay. Good teamwork and chemistry, an appropriate amount of rule bending, the works.
The Liv Morgan hot tag was short lived, and really there was very little rule-bending in the closing sequence. Royce and Kay have the experience edge, so they earn the victory.
I know this is supposed to build off of the six man tag from a few weeks ago, but this story needs to build to a conclusion quickly. I like all of the competitors involved, but they're treading water like no other. Everyone deserves something more here. Hopefully the influx of some new talent – Kimber Lee, Evie, Heidi Lovelace – will start something new.
NXT Tag Team Championship Match
Akira Tozawa & Tajiri vs. DIY (Johnny Gargano & Tommaso Ciampa) (c)
Result: DIY defeated Akira Tozawa & Tajiri via pinfall
Rating: 4.0 out of 5 stars
As good as Lorcan vs. Almas was, this blew it out of the water. And how could it not? All four of these guys killed it in the CWC, DIY are on fire lately in NXT, and Tajiri and Tozawa are in their homeland.
For those of you who have never been to an independent wrestling show, this is basically what you're missing. You get guys who are stars of the promotion (here, DIY) going against past stars (Tajiri) and "visiting" talent (Tozawa). Everyone gets to do what they're best at to show their worth. And the crowd is rewarded with fantastic wrestling, great technique, vicious chops and strikes, and green mist.
Uh, sometimes that last one doesn't happen.
But, man, what a match. Part of me was surprised it was a title match, but then I remembered "House Show!" and it made sense. Tajiri looks better than he's ever looked, and can't get to 205 Live fast enough. He moves better than most 25 year olds, let alone other 45 year olds.
And I can't say enough good things about Tozawa. I really hope he's been held up by either visa issues or finishing dates or something, because he needs to be in the Cruiserweight division yesterday. They got him on stage on the 205 Live premiere, so what's happening?
But goodness, those snap German suplexes are brutal. Sadly (for Tozawa and Tajiri, at least) it's all for naught because DIY are one of the best teams in the world right now. With the exception of The Revival in terms of WWE teams, no one has better chemistry right now than Gargano and Ciampa.
This is the match of the night in a walk.
NXT Women's Championship Match
Nia Jax vs. Asuka (c)
Result: Asuka defeated Nia Jax via pinfall
Rating: 2.9 out of 5 stars
I liked this match, but I have a couple of big problems with it.
Here's the thing: If I said this match featured a woman who has no equal, and generally makes short work of her opponents because she's in a different league, who am I talking about? Depending on what day of the week the show is airing on, it could be either one!
Right now, Nia Jax is a Raw superstar (as opposed to Liv Morgan, a raw superstar, but I digress). Her gimmick right now is "I'm bigger than you so I'm just going to steamroll you and head to the back." It's basically the same story she had in NXT, though she got a bit more fleshing out there.
Asuka hasn't lost a match yet. The closest challenge she's faced is Bayley. Yes, in the rematch in Brooklyn, Bayley gave her a tougher fight than Nia Jax ever did. Her whole gimmick is being undefeated and untouchable until the next big thing in the women's division is ready (Ember Moon).
So to showcase Asuka in her hometown – not country, she's literally from Osaka – Nia Jax comes back from her tour of destruction to have a match against a developmental champion where she can't win. It's mind-boggling.
I get the idea. Asuka needs a legit threat, and Jax should provide that. But what kind of sense does it make for an unstoppable Raw superstar to fail to defeat developmental talent, champion or not? Is Asuka going to show up on Raw Monday night with the NXT Women's Title? All she's got to say is "your monster can't beat me, so I guess I belong here now, huh?"
Again, I liked the match. Asuka looking vulnerable is a nice wrinkle to her character. Jax threw everything she had at the champ and looked good doing it. The finish was great, too. It was just a no-win situation from a creative standpoint.
NXT Championship Match
Samoa Joe (c) vs. Shinsuke Nakamura
Result: Shinsuke Nakamura defeated Samoa Joe via pinfall to regain the NXT Championship
Rating: 2.8 out of 5 stars
Well, if I had problems with the last match, you best believe I have problems with this one.
It's not for the reasons you think, though – we've already seen this match. This isn't me being snarky, or smarky, or a jerk or anything about it being a rematch. We've seen this exact match as the main event to an episode of NXT from the beginning of the month!
Not only has NXT already shown us this match, we've already seen the rematch to this rematch! Remember, it was a cage match from Melbourne, and wait a minute, what's going on with next week's episode of NXT?
Oh, man, it's going to happen again next week, isn't it? At least maybe we'll see the whole cage match, instead of a poorly edited one.
Anyway, here's what I wrote about this match last time it aired – I wasn't a big fan compared to the previous matches these guys had. Maybe because the context was a little different, I enjoyed it a bit more this time around. But it's definitely still lacking when compared to the two TakeOver matches.
With the NXT Road Trip continuing next week in Melbourne, everyone will return to Full Sail for a fresh set of tapings to kick off the New Year. On January 11, the last match from the most recent tapings will air. It's a match between DIY and The Revival for the NXT Tag Team Championships. The winners will go on to defend the titles against The Authors of Pain at TakeOver: San Antonio.
The rest of the lead in to TakeOver will kick off after Melbourne, as well. There's a lot that still needs to be solidified ahead of the Royal Rumble weekend.
What did you think of the NXT Live special from Osaka, Japan?
More from Daily DDT
This article originally appeared on
---