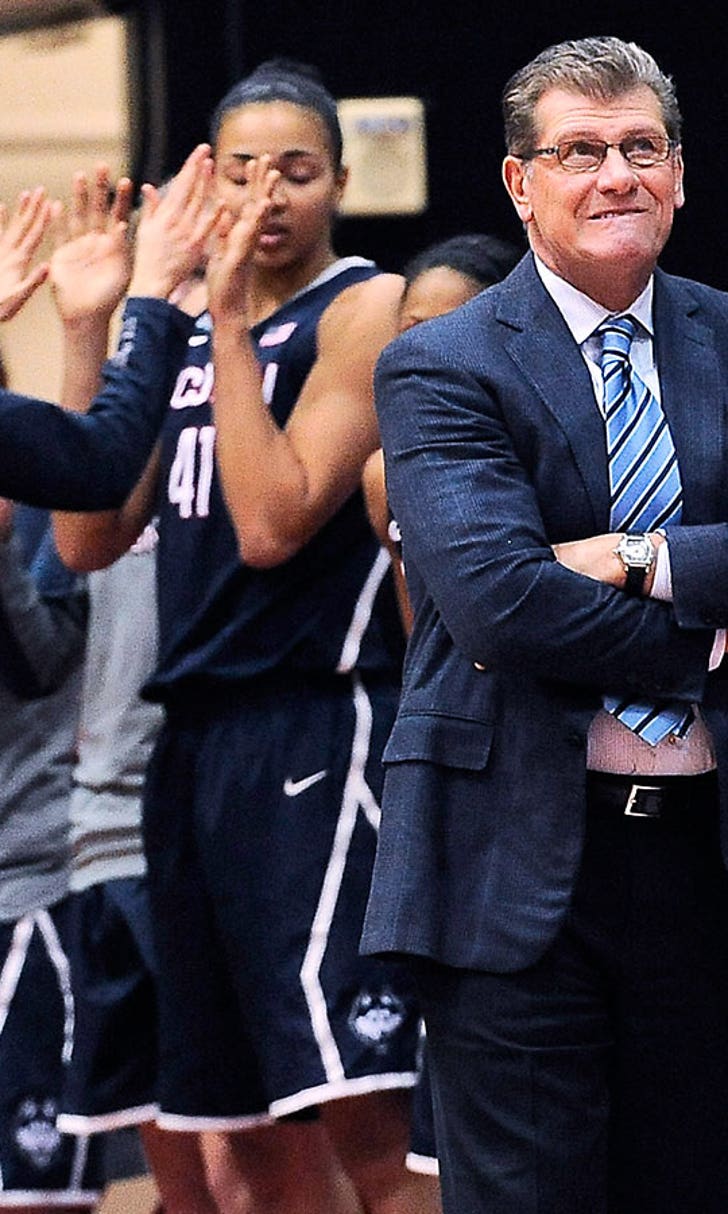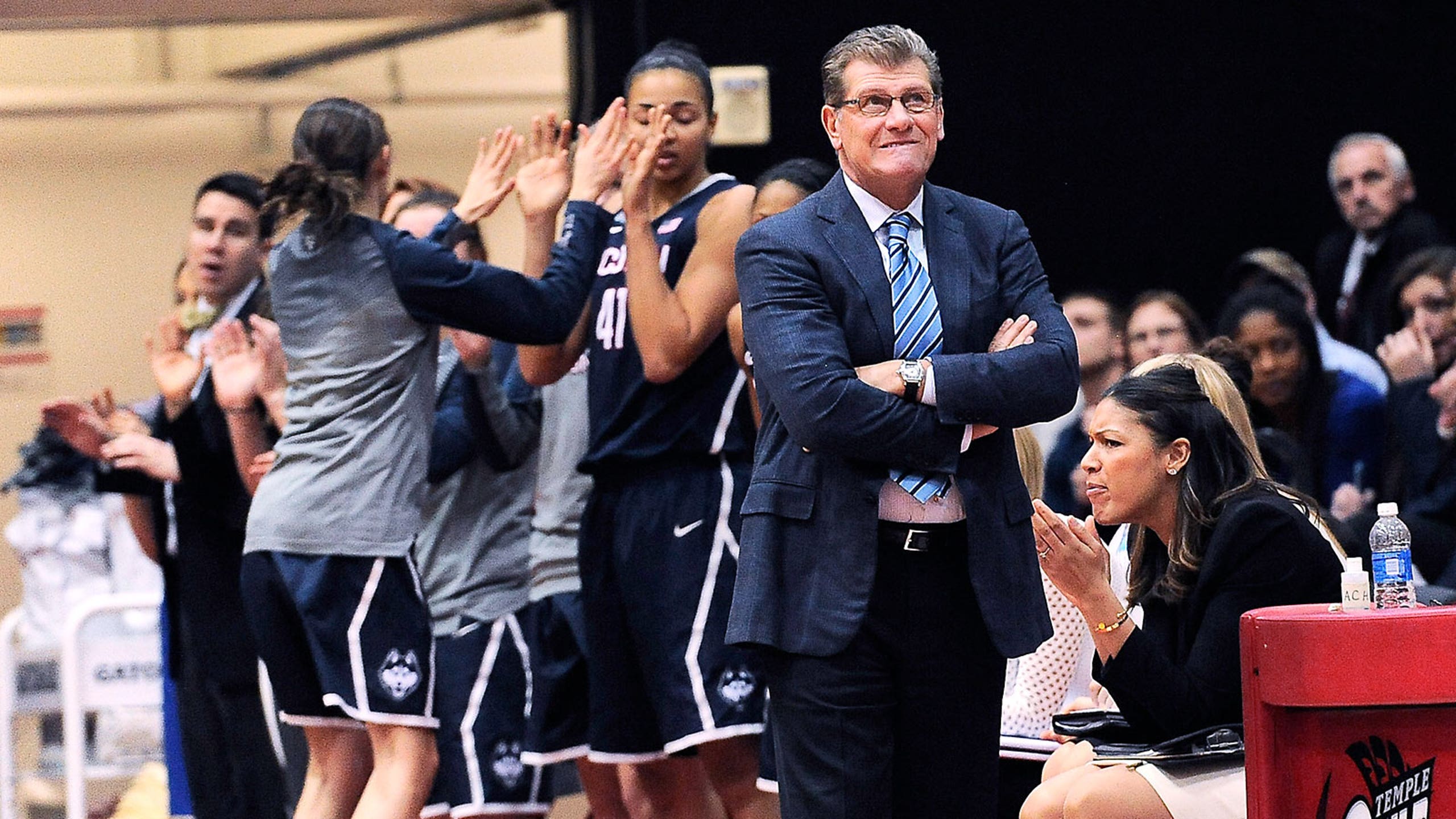 Coach Geno Auriemma posts victory No. 899; UConn tops Temple
BY foxsports • February 1, 2015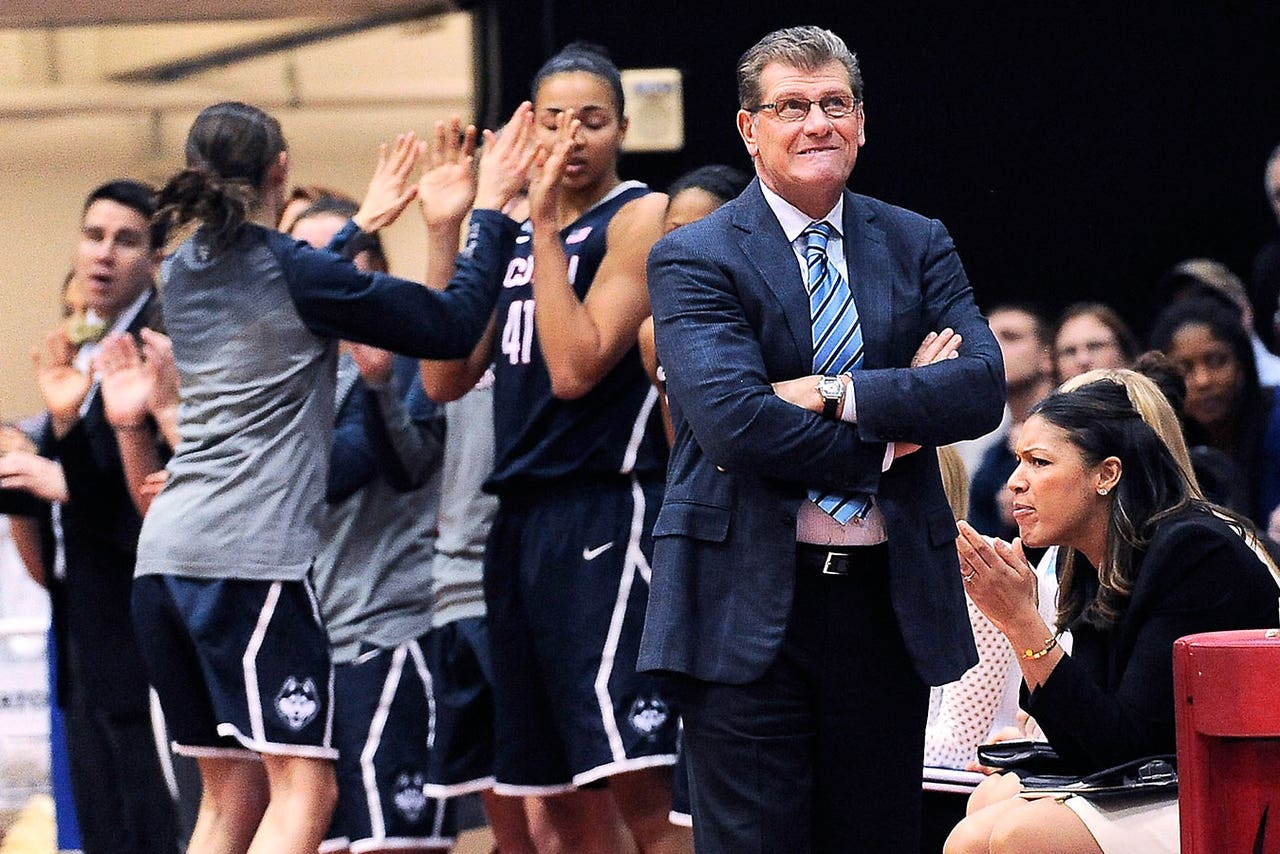 Geno Auriemma has enough national championship rings, Olympic gold medals and conference championship banners to fill a wing at any Hall of Fame.
He's closing in a milestone all his own: Auriemma is one win shy at becoming the fastest coach in college basketball history to win 900 games.
Auriemma earned career win No. 899 and Breanna Stewart scored 17 points in No. 2 UConn's 83-49 win over Temple on Sunday.
He can become the sixth head coach in Division I women's basketball history to reach 900 victories with a win Tuesday against Cincinnati. Former Tennessee coach Pat Summitt leads with 1,098 wins and four other women's basketball coaches have hit the 900-win mark.
''It's something to celebrate for what it signifies in terms of what happened in the last 30 years,'' Auriemma said. ''It's not a singular event. It's an event that's taken 30 years.''
If UConn wins Tuesday, Auriemma would have 900 win in 1,034 games, faster than any coach in men's or women's basketball.
The Huskies (20-1, 10-0 American Athletic Conference) had romped their way through a perfect conference season, winning nine games by an average of 50 points.
The Owls (10-12, 6-3) played a competitive game for a half in front of a packed house of almost 3,000 fans at McGonigle Hall before becoming just the latest team to fall to the Huskies.
Little League World Series star Mo'ne Davis, a UConn fan, of Philadelphia's Taney Dragons was in the crowd. The NCAA hit UConn with a secondary rules violation in September for Auriemma's congratulatory phone call to the 2014 Associated Press Female Athlete of the Year.
''I wish she would have come up during the 5-minute mark, I would have got her in,'' Auriemma said.
Auriemma won No. 899 against former assistant and current Temple coach Tonya Cardoza. Cardoza spent 14 seasons on the UConn bench and helped the Huskies win five national championships.
''It's a credit to him and his staff, the type of kids they recruit to come play there,'' Cardoza said. ''He's one of those guys that, no matter what the situation is, he's going to prepare his team. He's just a great guy, a great coach and I'm happy that I've been able to work for him for 14 years.''
Auriemma has won nine national championships at UConn, led the Huskies to 15 Final Fours and 39 conference championships. He's on the brink of yet one more memorable moment and can hit the mark in front of the home crowd at the XL Center.
''We make it look easy a lot of times,'' Auriemma said, ''but it's not always as easy as we make it look.''
As usual, the Huskies may have been the home team, even on the road. Auriemma was raised in nearby Norristown, Pennsylvania, and the Huskies have a strong following no matter the location.
The Huskies had to grind out a lead for the first 20 minutes against an Owls team suffering through a down year in Cardoza's seventh season.
The Owls scored the first five points and only trailed 19-15 on Alliya Butts' 3-pointer. Feyonda Fitzgerald converted a rare four-point play that pulled the Owls to 35-26.
Then Huskies cranked up the pressure, ending the half on a 13-4 that helped put the game away. Stewart scored 15 points in the half and the Huskies made 7 of 14 3-pointers.
Morgan Tuck scored 15 points for the Huskies and Kaleena Mosqueda-Lewis had 12.
Butts led the Owls with 12 points and Erica Covile grabbed 10 rebounds.
Now, the attention shifts to Auriemma's mark. Fans held ''899'' signs to symbolize the latest achievement in a Hall of Fame career.
''In some places, if you've accomplished what we've accomplished, it doesn't matter what you do, no one will ever say a disparaging word,'' he said. ''But the world we live in and not where we live. You've either got to win every game or there better be a reason why you lost.''
TIP-INS
UConn: UConn has never lost an AAC game. ... Five Huskies hit 3s in the first half. ... Guard Kia Nurse is the niece of former Philadelphia Eagles QB Donovan McNabb.
Temple: The Owls won the first two games in the series (1981 and 1982) and have lost the last five. ... The Owls shot only 33 percent (12 of 36) in the first half. ... Temple student Dan Ray won $10,000 for hitting a half-court shot.
FAMILAR FACE
After beating Cardoza, Auriemma can get win No. 900 against another former assistant, Jamelle Elliott. Elliott, in her eighth season with Cincinnati, finished her career ranked second among UConn's career rebounding leaders. ''She's hoping it gets snowed out,'' Cardoza said, laughing. ''He gets 899 against and 900 against JJ. It's not fair, especially when we helped him get a lot of them. She doesn't want to be that milestone.''
---