Werdum could be considered best ever by the time he's done
BY Damon Martin • June 14, 2015
When Fabricio Werdum first debuted in PRIDE Fighting Championships in 2005, he was a 4-0-1 prospect who started doing mixed martial arts as a secondary hobby on top of his primary competitive career as one of the best Brazilian Jiu-Jitsu practitioners in the world.
Werdum would go on to amass a 4-2 record overall while fighting with PRIDE before eventually signing with the UFC in 2007. Werdum's run with the promotion would end unceremoniously after going just 2-2 through four fights with losses to Andrei Arlovski and an 80-second knockout to Junior dos Santos in his debut bout with the promotion.
At 30 years old with an 11-4-1 record, Werdum looked like a solid mid-card heavyweight who would beat a lot of top 10 fighters, but probably wouldn't ever reach the pinnacle himself.
Werdum ended up with Strikeforce, where he picked up two wins in a row to get back on track before earning a shot against Fedor Emelienanko in June 2010. Werdum walked into the fight as much as a 10-to-1 underdog according to some betting experts, and it looked like he was being set up as the sacrificial lamb to a fighter most still consider the greatest heavyweight MMA fighter of all time.
It took Werdum 69 seconds to pull off one of the biggest upsets in MMA history as he tapped out Emelianenko with a first-round triangle choke.
On Saturday night in Mexico City, Werdum stepped into an eerily similar situation as he faced UFC champion Cain Velasquez, who has also been touted as one of the best heavyweights to ever compete in the sport.  Outside of one blemish on his record to Junior dos Santos in a fight where he competed injured, Velasquez was virtually untouched and looked like he was working towards one of the most impressive resumes the division had ever seen.
The odds weren't quite as astronomical this time around, but Werdum was still a heavy underdog with five-to-one favor leaning towards Velasquez as the two fighters faced off in the Octagon in the middle of Mexico City on Saturday night.
Less than 15 minutes later, Werdum had battered Velasquez on the feet like no fighter had ever done during his career before wrapping up a guillotine choke that forced him to tap out while the veteran Brazilian claimed the undisputed UFC heavyweight title.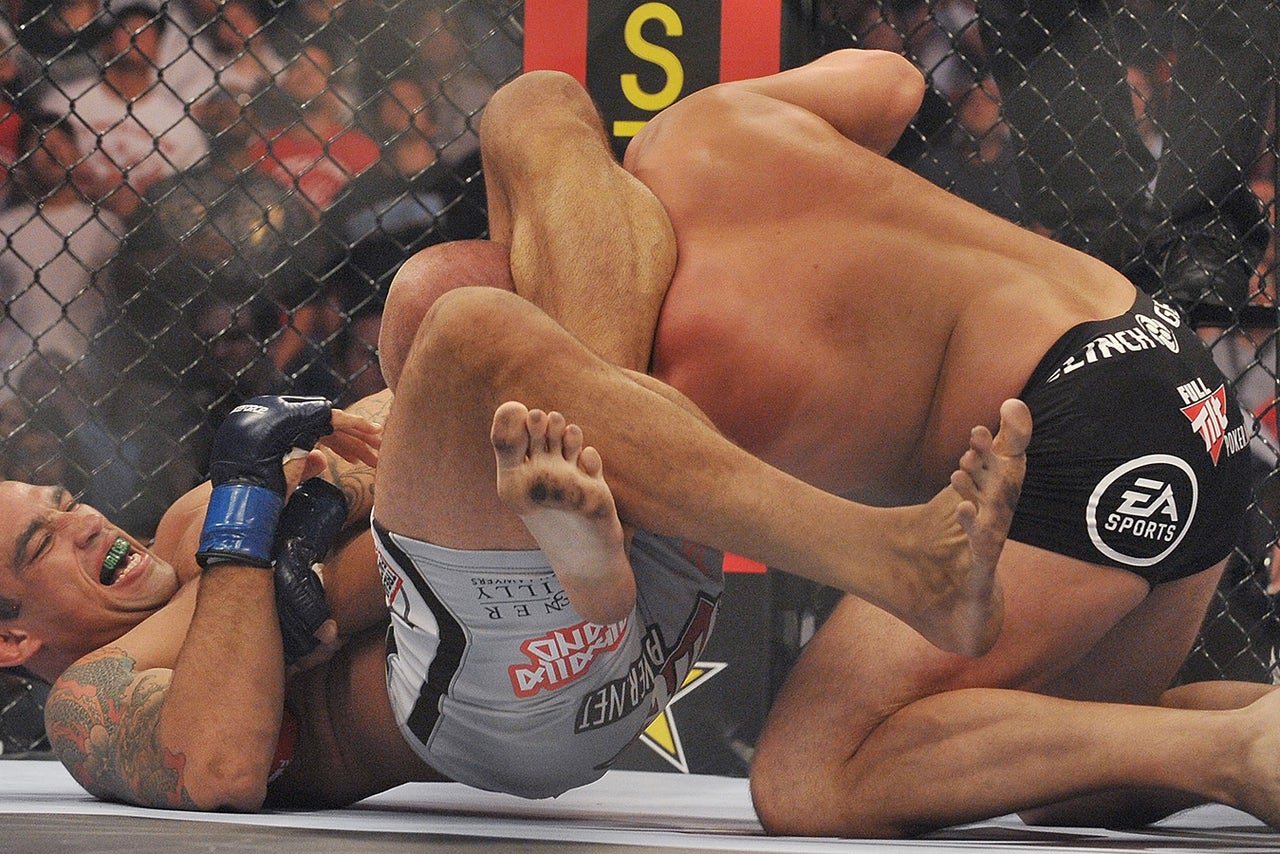 Werdum finishes Emelianenko in 2010
It was almost exactly five years to the day between fights where Werdum dispatched of the fighter most routinely referred to as the greatest of all time in Emelianenko and then did the same to the man who seemed most likely to ascend to the same throne in Velasquez.
"When I fought versus Fedor in 2010 it was an amazing fight and nobody believed in me again. This moment today is the best moment of my life because I'm the best in the world in the UFC at heavyweight. I'm very, very happy," Werdum said after the victory.
Werdum has certainly faced his own fair share of tough fights over the years. No one can erase the egg he laid against Arlovski in 2007 or the back-flopping performance he'd probably rather forget when he faced Alistair Overeem in 2011. Chances are Werdum doesn't even remember getting blitzed by Dos Santos in 2008 considering the fight barely made it past the one-minute mark before he got knocked out.
But in his wins over Emelianenko and Velasquez, Werdum has possibly picked up the two most significant victories by any one fighter in mixed martial arts heavyweight history.
Prior to his loss to Werdum in 2010, Emelianenko had already established his status as one of the most feared fighters to ever step into a ring or cage. He won 27 consecutive fights while going through a murderer's row of heavyweight legends before Werdum finally toppled the Russian in spectacular fashion.
The same could be said of Velasquez and while he didn't have the same gaudy credentials as Emelianenko, the writing was on the wall after he bludgeoned Brock Lesnar and avenged his only loss to Dos Santos by beating the Brazilian for nine-plus rounds in two of the most brutal fights the sport had ever seen.  Outside of the defeat to Dos Santos in 2011, Velasquez had never lost a round much less a fight during his career until Saturday night.
Werdum's past shortcomings still might prevent him from being considered the best ever right now, but his UFC title reign is just about to begin. There's little doubt about how monumental his victories over Emelienenko and Velasquez were when they happened, and Werdum can capitalize on those two wins as he looks to establish his legacy as one of the greatest heavyweights to ever compete in MMA.
Considering the wins he's put together so far, Werdum isn't far from the top of that list already. 
---
---