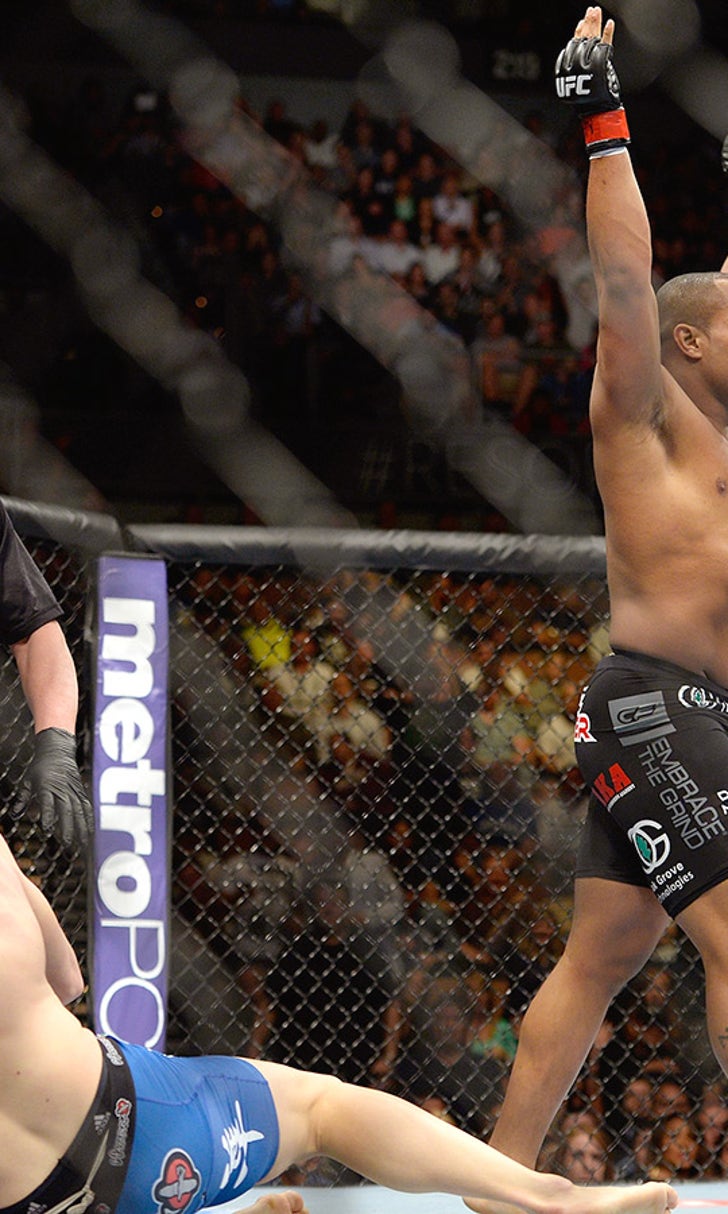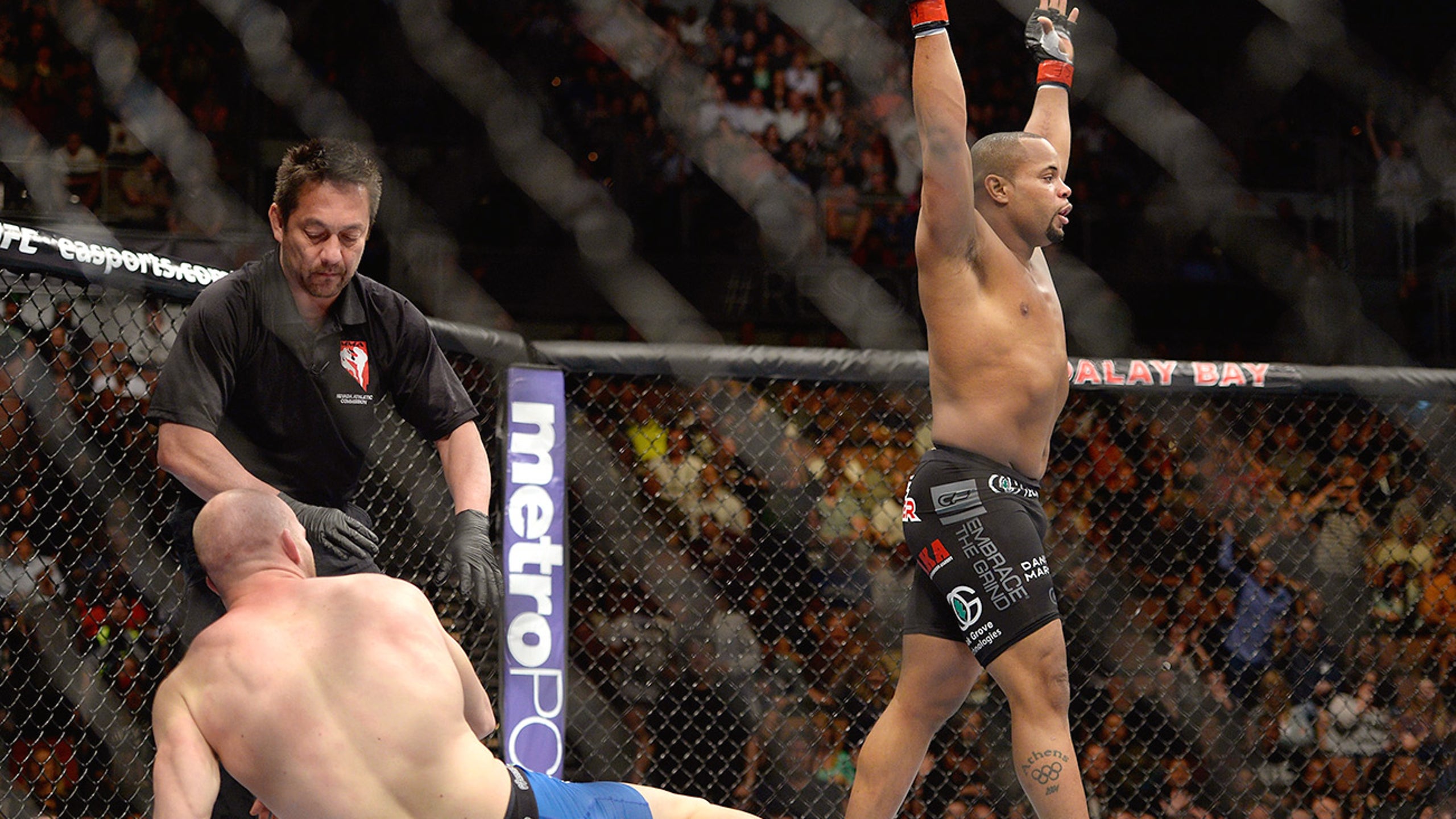 UFC rankings 02/24/14: Cormier move to LHW shuffles latest rankings
BY foxsports • February 25, 2014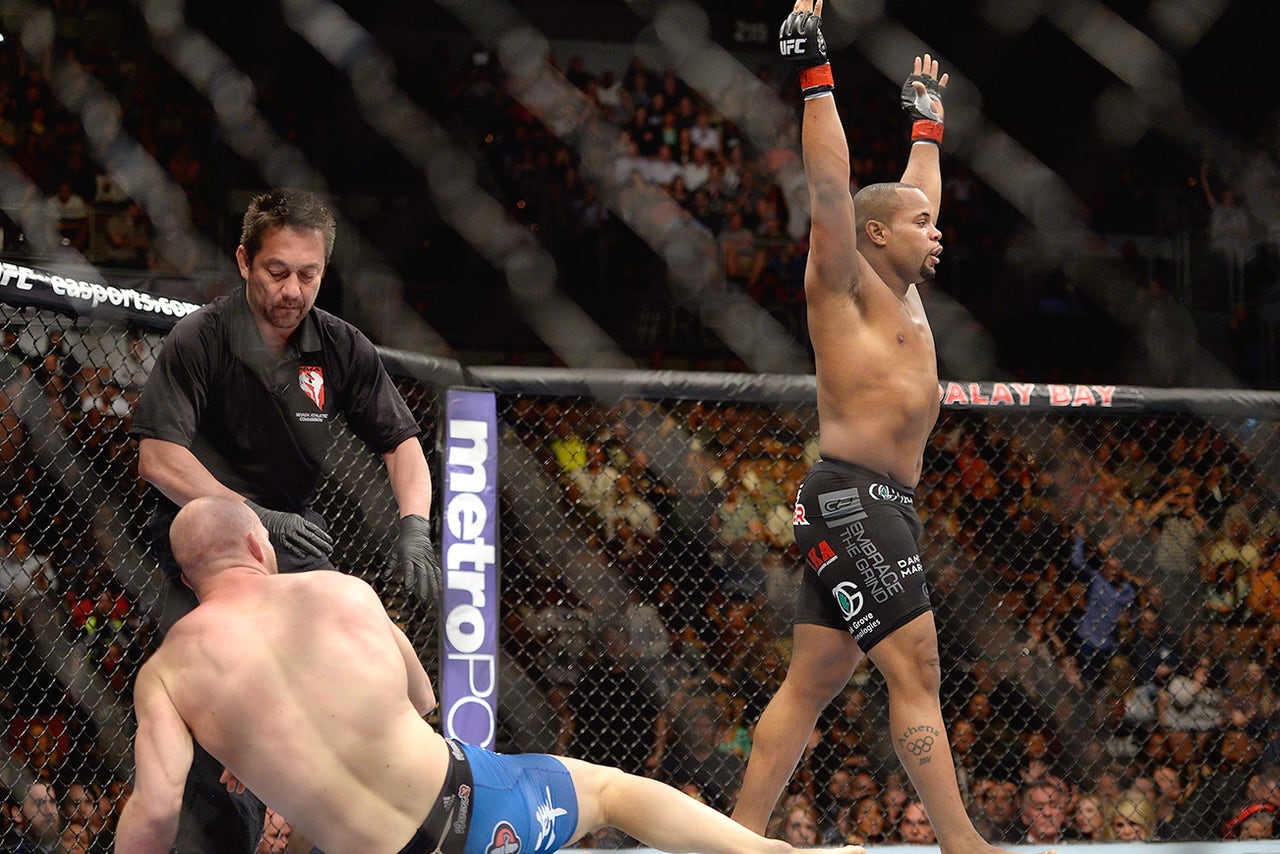 Daniel Cormier's arrival in the light heavyweight division has resulted in a wave of changes washing over the latest installment of the UFC Fighter Rankings.
After putting a hurting on Patrick Cummins in his first appearance in the 205-pound weight class, the still unbeaten former Oklahoma State Cowboy and two-time Olympian debuts at No. 6 in the light heavyweight rankings, resting between the oft-injured Antonio Rogerio Nogueira and former champion Mauricio "Shogun" Rua.
Cormier's arrival not only produced a ripple effect in the light heavyweight division, where nine fighters all dropped in the rankings, but also produced a great deal of change at heavyweight. Previously a Top 5 contender, "DC" dropped nine places in the newest version of the rankings, which are formulated through media votes and submissions.
With Cormier coming to a rest at No. 13 in the big boy ranks, eight fighters took a step forward in the rankings, with veteran Minotauro Nogueira moving up two places to No. 11, despite his last victory coming in October 2012.
Fellow UFC 170 winner Mike Pyle earned a two-spot bump to No. 13 in the welterweight rankings as a result of his third-round TKO win over TJ Waldburger, while Canadian Alexis Davis climbed to No. 2 in the women's bantamweight division on the strength of her split decision victory over Jessica Eye on Saturday.
New rankings are generated within 36 hours of each UFC events, so be sure to stay tuned to FOXSports.com every week to see where the weekend's winners and losers end up.
UFC FIGHTER RANKINGS (February 24, 2014)
Pound-for-Pound
1 Jon Jones
2 Jose Aldo
3 Renan Barao
4 Cain Velasquez (-1)
5 Demetrious Johnson
6 Chris Weidman
7 Anderson Silva
8 Anthony Pettis
9 Ronda Rousey
10 Johny Hendricks
11 Vitor Belfort
12 Benson Henderson
13 Gilbert Melendez
14 Urijah Faber
15 Alexander Gustafsson

Flyweight
Champion: Demetrious Johnson
1 John Dodson
2 Joseph Benavidez
3 Ian McCall
4 John Moraga
5 Ali Bagautinov
6 John Lineker
7 Jussier Formiga
8 Timothy Elliott
9 Chris Cariaso
10 Zach Makovsky
11 Louis Gaudinot
12 Dustin Ortiz (+1)
13 Scott Jorgensen (-1)
14 Darrell Montague
15 Darren Uyenoyama
Bantamweight
Champion: Renan Barao
1 Urijah Faber
2 Michael McDonald
3 Raphael Assuncao
4 Eddie Wineland
5 TJ Dillashaw
6 Brad Pickett
7 Takeya Mizugaki
8 Mike Easton
9 Iuri Alcantara (+1)
10 Dominick Cruz (-1)
11 Francisco Rivera
12 Erik Perez
13 Alex Caceres
14 Bryan Caraway (+1)
15 Ivan Menjivar

Featherweight
Champion: Jose Aldo
1 Chad Mendes
2 Frankie Edgar
3 Ricardo Lamas
4 Cub Swanson
5 Chan Sung Jung
6 Dustin Poirier
7 Dennis Siver
8 Nik Lentz
9 Clay Guida
10 Jeremy Stephens
11 Darren Elkins
12 Conor McGregor (+1)
13 Dennis Bermudez (+1)
14 Tatsuya Kawajiri (+1)
15 Erik Koch (-3)

Lightweight
Champion: Anthony Pettis
1 Benson Henderson
2 Gilbert Melendez
3 TJ Grant
4 Josh Thomson
5 Nate Diaz
6 Rafael dos Anjos
7 Khabib Nurmagomedov
8 Donald Cerrone
9 Jim Miller
10 Gray Maynard
11 Edson Barboza
12 Bobby Green
13 Michael Johnson (+1)
14 Rustam Khabilov (-1)
15 Diego Sanchez

Welterweight
Champion:
1 Johny Hendricks
2 Carlos Condit
3 Robbie Lawler
4 Rory MacDonald
5 Jake Ellenberger
6 Demian Maia
7 Jake Shields
8 Matt Brown
9 Tarec Saffiedine
10 Tyron Woodley
11 Dong Hyun Kim
12 Hector Lombard
13 Mike Pyle (+2)
14 Rick Story
15 Josh Koscheck (-2)
Middleweight
Champion: Chris Weidman
1 Anderson Silva
2 Vitor Belfort
3 Lyoto Machida
4 Jacare Souza
5 Michael Bisping
6 Luke Rockhold
7 Mark Munoz
8 Tim Kennedy
9 Francis Carmont
10 Costa Philippou
11 Tim Boetsch
12 Gegard Mousasi
13 Alan Belcher
14 Brad Tavares
15 Yoel Romero *NR

Light Heavyweight
Champion: Jon Jones
1 Alexander Gustafsson
2 Glover Teixeira
3 Rashad Evans
4 Phil Davis
5 Antonio Rogerio Nogueira
6 Daniel Cormier *NR
7 Mauricio Rua (-1)
8 Dan Henderson (-1)
9 Chael Sonnen (-1)
10 Ryan Bader (-1)
11 Jimi Manuwa (-1)
12 Vitor Belfort
13 Gegard Mousasi (-2)
14 James Te-Huna (-1)
15 Rafael Cavalcante (-1)

Heavyweight
Champion: Cain Velasquez
1 Junior Dos Santos
2 Fabricio Werdum
3 Travis Browne
4 Antonio Silva (+1)
5 Josh Barnett (+1)
6 Alistair Overeem (+1)
7 Stipe Miocic (+1)
8 Mark Hunt (+1)
9 Roy Nelson (+1)
10 Frank Mir (+1)
11 Minotauro Nogueira (+2)
12 Gabriel Gonzaga
13 Daniel Cormier (-9)
14 Stefan Struve
15 Brendan Schaub
Women's Bantamweight
Champion: Ronda Rousey
1 Cat Zingano
2 Alexis Davis (+1)
3 Miesha Tate (-1)
4 Sara McMann
5 Sarah Kaufman (+1)
6 Jessica Eye (-1)
7 Liz Carmouche
8 Amanda Nunes
9 Jessica Andrade
10 Julianna Pena
11 Germaine de Randamie
12 Bethe Correia
13 Raquel Pennington
14 Jessamyn Duke
15 Jessica Rakoczy
---
---