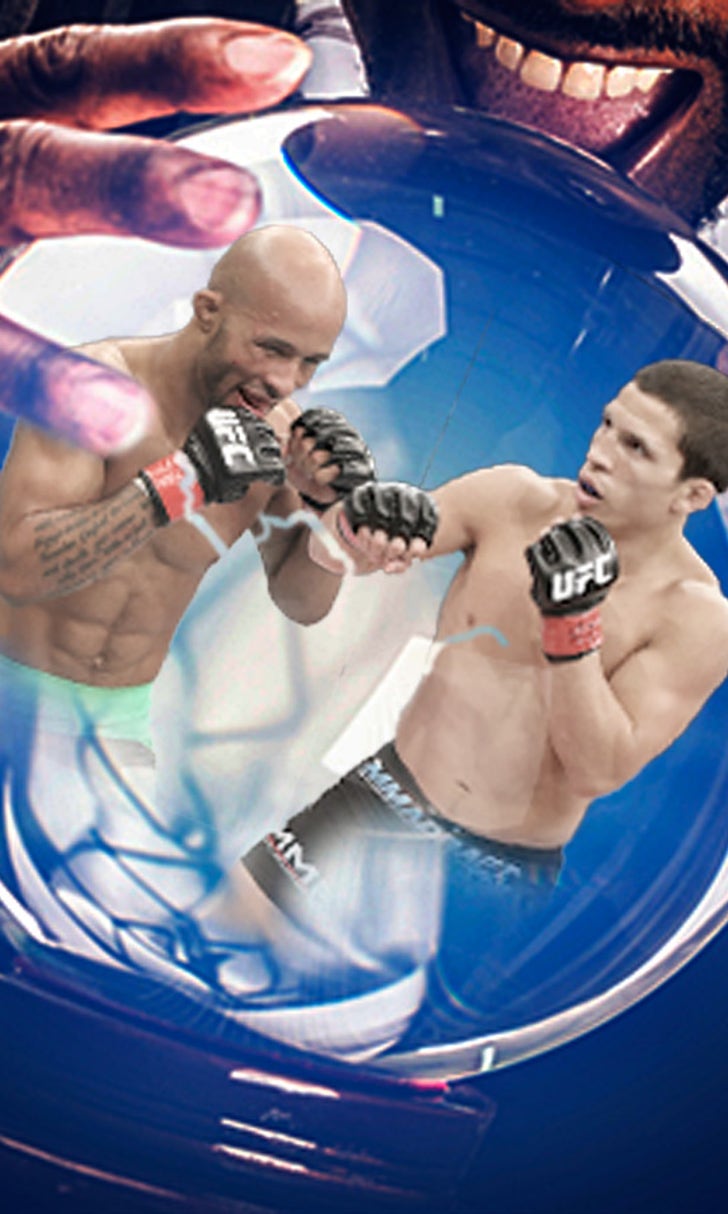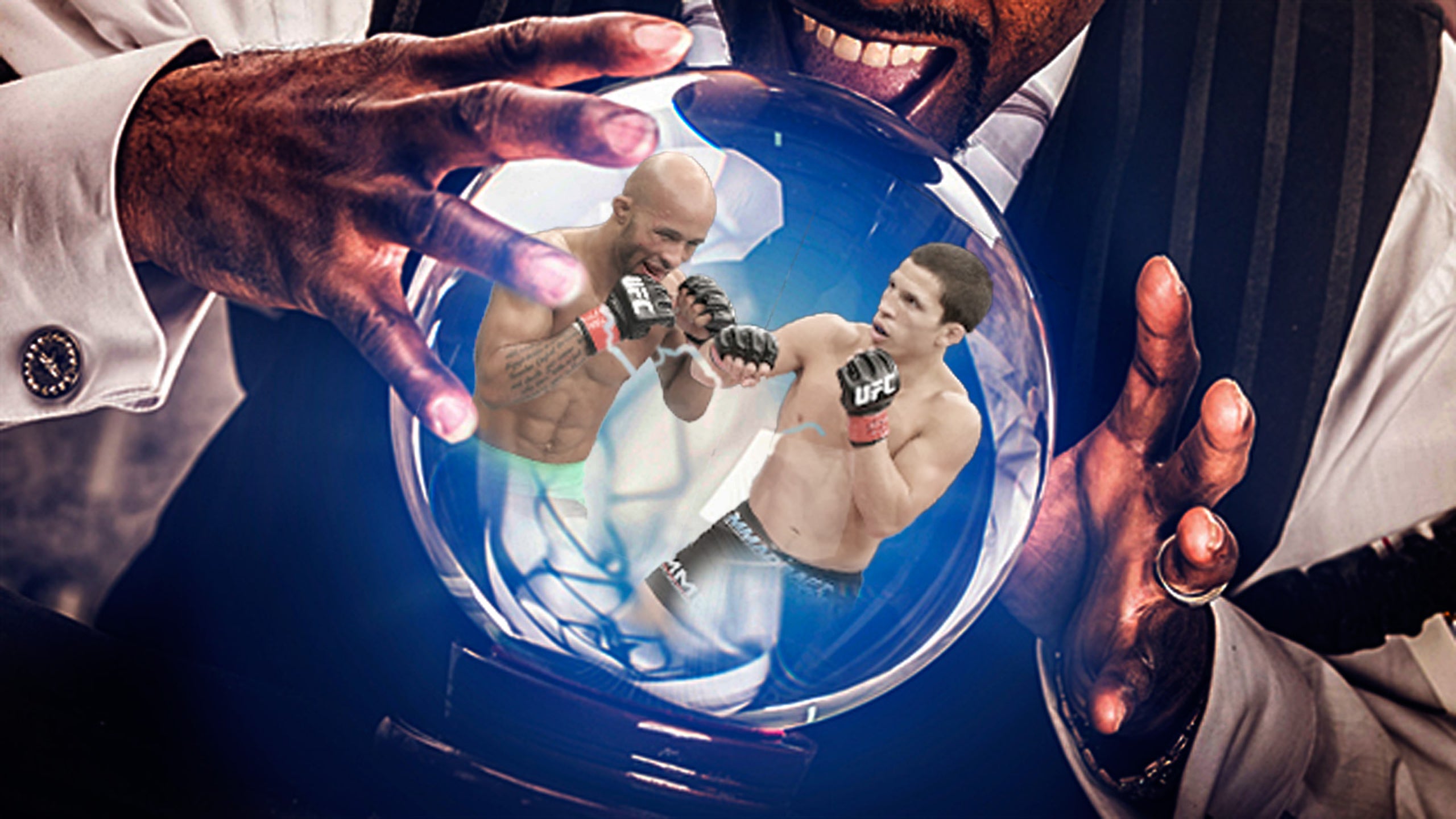 UFC on FOX: Johnson vs. Benavidez II Crystal Ball Predictions
BY foxsports • December 13, 2013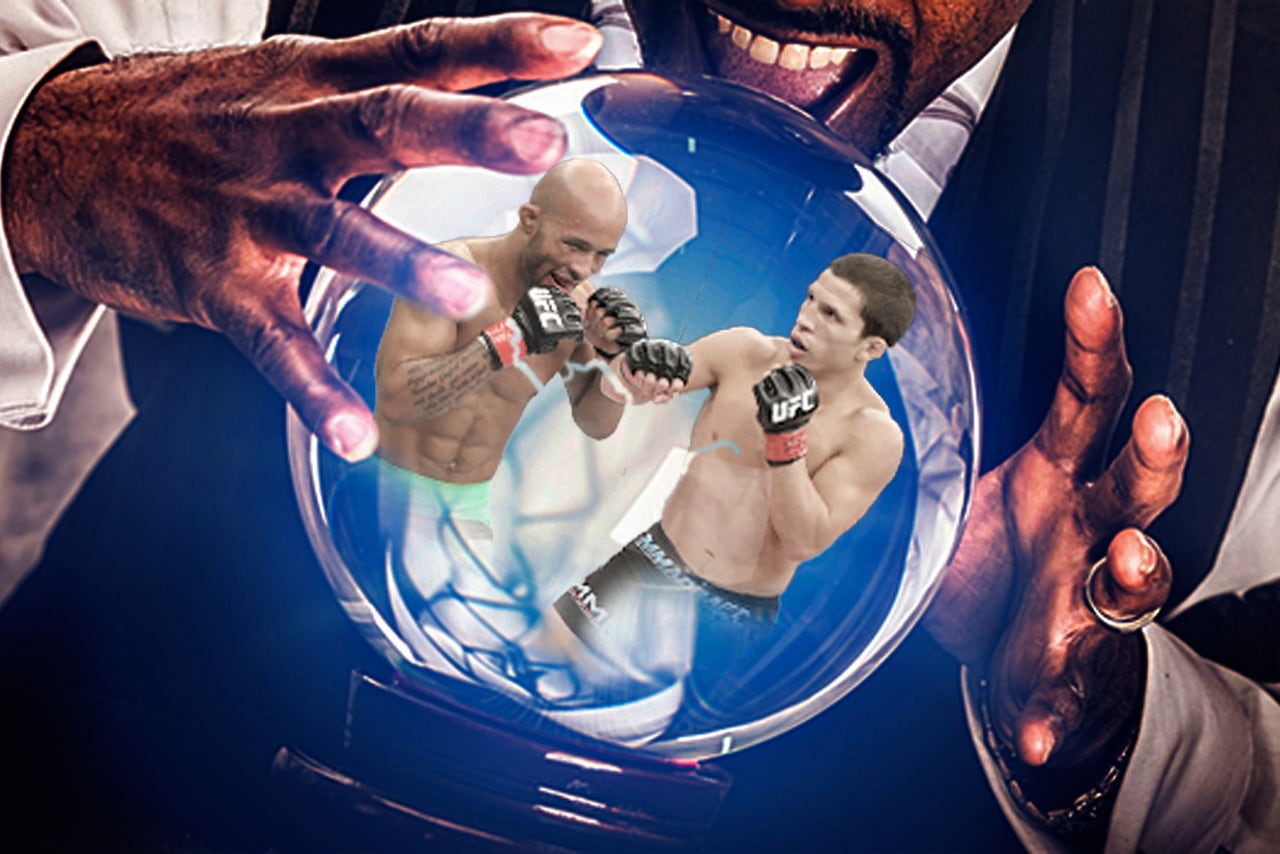 The penultimate fight card for the UFC in 2013 hits the cage tonight as the Octagon is set up inside the Sleep Train Arena in Sacramento, California for UFC on FOX: Johnson vs. Benavidez 2.
As great as this card is from an entertainment standpoint, the match-ups are so even that it makes picking winners challenging.
But let'€™s try anyway.
Here are the UFC on FOX: Johnson vs. Benavidez 2 Crystal Ball Predictions
Demetrious Johnson (18-2-1) vs. Joseph Benavidez (19-3)
Johnson became the inaugural flyweight champion in UFC history by earning a split decision victory over Benavidez at UFC 152 last September, and has successfully defended the title twice - against John Dodson in January, and most recently, in a fifth-round stoppage win over John Moraga in July.
As good as Johnson has looked and despite already holding a victory in this rivalry, Benavidez should come away from this contest as the champion.
Their first encounter was arguably the worst performance of Benavidez'€™ career, and he still earned a split decision. Duane Ludwig has since come on as the head coach at Team Alpha Male and upped the striking and finishing rates of the already talented cast of perennial contender, Benavidez included.
'€œMighty Mouse' is hard to catch and tough to put away, so don'€™t expect a finish, but given how impressive the challenger has looked since Ludwig's arrival, it's hard to pick against him in what was a close fight the first time around.
Prediction: Joseph Benavidez by Unanimous Decision
Urijah Faber (29-6) vs. Michael McDonald (16-2)
Want to know something crazy?
Urijah Faber has never lost a non-title fight. Ever. In his entire career. He'€™s 20-0 in bouts where championship gold isn'€™t on the line; and there is no belt at stake in this one.
As much as McDonald is a power-punching emerging talent that has already challenged for the interim bantamweight title this year, '€œThe California Kid' has the fundamental skills and wrestling pedigree to put the 22-year-old emerging star on his back and grind out another non-title victory.
Faber has a bottomless gas tank and does a good job of not putting himself in bad positions, so unless McDonald lands a big shot that catches him off guard, look Sacramento's favorite fighter to stick-and-move to score points, and work his wrestling to nullify McDonald'€™s power on the way to a win.
Prediction: Urijah Faber by Unanimous Decision
Chad Mendes (15-1) vs. Nik Lentz (24-5-2)
This event could very well be call UFC on FOX: Team Alpha Male, as Mendes is the third member of the Sacramento-based fight camp featured on the main card this weekend.
And he should be the third winner from the crew as well.
While Lentz has looked good since moving down to featherweight, this is a bad match-up for '€œThe Carny.'€ Mendes has a tremendous wrestling pedigree that should allow him to fend off Lentz'€™ attempts to bring this fight to the ground, and is far more potent and polished standing as well.
That second piece isn'€™t something you necessarily would have said about Mendes heading into this year despite the fact that he earned a pair of first-round knockout wins in 2012. But he'€™s proven his improved power and striking prowess is legit with finishes of Darren Elkins and Clay Guida already this year, pushing his knockout streak to four.
He should be able to make it five here. Though Lentz is a durable competitor that has only been finished three times in more than 30 fights, so too was Guida, and Mendes managed to put him out.
Prediction: Chad Mendes by Technical Knockout, Round 1
Joe Lauzon (22-9) vs. Mac Danzig (21-11-1)
In this battle of veteran lightweights, Lauzon has to be the pick.
Despite coming off consecutive losses and a disappointing effort at home in Boston in the summer, Lauzon'€™s track record still trumps what Danzig has been able to accomplish both recently and overall in the UFC.
To put it into perspective, consider this: Danzig hasn'€™t beaten a fighter that remains on the UFC roster since his win over Mark Bocek at UFC 83. He'€™s 5-7 overall in his UFC career, and 3-7 in his last 10.
While he'€™s just 1-3 in his last four, expect Lauzon to get back into the win column here, showing that he'€™s the quicker, more well-rounded fighter of the two. Danzig is tough to finish, but Lauzon will surely try early and often. Whether he manages to get the stoppage or not, '€œJ-Lau'€ should get the win.
Prediction: Joe Lauzon by Unanimous Decision
Court McGee (16-3) vs. Ryan LaFlare (9-0)
LaFlare makes a quick return to the cage, stepping in on short notice to replace Kelvin Gastelum to face off with former Ultimate Fighter winner McGee in a bout that represents a big step up in competition for the unbeaten New Yorker.
As good as he'€™s looked in wrestling victories away from Ben Alloway and Santiago Ponzinibbio, McGee is a far more complete fighter that each of those men, and should show that here in a winning effort.
'€œThe Crusher' is 2-0 since transitioning to welterweight, and he gets incrementally better in each successive appearance. With LaFlare coming off a three-round fight in Brazil just a month ago, look for McGee'€™s pace and ability to keep this fight standing to allow him to wear down his opponent and pick up his third straight win.
Prediction: Court McGee by Unanimous Decision
Edson Barboza (12-1) vs. Danny Castillo (16-5)
The fourth member of Team Alpha Male competing tonight in Sacramento, Castillo gets the short end of the stick when it comes to match-ups as he'€™s sharing the cage with one of the most dangerous strikers in the lightweight division.
As much as it would be a bit of a Cinderella moment for Castillo to pull the upset here, don'€™t bet on it.
Barboza has looked insanely good in his last two appearances, and brings some of the nastiest kicks in the sport into the cage with him. He's fast, powerful, and improving, which is a bad combination for Castillo.
If any fight on this card were to end with a highlight reel knockout, this would be the one. Barboza is still just scratching the surface of his abilities, and could very well show that he's taken another step forward here.
Prediction: Edson Barboza by Knockout, Round 2
Bobby Green (21-5) vs. Pat Healy (29-17)
Green competed on last month's Fight for the Troops event at Fort Campbell, earning a weird first-round stoppage win over James Krause after a pair of low blows, a point deduction, and Krause falling to the ground like he was shot after Green buried a kick right on the belt line late in the frame.
He steps in for Jamie Varner here, and will need to keep it standing, as Healy is a big lightweight with a solid wrestling base that could certainly grind out a victory.
But Green feels like he'€™s turned the corner as a fighter -€" he found a way to win in his UFC debut and looked sharp early against Krause, and should be able to use his edge in the speed and striking departments to get the better of Healy here.
Prediction: Bobby Green by Unanimous Decision
Scott Jorgensen (14-7) vs. Zach Makovsky (16-4)
Makovsky makes his UFC debut on short notice, stepping in with Jorgensen three weeks after winning the RFA flyweight belt with a five-round unanimous decision. The former Bellator bantamweight champ, '€œFun Size' isn'€™t your typical UFC newcomer, and will prove it by up-ending '€œYoung Guns'€ here.
Jorgensen has become too reliant on his hands of late, preferring to strike instead of blending his wrestling as he did during his successful climb up the bantamweight ladder in the WEC. Makovsky has a strong top game and will be the quicker of the two, so look for him to time his entries, put Jorgensen on the canvas, and grind out a win.
Prediction: Zach Makovsky by Unanimous Decision
Sam Stout (19-9-1) vs. Cody McKenzie (14-3)
Stout should win this one fairly handily.
McKenzie earned a victory last time out, but that was all the way back in April against the subsequently released Leonard Garcia. While Stout dropped his most recent appearances, he'€™s historically faced stiffer competition than the guillotine-loving former TUF contestant, and should get back into the win column here.
With the wrestling he's added to his arsenal of late, Stout is becoming a more complete fighter, but this is an opportunity to get back to his bread-and- butter - his striking. He has a significant edge on the feet and should land heavy shots in high volume en route to an eventual stoppage victory.
Prediction: Sam Stout by Technical Knockout, Round 2
Abel Trujillo (10-5) vs. Roger Bowling (11-4)
These two faced off earlier this year in a bout that ended in a No Contest with all kinds of bad blood and animosity between the two competitors.
Late in the second round, Trujillo hit Bowling with a knee while he was seated along the cage -€" some say it was legal, others illegal, with the referee falling in the latter group. Either way, Bowling couldn'€™t continue, the foul was deemed unintentional, and the bout was declared a No Contest, with both fighters vehemently arguing that they were robbed between expressing their displeasure with the other.
They run it back here, and Trujillo still feels like the likely winner -€" he'€™s the superior athlete of the two and Bowling has a tendency to gas after a quick opening five. They'€™ll bomb away at each other early, and then Trujillo will distance himself in the second, earning the stoppage late in the frame.
Prediction: Abel Trujillo by Technical Knockout, Round 2
Darren Uyenoyama (8-4) vs. Alp Ozkilic (8-1)
Ozkilic enters off a 30-second TKO win over former WEC and UFC competitor Antonio Banuelos, while Uyenoyama returns for the first time since losing to headliner Joseph Benavidez last April.
As much as Ozkilic boasts a three-fight winning streak and a tidy 8-1 record, the veteran Uyenoyama has far more high-end experience, and a slick ground game that should serve him well here.
Look for '€œBC'€ to close the distance, drag this fight to the floor, and work from top position. He may not find a submission, but he'€™ll do enough to earn the victory.
Prediction: Darren Uyenoyama by Unanimous Decision
---
---